A musculoskeletal disorder, as defined in the WHS Regulations, means an injury to, or a disease of, the musculoskeletal system, whether occurring suddenly or over time. It does not include an injury caused by crushing, entrapment (such as fractures and dislocations) or cutting resulting from the mechanical operation of plant.
In a 2002 study of 60 people working at a Sydney call centre, it was found that although only two or three people officially reported OOS, up to 65- 75 per cent claimed to have aches and pains.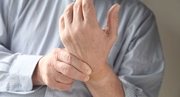 Physiotherapists treat injured and ill workers, as appropriate to the nature of their injury or illness, at varying stages throughout the span of the RTW process, with treatment goals aimed at facilitating the recovery and work capacity of the worker. In addition to clinic based interventions, occupational health physiotherapy interventions can include workplace based ergonomic and risk management processes and case management.