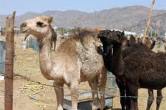 AHFV is identified as the agent of a viral hemorrhagic fever in Saudi Arabia causing because of sheeps, camel, goats and characterized serologically and genetically as a variant genotype of Kyasanur Forest disease virus. Since viral diagnosis and vaccine development may be hindered by genetic diversity, this study was intended to address AHFV geneticheterogeneity.

Symptoms of hemorrhagic fever or encephalitis,Clinical manifestations include fever, headache, retroorbital pain, joint pain, generalized muscle pain, anorexia and vomiting associated with leukopenia, thrombocytopenia, and elevated levels of liver enzymes.
Patients receive supportive therapy that balances the patient's fluid and electrolytes, maintaining oxygen status and blood pressure, and treatment for any complications. The first identified human cases of infection occurred in 6 male butchers in Jeddah in 1995. Approximately one-half of all the cases have exhibited hemorrhagic manifestations and one-fifth had encephalitis; the case-fatality rate has been 25%.