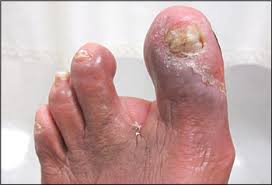 Claudication pathophysiology
Claudication is pain caused by too little blood flow, usually during exercise. It is a pain in the lower leg due to inadequate blood flow to the muscles. Pain and cramping in the legs is the main symptom of claudication. This pain or cramping is caused by poor circulation due to blockage of the arteries of the lower extremity. Claudication may occur in one or both legs, depending on where the blockage occurs. The pain is brought on by walking or exercise and disappears with rest. Claudication can range from being a mild nuisance to a disabling limitation. Claudication is caused by atherosclerosis in the lower extremities is known as peripheral arterial disease. Atherosclerosis is the hardening and narrowing of the arteries over time through the build up of fatty deposits, called plaque, along the artery walls. Risk factors of Claudication are: Age, Smoking, Diabetes, Obesity, Sedentary lifestyle, High cholesterol, High blood pressure etc.

Treatment of Claudication includes reducing the risk factors associated with atherosclerosis which includes: Smoking cessation, Walking, usually 30 minutes a day, Medication and lifestyle changes aimed at reducing cholesterol, blood pressure and blood-sugar levels, Medication, such as aspirin, to prevent heart attack and stroke, Medication to improve walking distance, such as cilostazol, Diet low in saturated fats. Along with this treatment for Claudication includes Endovascular treatments and Surgical treatments in which Endovascular treatments consists of Angioplasty, Stents, Laser atherectomy, Directional atherectomy.

Some ongoing research studies on Claudication disease are Angioplasty versus stenting for iliac artery lesions, Surgical intervention for peripheral arterial disease, Perioperative clinical variables and long-term survival following vascular surgery.