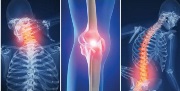 Ergonomics is the scientific study of people at work. The goal of ergonomics is to reduce stress and eliminate injuries and disorders associated with the overuse of muscles, bad posture, and repeated tasks. This is accomplished by designing tasks, work spaces, controls, displays, tools, lighting, and equipment to fit the employee´s physical capabilities and limitations.
Ergonomic injuries or MSDs can affect the muscles, nerves, tendons, ligaments, joints, cartilage and spinal discs. They can be directly or indirectly related to job duties or the work environment. Non-work activities and environments can also impact MSDs. Musculoskeletal disorders affect soft tissues, such as muscles, tendons, ligaments, nerves and blood vessels. These disorders have also been referred to as: cumulative trauma disorders (CTDs), repetitive strain injuries (RSIs) and overuse injuries.

Signs and symptoms:
Pain in the fingers, wrists, or other parts of the body: may include a dull aching pain, a sharp stabbing pain, or even a burning sensation
Tingling or numbness, particularly in the hands or fingers
Swelling, inflammation, or joint stiffness
Loss of muscle function or weakness
Discomfort or pain in the shoulders, neck, or upper or lower back
Extremities turning white or feeling unusually cold
General feeling of muscle tightness, cramping, or discomfort
Clumsiness or loss of coordination
Range of motion loss
Discomfort when making certain movements
Prevention:
Prevention of MSD requires a partnership between the company and each employee. The employer is responsible for providing a safe place of work, sound ergonomic principles, proper training for all employees, and a clear focus on safety culture within all levels of the organization. Each employee is responsible for taking care of their bodies and staying fit for the work they have chosen to do. After all, it is their musculoskeletal system at risk. Using terms like "repetitive motion injury" absolves employees of this responsibility, allowing them to point to repetitive motion as the sole cause of their musculoskeletal issue. As a Safety and Health professional, it is imperative to understand and embrace a comprehensive definition of MSD to begin developing a world class injury prevention program.
Statistics:
Since 2002, an epidemiologic surveillance system of work-related, upper-limb musculoskeletal disorders (MSDs) has been implemented in France's Pays de la Loire region to assess the prevalence of MSDs and their risk factors in the working population. More than 50% of the 2,685 men and women randomly included in 2002–2003 experienced nonspecific musculoskeletal symptoms during the preceeding 12 months and ∼30% experienced them in the preceeding week. The prevalence of clinically diagnosed MSDs was high: ∼13% of workers experienced at least 1 of the MSDs. The most frequent disorder was rotator cuff syndrome followed by carpal tunnel syndrome and lateral epicondylitis. The prevalence of MSDs increased with age and varied widely across economic sectors and occupations. More than half of the workers were exposed to at least 2 risk factors of MSDs. Exposure varied according to industrial activity and occupation. According to the criteria document, a high percentage of MSD cases could be classified as probably work related (95% in men and 89% in women age <50, and 87% in men and 69% in women age >50).