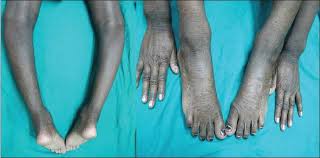 Disease Definition: Rickets is defective mineralization or calcification of bones beforeepiphyseal closure in immature mammals due to deficiency or impaired metabolism of vitamin D, phosphorus or calcium potentially leading to fractures and deformity.
Disease Symptoms: Double malleoli sign due to metaphyseal hyperplasia, Harrison's groove, Costochondral swelling, Craniotabes, Tetany, Hypocalcemia (low level of calcium in the blood), Growth disturbance, Spinal deformity, Pelvic deformity, Older children: Knock-knees ,Cranial deformity Bone tenderness, Dental problems,Muscle weakness, Skeletal deformity.
Disease Treatment: Supplementation: Sufficient vitamin D levels can also be achieved through dietary supplementation and/or exposure to sunlight. Diet and sunlight: Treatment involves increasing dietary intake of calcium, phosphates and vitamin D. Exposure to ultraviolet B light (most easily obtained when the sun is highest in the sky), cod liver oil, halibut-liver oil, and viosterol are all sources of vitamin D.