Musculoskeletal Disorders or MSDs are injuries and disorders that affect the human body movement or musculoskeletal system (i.e. muscles, tendons, ligaments, nerves, discs, blood vessels, etc.).
Symptoms: Pain in the fingers,wrists, or other parts of the body, numbness, swelling, inflammation, weakness, pain in the shoulders, range of motions.

Treament: Different types of manual therapy, or mobilization, can be used to treat Ergonomic and Musculoskeletal Disorders. Medication such as nonsteroidal anti-inflammatories (NSAIDs) may be used to treat inflammation or pain. Some of the medicines used to aid sleep include zolpidem (Ambien), eszopiclone (Lunesta), and ramelteon (Rozerem). Other treatments may include: Injections with anesthetic or anti-inflammatory medications in or around the painful sites Exercise that includes muscle strengthening and stretching. Physical or occupational therapy. Acupuncture or acupressure. Relaxation/biofeedback techniques.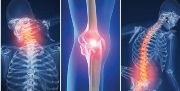 Diagnosis: These include effort-based tests such as grip and pinch strength, diagnostic tests such as Finkelstein's test for Dequervain's tendinitis, Phalen's Contortion, Tinel's Percussion for carpal tunnel syndrome, and nerve conduction velocity tests that show nerve compression in the wrist. Various imaging techniques can also be used to show nerve compression such as x-ray for the wrist, and MRI for the thoracic outlet and cervico-brachial areas.