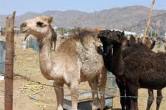 Alkhurma hemorrhagic fever virus is identified as the agent of a viral hemorrhagic fever in Saudi Arabia cause of sheeps, camel, goats and characterized serologically and genetically as a variant genotype of Kyasanur Forest disease virus.No human-to-human transmission of AHF can be documented.
Clinical manifestations include fever, headache, retroorbital pain, joint pain, generalized muscle pain, anorexia and vomiting associated with leukopenia, thrombocytopenia, and elevated levels of liver enzymes and some patients had clinical symptoms of hemorrhagic fever or encephalitis.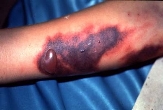 Patients receive supportive therapy that balances the patient's fluid and electrolytes, maintaining oxygen status and blood pressure, and treatment for any complications. Mortality in hospitalized patients ranges from 1-20%.There is no standard specific treatment for the disease.