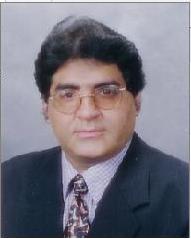 Dow University of Health Sciences, Pakistan
Title: Preventive management of pre-clinical diabetic macular edema
Biography
Shahid Wahab is Professor & Chairman Eye Department Dow University of Health Sciences Karachi, since 2005. There are many international, oral & video presentations to his credit. He is Editor in Chief of Pakistan Journal of Ophthalmology & on the Editorial Board of Ophthalmic Journals. He has been awarded highest Presidential award for excellance. He is regional secretary SAARC academy of Ophthalmology. He has innovated new instruments & techniques. His main interest is in vitreoretinal & is involved in training program. He has developed second sub-specialty fellowship in vitreoretina for which he is examiner at College of Physician & Surgeons Pakistan.
Abstract
Objective: To find out effects of preventive management of co morbid on progression of diabetic macular edema.
Background: So far the recommended management for diabetic maculopathy covers curative aspects of the disease either by laser photocoagulation, intra vitreal anti-VEGF or surgical treatment, when it becomes clearly evident on fundscopy. Intervention is deferred till disease progressed to blinding cascade. Various risk factors had been identified that cause worsening of diabetic macular edema (DME) and diabetic retinopathy (DR). Hypertension or hyperlipidemia in diabetic patients, accelerate the disease process by altering the morphological and hemodynamic changes in microcirculation of retina. Co-morbids are alarming indicators for particular patient which should be managed urgently upon preclinical diagnosis of DME. Our new preventive strategy to identify and treat such co-morbid at early stage is the key to prevent the vicious cycle of maculopathy/retinopathy.
Material and Methods: A non-randomized, prospective study enrolled patients of either gender of all age groups with type II diabetes mellitus. Two groups were identified in the follow up period on the basis of their glycemic control and control of their co morbid. Macular thickness was assessed by OCT. All patients received expert consultation from physician for hypertension and hyperlipidemia, nephrologist for kidney status/nephropathy, neurologist for neuropathy, diabetologists for glycemic control, dietician and counselor to encourage alteration in their life style for prevention.
Results: Intra vitreal anti VEGF and laser photocoagulation were required in group where comorbid and glycemic control was poor while maculopathy was arrested in well managed comorbid and good glycemic control group.
Conclusion: Progression of maculopathy is highly dependent on glycemic control and early preventive management of co morbid. Uncontrolled hypertension and hyperlipdaemia are bad prognostic indicators and directly affect worsening of maculopathy.