Achieve Orgasm? Oxytocin Triggers Ejaculation in Men
Hirotaka Sakamoto*, Keita Satoh and Takumi Oti
Laboratory of Neuroendocrinology, Ushimado Marine Institute (UMI), Graduate School of Natural Science and Technology, Okayama University, Japan
*Corresponding Author:

Hirotaka Sakamoto
Laboratory of Neuroendocrinology, Ushimado Marine Institute (UMI)
Graduate School of Natural Science and Technology
Okayama University, 130-17 Kashino
Ushimado, Setouchi
Okayama 701-4303, Japan
Tel: +81 869-34-5210
Fax: +81 869-34-5211
E-mail: [email protected]
Received date: May 23, 2012; Accepted date: June 22, 2012; Published date: June 24, 2012
Citation: Sakamoto H, Satoh K, Oti T (2012) Achieve Orgasm? Oxytocin Triggers Ejaculation in Men. Reprod Sys Sexual Disorders 1:e101. doi:10.4172/2161-038X.1000e101
Copyright: © 2012 Sakamoto H, et al. This is an open-access article distributed under the terms of the Creative Commons Attribution License, which permits unrestricted use, distribution, and reproduction in any medium, provided the original author and source are credited.
Visit for more related articles at Reproductive System & Sexual Disorders: Current Research
Does oxytocin (OXT) release trigger ejaculation in men as well as parturition and milk ejection in women?
The paraventricular nucleus (PVN) of the hypothalamus, which is considered to be a centre for autonomic regulation, has been shown to exhibit physiological and functional sex differences. It is involved in numerous functions, from stress to the appetite, body energy balance, blood pressure, heart rate and sexual activity, including penile erection [1], and is characterised by a very complex architecture. OXT is produced chiefly by magnocellular neurosecretory cells in the PVN and supraoptic nucleus of the hypothalamus and released into the blood from the axon terminals in the neurohypophysis and into the surrounding neuropil from magnocellular dendrites [2,3]. The principal functions attributed to OXT are involved in the regulation of reproductive functions including parturition, milk ejection, and sexual and maternal behaviour in females, so called a feminine hormone (for review, see Ref. [4] ). On the other hand, it is well accepted that a group of OXT-ergic neurones originating in the PVN and projecting to extrahypothalamic areas (e.g., hippocampus, medulla oblongata and spinal cord) control penile erection and sexual behaviour in male rats [5]. It has been reported that OXT positively impacted on a number of components of sexual function, including libido, erection, and orgasm in men [6-8]. The intracerebroventricular administration of OXT also induced a dose-dependent increase in the number of penile erections and yawning episodes in male rats, suggesting a physiological role of hypothalamic OXT in the regulation of such responses [9]. Because penile erection and yawning induced by either OXT or apomorphine in rats were antagonised in a dose-dependent manner by pre-treatment with OXT antagonists, dopamine may induce these responses by releasing OXT in vivo [9].
PVN OXT-ergic neurones that project to extrahypothalamic brain areas and the lumbar spinal cord might play an important role in the control of erectile function and male sexual behaviour in mammals [5]. In rats, the concentration of OXT in the cerebrospinal fluid doubles 5 min after ejaculation and increases to three times the basal level 20 min after ejaculation [10]. In men, mean plasma OXT also rose at the time of ejaculation, but not during sexual arousal [11,12]. This OXT increase in the cerebrospinal fluid at ejaculation is eliminated by discrete electrolytic lesions in the lateral and posterior parvocellular PVN [10]. Additionally, with increasing levels of sexual contact, Fos expression is incrementally enhanced in OXT neurones in the parvocellular part of the hypothalamic PVN [13]. Parvocellular PVN neurone-specific chemical lesions significantly reduce the density of OXT-containing fibres in the lower lumbar spinal cord (L5–L6 level) of rats [14]. Therefore, the hypothesis that OXT, which is transported by long descending paraventriculospinal pathways, activates proerectile spinal centres has long been proposed [15,16]; however, the linkage of the neural circuit between the hypothalamic PVN and penile innervation remains uncharacterised.
We recently demonstrated that the gastrin-releasing peptide (GRP) system mediates spinal centres promoting penile reflexes in rats [17] (Figure 1). Remarkably, pharmacological stimulation of GRP receptors restores penile reflexes and ejaculation rate in castrated male rats, and antagonistic blockage to this spinal region attenuates penile reflexes and ejaculation rate in normal male rats [17]. Thus, this system of neurones in the upper lumbar spinal cord uses this specific new peptide (GRP) to drive lower spinal autonomic and somatic centres that coordinate male reproductive functions such as erection and ejaculation [18]. The sexually dimorphic GRP system in the lumbar spinal cord is critical in the regulation of male sexual function, revealing a novel role for GRP in mammalian sexual behaviour [18]. Because this system relies on a specific peptide, GRP, the identification of a male-specific neural system regulating sexual behaviour offers new avenues for potential therapeutic approaches to masculine reproductive dysfunction [18] (Figure 1). Notably, we have found that the axonal distribution of OXT in the lumbar spinal cord exhibits a male-dominant sexual dimorphism in rats. Furthermore, OXT binding and expression of the specific OXT receptor were observed in the somata of spinal GRP neurones (our unpublished observation).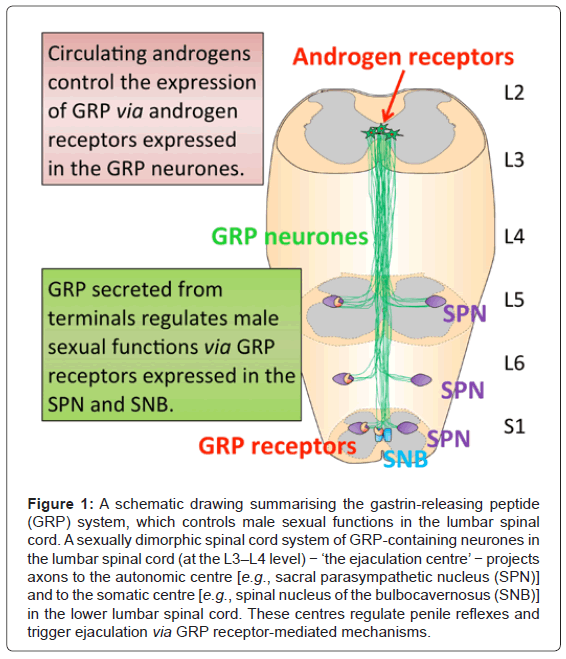 Figure 1: A schematic drawing summarising the gastrin-releasing peptide (GRP) system, which controls male sexual functions in the lumbar spinal cord. A sexually dimorphic spinal cord system of GRP-containing neurones in the lumbar spinal cord (at the L3–L4 level) − 'the ejaculation centre' − projects axons to the autonomic centre [e.g., sacral parasympathetic nucleus (SPN)] and to the somatic centre [e.g., spinal nucleus of the bulbocavernosus (SNB)] in the lower lumbar spinal cord. These centres regulate penile reflexes and trigger ejaculation via GRP receptor-mediated mechanisms.
In conclusion, here we propose a novel hypothesis that efferents may secrete OXT from terminals distributed in the lumbar spinal cord and that masculine sexual reflexes such as erection and ejaculation may be regulated through an OXT receptor-mediated mechanism in spinal GRP neurones during copulatory behaviour (see Figure 2). Future studies should focus on the relationship between the hypothalamic OXT system and spinal GRP system.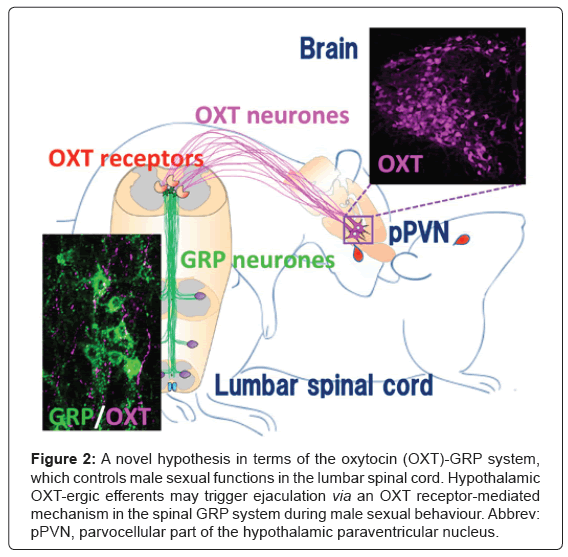 Figure 2: A novel hypothesis in terms of the oxytocin (OXT)-GRP system, which controls male sexual functions in the lumbar spinal cord. Hypothalamic OXT-ergic efferents may trigger ejaculation via an OXT receptor-mediated mechanism in the spinal GRP system during male sexual behaviour. Abbrev: pPVN, parvocellular part of the hypothalamic paraventricular nucleus.
Conflict of Interest
The authors declare no potential conflicts of interest.
Acknowledgements
This work was supported in part by KAKENHI from the Ministry of Education, Science, Sports, Culture and Technology (MEXT), Japan (to H.S) and by research grants from the Nakajima Foundation, Japan (to H.S.); from the Senri Life Science Foundation, Japan (to H.S.); and by the Co-operative Study by High-voltage Electron Microscopy (H-1250M) of the National Institute for Physiological Sciences, Okazaki, Japan (to H.S. and T.O.).
References