Anesthesia, Surgery and Dementia
Renyu Liu*
Department of Anesthesiology and Critical Care, University of Pennsylvania, 336 John Morgan building, 3620 Hamilton Walk, Philadelphia, PA 19104
*Corresponding Author:

Renyu Liu
Assistant Professor, Department of Anesthesiology and Critical Care University of Pennsylvania, 336 John Morgan building
3620 Hamilton Walk, Philadelphia, PA 19104, USA
E-mail: [email protected]
Received date: March 09, 2012; Accepted date: March 11, 2012; Published date: March 13, 2012
Citation: Liu R (2012) Anesthesia, Surgery and Dementia. J Anesthe Clinic Res 3:e103. doi: 10.4172/2155-6148.1000e103
Copyright: © 2011 Liu R. This is an open-access article distributed under the terms of the Creative Commons Attribution License, which permits unrestricted use, distribution, and reproduction in any medium, provided the original author and source are credited.
Visit for more related articles at Journal of Anesthesia & Clinical Research
The current issue of the Journal of Anesthesia and Clinical Research features two papers that discuss anesthesia and surgery onthe development of dementia - a hallmark of Alzheimer's disease.The first article from the University of Pennsylvania presents caseswhere patients have significant preoperative concern on anesthesia,memory loss, Alzheimer's disease [1]. The other article from DukeUniversity and the University of California San Francisco provides anupdated literature review on the controversial topic of whether generalanesthesia promotes Alzheimer's disease [2].
Both articles stand in the frontier of the controversial issues relatedto anesthesia, dementia and related surgery. But how hot is this topic,especially to the public at large? To answer this, I asked Google (www.google.com, data access on March 6, 2012). The data bank in Googleserver provided about 1,790,000 postings related to "anesthesia anddementia", 37,700,000 website for "anesthesia" alone and 43,200,000website for "dementia" alone. The number of websites related to"anesthesia and dementia" is about 5% of that related to "anesthesia" and4% of that related to "dementia". How about "surgery and dementia"? Itcame out to 13,900,000 related websites for "surgery dementia", whichrepresents 32% of the total for "dementia", but an 8 fold more over"anesthesia dementia".
While it is hard to judge the reliability of its information, theInternet could still serve as a useful barometer for query data relatedthe medical topics of interest for the general public [3]. We recentlydemonstrated that public interest in anesthesia seems to be decreasingeven though the concern related to anesthesia and side effects is increasing [4]. Using an approach similar to the one described in ourrecent paper [4], the analysis of the query data from end users who arelooking for information related to "anesthesia dementia" and "surgerydementia" is presented here. As indicated in figure 1, the concern for"anesthesia dementia" did not generate any significant searching patternby internet users until early 2009 and remained constant thereafterwithout a noticeable upward or downward trend. On the other hand,the concern for "surgery dementia" was first registered in late 2005and is gradually trending up. Thus, it is not surprising that we areencountering patients who come for preoperative consultations relatedto post-anesthesia or post-operative memory loss or any potential linkto dementia as presented by Thaler et al. [1] The search for "anesthesiaAlzheimer's disease" did not generate any meaningful trend, indicatingthat the general user might prefer to use the term "dementia" ratherthan "Alzheimer's disease" when performing searches online.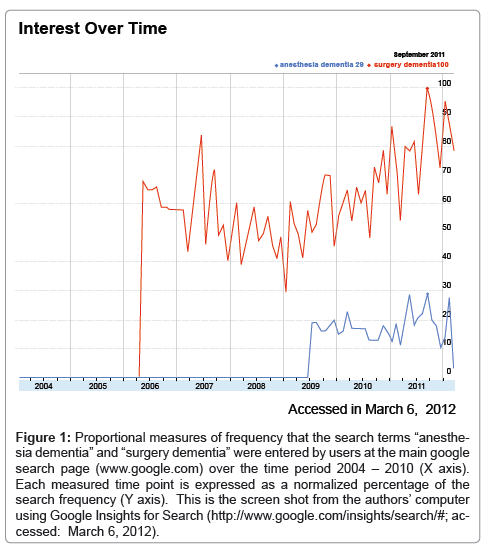 Figure 1: Proportional measures of frequency that the search terms "anesthesia dementia" and "surgery dementia" were entered by users at the main google search page (www.google.com) over the time period 2004 – 2010 (X axis). Each measured time point is expressed as a normalized percentage of the search frequency (Y axis). This is the screen shot from the authors' computer using Google Insights for Search (http://www.google.com/insights/search/#; accessed: March 6, 2012).
Is medicine trying to address these concerns? The answer isclearly yes. There were 10 peer reviewed articles related to "anesthesiaand dementia" and 167 peer reviewed articles related to "surgery anddementia" published in 2000. As of March 6, 2012, the number of peerreviewed articles available in Pubmed (http://www.ncbi.nlm.nih.gov/pubmed/ ) has increased to 363 and 4,439, respectively. The article fromHauck JN et al. [2] in this issue of JACR provides an up to date review forthe studies related to anesthesia, surgery and the most common form ofdementia, Alzheimer's disease.
References