Abdel-Rahman Hedar.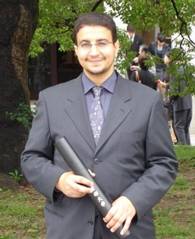 Lecturer Department of Computer Science, Faculty of Computer and Information Sciences, Assiut University, EGYPT.
Biography
Abdel-Rahman Hedar has completed Bachelor of Science in the department of Mathematics at Assiut University, Assiut, Egypt durying the year 1993, later he has done his Master of Science in the same mathematics department at existing university in the year 1997. he worked under Doctor of Informatics, Kyoto University, Kyoto, Japan, 2004.
Research Interest
Computational Intelligence, Global Optimization, Meta-heuristics (Genetic Algorithms, Simulated Annealing, Tabu Search, Neural Networks, etc.), Artificial Intelligence, Direct Search Methods, Fixed Point Theory.
Publications
Global Speakers in the subject
Global Experts in the subject
Peer Reviewed Journals
Make the best use of Scientific Research and information from our 700 + peer reviewed, Open Access Journals
International Conferences 2019-20
Meet Inspiring Speakers and Experts at our 3000+ Global Annual Meetings
Top