Hrabrin Bachev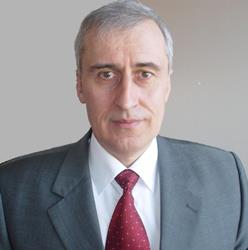 Dr.Hrabrin Bachev
Professor
Institute of Agricultural Economics
Sofia
Bulgaria.
Biography
Education
1988-1990 Ph.D. in Economics, Agricultural Academy, Sofia, BULGARIA
1978-1983 M.S. in Agricultural and Industrial Economics, University of Economics, Sofia.
Teaching experience
2014-2015 International Master course on Agrarian Innovation Management, University of Missouri, Columbia, USA and Agrarian University, Plovdiv, BULGARIA
2004-2005 Professor, International seminar on Better Understanding and Teaching Rural Economics (Analysis and Design of Agrarian and Rural Contracts and Organizations), Open Society Institute, Sofia 2003 Co-Director and lecture, International summer course on Analysis of Agrarian Institutions, Central European University, Budapest, HUNGARY
1998-1999 Visiting Professor, Master course on Introduction to Agrarian Institutions, University of National and World Economy, Sofia.
Research experience
2013-2014 Visiting Professor, Tohoku University, Sendai, JAPAN 2007 Visiting Researcher, Kyushu University, Fukuoka, JAPAN
2004-2005 Visiting Researcher, Catholic University of Louvain, Louvain-la-Neuve, BELGIUM 2003 Visiting Fellow, CREES, Toronto University, Toronto, CANADA 2002-2003 Visiting Researcher, Kyoto University, Kyoto, JAPAN
1999-2000 Visiting Professor, Kyushu University, Fukuoka, JAPAN
1999 Visiting Researcher, INRA, Montpellier, FRANCE
1997 Honorary Research Fellow, Birkbeck College, London University, UK 1995-1996 Visiting Researcher, NARC, Tsukuba, JAPAN
1993-1994 Visiting Professor, University of Missouri, Columbia, USA
Since 1984 Professor, Senior Researcher (1995-2012), Research Fellow (1984-1994), Institute of Agricultural Economics, Sofia.
Research Interest
New Institutional and transaction Costs Economics, Governing and Assessment of Agrarian and Rural Sustainability, Environmental and Risk Management, Food Security and Food-chain Management, Policy and Management of Research and Innovation, Governance of Socio-Economic Development and Transformation Institutions, Organizations and Contracts Analysis and Design, Policies and Programs Assessment and Design.
Publications