Nilmarie Guzman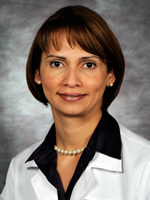 Dr.Nilmarie Guzman, M.D. Assistant Professor Department of Medicine Division of Infectious Disease Associate Program Director, Infectious Disease Fellowship; Associate Program Director, Internal Medicine Residency.
Biography
Dr. Nilmarie Guzman is currently working in Shands Jacksonville Medical Center.She is also the Associate Program Director for Infectious Disease and Internal Medicine Residency.She has completed her Medical education from Ponce School of Medicine, Ponce, Puerto Rico, and Fellowship from University of Florida College of Medicine USA.Some of her publicfations include:
AMPICILLIN/SULBACTAM VERSUS ALTERNATIVE BETA-LACTAMS FOR SEVERE ACINETOBACTER BAUMANNII INFECTIONS.
Potts Puffy Tumor: A New Complication of HIV
A Stewardship Approach To Optimize Antimicrobial Therapy through Use of a Rapid Microarray Assay on Blood Cultures Positive for Gram-Negative Bacteria.
Research Interest
Clinical Special Interests: HIV; infection control; antimicrobial resistance Research Special Interests: HIV research; antimicrobials; infection control
Peer Reviewed Journals
Make the best use of Scientific Research and information from our 700 + peer reviewed, Open Access Journals
International Conferences 2019-20
Meet Inspiring Speakers and Experts at our 3000+ Global Annual Meetings
Top