Raman Purushothaman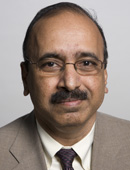 Raman Purushothaman
Icahn School of Medicine at Mount Sinai,
Cardiovascular Institute,
New York, NY-10029
Biography
Dr.K-Raman Purushothaman has obtained his M.D degree from Madras University and completed his post-doctoral training in pathology at Madras Medical College and Jawaharlal Nehru Institute of Post Graduate Medical Education & Research Center, in India. He joined in Cardiovascular Research Laboratory as Director of Histology at the University of Kentucky and involved in the histopathological evaluation of human and experimental atherosclerosis.
His current research focuses on histopathologic quantification of atherosclerosis. He is involved in detailed advanced immunohistochemistry techniques using the double- labeling, bi-color chromogen for studying the neovascularization of the plaque. He is also involved in the study of intimal, medial and adventitial, plaque compositional changes in the plaque progression and regression and the risk factors (diabetes mellitus, haptoglobin genotype, cigarette smoking and hypercholesterolemia) involving the association in inflammation and plaque rupture.
His animal experimental studies involves pre-clinical evaluation of drug eluting stents by analyzing the effects of drug eluting stents in stabilizing the vulnerable rabbit aortic plaques and study the plaque composition. His efforts will be to study the neovascularization and the implications in plaque rupture in diabetics versus non-diabetics based on the preliminary analysis in human aortic atherosclerotic plaques and to develop an animal model to study the mechanism involved in neovascularization in atherosclerotic plaques.
As an academic pathologist Dr. Purushothaman Kothandaraman (K-Raman) has 28 years of extensive expertise in teaching and pathological diagnosis (1985-2013). His main focus in clinical research includes vascular pathobiology in all the divisions of vascular branches from coronary, carotid, aortic, peripheral arterial vessels, and also cardiac pathology that includes myocardial diseases and aortic and mitral valvular lesions.
He has conducted scientific preclinical, clinical and imaging studies and actively involved in several periodical medical and scientific meetings with many industrial projects from Guidant Inc., Abbot Inc., and Infra RedX Inc., serving as scientist for medical science liaison in their clinical research.
Dr. Purushothaman has been published and presented more than 100 titles in several peer-reviewed journals and presented in national and international scientific conferences. He has also contributed three book chapters titled in cardiovascular disease by invitation.
As a medical teacher, he organizes and delivers cardiovascular pathology lectures to medical students and has trained medical students, residents & fellows on relevant research techniques.
As a medical teacher in pathology, he taught undergraduate, post-graduate and research graduate students in academic programs of systemic and general pathology topics theory and practical demonstrations and also served as an examiner for pathology graduate students (1989-1998).
Dr.Purushothaman has practiced as an attending pediatric pathologist, discovering various pediatric cancers and had pediatric pathology expertise nearly a decade in India at the premier institute of child health and hospital for children (ICH&HC) a center for excellence in Southeast Asia at Chennai, India (1989-1998).
Dr.Purushothaman also practiced as a hemato-pathologist and managed independently clinical pathology laboratory as a division head/Chief of clinical pathology at Apollo Hospitals, one of the premier hospitals at Chennai, India (1985-1989)
He serves as a honorary international visiting professor to the Dr.MGR Medical University in the Government of Tamil Nadu, India.


Research Interest
Cardiovascular, Inflammation
Publications
Global Speakers in the subject
Global Experts in the subject