Sakiko Kanbara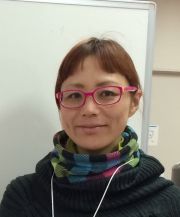 Sakiko Kanbara
Faculty of Nursing, University of Kochi
2751-1 Ike Kochi, Japan
Biography
Dr. Sakiko Kanbara is a Associate professor of Doctoral Degree Course for Disaster Nursing Global Leadership Program at the University of Kochi, Japan. She received her B.S. and M.S in Health Science from Kobe University and her Ph.D. from Department of Public Health and International Health, Okayama University
She earned her spot as researcher at the Research Institute of Nursing Care for People and Community, University of Hyogo. She worked as Investigator of Centre of Excellence for Disaster Nursing in Ubiquitous Society (Funding by MEXT, Japan) there. Her research and teaching interests include Global Health, Disaster and Nursing. She has developed new courses for global nursing and disaster nursing as a teacher at Univeriity of Kindaihimeji. She eventually edited the textbook of Global Nursing.
Her primary research interests are in the field of Human Security, Disaster Reduction and Nursing. She recently collaborated on a manuscript with colleague entitled "The Role of Disaster Nursing and Health Security in Japan" and "Disaster Risk Reduction Literacy: Concept definition". Her presentation "The issue of information dissemination and transmission–Lesson learned from Tohoku- received the Runner Up Poster prize at the 2nd conference of WSDN 2012, Wales, UK.
Research Interest
Risk Communication , Disaster mitigation , Human Security , Public Health
Publications
Global Speakers in the subject
Global Experts in the subject
Peer Reviewed Journals
Make the best use of Scientific Research and information from our 700 + peer reviewed, Open Access Journals
International Conferences 2020-21
Meet Inspiring Speakers and Experts at our 3000+ Global Annual Meetings
Top