Steeneveld GJ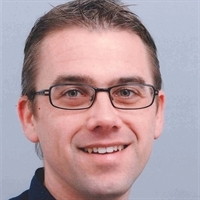 Steeneveld GJ
Meteorology and Air Quality
Wageningen University, The Netherlands
Biography
On the evening of 25th June 1978, during the final of the World Championship football, Argentina-Holland (unfortunately lost by the Dutch team, I hope it is not my fault :P), I was born in the beautiful city of Delft, The Netherlands. I spent my youth in Nootdorp (a small village near Delft) at the farm of my parents, which was a beautiful place to grow up with all the animals and always sufficient space. Always possible to do nice things and to feel free!
I spent a nice time at my undergraduate school College Het Loo in Voorburg, a place with a nice history as well. I liked the courses in Mathematics, Physics, Chemistry and Economy. In 1997 I changed to Wageningen to study Soil, Water and Atmosphere, in the center of The Netherlands. It is a small (and therefore very nice) city. It is situated between the ice-pushed ridges the Veluwe and the Utrechtse Heuvelrug, and the river Rhine. Therefore there is a huge variarity of landscapes very close by: Forest, heather, flatland, river banks...
At this moment I work as a assistant professor at the department of Meteorology and Air Quality of Wageningen University. My research topics covers -Understanding the physical processes that govern fog. -Stable Boundary Layers -Evaluation and understanding model behavior of the boundary layer schemes in the mesoscale model WRF. -Urban meteorology.
My previous research mainly focussed on understanding the stable boundary layer over land. At night and in wintertime, the near surface atmosphere becomes stably stratified, i.e. the temperature increases with height. As a result of the stratification, turbulent transport is suppressed, and may even vanish for low wind speeds. In that case other processes than turbulence, e.g. radiation divergence, drainage flows, gravity waves take over the stable boundary-layer development. This complexity hampers model development and therefore model skill for the stable boundary layer is rather poor. To improve this, detailed column model studies has been done based on the CASES-99 experiment. We learnt the stable boundary layer can be well modelled from a local perspective if sufficient resolution, correct forcings and land use properties are prescribed. This is currently further studied in the GABLS experiment. Moreover, within the I partcipate in the HYDRALABIII experiment in order to understand turbulent mixing in stratified flows under more controlled conditions than in the atmosphere. Also, I partcipated in the PILPS-URBAN model intercomparison, in which urban land surface schemes were evaluated against observations.
Research Interest
Meteorology, Climatic Change, Climatology, Soil Physics
Publications
Global Speakers in the subject
Global Experts in the subject