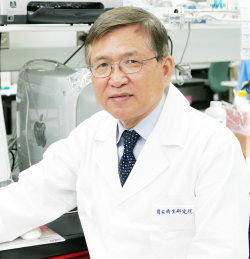 Kenneth K. Wu
Institute of Cellular and Systems Medicine
Taiwan
Biography
Kenneth K. Wu is a Distinguished Chair Professor, National Taiwan University College of Medicine, Taiwan. Currently he is President, Distinguished Investigator and Acting Director for National Health Research Institutes, Taiwan. He received SANOFI Prize, SANOFI Association for Thrombosis Research and International Society of Thrombosis and Haemostasis in 1997. Previously he is Member in American Association of Physicians in 1997. He has number of publications in reputed journals.
Research
Prostaglandin and nitric oxide synthesis and biological activities
Haemostatic and genetic risk of arterial thrombosis.
Identification and purification of endogenesis factors that central cyclooxygenase-2 (COX-2) expression in proliferating cells, elucidation of mechanisms by which salicylate inhibits transcriptional activation, and the novel actions of prostaglandins on adult cell and embryonic stem cell survival, differentiation and proliferation.