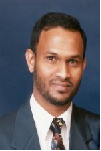 Lalit Kumar
.
Associate Professor
Department of Ecosystem Management
University of New England
Australia
Tel: 267-735-239
Biography
He is an Associate Professor in Ecosystem Management at UNE where he teachs Geographic Information Systems (GIS) and Remote Sensing subjects at both the undergraduate and postgraduate levels. The main subjects he is involved in are Geomatics, Introduction to GIS and Spatial Analysis & Modelling.
Research
Remote Sensing Image Analysis, Spatial Analysis and Modelling