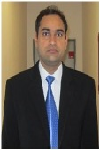 Mukesh Singh Boori
.
Department of Geo-informatics
Section of Earth Sciences
Palacký University, Olomouc
Czech Republic, Europe
Tel: 585-634-519
Biography
Prof. Dr. Mukesh Singh Boori involve in USA and European Union Project as well as Visiting Professor at Palacky University Olomouc, Czech Republic Europe since 04/2013, funded by European Union. He joined JECRC University India since 01/2013. He was Scientist in Satellite Climate Studies Branch (NOAA), selected by National Research Council (NRC), Central Government of USA, Washington DC.At the same time he completed his Postdoc from University of Maryland USA (10/2012). He has done PhD (EIA & Management of Natural Resources) from Federal University – RN (UFRN), Natal –RN Brazil (08/2011), funded by Brazil-Italy Government fellowship.He has done Predoc (Earth & Environmental Science) form Katholieke University Leuven Belgium (08/2008), selected by Ministry of Human Resource Development (MHRD) New Delhi India, funded by Government of Belgium. He has done M.Sc (Remote sensing & GIS) from MDS University Ajmer (2004) and BSc (Bio-group) from Uni. of Rajasthan, Jaipur, India (2002). In early career he was scientist in JSAC/ISRO (2006-2007) and before that Lecturer at MDS University Ajmer (2005-2007Sessions). He has many international awards/fellowships from USA, Brazil, Italy, Indonesia, Belgium, Czech Republic and India. He known Six Language and visit four Continents for Awards, Meetings, Trainings, Field Trips and Conferences. He is an active Organizing Committee Member in Earth Science Conferences, Successfully Completed a Session as a Co-Chair and also gave Conference Opening Ceremony Speech at Chicago, USA. He is member of many International Scientific Societies, Committees and review many international articles. His prime research interest is "EIA and Management of Natural Resources through Remote Sensing and GIS Technology". He has more than 25 International Publications including Books on Vulnerability, Risk Assessment and Climate Change. He enjoy Music, Games and Reading Books.
Research
Remote Sensing & GIS,Vulnerability & Risk Assessment, Earth Science/Observation, Land Use/Cover Change, Geoscience/Geo-informatics, Bio-Geography, Biodiversity, Forest, Agriculture, Ecosystem, Ecology, Urban, Desert Study, Hydrology, Climate Change,Environmental Impact Assessment, Management of Natural Resources, Land Resources Management, Sustainable Development and Disaster Management.