Emerging Materials in Nanotechnology
Nanotechnology is the collaboration of the physics, chemistry, biology, computer and material sciences integrated with engineering entering the nanoscale which range between 1-150nm. This means science and engineering focused on making the particles, things and devices at the atomic and molecular scale. The properties of nanomaterials differ from those of bulk materials having unique optical, electronic and mechanical properties. Engineered nanomaterials (ENMs) are designed and produced with novel physicochemical properties for a specific application from minerals and other chemical substance. Nanomaterial research is a material science based approach to nanotechnology which has its application in healthcare, electronics, cosmetics, optics, catalysis, pharmaceutics, energy conservation and other fields. The latest field of research on nanotechnology include Nano-optics and nanophotonic, Nanotoxicology and Nano safety, Graphene lenses and their applications, 5Nanobubbles technology, Recent technologies in medical imaging, Ultralight materials, etc,. Another important aspect of nanomaterials is Carbon Nano materials, which are an enabler for technology with seemingly endless potential applications: detecting cancer before it spreads, self-repairing buildings and bridges, filtering water, and powering mobile devices from body heat or movement. Carbon nanotubes are incredibly small and incredibly strong, 100 times stronger than steel at one-sixth of the density and 10,000 times smaller than one human hair. Graphene is a carbon membrane that, at just one atom thick, is stronger than steel and can tolerate of wide temperature and pH ranges.

The global nanotechnology-based medical devices market is expected to grow at a significant CAGR of around 11-12% during the forecast period (2014–2019). This report studies the global nanoparticle analysis market over the forecast period of 2015 to 2020. The market is expected to reach USD 91.1 Million by 2020, at CAGR of 5.4% from 2015 to 2020.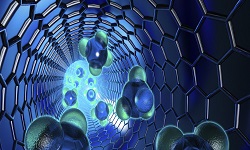 Carbon Nanostructures
Nanomaterials & Nanocomposites
Nanotubes
Nano Medicines
Nano-Sensors
Nano-optics and Nanophotonic
Nanotoxicology and Nano Safety
Nanobubbles Technology
Related Conference of
Emerging Materials in Nanotechnology
Emerging Materials in Nanotechnology
Conference Speakers