Dendrimers: Prospects for Bioanalytical Sciences
Sandeep Kumar Vashist*
HSG-IMIT, Institut für Mikro- und Informationstechnik, Georges-Koehler-Allee 103, 79110 Freiburg, Germany
*Corresponding Author:

Sandeep Kumar Vashist
HSG-IMIT, Institut für
Mikro-und Informationstechnik
Georges-Koehler-Allee 103
79110 Freiburg, Germany
Tel: +49 761 2037252
Fax: +49 761 20373299
E-mail: [email protected]
Received Date: September 30, 2013; Accepted Date: October 01, 2013; Published Date: October 03, 2013
Citation: Vashist SK (2013) Dendrimers: Prospects for Bioanalytical Sciences. J Nanomed Nanotechnol 4:e131. doi:10.4172/2157-7439.1000e131
Copyright: © 2013 Vashist SK. This is an open-access article distributed under the terms of the Creative Commons Attribution License, which permits unrestricted use, distribution, and reproduction in any medium, provided the original author and source are credited.
Visit for more related articles at Journal of Nanomedicine & Nanotechnology
Abstract
Dendrimers are repetitively branched molecules that have a typically symmetric core, an inner shell and an outer shell (Figure 1). The term 'dendrimers' was derived from the Greek word 'dendra' that means tree. They are generally classified by the generation, which is determined by the number of repeated branching cycles performed during its synthesis (Figure 1). The molecular weight of the dendrimer increases after each successive generation i.e. about twice than that of the previous generation. The higher generations dendrimers have increased surface functional groups, which determine their characteristic properties and make them suitable for various bioanalytical applications [1-4]. They enable the effective control of their solubility, thermal stability, crystallinity, chirality, tecto-dendrimer formation, toxicity and bioconjugation. The most commonly used dendrimers (Figure 2) are based on polyamidoamines, polyamides (polypeptides), polyamines, polyesters, poly(aryl ethers), DNA and carbohydrates.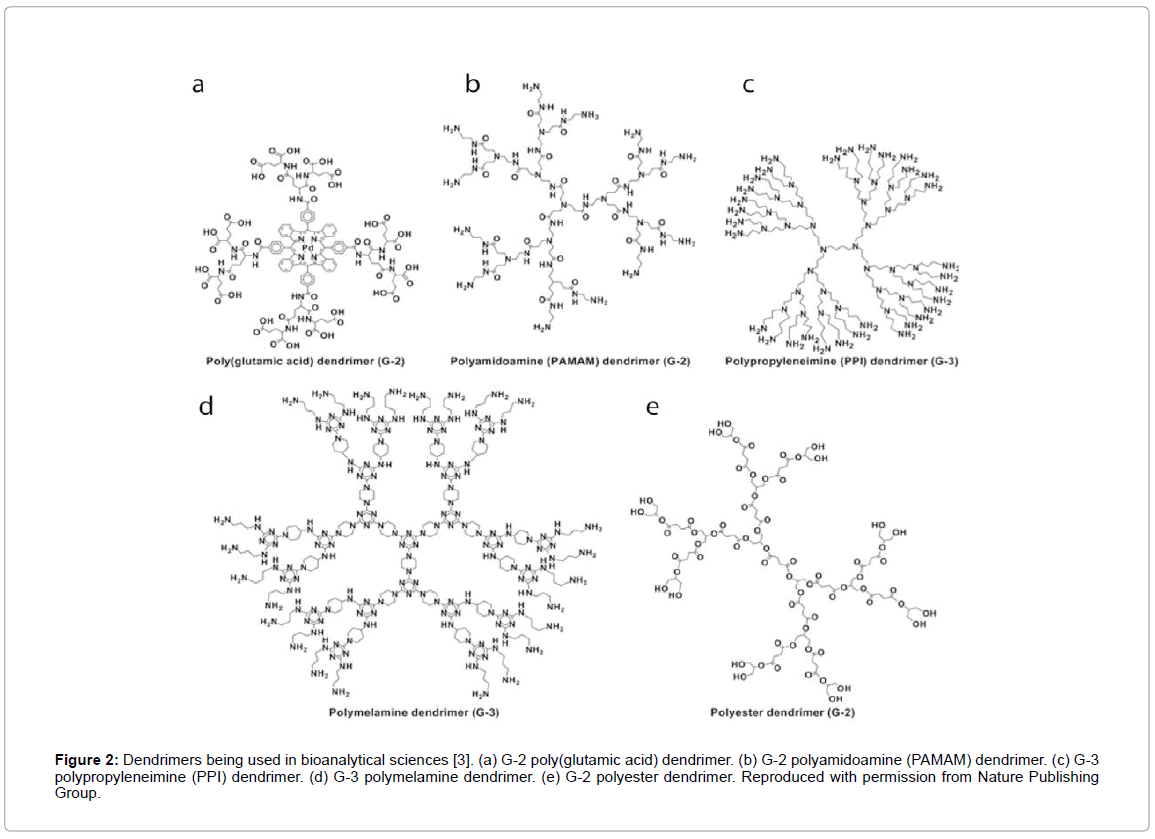 Figure 2: Dendrimers being used in bioanalytical sciences [3]. (a) G-2 poly(glutamic acid) dendrimer. (b) G-2 polyamidoamine (PAMAM) dendrimer. (c) G-3 polypropyleneimine (PPI) dendrimer. (d) G-3 polymelamine dendrimer. (e) G-2 polyester dendrimer. Reproduced with permission from Nature Publishing Group.
Initially, dendrimers were prepared by divergent synthesis [5], but the introduction of convergent synthetic approach for the preparation of dendrimers by Jean Fréchet [6] in 1990 led to exponential increase in dendrimers-based bioanalytical applications, as evident from >10,000 scientific papers published from 2000 onwards. The divergent synthesis involved extending the core of dendrimer outwards by a series of reactions, which usually leads to impurities and defects in dendrimer. But the convergent synthesis involves the reactions from the outermost spherical surface towards the innermost core of the dendrimer, where the impurities and shorter branches can be easily removed, thereby leading to monodisperse dendrimers. The synthesis of dendrimers by both approaches involves many steps, which is a serious limitation to synthesize them in bulk. Therefore, they are very expensive and being synthesized by selected companies only. The click chemistry has also been employed for synthesizing dendrimers [7-10]. Poly(amidoamine) (PAMAM) is the most widely used dendrimer for bioanalytical applications that is commercially-available in various generations, while its numerous surface functional groups make it ideal for click chemistry. It has a diamine (usually ethylene diamine) core, which reacts sequentially with methyl acrylate and ethylenediamine to make generation-0 (G-0) PAMAM. The lower generations i.e. G-0 to G-2 are flexible molecules with no appreciable inner regions; G-3 and G-4 have well-defined internal space; and, G7 and higher PAMAM dendrimers are solid particles with highly dense surfaces.
Dendrimers are multivalent systems, which can be conjugated to various chemical species, such as detection agents, imaging agents, targeting components, biomolecules, pharmaceutical/therapeutic agents, radio ligands, affinity ligands, for various bioanalytical applications. The water-soluble carboxylic acid and phenol terminated dendrimers have been widely used in drug delivery and for conducting chemical reactions in their interior. Dendrimers allow the simultaneous conjugation of targeting and drug molecules, which significantly reduces the negative side-effects of drug molecules on the healthy cells. They are widely employed for hosts guest chemistry and as a solubilizing agent. Due to their micelle-like behaviour based on their hydrophobic core and hydrophilic periphery, they can be used to encapsulate and solubilize majority of pharmaceutical drugs that are hydrophobic in nature. They have been widely used for the controlled delivery of antiretroviral bioactives [11] and anti-cancer drugs, such as cisplatin [12] and methotrexate [13]. The use of dendrimers enhances the uptake and retention of compounds within cancer cells.
Dendrimers have been extensively used for sensor applications, such as detection of pH using poly(propylene imine) [14]; detection of fluorescence signal quenching using cadmium-sulfide/ polypropylenimine tetrahexacontaamine [15]; and, photodetection of metal cation using G-1 and G-2 poly(propylenamine) [16]. They can also be used as blood substitutes as their steric bulk surrounding the heme-mimetic centre slows the degradation in comparison to free heme [17,18] apart from preventing the cytotoxicity exhibited by free heme. Additionally, PAMAM dendrimers have been used for synthesizing metallic nanoparticles of 1.5-10 nm diameter, known as dendrimerencapsulated nanoparticles [19]. Dendrimers have also been used for photonic oxygen sensing [20,21] and as carriers for magnetic resonance imaging contrast reagents [22,23]. Some dendrimers have also been used as drugs, such as PAMAM dendrimers that stimulate the removal of prion proteins from the infected cells [24]. They inhibit the multivalent binding between cells, bacteria, viruses and proteins [25]. A G-4 poly(L-lysine) dendrimer, having sulfate groups at its periphery, has been evaluated as an anti-viral topical ointment [26,27].
The significant advances during the last two decades have led to biodegradable chemistries, which enable the use of dendrimers for drug delivery, therapeutics, tissue repair scaffolds and optical oxygen sensors. The effects of molecular weight and design of dendrimers on their in vivo behaviour have also been well-understood. The low molecular weight dendrimers are expected to be highly biocompatible and should have fast renal elimination or biodegradation rate. However, there is still an immense need to assess the long-term human and environmental health consequences of exposure to dendrimers in vivo. Moreover, improved quality control assays are required to ensure the composition of dendrimers. The analytical procedures for synthesizing dendrimers are too complex and tedious, which need to be significantly improved in order to significantly cut down the commercial cost of dendrimers and enable them to be synthesized in bulk quantities. Lastly, the dendrimer-based bioanalytical applications need to comply with the existing industrial and healthcare requirements [28,29].
References