Genetic Characterization of Hepatitis C Viruses in HIV Positive People who Inject Drugs, Dhaka, Bangladesh
Mustafizur Rahman1*, Ezazul Islam Chowdhury1, Masud Reza1, Md Shah Alam1, M. Safiullah Sarker1, Mokibul Hassan Afrad1, Muntasir Alam1, M. Ziaur Rahman1, Mahmoud Reza Pourkarim2 and Tasnim Azim1
1Centre for HIV and AIDS, International Centre for Diarrhoeal Disease Research, Bangladesh
2Laboratory of Clinical Virology, Rega Institute for Medical Research, University of Leuven, Belgium
*Corresponding Author:

Mustafizur Rahman, Ph.D
Centre for HIV and AIDS, ICDDR
B, 68, Shaheed Tajuddin Ahmed Sharani
Dhaka-1212, Bangladesh
Tell: +8802-9840523-32; Ext-3454
Fax: +8802-8812529
E-mail: [email protected]
Received Date: March 08, 2012; Accepted Date: August 28, 2012; Published Date: August 31, 2012
Citation: Rahman M, Chowdhury EI, Reza M, Alam MS, Sarker MS, et al. (2012) Genetic Characterization of Hepatitis C Viruses in HIV Positive People who Inject Drugs, Dhaka, Bangladesh. J AIDS Clinic Res 3:165. doi:10.4172/2155-6113.1000165
Copyright: © 2012 Rahman M, et al. This is an open-access article distributed under the terms of the Creative Commons Attribution License, which permits unrestricted use, distribution, and reproduction in any medium, provided the original author and source are credited.
Visit for more related articles at Journal of AIDS & Clinical Research
Abstract
We investigated the HCV genotypes in HIV positive people who inject drugs (PWID) identified in Dhaka, Bangladesh in 2003. Genetic analyses revealed that the PWIDs shared closely related HIV strains subtype C genotypes but HCV genotypes in them were distantly related. This indicates that the mode of transmission of HIV and HCV infections in PWIDs might be different.
Keywords
HIV; HCV; Co-infection; Genotype; PWIDs; Bangladesh
Bangladesh has an estimated 20,000-40,000 people who inject drugs (PWIDs) who are scattered over different areas of the country [1-3]. Prevalence of hepatitis C virus was much higher in this group (more than 50% in some cities) [4] than in the general population (0.8%) [5]. Similarly, HIV prevalence in Bangladesh is high in PWIDs compared to other most-at-risk population (MARP). Routine surveillance conducted among MARP including sex workers, PWIDs, males having sex with males, has shown that the overall HIV prevalence until 2007 was less than 1%. However, the HIV prevalence in PWIDs particularly in Dhaka was much higher (7% in an urban area). A cohort study conducted among PWID in two neighbourhoods in Dhaka, Bangladesh during 2002-2007 reported that HIV and hepatitis C virus (HCV) prevalence were 5.9% and 66.8% respectively at baseline [4].
While HIV may be transmitted through multiple routes, it is believed that HCV in PWIDs is transmitted mainly via percutaneous exposure. Thus, the risk factors for HIV and HCV infections among PWIDs may differ and therefore lead to the different prevalence for the two infections. Studies on genetic characterization of HIV strains in PWIDs indicate that most of the HIV strains in PWIDs were subtype C which are closely related to strains from India, Middle East and East Asia [6]. However, it is yet to unveil the distribution of hepatitis C virus genotypes in PWIDs and the possible origin(s) of the viruses. Since intervention programs to prevent further escalation of the HIV and/or HCV epidemic are very important, it is required that HIV-HCV co-infection as well as their genetic characterization are understood. Here we describe the genetic variation of HIV-HCV in PWIDs in two urban areas in Dhaka.
Blood samples were obtained from HIV-HCV co-infected seropositive PWIDs who participated in a cohort study in two neighbourhoods in Dhaka. Viral RNA was extracted using the QIAamp Viral RNA Mini kit (QIAGEN, Leusden, the Netherlands). PCR based detection and phylogenetic analysis of HIV genetic material was done based on gag gene segments as previously described by Sarker et al. [6]. HCV RNA was detected by RT-PCR with primers specific to 5´ UTR of HCV genome. PCR positive samples were genotyped by sequencing of core genes using ABI Prism BigDye Terminator Cycle Sequencing Reaction kit (Applied Biosystem) [7]. The sequences were submitted to GenBank database under the following accession numbers JQ888223-JQ888233 and JQ668327-JQ668332, EF999807.
A total of 31 blood samples were analysed for HCV and HIV genes out of which 7 HIV and 17 HCV genes could be amplified. Genotyping data of HCV based on core gene revealed that 11 of them were genotype 3a (65%), 4 genotype 3b (24%) and 2 genotype 1b (11%). The prevalence of HCV genotypes 3a and 3b and HIV subtype C in Bangladesh is comparable to that observed in other neighbouring countries India and Myanmar [8-10]. Phylogenetic analyses of partial core gene seqeunces indicated that HCV strains clustered in different genotypes: 3a, 3b and 1b and were closely related to the Asian HCV strains (Figure 1A). On the other hand, phylogenetic tree (Figure 1B) based on partial gag genes of HIV strains isolated from the same individuals placed them in the same cluster belonging to HIV subtype C. This indicates that although PWIDs shared genetically close relative HIV strains, the HCV strains were different.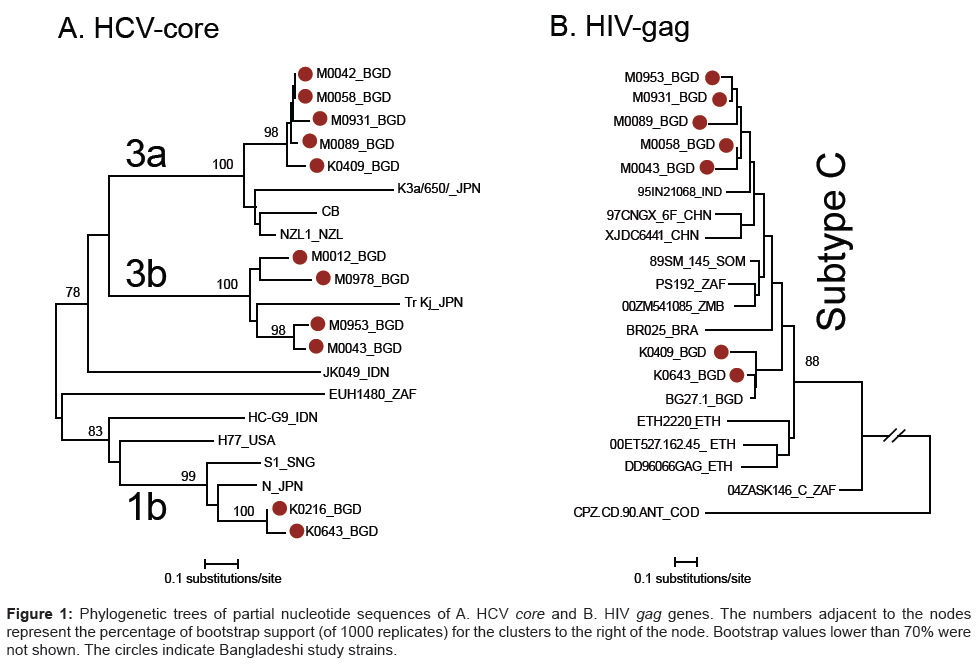 Figure 1: Phylogenetic trees of partial nucleotide sequences of A. HCV core and B. HIV gag genes. The numbers adjacent to the nodes represent the percentage of bootstrap support (of 1000 replicates) for the clusters to the right of the node. Bootstrap values lower than 70% were not shown. The circles indicate Bangladeshi study strains.
There are several limitations that need to be addressed in future studies. The first limitation is that a major proportion of the study samples could not be characterized by PCR. The reason as to why PCR did not amplify much HIV/HCV genetic material might be because the virus copies in the PCR negative samples were at undetectable level due to in-appropriate preservation of samples. Second, we analyzed very low numbers of samples. Inclusion of more subjects from different population groups (not just PWID) in future studies would give us more information on circulating HCV/HIV genotypes and their possible interactions in terms of anti-viral medications in these coinfected individuals.
Acknowledgements
This research study was funded by ICDDR, B and its donors which provide unrestricted support to ICDDR, B for its operations and research. Current donors providing unrestricted support include: Australian Agency for International Development (AusAID), Government of the People's Republic of Bangladesh; Canadian International Development Agency (CIDA), Swedish International Development Cooperation Agency (Sida), and the Department for International Development, UK (DFID). We gratefully acknowledge these donors for their support and commitment to ICDDR, B's research efforts.
References