Hyperglycemia During Acute Coronary Syndrome: Prognostic Implications
Fabio Angeli1*, Gianpaolo Reboldi2, Cristina Poltronieri1 and Paolo Verdecchia3
1Division of Cardiology and Cardiovascular Pathophysiology, Teaching Hospital S.M. della Misericordia, Perugia, Italy
2Department of Internal Medicine, University of Perugia, Perugia, Italy
3Department of Internal Medicine, Hospital of Assisi, Assisi, Italy
Corresponding Author:

Fabio Angeli
Division of Cardiology and Cardiovascular Pathophysiology
Teaching Hospital S.M. della Misericordia
Perugia, Italy
Tel: +39-075-5782394
Fax: +39-075-5271509
E-mail: [email protected]
Received Date: September 04, 2013; Accepted Date: September 14, 2013; Published Date: September 20, 2013
Citation: Angeli F, Reboldi G, Poltronieri C, Verdecchia P (2013) Hyperglycemia During Acute Coronary Syndrome: Prognostic Implications. J Diabetes Metab 4:e111. doi:10.4172/2155-6156.1000e111
Copyright: © 2013 Angeli F, et al. This is an open-access article distributed under the terms of the Creative Commons Attribution License, which permits unrestricted use, distribution, and reproduction in any medium, provided the original author and source are credited.
Visit for more related articles at Journal of Diabetes & Metabolism
Numerous studies have shown that hyperglycemia is common in acute critically illnesses, even in patients without diabetes mellitus [1]. Stress hyperglycemia is the result of sympatic nervous system activation and raised production of catecholamines and cortisol that stimulate processes of glyconeogenesis, glycogenolysis and lipolysis [2,3] (Figure, left panel).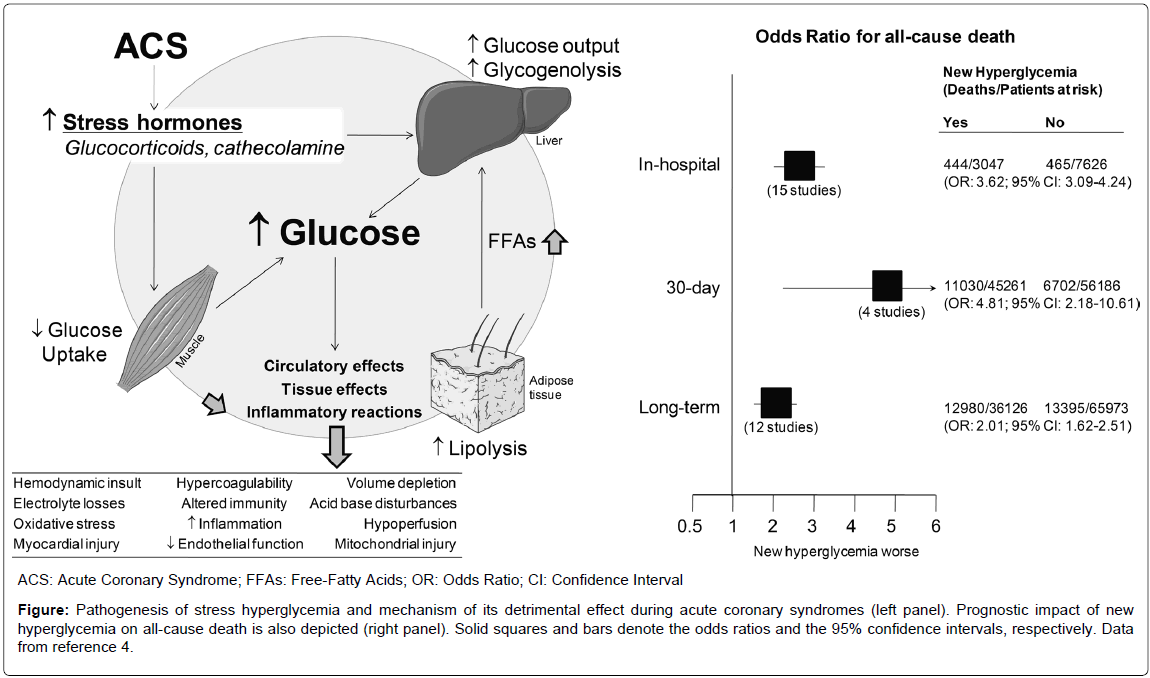 Figure: Pathogenesis of stress hyperglycemia and mechanism of its detrimental effect during acute coronary syndromes (left panel). Prognostic impact of new hyperglycemia on all-cause death is also depicted (right panel). Solid squares and bars denote the odds ratios and the 95% confidence intervals, respectively. Data from reference 4.
The adverse prognostic impact of hyperglycemia in patients with critical illness has focused considerable attention from expert groups and professional societies. In particular, an association between hyperglycemia and increased mortality and in-hospital complications in the time of acute coronary syndromes (ACS) has been confirmed in different studies [4,5]. In this setting, prevalence of hyperglycemia ranges from 3% to 71% according to different threshold of blood glucose used for diagnosis [4]. The lowest prevalence is observed with serum glucose levels of 169-306 mg/dl while, as expected, lower thresholds for diagnosing new hyperglycemia (108 mg/dl) is associated with the highest prevalence [4].
Although the mechanisms underlying the association between new hyperglycemia and mortality in patients with ACS are not fully understood, evidence that use of insulin to lower glucose concentrations in the time of ACS decreases mortality suggests that hyperglycemia is not simply an epiphenomenon of the stress response mediated by cortisol and noradrenaline [3,6]. In particular, the higher risk of poor outcome in patients with hyperglycemia during ACS may reflect several potential underlying mechanisms (Figure, left panel).
It has been shown that hyperglycemia increases the release of inflammatory and vasoconstrictive factors which impair coronary endothelial function, contributes to the production of reactive oxygen species with consequent oxidative stress and increases platelet aggregation [7,8].
In addition, acute blood glucose level increase is associated with electrophysiological alteration (that may favour the occurrence of arrhythmias) and with increased insulin resistance and impaired glucose utilization (which can potentially worsen ischemia through elevated oxygen consumption) [9].
From a clinical standpoint, several clinical studies showed a clear correlation between mean and persistent glucose levels and ACS mortality [4].
A recent analysis of the Cooperative Cardiovascular Project (CCP) which included a large cohort of patients (n=141680) with ACS showed that depending on different levels of glucose on admission (≤ 110, 110 to 140, 140 to 170, 170 to 240 and ≥ 240 mg/dl), new hyperglycemia was associated with a significant 13% to 77% relative increase in short-term mortality and a 7% to 46% relative increase in 1-year mortality [10]. Notably, after multivariable adjustment for confounders (including age, gender, prior heart failure, hypertension, cerebrovascular disease, peripheral vascular disease, smoking status, Killip class and atrial fibrillation [11]), patients with higher admission glucose levels remained at increased risk of both 30-day and 1-year mortality compared with patients whose admission glucose was ≤ 110 mg/dl [10]. Furthermore, Goyal et al. demonstrated that admission glucose and changes in glucose level within the first 24 hours predict the risk of mortality at 30 days in ACS patients without a history of diabetes and that the risk of 30-day mortality decreased by 9% per 11 mg/dL reduction in glucose within the first 24 hours after ACS [12].
In this context, we recently performed a meta-analysis of observational studies to further investigate the association between hyperglycemia and mortality in patients with ACS [4]. To be eligible, studies had to meet the following pre-specified criteria: (a) prospective cohort studies in ACS; (b) blood glucose measurements on admission or in the early phase of ACS; (c) count data for all cause death in patients without previously known diabetes mellitus (d) an unequivocal definition of new hyperglycemia based on blood glucose levels. In-hospital, 30-day and long-term mortality were analyzed separately. Overall, 24 clinical studies were identified and included in the analysis (Figure, right panel). Patients with new hyperglycemia showed a 3.6-fold (OR 3.62, CI: 3.09-4.24; p < 0.0001) increased risk of death during hospitalization compared to those who were normoglycemic [4]. Similarly, hyperglycemia was associated with an increased risk of occurrence of death during a follow-up of 30 days (OR 2.34, CI: 2.26-2.42; p < 0.0001) [4]. Addressing long-term mortality, new hyperglycemia was also associated with an excess risk of mortality (random-effects OR 2.02, CI: 1.62-2.51, p <0.0001; fixed effect OR 1.91, CI: 1.85-1.97, p < 0.0001) [4].
The substantial harm associated with new hyperglycemia in patients with ACS suggests that glucose management strategies may potentially improve outcomes in patients with new hyperglycemia [6]. In this context, treatment with insulin reduces inflammation and improves endothelial function and fibrinolysis in patients with ACS [6]. Nevertheless, the clinical benefits of an aggressive treatment with insulin are yet unproven [6] and the potential role of concomitant drug therapies, including renin-angiotensin-system blockers [13,14] and statins [15,16], to ameliorate the detrimental effect of hyperglycemia need to be further elucidated.
In conclusion, new hyperglycemia documented during ACS portends an excess risk of mortality not only in the hospital setting, but also in the short-term (30 days) and long-term (up to 108 months) [4].
However, findings concerning the effect on ACS-related mortality of an aggressive control of glucose levels have been conflicting and intervention trials are needed to optimize the definition of new hyperglycemia and to establish appropriate modalities and goals of glucose lowering treatment [6].
References