Iridocyclitis in a Female Patient with a Variant of Turner Syndrome
Sofocleous Christalena1,2, Tsoutsou Eirini1, Fafoula Olga3, Maritsi Despina4 and Fryssira Helen1*
1Medical Genetics, National and Kapodistrian University of Athens, Medical School, Choremio Research Laboratory," Aghia Sophia" Children's Hospital, Athens, Greece
2Research Institute for the Study of Genetic and Malignant Diseases of Childhood, National and Kapodistrian University of Athens, Choremio Research Laboratory," Aghia Sophia" Children's Hospital, Athens, Greece
3Endocrinology Department, Children's Hospital of Pentelis, Athens, Greece
4Reumatology Department, "Aglaias Kyriakou" Children's Hospital, Athens, Greece
*Corresponding Author:

Fryssira Helen
Associate Professor in Clinical Genetics, Medical Genetics
Choremio Research Laboratory, "Aghia Sophia" Children's Hospital
Thivon and Levadias, Goudi, Athens, 11527, Greece
Fax: +302107795553
E-mail: [email protected]
Received date: August 22, 2013; Accepted date:November 11, 2013; Published date: November 21, 2013
Citation: Christalena S, Eirini T, Olga F, Despina M, Helen F (2013) Iridocyclitis in a Female Patient with a Variant of Turner Syndrome. J Genet Syndr Gene Ther 4:196. doi:
Copyright: © 2013 Christalena S, et al. This is an open-access article distributed under the terms of the Creative Commons Attribution License, which permits unrestricted use, distribution, and reproduction in any medium, provided the original author and source are credited.
Visit for more related articles at Journal of Genetic Syndromes & Gene Therapy
Abstract
We report on a 4- years- old female patient with a karyotype 46,X,i(X)q (95%) /45,X0 (5%), with short stature, developmental delay and iridocyclitis, a rare autoimmune manifestation in variant Turner's syndrome group. Molecular analysis allowed characterization of the isochromosome as of paternal origin and disclosed loss of heterozygosity for PAR1 SHOX region. X-inactivation studies indicate that the isochromosome is almost completely methylated and inactive.
Keywords
Iridocyclitis; Variant turner syndrome; X-Isochromosome; X-inactivation; Hemizygosity
Introduction
Turner's syndrome (TS) is a chromosomal disorder where 80% of the affected females have 45, X0 and approximately the remaining 20% may have some variants on the second X chromosome such as an isochromosome of the long arm, ring chromosome or small deletions [1]. The incidence of Turner's syndrome is estimated to be 1 in 2.000- 5.000 live births [2].
The main characteristics of the disease are short stature, ovarian dysgenesis with primary amenorrhea, a small uterus, infertility, a webbed neck, widely spaced nipples, a broad chest, cubitus valgus and congenital heart defects [3]. Besides these common symptoms, TS has been related with some autoimmune diseases, such as Hashimoto thyroiditis, diabetes, juvenile rheumatoid arthritis and Crohn's disease. Rarely, eye abnormalities have also been reported [1,4-7]. We present a female patient who carries a karyotype 46, X,i(X)q (95%)/45,X0 (5%), a variant of Turner's syndrome, with some of the typical phenotype and with the unexpected features of iridocyclitis.
Case Report
A 4-year-old female patient was referred to our Clinical Genetics department for evaluation of short stature. She was born after an uneventful pregnancy by normal delivery at 40 weeks of gestation with a birth weight of 3.620 gr, height 46 cm and head circumference 33 cm. Her mother, aged 37, was from Russia and her father, aged 32, was Greek. Her parents were non-consanguineous and healthy. Our patient was the third child of the family. Her older brother and sister were both healthy. At birth, the proposita was hypotonic. Her development was slow as she did not gain weight or height as expected.
By the age of 2-years-old developmental delay was noticed. She sat up at 8 months and walked at 17 months.
On reexamination at the age of 4, the patient had speech delay. Her weight was 14 kg (at the 25th centile), her height was 94 cm (at the 3rd centile) and her head circumference was 50 cm (at the 50th centile). Morphologically, she had epicanthus, a highly arched palate and low set ears. Her nipples were widely spaced. Her right major pectoral muscle was hypoplastic.
Haematologic and biochemical analysis were normal. The heart ultrasound and the brain Magnetic Reasonance Imaging (MRI) were also normal. Ultrasound of the abdomen revealed no abnormalities however the uterus and the ovaries could not be observed.
The thyroid hormones were normal and no thyroid antibodies were detected. The immunoglobulin (IgG, IgA and IgM) as well as the autoimmune antibodies (ANA, a-DNA, ENA, ANCA, RA test), the C3, C4 and C1 esterase showed no abnormalities. The HLA B27 was negative.
The Mantoux test was negative. On ophthalmologic examination she was found to have iridocyclitis for which she was initially given daily cortisone eye drops and prednisolone per os in small doses. Unfortunately, there was no improvement so methotrexate was added to her treatment.
After 2 months of therapy a slight improvement has been noticed anh Humira (adalimumab- monoclonal antibody) was added to her treatment.
Methods
Ιnformed consent was obtained from her parents. Cytogenetic analysis by standard G-banding technique was performed from lymphocytes of peripheral blood. We also examined the parents, her brother and sister.
Genomic DNA was extracted from EDTA anticoagulated blood samples from the patient and the parents using the Magattract DNA Blood M48 Midi Kit (Qiagen, Hilden, Germany). Polymerase chain reaction (PCR), haplotype analysis- and X- inactivation studies were applied to characterize the parental origin of the isochromosome. Haplotyping, included the study of STRs along the dystrophin gene (DYSI, DYSII, STR45, STR49), the PAR1 short arm pseudoautosomal Region (DXYS10085, DXYS10092) as well as the trinucleotide CAG repeat of the Androgen Receptor (AR) gene. More specifically the CAG repeat was amplified before and after digestion with HpaII and HhaI restriction nucleases in order to evaluate the possibility of skewed X inactivation. A male control was also used during digestion to assure complete enzymatic cleavage. PCR products were sized and analyzed on an automated sequencer (Visible Genetics, Siemens, Medical Solutions Diagnostics, Tarrytown, NY 10591-5097 USA or ABI3500, Applied Biosystems USA/ Gene marker 95). Primer's sequences and PCR conditions were as previously described (www.dmd.nl and Fu et al. [8]). MLPA analysis was also performed using the commercially available P034/P035 MLPA protocols for the dystrophin gene located on Xp (MRC Holland).
Results
The patient's karyotype, showed a 46, X i(Xq) in 95% and 45, X0 in 5% of her cells that were examined (Figure 1 and 2). There were no significant differences observed in the banding patterns of the trisomic Xq components.
The karyotypes of her mother, father, sister and brother were normal. Considering the results, it was obvious that our patient was a female hemizygous for X linked genes located on the X chromosome short arm, as she had monosomy for Xp chromosome and trisomy for Xq chromosome. Haplotype analysis of the family disclosed hemizygosity in the patient for both the PAR1 region and the dystrophin gene and characterized the isochromosome to be of paternal origin (Figure 3a and 3b). Amplification of the CAG repeat and methylation analysis indicated the presence of skewed inactivation with the X isochromosome being almost completely inactive (Figure 4). In our case the inactivated Xq chromosome was also present as a Barr body in 9% of cells. The Barr body represents the inactive X chromosome in a female somatic cell due to Lyonization. Barr bodies are visible on the nucleus of neutrophils. Because of the presence of Barr body it was difficult to find a conclusion of gene expression. MLPA analysis showing only one copy of the dystrophin gene for the patient, confirmed the absence of Xp arms in the isochromosome (data not shown).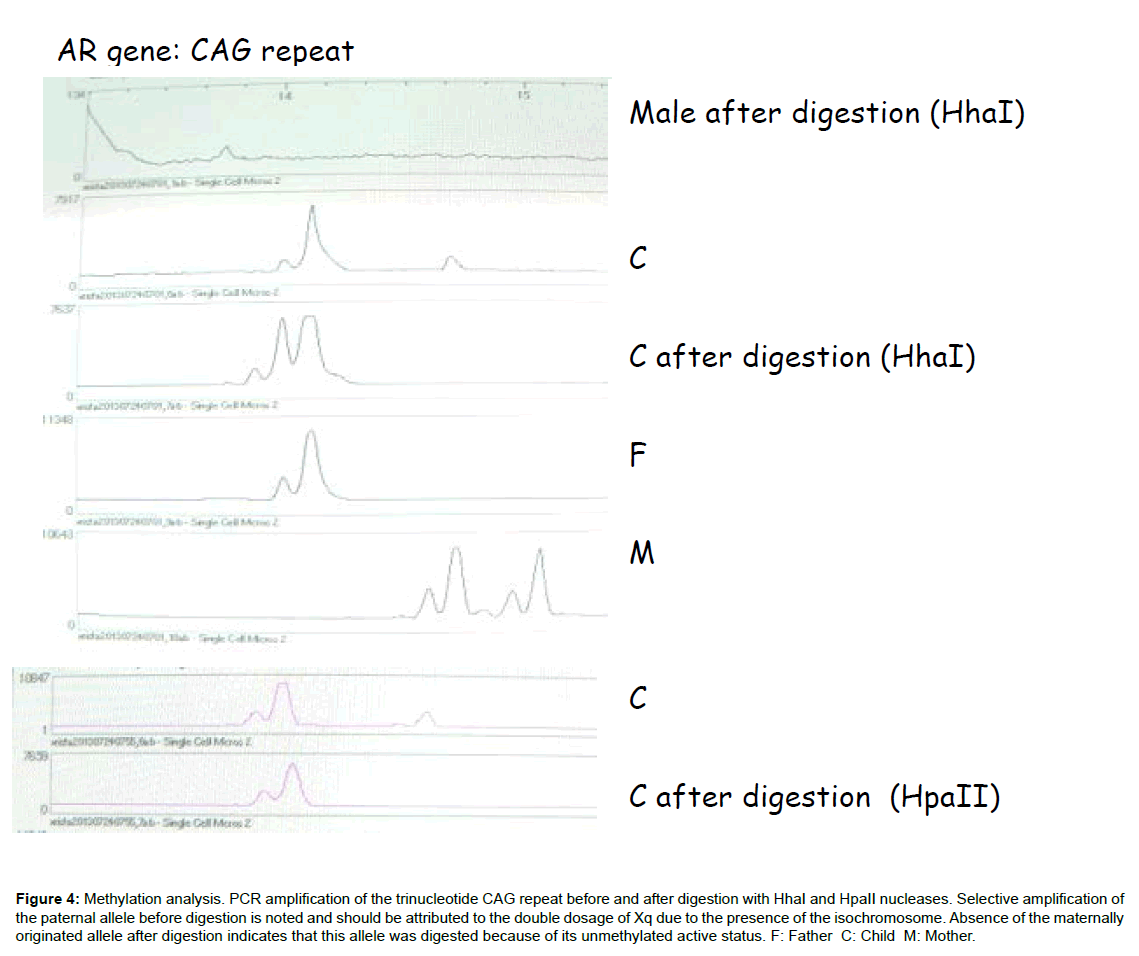 Figure 4: Methylation analysis. PCR amplification of the trinucleotide CAG repeat before and after digestion with HhaI and HpaII nucleases. Selective amplification of the paternal allele before digestion is noted and should be attributed to the double dosage of Xq due to the presence of the isochromosome. Absence of the maternally originated allele after digestion indicates that this allele was digested because of its unmethylated active status. F: Father C: Child M: Mother.
Discussion
It has been suggested that the iso (Xq) formation is caused by centromere misdivision, which is a rare mechanism in humans or by sister chromatid breakage and reunion in proximal Xp [9,10]. The age of the parents should not be associated with the formation of the isochromosome [10]. Our patient's parents were young.
Our proband was firstly examined at 4 years due to her short stature which was at the lowest normal rate. In TS this happens because of haploinsufficiency of the SHOX gene, which is located on the X-chromosome pseudoautosomal (PAR1) region on the distal Xp. It must be noted that this region is homologous identical on X and Y chromosomes and does not undergo X-inactivation [11]. Stochholm et al. 2006, concluded that the median age of female with i(Xq) to be diagnosed is 14.2 years [12].
Several ocular abnormalities have been noticed in TS such as amblyopia, strabismus, reduced accommodation and convergence insufficiency [1,4-6,13,14]. More rarely, Coat's disease, unilateral peripheral retinal neovascularization, keratoconus and anterior segment abnormalities have been reported. Accorinti et al., described anterior uveitis in patients with TS and autoimmune disorders, such as autoimmune thyroiditis, juvenile rheumatoid arthritis and inflammatory bowel disease [1,15-17]. Also, a high risk of diabetes mellitus was observed among subjects with isochromosome Xq [18]. This could be triggered by overexpression of Xq genes that escape inactivation. Although, in our patient the antinuclear antibodies and the HLA antigen do not prove the presence of an underlying autoimmune disease. Between two groups, the classical TS (XO) and the variants with isochromosome (X iXq), the notable difference was in the level of XIST expression (X-inactivation specific transcript-Xq 13.2), which is a non-coding RNA involved in X-chromosome inactivation. Therefore, monosomic patients (XO) show less expression than those patients who have additional Xq copies [18].
The inactivation of the second X-chromosome or any additional X-chromosome could help prevent overdosage of X-linked genes. Unfortunately, studies in human cell lines concluded that not all genes on the inactivated X are silenced [19-21].
The clinical phenotype of 45, X0 and 46, Xi(Xq) subjects appears to be similar. Our patient had a borderline short stature and slight developmental delay but no cardiac or renal defects. However, she did suffer from iridocyclitis. From the literature, this could be explained by the higher incidence of autoimmune diseases in patients with isochromosome Xq [15].
Our observations show the difficulty in defining genotypephenotype associations in TS and advise clinicians to be aware of the presence of higher incidence of autoimmune diseases.
The AR assay is universally used for the evaluation of X-inactivation status in either normal females where random inactivation is expected, or in carriers of X linked diseases, where skewed patterns may exert a different phenotypic expression. In our patient, the double dosage of genes located on the long arm of X chromosome due to the isochromosome may alter the exact ratio of X- inactivation. However, the isochromosome is most probably inactive. How this finding discriminates our proband from a typical Turner syndrome patient remains to be studied. One should consider that the variant phenotypic expression of additional symptoms may be attributed to the presence and double dosage of genes that escape inactivation [20] and could be considered over expressed as was obvious in our patient.
Acknowledgements
We would like to thank the family and the technician Anthi Kosma for their contribution to the present study.
References