Isolation of Bacteriophage against Currently Circulating Strains of Acinetobacter baumannii
Jane F Turton1*, Claire Perry1 and Matthew J Hannah2
1Laboratory of HealthCare Associated Infection, Centre for Infections, Health Protection Agency, 61, Colindale Avenue, London NW9 5EQ, United Kingdom
2Virus Reference Department, Health Protection Agency, 61, Colindale Avenue, London NW9 5EQ, United Kingdom
*Corresponding Author:

Turton JF
Laboratory of HealthCare Associated Infection
Centre for Infections,Health Protection Agency, 61
Colindale Avenue,London NW9 5EQ, United Kingdom
Tel: +44 (0)208 327 7224
Fax: +44(0)208 200 7449
E-mail: [email protected]
Received Date: April 03, 2012; Accepted Date: May 08, 2012; Published Date: May 14, 2012
Citation: Turton JF, Perry C, Hannah MJ (2012) Isolation of Bacteriophage against Currently Circulating Strains of Acinetobacter baumannii. J Med Microb Diagn 1:109. doi: 10.4172/2161-0703.1000109
Copyright: © 2012 Turton JF, et al. This is an open-access article distributed under the terms of the Creative Commons Attribution License, which permits unrestricted use, distribution, and reproduction in any medium, provided the original author and source are credited.
Visit for more related articles at Journal of Medical Microbiology & Diagnosis
Abstract
We successfully isolated bacteriophage active against clinical strains of Acinetobacter baumannii by enrichichment from activated sewage sludge using representatives of those strains. Purified bacteriophage suspensions obtained were tested on a range of clinical isolates that included representatives of multiple strains of each of the international clonal lineages, as well as minor and sporadic strains. Most representatives of the South East clone, a successful sublineage belonging to international clone II, and a representative of a further strain belonging to international clone II were susceptible to the phage, while further strains belonging to this lineage, as well as those from other lineages were not susceptible. Examination by transmission electron microscopy revealed bacteriophage of the Myoviridae family. Activated sewage sludge is a valuable source of bacteriophages active against some currently circulating strains of A. baumannii.
Keywords
Acinetobacter baumannii; Bacteriophage; Activated sewage sludge; Typing
Abbreviations
PFGE: Pulsed-Field Gel Electrophoresis; VNTR: Variable Number Tandem Repeat; PFU: Plaque Forming Unit; SSC: 0•15 M Sodium Chloride, 0•015 M Sodium Citrate; EM: Electron Microscopy; HEPES: 4-(2-hydroxyethyl)-1-piperazineethanesulfonic acid; NCCLS: National Committee for Clinical Laboratory Standards; BSAC: British Society for Antimicrobial Chemotherapy; UK: United Kingdom; h: Hour
Introduction
Acinetobacter baumannii is an opportunistic pathogen, mainly affecting patients in intensive care units, that is usually resistant to most antibiotics. Infections can occur at anybody site, but the organism is mainly associated with ventilator-associated pneumonia, catheter-related bloodstream and urinary tract infections, and wound infections [1]. Most clinical isolates belong to one of two major lineages, known as international clones I and II [2,3], which can be further divided into 'sublineages' by techniques such as pulsed-field gel electrophoresis (PFGE). Some of these sublineages are highly successful, and have affected large numbers of patients in multiple hospitals. The multiresistance has sparked fears that there may shortly be no therapeutic agents to combat infections with this organism, leading to a revival of interest in bacteriophage as a potential therapeutic agent [4-6]. Recently, there have been four reports of bacteriophages that are active against A. baumannii, but their host range is usually limited, with only a proportion of isolates tested being susceptible [7-10]. In the study of Lee et al. [10], only 27% of isolates tested were susceptible to bacteriophage Abp53, whilst in that of Yang et al. [8], no other hosts tested were susceptible to bacteriophage AB1, indicating a narrow host range. The use of a cocktail of bacteriophages is therefore sometimes advocated [8,11]. Moreover, the bacteriophages in these studies have mostly been from environmental sources, when it is clear that clinical strains of A. baumannii affecting patients are not found in the general environment. This has led us to consider the possibility of looking for bacteriophages in activated sewage sludge using particular clinical isolates and strains, to considerably increase the chance of obtaining bacteriophage to which that strain would be susceptible. 'Activated' in the term 'activated sewage sludge' refers to the mixing of collected sludge, that is rich in bacteria, with incoming effluent and air, to degrade the organic material.
Here we describe the results of this approach, and suggest that activated sewage sludge is a valuable source of bacteriophages for custom treatment of individual strains, which could be drawn upon in specific cases, or to update bacteriophage cocktails for activity against commonly isolated, currently circulating strains.
Materials and Methods
In June 2010 a fresh sample of approximately 1 litre of activated sewage sludge was obtained from Thames Water (Mogden Sewage Works, Isleworth, London) and allowed to settle. For each A. baumanniistrain to be tested, approximately 1.25 g of the sediment was added to 5 ml of nutrient broth, and this was inoculated with 50 μl of overnight culture of the bacteria and incubated with shaking for 6 h at 37°C. The culture was centrifuged at 1,000 x g for 2 min and the resulting supernatant filtered through a 0.45 μm filter into a sterile bijou. This preparation was then tested against the host strains used. Overnight cultures of each strain were poured onto dried nutrient agar or SSC (0•15 M sodium chloride, 0•015 M sodium citrate) plates, and, once the plate had been covered completely, the excess liquid was removed. SSC was used in some of the first experiments to prevent potential overgrowth of the plaque clearings by the bacterial lawn. Plates were left to dry for approximately 2 h. A drop (approximately 20 μl) of the filtered supernatant from each of the cultures grown with sediment was added and the plates incubated at 30°C overnight. The following day, they were examined for plaques (clear circular zones in otherwise confluent bacterial growth due to lysis of the bacteria by bacteriophage). Preparations that had yielded plaques were serially diluted in nutrient broth to 10-6 and 100 μl of each dilution added to 300 μl of exponential phase host cells in an Eppendorf tube, incubated at 37°C for 5 min in a heated block and the mixture added to 4 ml of top agar (0.6% (w/v) agarose in nutrient broth) at 45°C, and poured immediately onto nutrient agar plates. Plates were incubated at 30°C overnight, and those that had yielded plaques sufficiently separated to facilitate picking of single plaques chosen for plaque purification.
After two rounds of plaque purification, preparations were plated with their host strain to give near confluent plaques, and the top agar scraped off into nutrient broth. Following filtration through a 0.45 μm filter, the titre of the bacteriophages was determined (by serial dilution and plating as above) and suspensions containing 1 x 105 pfu/ml prepared by dilution in nutrient broth for testing against a large number of previously characterized clinical isolates. In some experiments, MgSO4 was added to a final concentration of 10 mM to the nutrient broth used for dilutions and in the top agar overlay to ensure that any apparent lack of susceptibility shown by particular hosts was not the result of suboptimum concentrations of divalent cations in the media used.
Bacterial isolates
A. baumannii isolates had been received from hospitals in the UK and abroad, and had all been characterized by a combination of PCR analysis (for OXA carbapenemase genes, class 1 integrase gene and Group 1 (international clone II) blaOXA-51-like, csuE and ompA alleles), pulsed-field gel electrophoresis of ApaI-digested genomic DNA and analysis at two Variable Number Tandem Repeat (VNTR) loci, as described previously [3,12]. They included representatives of strains of all three international lineages, as well as sporadic strains. Where multiple representatives of the same strain were included, these were chosen to be each from a different patient and hospital.
Electron microscopy
Bacteriophage suspensions were concentrated by centrifugation, resuspended in 10 mM 4-(2-hydroxyethyl)-1-piperazineethanesulfonic acid (HEPES) pH 7.4 and examined by transmission electron microscopy (EM) after negative staining on-grid with 1.5% phosphotungstic acid. The electron microscope camera was calibrated and regularly checked using commercially available size standards (diffraction gratings and catalase crystals purchased from Agar Scientific, Stansted, UK).
Results and Discussion
Initial experiments involved culturing representatives of four, distinct strains of A. baumannii, detailed in Table 1a, with the activated sewage sludge sediment and testing the resulting supernatants for activity against these same isolates. This resulted in enrichment of phage against two of them, both of which were representatives of strains belonging to the international clone II lineage, that have affected multiple patients [3,13]. On the basis of the appearance of the bacteriophages by EM, and the pattern of susceptibility of the bacterial isolates, the enriched phage was the same from both hosts. Plaque purification was carried out using these isolates, and a further three hosts identified during testing, with suspensions purified from each being tested in parallel. Of the 36 A. baumannii isolates tested in total (the original host isolates and the further panel), which included strains belonging to each of the three international lineages and sporadic and minor strains, only 10, all belonging to strains of international clone II, were susceptible to the phage suspensions. Representatives of the South East clone, in particular, were sensitive to the bacteriophage (8/9 isolates), as was a representative of the North West strain (Figure 1). Representatives of OXA-23 clone 1, which also belongs to international clone II, and is the most prevalent type in the UK [12,14], were not susceptible (8/8), nor were isolates of four other strains belonging to international clone II (Table 1). Results were the same irrespective of which bacterial host was used for purification, with the exception that, with one of the isolates (WM996, originating from Australia), a morphologically distinct phage (Figure 2b) was co-enriched; unfortunately we were not able to obtain pure suspensions of this putative further bacteriophage. Although zones on bacterial lawns were mostly clear, some 'spots' of growth were observed in the clear zone in some cases, suggesting emergence of resistance against the bacteriophage.
Isolate
PFGE type/(isolate number)
International clonal lineage
Susceptible to phage in sediment
OXA-23 clone 1 (1) 2
II
No
North West strain (1) 3
II
Yes
South East clone (1) 2
II
Yes
Burns Unit strain (1) 2
I
No
a) Original four isolates grown in presence of sediment:
PFGE type1
International clonal lineage
Proportion of representatives tested susceptible to
bacteriophage
South East clone4
II
8/9
North West strain3
II
1/2
OXA-23 clone 12
II
0/8
T-strain
II
0/1
SAC-1
II
0/2
QAC-92
II
0/1
WM (Australia 2)2
II
1/1
Other strains
II
0/2
QAC-162
I
0/1
AYE strain
I
0/1
Burns Unit strain2
I
0/2
QAC-242
I
0/1
CAC-92
I
0/1
Midlands 2
III
0/1
Sporadic strains
-
0/3
b) Testing panel for enriched bacteriophage suspensions5
1 PFGE types are as described previously (15).
2 PCR positive for blaOXA-23-like acquired carbapenemase gene.
3 PCR positive for blaOXA-58-like acquired carbapenemase gene.
4 Two of the nine representatives of the South East clone tested were PCR positive
for blaOXA-23-like acquired carbapenemase gene.
5 Suspensions all gave the same results
Table 1: A. baumannii isolates used.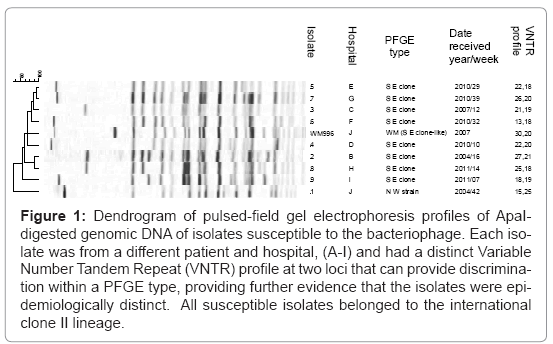 Figure 1: Dendrogram of pulsed-field gel electrophoresis profiles of ApaIdigested genomic DNA of isolates susceptible to the bacteriophage. Each isolate was from a different patient and hospital, (A-I) and had a distinct Variable Number Tandem Repeat (VNTR) profile at two loci that can provide discrimination within a PFGE type, providing further evidence that the isolates were epidemiologically distinct. All susceptible isolates belonged to the international clone II lineage.
EM examination of the bacteriophage suspensions indicated bacteriophage belonging to the Myoviridae family (Figure 2).
The South East clone is one of the successful sublineages of international clone II that has affected muItiple hospitals in the UK [13,14]. Most current isolates carry blaOXA-23-like in an AbaR4-type island inserted in the comM gene [15], and display multiresistance to antibiotics, including the carbapenems; those without blaOXA-23-like often show upregulation of blaOXA-51-like. Indeed, isolate 2 was resistant to all antibiotics tested (amikacin (MIC 32 mg/L), gentamicin (MIC > 32 mg/L), tobramycin (MIC 8 mg/L), ampicillin (MIC > 64 mg/L), aztreonam (MIC 64 mg/L), imipenem (MIC 16 mg/L), meropenem (MIC 16 mg/L), sulbactam (MIC 32 mg/L), piperacillin (MIC > 64 mg/L), piperacillin/ tazobactam (MIC > 64 mg/L), colistin (MIC > 32 mg/L), ciprofloxacin (MIC > 8 mg/L), ceftazidime (MIC 64 mg/L), cefepime (MIC 32 mg/L), cefotaxime (MIC > 64 mg/L) and cefoxitin (MIC > 64 mg/L); there was intermediate susceptibility to minocycline (MIC 8 mg/L) according to National Committee for Clinical Laboratory Standards (NCCLS) criteria). A further potential therapeutic agent against this strain is therefore welcome, although caution should be advised. Increased use of bacteriophages may encourage transfer of genes by transduction, and perhaps use of bacteriophage products, such as lysins, is a safer option than using live bacteriophage [16,17]. Resistance, indicated by spotting in phage clearings on bacterial lawns, may appear.
The wide susceptibility of representatives of the South East clone, from different hospitals and outbreaks, to the bacteriophage is encouraging. Unfortunately, despite using a representative of OXA-23 clone 1 in the initial enrichment, we did not isolate bacteriophage to which this genotype, the most prevalent in the UK, was sensitive. We used an isolate dating from 2003 in this enrichment; perhaps using a more current isolate could have been more successful.
This work has shown that activated sewage sludge is a useful source of bacteriophage against some currently circulating strains of A. baumannii. However, the host range of each bacteriophage is limited, and enrichment of phage using the strain (as here with the South East clone) for which therapy is sought greatly increases the chance of finding phage to which it will be sensitive. We have isolated a bacteriophage active against most representatives of the South East clone, a sublineage of international clone II resistant to most antibiotics that has infected many patients in UK hospitals.
Acknowledgements
We are grateful to Mark Grimshaw and Darren Crone at Thames Water, Mogden Lane, Isleworth for providing us with a sample of activated sewage sludge, without which this work would not have been possible.
References