Meta-analysis of Aurora Kinase A (AURKA) Expression Data Reveals a Significant Correlation between Increased AURKA Expression and Distant Metastases in Human ER-positive Breast Cancers
Heinz-Ulli G. Weier* and Jian-Hua Mao*
Life Sciences Division, E.O. Lawrence Berkeley National Laboratory, One Cyclotron Road, Berkeley, CA 94720, USA
*Corresponding Author:

Heinz-Ulli G. Weier
Life Sciences Division
E.O. Lawrence Berkeley National Laboratory
MS 977, One Cyclotron Road, Berkeley
CA 94720, USA
E-mail: [email protected]
Jian-Hua Mao
Life Sciences Division
E.O. Lawrence Berkeley National Laboratory
MS 977, One Cyclotron Road, Berkeley
CA 94720, USA
E-mail: [email protected]
Received date: February 28, 2013; Accepted date: February 28, 2013; Published date: March 06, 2013
Citation: Weier HUG, Mao JH (2013) Meta-analysis of Aurora Kinase A (AURKA) Expression Data Reveals a Significant Correlation between Increased AURKA Expression and Distant Metastases in Human ER- positive Breast Cancers. J Data Mining Genomics Proteomics 4:127. doi:10.4172/2153-0602.1000127
Copyright: © 2013 Weier HUG, et al. This is an open-access article distributed under the terms of the Creative Commons Attribution License, which permits unrestricted use, distribution, and reproduction in any medium, provided the original author and source are credited.
Visit for more related articles at Journal of Data Mining in Genomics & Proteomics
Of all human carcinomas, breast cancer (BrCa) is worldwide the most frequently occurring tumor in women [1]. Most breast cancer patients succumb to their disease as a result of tumor metastasis [2,3]. It is therefore important to elucidate the factors which effect BrCa progression, therapy resistance and metastasis. Accumulated evidence could demonstrate that breast cancer is a very complex and intrinsically heterogeneous disease, which progresses through accumulation of genomic aberrations that enable development of cancer-specific pathophysiological changes such as unlimited growth in even nutrient limited environments and metastasis to distant organs [4,5]. Recent advances in technology, such as DNA and RNA microarrays, have allowed to deconvolute some of the heterogeneity and complexity of somatic BrCa genetics. Using RNA microarrayderived expression data, breast cancer has been classified into five molecular subtypes: normal breast like, luminal A, luminal B, HER2+/ ERBB2+, and basal-like. Among these molecular subtypes, basal-type breast cancer is associated with a most aggressive growth and poor prognosis [6]. Based on these molecular findings, some improvements have been made in diagnosis and treatment of breast cancer. However, for most patients, the prognosis and disease-free survival times have not changed dramatically. This is likely due to mechanisms by which gene amplifications affect survival or other aspects of cancer pathophysiology most of which are not well understood. Thus, mechanistic and functional studies of molecular changes in breast cancer-are urgently required.
The long arm of human chromosome 20, termed 20q, is frequently found amplified in a wide variety of human solid tumors among them BrCa [7-12]. Several studies reported that amplification of 20q is associated with poor clinical outcome of cancer and serve as an indicator for cancer progression and metastasis [7,13]. Multiple genes encoded on 20q have been identified as candidate oncogenes in BrCa including Aurora-A kinase (AURKA) [14,15], ZNF217 [16], UBE2C [17] and TPX2 [18]. AURKA is a key regulator of chromosome segregation and cytokinesis [14,15,19]. Over expression of AURKA in tumors is correlated with clinically aggressive disease [20]. A wealth of functional data exists showing that over expression of AURKA leads to centrosome amplification, chromosomal instability and oncogenic transformation [14,15,21-23]. Furthermore, over expression of AURKA in transgenic mouse models resulted in the development of mammary gland tumors [24,25]. These data indicate that AURKA possesses oncogenic activity and may be a valuable therapeutic target in cancer therapy [26,27]. Consequently, several small-molecule inhibitors of Aurora-A kinase have been developed and are currently undergoing clinical trials [28].
We conducted a meta-analysis of AURKA expression in human breast cancer samples using Breast Cancer Gene-Expression Miner v3.0 (bc-GenExMiner v3.0) software [29,30]. Consistent with recent reports [31], patients with high AURKA mRNA expression levels (greater than median expression) had significantly decreased survival (any event [AE]) compared to those with low AURKA mRNA levels (less than median expression) (hazard ratio (HR) =1.62; 95% CI: 1.44-1.83; p<0.0001) (Figure 1A). Surprisingly, we also found that high AURKA mRNA levels significantly decreased metastatic relapse (MR)- free survival (HR=1.75; 95% CI: 1.50-2.05; p<0.0001) (Figure 1B).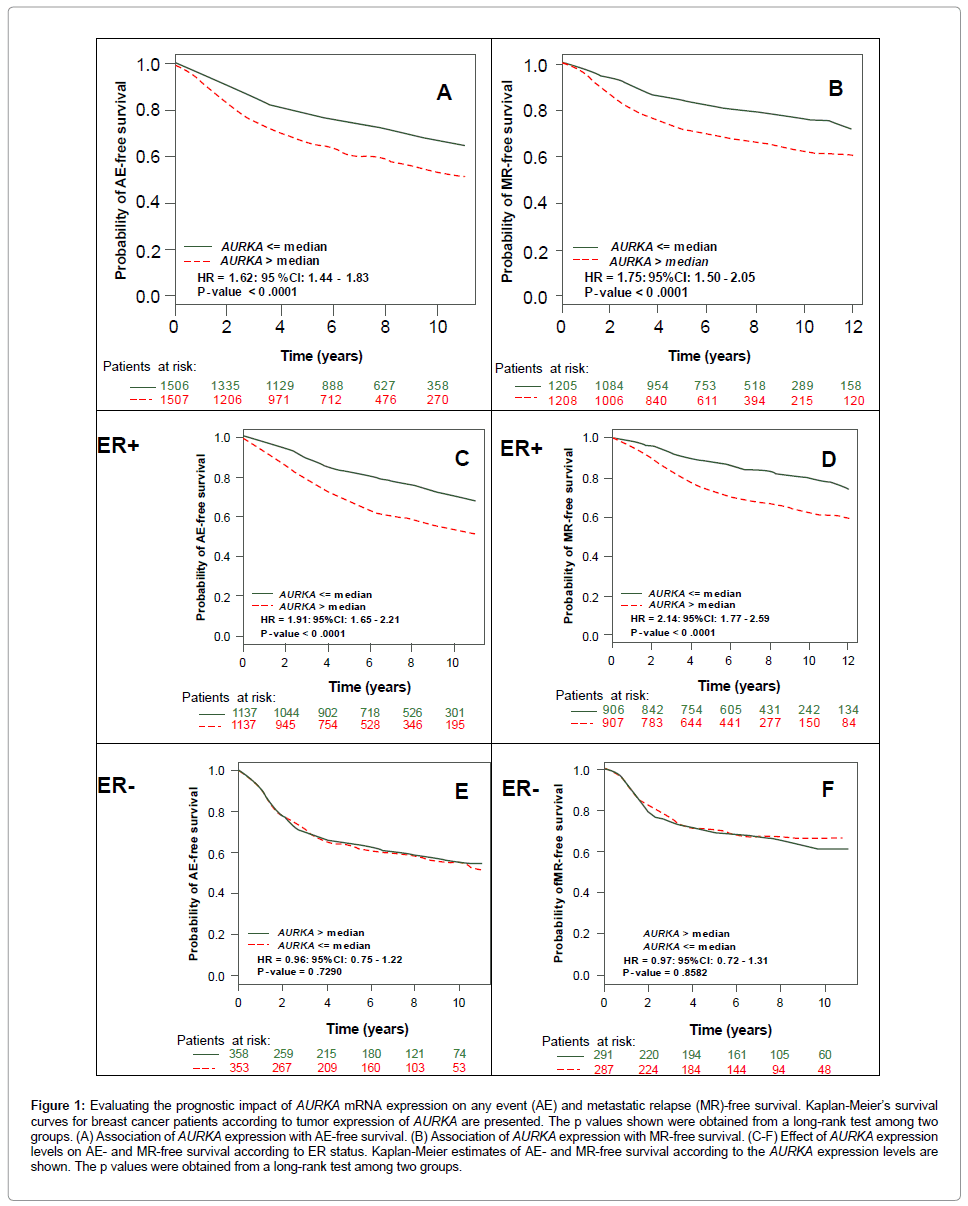 Figure 1: Evaluating the prognostic impact of AURKA mRNA expression on any event (AE) and metastatic relapse (MR)-free survival. Kaplan-Meier's survival curves for breast cancer patients according to tumor expression of AURKA are presented. The p values shown were obtained from a long-rank test among two groups. (A) Association of AURKA expression with AE-free survival. (B) Association of AURKA expression with MR-free survival. (C-F) Effect of AURKA expression levels on AE- and MR-free survival according to ER status. Kaplan-Meier estimates of AE- and MR-free survival according to the AURKA expression levels are shown. The p values were obtained from a long-rank test among two groups.
Estrogen receptor (ER) and nodal status in breast cancer is an important predictor of recurrence and greatly influences treatment regimens. We, therefore, performed univariate Cox proportional hazards model analysis on each of the 18 possible pools corresponding to every combination of population (nodal and estrogen receptor status) and event criteria (MR or any event [AE]) to assess the prognostic impact of AURKA expression on patients with different ER and nodal statuses. As summarized in table 1, we found that high AURKA expression shortened both AE- and MR- free survival only in the groups of ER+ or ERm patients, not in the group of ER- patients. To further clarify these results, we performed a subset analysis of AURKA in ER- positive and ER- negative tumors. High levels of AURKA expression were significantly associated with shorter AE- and MRfree survival in patients with ER-positive, but not ER-negative tumors (Figures 1C-F).
Population and event criteria
p-Value
HR (95% CI)
No. Patients
No. Events
Node status
ER Status
Event
1
Nm
ER+
AE
<0.0001
1.40 (1.30-1.52)
2274
769
2
Nm
ERm
AE
<0.0001
1.32 (1.23-1.40)
3013
1076
3
Nm
ER+
MR
<0.0001
1.46 (1.33-1.62)
1813
463
4
Nm
ERm
MR
<0.0001
1.37 (1.26-1.48)
2413
658
5
N-
ER+
AE
<0.0001
1.45 (1.30-1.61)
1357
404
6
N-
ERm
AE
<0.0001
1.33 (1.21-1.45)
1760
568
7
N-
ER+
MR
<0.0001
1.48 (1.31-1.69)
1176
272
8
N-
ERm
MR
<0.0001
1.34 (1.20-1.49)
1539
385
9
N+
ERm
MR
0.0001
1.33 (1.15-1.53)
643
217
10
N+
ERm
AE
0.0008
1.21 (1.08-1.36)
816
376
11
N+
ER+
MR
0.0009
1.34 (1.13-1.60)
506
162
12
N+
ER+
AE
0.0051
1.22 (1.06-1.39)
640
278
13
N+
ER-
MR
0.2322
1.21 (0.89-1.65)
133
55
14
N+
ER-
AE
0.2566
1.14 (0.91-1.44)
172
98
15
Nm
ER-
AE
0.3084
1.07 (0.94-1.23)
711
300
16
N-
ER-
MR
0.4299
0.91 (0.73-1.15)
347
111
17
Nm
ER-
MR
0.4505
1.07 (0.90-1.26)
578
191
18
N-
ER-
AE
0.9803
1.00 (0.82-1.22)
383
159
Node or ER status (+: positive, -: negative, m: mixed); AE: any event; MR: metastatic relapse; HR: hazards ratio
Table 1: Prognostic impact of AURKA expression level in 18 possible pools corresponding to every combination of populations (nodal and estrogen receptor status).
The molecular subtype of human BrCa is another important prognostic factor. Therefore, the tumors were assigned into normal-like, luminal A, luminal B, HER2+, and basal-like subtype based on criteria described by Hu et al. [32]. This resulted in samples assigned as normallike (n=451), luminal A (n=720), luminal B (n=507), HER2+ (n=255), basal-like (n=652), or unclassified (n=329). Overall, expression levels of AURKA were highest in basal-like tumors and lowest in normal-like tumors. However, it is interesting to note that, among these groups, in normal-like, luminal A as well as B subtypes, patients with high expression levels of AURKA presented with significantly decreased AE-free survival (in normal-like subtype: HR=1.39; 95% CI:1.01-1.91; p=0.040; in luminal A subtype: HR=1.34; 95% CI: 1.06-1.70; p=0.014, and in luminal B subtype: HR=1.18; 95% CI:1.02-1.36; p=0.030). On the other hand, there was no significant effect of AURKA expression levels on AE-free survival in HER2+ and basal-like subtype (in HER+ subtype: HR=1.06; 95% CI: 0.76-1.46; p=0.74, and in basal-like subtype: HR=0.94; 95% CI: 0.78-1.13; p=0.50).
In conclusion, the meta-analysis of transcriptional profiles showed that AURKA expression levels may be a useful prognostic factor for patients with ER-positive, normal-like and luminal A- or B- type BrCa tumors.
Acknowledgements
The skillful assistance of guests and staff of the Weier and Mao laboratories, LBNL, is gratefully acknowledged. HUGW was supported in parts by National Institutes of Health (NIH) grants CA123370, CA132815 and CA136685 carried out at the Ernest Orlando Lawrence Berkeley National Laboratory under contract DE-AC02-05CH11231. JHM was supported by NIH, National Cancer Institute grant CA116481, the Low Dose Scientific Focus Area, Office of Biological & Environmental Research, US Department of Energy (DE-AC02-05CH11231), and the LBNL Laboratory Directed Research & Development Program (LDRD).
Disclaimer
This document was prepared as an account of work sponsored by the United States Government. While this document is believed to contain correct information, neither the United States Government nor any agency thereof, and Regents of the University of California, nor any of their employees, makes any warranty, express or implied, or assumes any legal responsibility for the accuracy, completeness, or usefulness of any information, apparatus, product, or process disclosed, or represents that its use would not infringe privately owned rights. Reference herein to any specific commercial product, process, or service by its trade name, trademark, manufacturer, or otherwise, does not necessarily constitute or imply its endorsement, recommendation, or favoring by the United States Government or any agency thereof, or Regents of the University of California. The views and opinions of authors expressed herein do not necessarily state or reflect those of the United States Government or any agency thereof, or The Regents of the University of California.
Conflict of Interest
The authors declare no conflict of interest.
References