Allosteric Facilities as Artificial Enzymes to Cancer Cell of Supramolecular Complex by Polymer/Anti-Cancer Agents
Ryujyu Science Corporation, 39-4 Kosora-cho, Seto, Aichi 489-0842, Japan
*
Corresponding Author:
Yasuhiko Onishi, Ryujyu Science Corporation, 39-4 Kosoracho, Seto, Aichi 489-0842, Japan, Tel: +81-561-84-7572, Fax: +81-561-84-3227, Email:
[email protected]
Received Date: Feb 19, 2014 / Accepted Date: Feb 20, 2014 / Published Date: Feb 24, 2014
Abstract
Drug Delivery Systems (DDS) based on polymers are widely used as carriers for targeted drug delivery for EPR effects and their avoidance of RES. Recent studies have provided new insights into the intracellular distribution and efficacy of polymer-based DDS. From our results, supramolecular complex by DEAE-dextran-MMA copolymer (DDMC)/paclitaxel(PTX)was not extensively degraded in cells, and achieved good efficacy as an intact supramolecular anti-cancer agent.
Michaelis-Menten Equationuation. as the enzyme reaction model of 1 to 1 of a substrate and enzyme generally can be adapted to normally protein, if not, abnormally protein cannot proceed the enzyme reaction to accumulate in organ causing Alzheimer's disease.
(1)
Recent studies have provided a protein having amorphous and flexible features capable multi-enzyme reaction allosterically [1].
Michaelis-Menten Equation. was assumed, derived its S-shaped curve on allosteric environment, as follows [2]
v =κcat[E]0[S]0n/([S]0n+Km) (2)
Corresponding to [S]0 n ≥Km,
V=κcat[E]0 (3)
However the drug resistance over PTX of a melanoma cell changes clearly with the convex survival curve in the Figure 1, the responses of melanoma cells to the DDMC/PTX complex are a linear negative correlation between PTX concentration and survival rate following Equation (3).
As revealed with taxol in a common anti-microtubule drug, it has been reported that MDS appears owing to impossible to form the ad Equationuate medicine-substrate conjugation by a β-tubulin subtype (class I, II, III, IVa, IVb, VI) of composition change [3]. So, usual taxol will lose the effect of a medicine which prevents cell division [3].
DDMC/PTX complex will have substrate specificity canceling conformation change of a tubulin subtype by allosteric effect for its comparative stable 1/Km owing to its large Km of sigmoid curve, when it has a conformational flexibility on structure for a supramolecule like allosteric enzyme (Figure 2).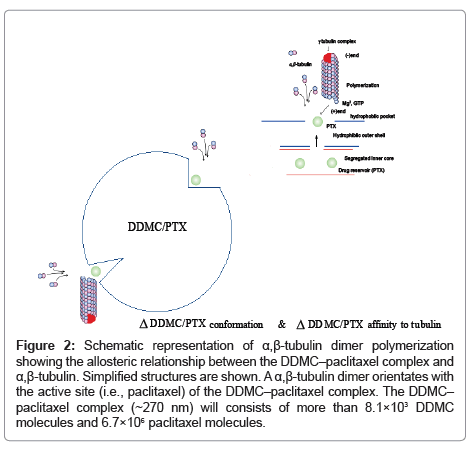 Figure 2: Schematic representation of α,β-tubulin dimer polymerization showing the allosteric relationship between the DDMC–paclitaxel complex and α,β-tubulin. Simplified structures are shown. A α,β-tubulin dimer orientates with the active site (i.e., paclitaxel) of the DDMC–paclitaxel complex. The DDMC– paclitaxel complex (~270 nm) will consists of more than 8.1×103 DDMC molecules and 6.7×106 paclitaxel molecules.
Its conformational flexibility depends on hydrophobic interaction between DDMC and PTX (Effect of Entropy Elasticity) [4].
From the effects of DDMC/PTX complex on the survival of tumorbearing mice evaluated, the obtained median survival times (50%, MST) of the saline, PTX, DDMC/PTX4 and DDMC/PTX5 groups were 120 hours (T/C, 1.0), 176 hours (T/C, 1.46), 352 hours (T/C, 2.93), and 292 hours (T/C, 2.43), respectively.
The supermolecular DDMC/PTX complex showed twice higher effectiveness than PTX of the role of a guest (Figure 3, p<0.036).
Concluding Remarks Triple-labeled confocal microscopy of living cells revealed the localization of micelles in several cytoplasmic organelles, including the mitochondria, but not in the nucleus as shown by Dr. Maysinger. Moreover, the cellular distribution of the micelle could be altered, and could increase the amount of drug delivered to the cells.
The purified enzyme as saccharose by Dr. Willstatter is thought to consist of active groups of low and high molecular weight carriers (1920). Accordingly, supramolecules should be now defined as artificial enzyme in which the low molecular weight subunit containing the active site is formed into a complex with a high molecular weight carrier.
Supramolecular complex by DEAE-dextran-MMA copolymer (DDMC)/paclitaxel(PTX) was formed using PTX as the guest and DDMC as the host. The DDMC– PTX complex showed superior anticancer activity to PTX alone. From our results, the DDMC– PTX complex was not extensively degraded in cells, and achieved good efficacy as an intact supramolecular anti-cancer agent.
References
Citation: Onishi Y (2014) Allosteric Facilities as Artificial Enzymes to Cancer Cell of Supramolecular Complex by Polymer/Anti-Cancer Agents. J Nanomedine Biotherapeutic Discov 4: e127. Doi: 10.4172/2155-983X.1000e127
Copyright: © 2014 Onishi Y. This is an open-access article distributed under the terms of the Creative Commons Attribution License, which permits unrestricted use, distribution, and reproduction in any medium, provided the original author and source are credited.
Select your language of interest to view the total content in your interested language
Post Your Comment
Citation
Article Usage
Total views:

12118

[From(publication date): 2-2014 - Jan 20, 2019]
Breakdown by view type
HTML page views:

8321

PDF downloads:

3797