An Aggressive Transformation to EBV-Positive Hodgkin Lymphoma after Bendamustine-Containing Chemotherapy for Marginal Zone Lymphoma
Hideyuki Nakazawa1*, Hitoshi Sakai1, Toru Kawakami1, Yukio Hirabayashi2, Ko Nakazawa3, Naoko Asano4, Fumihiro Ishida1,5 and Kiyoshi Kitano2
1Division of Hematology, Department of Internal Medicine, Shinshu University School of Medicine, Matsumoto, Japan
2Department of Hematology, NHO Matsumoto Medical Center, Matsumoto, Japan
3Department of Laboratory Medicine, NHO Matsumoto Medical Center, Matsumoto, Japan
4Department of Molecular Diagnosis, Nagano Prefectural Suzaka Hospital, Suzaka, Japan
5Department of Biomedical Laboratory Sciences, Shinshu University School of Medicine, Matsumoto, Japan
*Corresponding Author:

Hideyuki Nakazawa
Division of Hematology, Department of Internal Medicine
Shinshu University School of Medicine, Matsumoto, Japan
3-1-1 Asahi, Matsumoto, Nagano 390-8621, Japan
Tel: +81-263-37-2634
Fax: +81-263-32-9412
E-mail: [email protected]
Received date: May 26, 2016; Accepted date: June 14, 2016; Published date: June 21, 2016
Citation: Nakazawa H, Sakai H, Kawakami T, Hirabayashi Y, Nakazawa K, et al. (2016) An Aggressive Transformation to EBV-Positive Hodgkin Lymphoma after Bendamustine-Containing Chemotherapy for Marginal Zone Lymphoma. J Hematol Thrombo Dis 4:246. doi:10.4172/2329-8790.1000246
Copyright: © 2016, Nakazawa H, et al. This is an open-access article distributed under the terms of the Creative Commons Attribution License, which permits unrestricted use, distribution, and reproduction in any medium, provided the original author and source are credited.
Visit for more related articles at Journal of Hematology & Thromboembolic Diseases
Abstract
EBV-positivelymphoproliferative disorders are well documented phenomenon after fludarabine therapy. Although bendamustine shares common chemical structure with fludarabine, therapy-related malignancies have rarely been reported. A seventy-three-year-old man was presented with splenomegaly and pharyngeal mass. The biopsies of bone marrow and the mucosal mass revealed he had splenic marginal zone lymphoma, stage IV. Six months later, he received one course of R-CHOP and splenectomy. Three months after the surgery, the lymphoma progressed with massive pleural effusion, and six courses of bendamustine plus rituximab, yielding minimal response of the disease. Six months after the completion of bendamustine, however, Pel-Ebstein-like fever and progression of lymphadenopathy ensued. A lymph node biopsy exhibited he had EBV-positive classical Hodgkin lymphoma concomitant with marginal zone lymphoma. The patient achieved complete response after brentuximab vedotin therapy. The Hodgkin lymphoma in the present case might be a result of an aggressive transformation of marginal zone lymphoma, and it could be speculated that the purine analogue-like property of bendamustine be associated with the transformation.
Keywords
Splenic marginal zone lymphoma; Second malignancy; Bendamustine; Hodgkin lymphoma; Brentuximab vedotin
Abbreviations
MZL: Marginal Zone Lymphoma; DLBCL: Diffuse Large B-cell Lymphoma; HL: Hodgkin Lymphoma; LPD: Lymphoproliferative Disorder; HRS: Hodgkin and Reed-Sternberg; EBV: Epstein Barr Virus
Introduction
Transformation from indolent B-cell neoplasms to high grade lymphoma are observed with various frequencies; 25-35% of follicular lymphoma [1], 2-8% of chronic lymphocytic leukemia [2], or up to 10% of marginal zone lymphoma (MZL) [3-5]. It is usually associated with a rapidly progressive clinical course, and, sometimes, death may ensue due to its refractoriness to treatment [1]. The pathological phenotypes of such high grade lymphomas may include predominantly diffuse large B-cell lymphoma (DLBCL), and, with more limited frequencies, classical Hodgkin Lymphoma (HL) is also reported to occur as an lymphoproliferative disorder (LPD) especially after treatment of CLL with fludarabine [2,6] and others [7]. Some of the transformed lymphomas share features of EBV reactivation.
Bendamustine is a cytotoxic alkylator with fludarabine-like structure. It has been demonstrating a comparably favorable tolerability and effectiveness for patients with low grade B-cell neoplasms [8,9]. Besides prolonged T-cell lymphopenia, its low profile of toxicity entails only a few reported cases of myelodysplastic syndrome as second hematologic malignancy [8,9]. Despite of the intrinsic purine analogue-like property, a case of therapy-related LPD seems to be extremely rare. Here we describe our rare experience with a patient in whom the progression from indolent B-cell lymphoma to EBV-positive HL after bendamustine-containing chemotherapy for the underlying indolent B-cell neoplasm.
Case Presentation
A 73-year-old otherwise-asymptomatic man was presented to our hospital with a massive splenomegaly incidentally found during a mass screening test for prostate cancer in January 2010. The peripheral lymph nodes were insignificant and he had 10 mm mucosal mass in the pharynx. His laboratory data showed anemia, increased atypical lymphocytes, thrombocytopenia, hyperthyroidism, and elevated prostate specific antigen (Table 1). The biopsies from the pharyngeal lesion and bone marrow showed infiltration of small- to medium-sized non-cleaved lymphoid cells, which were CD20-positive and negative for CD5, CD10, cyclinD1 and CD30. There was no infiltration of large cells in the samples. The needle biopsy in the prostate yielded well differentiated adenocarcinoma.
At presentation
Before R-CHOP
Before bendamustine
After bendamustine
Before ABVD
Date
Jan 2010
May 2010
Jan 2011
Jun 2011
Sep 2012
Wbc
8.95
7.47
10.45
8.9
6.26
X10E4/μL
Neutrophil
48
39
50
54
49
%
Lymphocyte
21
38
37
34
24
%
Monocyte
1
2
6
2
20
%
Eosinophil
4
3
3
3
0
%
Atypical Lymphocyte
26
18
4
7
0
%
Hemoglobin
12.7
8.7
11.5
9.3
11
g/dL
Platelet
9.6
7.8
28.7
14.1
14.3
X10E4/μL
AST
25
17
15
31
51
U/ml
ALT
16
5
6
23
29
U/ml
T.Bil
NA
0.4
0.5
0.5
0.7
mg/dL
ALP
NA
219
232
628
610
U/L
γGTP
NA
16
12
54
63
U/L
LDH
224
196
177
260
148
IU/L (reference range 120-230 IU/L)
BUN
14
20
20
15
15
mg/dL
Creatinine
0.82
1.7
1.8
1.38
1.26
mg/dL
sIL2R
3040
U/ml (reference range 145-519 U/ml)
Psa
5.5
ng/ml (reference range 0-4 ng/ml)
β2MG
9.16
mg/L (reference range 1.0-1.9 mg/L)
TSH
0.01
μIU/ml (reference range 0.35-4.94 μIU/ml)
TRAb
3.5
IU/ml (reference range <2.0IU/ml)
Table 1: Laboratory data of patient.
He was given a tentative diagnosis of SMZL, complicated with prostate cancer and subclinical hyperthyroidism in March 2010. LHRH agonist and bicalutamide as well as thiamazole were administered for the complications, respectively (Figure 1).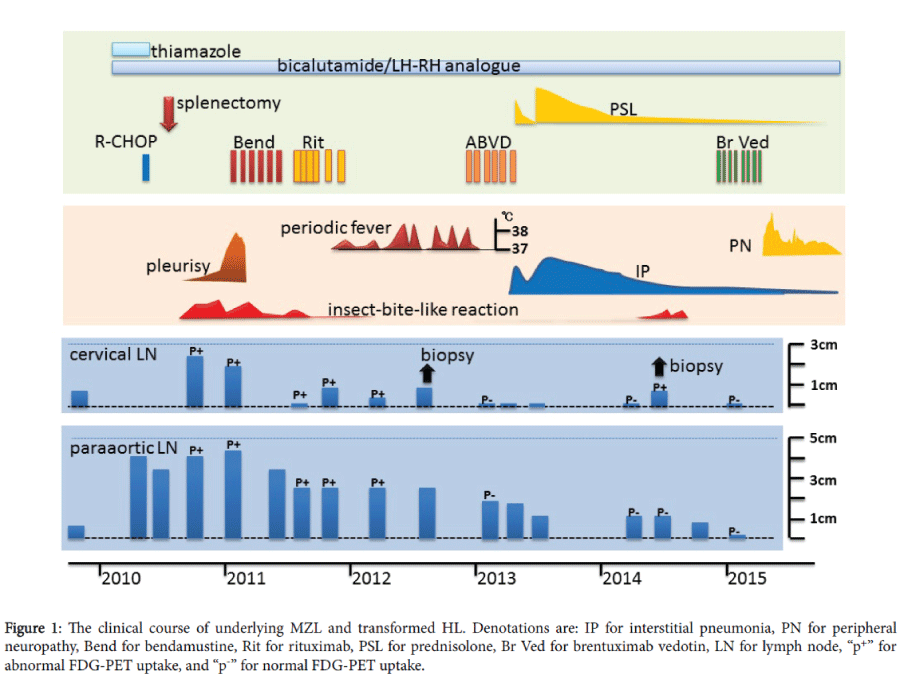 Figure 1: The clinical course of underlying MZL and transformed HL. Denotations are: IP for interstitial pneumonia, PN for peripheral neuropathy, Bend for bendamustine, Rit for rituximab, PSL for prednisolone, Br Ved for brentuximab vedotin, LN for lymph node, "p+" for abnormal FDG-PET uptake, and "p-" for normal FDG-PET uptake.
In May 2010, another CT scan revealed increasing size of the lymph nodes in the paraaortic regions up to 43 mm in diameter. Bilateral hydronephrosis and increased serum creatinine was also observed (2.13 mg/dL). Given the rather fast growth of lymph nodes within half a year, aggressive transformation from the MZL was suspected and a single course of a chemotherapy was administered; 990 mg of cyclophosphamide, 66 mg of doxorubicin, 1.8 mg of vincristine, 60 mg of prednisolone, and 500 mg of rituximab (R-CHOP). The effect of RCHOP was minimal; no change in splenomegaly and only slight decrease of lymph nodes (to 38 mm in diameter) and limited amelioration of the hydronephrosis. He was submitted to splenectomy in July 2010. The pathology of the spleen showed nodular infiltration predominantly in the white pulp with small to medium-sized lymphoid cells with minimum dysplasia (Figure 2). The tumor cells were CD3-, CD5-, CD10-, CD20+, and cyclinD1-. The immunophenotype of these cells was identical to those of the biopsy samples from the pharyngeal and bone marrow lesions obtained before R-CHOP, confirming the diagnosis of SMZL, stage IV. The tumor cells were CD30-negative and there was no infiltration of large cells in the samples. The cytogenetics of the spleen revealed a complex chromosomal abnormality (Table 2). The cytology of the ascites collected during the splenectomy also showed the class V infiltration of the identical small lymphoma cells. In September 2010, however, the patient was presented with systemic pruritic skin eruptions, though he did not recall any previous insect bites or outdoor activity. The specimen of the skin biopsy showed no lymphomatous infiltration and was compatible with insect-bite-like reactions. In November 2010, a 10 mm mucosal mass in the left conjunctiva was observed. A CT and PET scans showed that the paraaortic lymph nodeshad slightly grown in size (to 43 mm) with increasingly positive FDG-PET uptake (maxSUV 9.5). The right pleural effusion also developed in January 2011, when the pathological analysis of the resected conjunctival mass, another bone marrow biopsy, and the cell block from the pleural effusion all exhibited regrowth of MZL. Neither CD30-positive cells nor any sign of aggressive transformation was observed. Because of the symptomatic deterioration of MZL, including massive pleurisy, the patient received first course of bendamustine 60 mg/m2, leading to complete disappearance of the pleural effusion. Additional five courses of bendamustine and eight doses of rituximab were also administered till September 2011. The skin eruptions disappeared toward the end of administration of the bendamustine, though the response of lymph adenopathy was limited.
| | | |
| --- | --- | --- |
| A | 44, X, -Y, del(3)(p?), add(7)(p11.2), inv(9)(p12q13), -13-14, add(14)(q32), -15, add(16)(q12.1),add817)(p11.2), add(21)(p11.2), +r1, +mar1 | [3/20] |
| B | 45, idem, +r1 | [4/20] |
| C | 45, X, -y, del(3), inv(9), del(12)(q?), -13, -14, t(14;18)(q32;q21), -15, add(15)(p11.2), add(16), add(17), add(21), +r1x2, +mar1 | [1/20] |
| D | 46,XY,inv(9)(p12q13) | [9/20] |
Table 2: The cytogenetic abnormality of the splenic lesion.
In November 2011, however, he started to experience Pel-Ebsteinlike intermittent fever. He had otherwise no signs of infection. Each febrile episode lasted for three to ten days and subsided spontaneously. CT scans detected no exacerbation of lymphadenopathies until August 2012, when another biopsy was performed from a growing cervical lymph node. The pathology revealed scattered large Reed-Steinberg cells with CD20w+/-, CD15+, CD30+, EBER in situ + with inflammatory cells in the background (Figure 3). Effaced by the infiltration of HL cells, there were small residual nodular areas with monotonous small lymphocytes of CD3-, CD5-, CD10-, CD20+, cyclinD1-. The diagnosis of mixed cellular classical HL with residual MZL was made. In November 2012, the first course of ABVD therapy was given and defervescence ensued. After additional five courses of the chemotherapy, an interstitial pneumonia developed in June 2013 and subsequent ABVD therapies had been withheld. He attained partial response without abnormal FDG-PET uptake. The HL relapsed in September 2014. The disease was stage IA and the insect-bite-like reaction was also accompanied. The pathological examination of a lymph node showed residual MZL cells, as well. Total of eight course of brentuximab vedotin lead him to complete remission.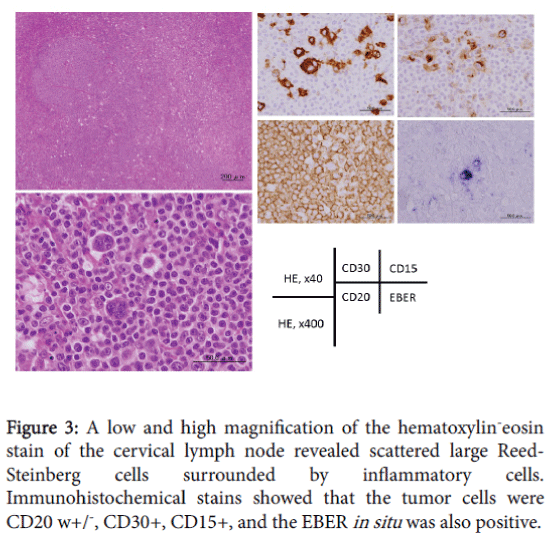 Figure 3: A low and high magnification of the hematoxylin-eosin stain of the cervical lymph node revealed scattered large Reed- Steinberg cells surrounded by inflammatory cells. Immunohistochemical stains showed that the tumor cells were CD20 w+/-, CD30+, CD15+, and the EBER in situ was also positive.
Because of the peripheral neuropathy that followed the chemotherapy, the subsequent courses were cancelled. No recurrence of either lymphoma has been documented as of April 2016.
Discussion
The concomitant development of the HL during the course of MZL in the present case could be ascribed to several factors. Aggressive transformation has been described in low grade lymphoid malignancies including MZL [3-5]. Moreover, transformation, together with elevated LDH and additional malignancies, may be independent risk factors for shorter overall survival in MZL [10]. Microdissection and sequencing of the IgVH region of the Hodgkin and Reed- Sternberg (HRS) cells might help confirm the possibility of transformation from MZL to classical HL in the present case. In a previous case of Richter's syndrome, the clonal association between DLBCL and antecedent low grade lymphoid malignancy were established in most of the cases. However, in a case of HL transformed from CLL, HRS cells are clonally unrelated with underlying CLL [11,12]. Meanwhile, EBV-associated LPD including HL is known to occur especially after fludarabine therapy [2]. Although bendamustine has fludarabine-like property, such increased incidence of aggressive transformation has rarely reported. The present case may be a rare case of transformed HL from MZL associated with bendamustine.
Given that the HL in the present case was a therapy-related LPD, not only bendamustine but CHOP could also be attributed. In a phase III trial of CHOP-like regimen plus rituximab in young patients with DLBCL, two of 410 patients assigned to an arm of chemotherapy alone had experienced second lymphoid malignancy during median followup period of 72 months [13]. In this report, however, eight courses of CHOP-like regimen were administered, while the present case received only one dose, making the regimen rather unlikely to be a cause of HLLPD.
Munoz et al. showed that the impairment of lymphocyte recovery was more significant after bendamustine plus rituximab therapy than it was after CHOP plus rituximab [14]. Sustained lymphopenia and the impaired immunosurveillance could be a possible reason for increased risk of cancer development, though lymphocytopenia do not always precede therapy-related LPDs. In the present case, however, significant lymphocytopenia was not observed after bendamustine treatment.
Besides the preceding chemotherapeutic agents, immunosenescence with aging process might also pose an additional risk of development of LPD in the present case. The insect-bite-like reaction, which is associated with underlying immunologic disturbance [15], may be additional evidence of immunocompromised state of the patient.
In conclusion, an EBV-positive HL developed in a patient with MZL after chemotherapies, including bendamustine. Speculated mechanisms of development of the second malignancy may include aggressive transformation of the underlying low grade lymphoma and it could be associated with the fludarabine-like structure of bendamustine, though further studies are needed to prove the exact causal relationship.
Disclosure
The authors declare that they have no conflict of interest.
References