CG210 Enables Finasteride 1mg Users to Further Improve Hair Pattern: A Randomized, Double-Blind, Placebo-Controlled Pilot Study
Akira Takeda1,2, Akio Sato2,3, Lei Zhang4, Saad Harti4, Geert Cauwenbergh4 and JiaWei Liu4,5*
1Department of Plastic and Aesthetic Surgery, Kitasato University School of Medicine, Sagamihara, Kanagawa 252-0374, Japan
2Department of Regenerative Medicine Plastic and Reconstructive Surgery, Kitasato University School of Medicine, Sagamihara, Kanagawa 252-0374, Japan
3Tokyo Memorial Clinic, Tokyo 151-0053, Japan
4Legacy Healthcare, Route de la Corniche 9B, 1066 Epalinges, Switzerland
5Teaching staff, PPCR course, Harvard Medical School, USA
Corresponding Author:

JiaWei Liu
Teaching staff, PPCR course
Harvard Medical School
Legacy Healthcare
Route de la Corniche 9B
1066 Epalinges, Switzerland
Tel: +41 78 8849782
Fax: +41 21 6534484
E-mail: [email protected]
Received Date: June 24, 2013; Accepted Date: August 01, 2013; Published Date: August 03, 2013
Citation: Takeda A, Sato A, Zhang L, Harti S, Cauwenbergh G, et al. (2013) CG210 Enables Finasteride 1mg Users to Further Improve Hair Pattern: A Randomized, Double-Blind, Placebo-Controlled Pilot Study of a Novel Product. Hair Ther Transplant 3:107. doi:10.4172/2167-0951.1000107
Copyright: © 2013 Takeda A, et al. This is an open-access article distributed under the terms of the Creative Commons Attribution License, which permits unrestricted use, distribution, and reproduction in any medium, provided the original author and source are credited.
Visit for more related articles at Hair Therapy & Transplantation
Abstract
Background: The efficacy of Finasteride 1mg, the first-line treatment for male Androgenetic Alopecia (AGA), tends to reach a plateau after several years' treatment. Up to date, effective and safe options are limited because current modalities managing AGA have so far not taken into account the two key issues particularly relevant to excessive hair loss: the early onset of catagen (due to premature hair follicular cell apoptosis) and the frequently observed sustained micro-inflammation in the scalp.
Objective: We investigated the potential synergic effect of combining the oral finasteride 1mg, acting on conversion of testosterone to 5α-dihydrotestosterone, with CG210, a novel topical anti-hair loss product, acting on premature apoptosis and micro-inflammation in the scalp.
Methods: We designed a 12-month, randomized, double-blind, placebo-controlled trial using CG210 in twenty AGA volunteers already using Finasteride 1mg for at least three years. Hair diameters were assessed and compared for hair pattern improvement.
Results: The increase of hair diameter in the "Finasteride 1 mg + topical CG210" group was 37.7% more than that in "Finasteride 1 mg + topical placebo" group (p=0.002). No side effect was observed. Conclusion: In addition to 5α-reductase inhibitors, our study puts forward the approach to simultaneously address both premature cell apoptosis in the hair follicles and micro-inflammation in the scalp. The results suggest an efficient mode in the management of AGA with improved efficacy over the currently referenced modality. Furthermore, the studied topical CG210 may represent a new option for alopecia subjects, including those under finasteride 1mg, to improve their hair pattern.
Keywords
Androgenetic Alopecia (AGA); Apoptosis; Microinflammation; Hair diameter
Introduction
Hair growth contains four phases: growing anagen (A), regressive catagen (C), resting telogen (T) and latent kenogen, during which the hair follicle remains empty after hair shedding. Alopecia sufferers commonly enter catagen phase prematurely and persist latent phase for a variable duration. Hence, kenogen and particularly the onset of catagen are important parameters for understanding the consequences of changes in the hair growth cycle [1]. Normally, over 80% of the hairs are in their anagen phase and less than 20% in telogen and catagen phase, corresponding to an A/T ratio above 4. Conditions of Androgenetic Alopecia (AGA) cause premature onset of the catagen phase where hair follicle cells, such as matrix cells and cells linking hair to dermal papilla, massively go through apoptosis. Thus, hair shedding is accelerated over time because the cyclical growth pattern of the hair is repeatedly interrupted by this apoptosis-driven Premature Onset of Catagen (POOC), leading anagen phase to end too early, before reaching its maximum thickness (diameter), ending up with miniaturized hairs and ultimately balding [1-3]. Phototrichogram is based on the determination of hair cycle duration and A/T ratio; hence such a hair loss disorder can be denoted by an A/T ratio inferior to 4 [4-6]. In addition to Phototrichogram and histological studies, hair diameter measurement [7] is recognized to be one of the main and utmost appropriate methods to assess progressive miniaturization of hair follicles (smaller hair diameter), as well as AGA treatment efficacy.
Apoptosis during catagen development correlated with a downregulation of the anti-apoptotic protein Bcl-2 [3,8,9]. Bcl-2 level was shown to be decreased by androgens, especially dihydrotestosterone (DHT) in dermal papilla cells [10]. Furthermore, in vitro and in vivo studies demonstrated that down-regulation of apoptosis in human scalp hair follicles could stimulate hair growth [6,11].
Androgen/DHT not only decreases Bcl-2 level, but also stimulates synthesis of transforming growth factor-beta2 (TGF-β2). TGF-β2 then up-regulates synthesis of caspases (such as caspase 9) and triggers intrinsic caspase network leading to excessive apoptosis of matrix cells in hair follicles and therefore early onset of catagen [12]. Such an "intrinsic apoptosis pathway" is principally mitochondrial dependent and executed by members of Bcl-2 protein family [13-18]. Hence, in order to re-establish normal hair cycle, it is essential to restore the anti-apoptotic Bcl-2 level in the scalp of AGA subjects. A former study showed that topical application of the new hair lotion CG210 (a GMPgrade topical botanical blend from Legacy Healthcare, Switzerland) could bring irregular hair cycle at the time of inclusion (where the average A/T ratio was 2.96) back to its normal pattern in 44 days (where average A/T ratio returned to 4.30) (p<0.05, data realized by the Dermatological Institute of Aquitaine, Martillac, France). The followup mechanistic investigation [19] via immune histochemical analysis of AGA biopsies revealed that the topical CG210 not only prevented premature apoptosis (by almost reestablishing the normal level of Bcl- 2) but also attenuates the micro-inflammatory status in the scalp (by acting through Langerhans cells), two key aspects causing AGA [20-23].
Finasteride 1 mg selectively inhibitstype II 5α-reductase that converts testosterone into more androgenic DHT. Although Finasteride is regarded as the first line treatment for male androgenic alopecia, patients tend to reach a plateau after several years' treatment [24]. The trend in hair lotion development is to focus on criteria suggested by the clinical practice guidelines for AGA. However, up to date, effective and safe therapies are limited [25-27] because current treatment protocols have so far not taken into consideration key issues highly relevant to excessive hair loss, i.e. micro-inflammatory status in the scalp and premature apoptosis that leads to early onset of catagen [20,28]. Based on the afore mentioned observation, we designed a randomized, double-blind, placebo-controlled efficacy pilot study to investigate the potential synergic effect when combining oral finasteride 1 mg treatment (acting on androgen conversion) with CG210 (acting on follicular cell apoptosis and scalp micro-inflammation), aiming to evaluate hair diameter improvement following topical application of CG210 in AGA subjects already using Finasteride 1mg for at least three years.
Subjects, Materials and Methods
Subjects
After approval by the internal review board ethical committee, the study was carried out at Tokyo Memorial Clinic (Japan) between March 2011 and April 2013.Twenty healthy male volunteers between 31 and 67 years old, suffering from AGA corresponding to the stages ranging from IIv to IV of the Hamilton classification gave their informed consent to participate in the investigation. All patients had been already using Finasteride 1mg for more than three years. Their demographic characteristics are given in (Table 1).
| Hamilton classification at inclusion | No. of patients (N=20) | Median history of finasteride use and Range (month) | Median age of patients and Range (year) |
| --- | --- | --- | --- |
| IIv | 2 | 39 (30-48) | 39.5 (31-48) |
| III | 2 | 49.5 (45-54) | 42.5 (42-43) |
| IIIa | 2 | 47 (43-51) | 43 (36-50) |
| IIIv | 7 | 44 (36-108) | 43 (32-54) |
| IV | 7 | 47 (36-67) | 45 (37-55) |
Table 1: Demographic characteristic of the volunteers. Age, History of Finasteride use and Hamilton classification of patients are described.
Test substance
CG210, a GMP grade, topical botanical blend provided by Legacy Healthcare, Switzerland.
Study design
Randomized, double-blind, placebo-controlled, single centre, prospective trial with two parallel groups for the study of the potential synergic effect by combination of oral Finasteride with topical CG210. Subjects in both Group A and Group B had been taking Finasteride 1mg treatment for at least 3 years and continued to take Finasteride 1mg during the whole study period. A computer algorithm previously determined randomly whether the volunteer received CG210 or placebo. After giving informed consent, volunteers were provided with consecutively numbered supplies of study topical lotion-either CG210 or identical-appearing placebo. This process resulted in 10 AGA volunteers receiving the topical placebo (Group A), 10 AGA volunteers receiving the topical CG210 (Group B). All subjects applied the topical lotion once a day, in the evening before going to bed, with a total dose between 1.3 to 2 ml.
All volunteers were instructed to report any symptoms suggesting side effect related to topical application of the lotion.
Clinical scoring and photographs
A dozen of hairs at the parietal region midline part were collected and cut at the bottom end 1cm. The hair samples were then measured using the Keyence Corporation IM6020 device. One important aspect of this assessing method is to be able to capture both the minimum range and the maximum range of hair diameter. As the cross section of a hair is oval, the minimum range was chosen for the statistical analysis. The average hair diameter was scored in micrometer (μm). The procedure is summarized in (Figure 1, a-d).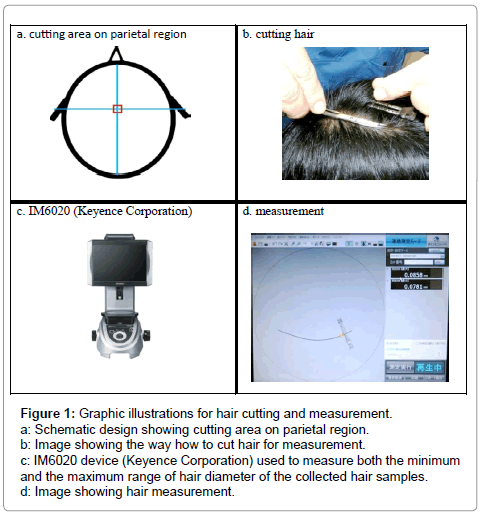 Figure 1: Graphic illustrations for hair cutting and measurement.
a: Schematic design showing cutting area on parietal region.
b: Image showing the way how to cut hair for measurement.
c: IM6020 device (Keyence Corporation) used to measure both the minimum
and the maximum range of hair diameter of the collected hair samples.
d: Image showing hair measurement.
In order to avoid drop-out due to the long duration of the study, volunteers were asked to complete follow-up visits at four time points (0, 3, 6, 12 months). Measurements of hair diameters at the time of inclusion (0 month, baseline value) were compared with hair diameters at the end of the study (12th month). Meanwhile, photographs of "0 month" and "12-month" were also compared using a Nikon COOLPIX P6000 camera.
Data management and statistical analysis
Descriptive and inferential analyses were performed with STATA Statistical Softwareversion11.0 (Stata Corp College Station, TX). Hair diameter variables from "Finasteride + CG210" and "Finasteride + Placebo" groups at two time points (0 and 12 months) were assessed using analysis of covariance adjusted for the baseline diameter of each participant. A two sided p-value <0.05 was considered to be statistically significant.
Results
Hair diameter as clinical scoring
Hair follicle miniaturization is the key point during development of androgenic alopecia. Therefore, hair diameter represents an easy, reliable and accurate clinical measurement to characterize hair follicle miniaturization and its improvement following anti-hair loss treatment.
After 12 months topical application of the botanical blend CG210, the product was well accepted by the subjects and there was no complaint for inconvenient use of CG210. In Group A, an average increase of 2.12 µm in hair diameter was observed, which corresponded to + 4.17% differences. However, in Group B, the average increase of hair diameter was 2.98µm, representing an augmentation of + 5.74%.
In terms of "between group" difference, the outcome from Group A (oral Finasteride 1mg + topical placebo) differed significantly from that of Group B (oral Finasteride 1 mg + topical CG210)(p=0.002). Compared to Group A, an additional 37.7% increase in hair diameter was observed in Group B. The results are summarized in (Table 2).
Group
Number of Participants
Mean age of subjects
Mean hair diameter (microns)
Mean hair diameter change after 12 months
Inclusion
12 months
Difference (microns)
Difference (%)
Placebo + Finasteride (Group A)
10
43.8
50.88
53.00
2.12
4.17%
CG210 + Finasteride (Group B)
10
44.1
51.93
54.91
2.98
5.74%
Group difference*
37.72%
*p = 0.002
Table 2: Comparison of hair diameter increase in Group A (oral Finasteride 1 mg + topical placebo) and Group B (oral Finasteride 1 mg + topical CG210). The average age of patients and the mean values of hair diameters (microns) at conclusion and the end of the trial, as well as the final changes of hair diameters (in percentage) are summarized in this table (n=20). Hair diameter variables from Groups A and B at the time of inclusion and at the end of the study (12th month) were compared using analysis of covariance model (two sided) with adjustment of baseline hair diameter for each participant. Note that in terms of "between group" difference, the outcome from Group A differed significantly from that of Group B (p=0.002). Compared to Group A, an additional 37.7% increase in hair diameter was observed in Group B.
Case study
A 43 years old Japanese man used Finasteride 1mg for 3 years and started the application of topical botanical blend CG210 for 12 month in combination with oral Finasteride 1mg. The "before" and "after" photographic documentation is shown in (Figure 2).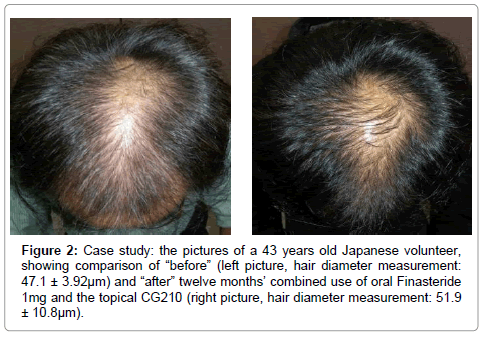 Figure 2: Case study: the pictures of a 43 years old Japanese volunteer, showing comparison of "before" (left picture, hair diameter measurement: 47.1 ± 3.92μm) and "after" twelve months' combined use of oral Finasteride 1mg and the topical CG210 (right picture, hair diameter measurement: 51.9 ± 10.8μm).
Adverse events
The topical solution CG210 can be easily applied on the scalp and was well accepted by the volunteers. The safety evaluation of adverse reactions was conducted via interviews in all men enrolled during the entire study. No adverse events associated with the long-term product use were observed during the 12-month trial duration.
Discussion
Considering that hair follicle miniaturization is the key point during androgenic alopecia onset and development, hair diameter represents one of the most important features to be considered as an accurate clinical sign reflecting the status of hair follicle miniaturization. Therefore hair diameter, which can be easily recorded as clinical scoring, is an accessible and reliable parameter that should be taken into consideration for further characterization of hair loss disorders and for evaluation of the outcome following treatment.
Finasteride 1mg treatment alone has proved a varying degree of success in many long-term users because it acts as a 5α-reductase inhibitor that blocks the formation of dihydrotestosterone (DHT), one of the important factors causing excessive hair loss. Nevertheless, its positive effect may reach a plateau indicating that the strategy to simply deal with hormonal issue cannot guarantee sufficient amelioration in AGA patients as observed in the placebo-controlled group of this trial, as well as in several other studies. Indeed, the development of AGA requires the interaction of both genetic and hormonal factors, as well as many other defined or not-yet-defined factors [29-34]. Nevertheless, whatever factors it might be, due to internal and external insults, the hair loss process is very often accompanied with chronic microinflammation in the scalp and the hair follicle cells will inevitably undergo premature apoptosis, which is particularly associated with follicle regression (catagen) [13,35]. Early apoptosis of cells in the hair follicle provokes Premature Onset of Catagen (POOC) that precedes excessive hair loss in men and women. As a consequence of such an apoptosis-driven POOC, anagen phase ends and catagen phase onsets "ahead of time". For that reason, instead of growing to its maximum diameter, hairs become progressively miniaturized vellus. The topical CG210, being an agent that can positively modulate against premature apoptosis (early onset of catagen) and dampen uncontrolled scalp micro-inflammation, is therefore geared to address specifically these two crucial aspects (micro-inflammation and premature apoptosis) that largely contribute to excessive hair loss.
Each day we shed on average less than 100 hairs. Naturally, an equivalent number of new hairs grow out to replace the lost hairs and keep the total number of hair steady. The rate of hair loss will increase dramatically when hair follicles are subjected to all sorts of internal and external stress. In particular, the genetically predisposed hair follicles are the target for androgen-stimulated hair follicle miniaturization, leading to barely visible, depigmented vellus hairs [36]. Indeed, the DHT-mediated inflammation reduces significantly the blood flow to the scalp (2.6 times lower than that of healthy people) [37], consequently damaging and depriving hair follicles of blood and nutrients. On the other hand, excessive apoptosis (cell debris) will stimulate the production of pro-inflammatory mediators by monocyte/ macrophages [38-40] triggering or aggravating inflammatory status. Hence, the premature apoptosis and the micro-inflammatory conditions will not only cause early onset of catagen and the "silencing" of hair regrowth, but also impede the restart of a new hair cycle. As mentioned before, the direct benefit following topical application of CG210 turned out to be a rapid normalization of A/T ratio, signifying new growth of more anagen hairs. Normalized anagen phase will surely allow the hair, including the new anagen hair to grow uninterruptedly to a larger diameter, finally contributing to the overall higher hair density.Therefore, by addressing at the same time the issues of early apoptosis, scalp micro-inflammation and hormone (DHT), CG210 and Finasteride 1mg are able to produce a synergic effect in AGA subjects who had no more significant improvement by using Finasteride 1mg alone.
An average of additional increase of almost 38% in diameter for each hair stands for a significant synergic effect. However, in order to fully confirm the scale of such a beneficial effect thanks to the finasteride-CG210 association, one may want to increase the testing power by proceeding with further studies using a much larger sample size as so to overcome the limit of this study and finally determine the "effect size" owing to finasteride-CG210 combination.
On the other hand, the long-term repeated use of the topical botanical blend CG210 in this 12-month clinical study showed reassuring safety profile that is consistent with the previous studies. One of the earlier studies showed that Bcl-2 over expression inhibited cell death and promoted morphogenesis, but not tumorogenesis [41]. Likewise, normalization of Bcl-2 level by CG210 in AGA volunteers provided with a survival advantage to the cells under hostile AGA conditions but without promoting uncontrolled cell proliferation.
As a conclusion, and in agreement with what was discussed previously in terms of the complex etiology of AGA [21], we propose that the new standard in the management of excessive hair loss should also address the two key issues that currently have not yet been simultaneously tackled, i.e. premature cell apoptosis in the hair follicles and micro-inflammation in the scalp. The clinical features of the novel topical botanical blend CG210 constitute a safe and new relevant strategy to help the alopecia subjects, including those already using Finasteride 1mg, improve substantially the hair loss conditions and the cosmetic volume of hair, so as to alleviate excessive hair lossrelated distress.
Acknowledgements
The authors thank Dr. Jessica Paulus (Tufts University), Dr. Roger Davis (Harvard School of Public Health) and Dr. Felipe Fregni (Harvard Medical School) for their valuable comments and suggestions regarding the data management of this study.
References