Crosstalk of Gingival Fibroblasts and Macrophages in Inflammatory Cytokine Cascade: Potential Mechanisms of Periodontitis
Koji Naruishi* and Yasufumi Nishikawa
Department of Periodontology and Endodontology, Institute of Biomedical Sciences, Tokushima University Graduate School, 3-18-15 Kuramoto, Tokushima 770-8504, Japan
*Corresponding Author:

Dr. Koji Naruishi
Department of Periodontology and Endodontology, Institute of Biomedical Sciences
Tokushima University Graduate School, 3-18-15 Kuramoto, Tokushima 770-8504, Japan
Tel: +81-88-631-3111
E-mail: [email protected]
Received date: May 12, 2017; Accepted date: May 23, 2017; Published date: May 30, 2017
Citation: Naruishi K, Nishikawa Y (2017) Crosstalk of Gingival Fibroblasts and Macrophages in Inflammatory Cytokine Cascade: Potential Mechanisms of Periodontitis. J Cell Signal 2:149.
Copyright: © 2017 Naruishi K, et al. This is an open-access article distributed under the terms of the Creative Commons Attribution License, which permits unrestricted use, distribution, and reproduction in any medium, provided the original author and source are credited.
Visit for more related articles at Journal of Cell Signaling
Commentary
Periodontitis is a bacterial infectious disease, and many inflammatory cytokines regulate the pathophysiology through the crosstalk of tissue cells and immune cells [1,2]. Cytokine balance regulated by immune responses has an important role in the stability or progression of inflammation. Many researchers have shown the effects of inflammatory cytokines such as Interleukin (IL)-1 and IL-6 on periodontal cells, e.g. fibroblasts, epithelial cells and macrophages [3,4]. In periodontal inflamed tissues, IL-1 and IL-6 may be responsible to the tissue destruction by increasing matrix-metalloproteinases (MMPs) [5]. The evidence for the role of MMPs in periodontal destruction has been reported, and it is now recognized that an imbalance between activated MMPs and their endogenous inhibitors, i.e. tissue inhibitors of MMPs (TIMPs) leads to pathologic breakdown of the extracellular matrix seen in periodontitis, resulting in tooth loss [6]. Therefore, the imbalance induced by inflammatory cytokines should be important to understand the potential mechanism of periodontitis.
IL-1 activates mitogen-activated protein kinase (MAPKs) or NF-κB pathway via phosphorylation of IL-1 receptor-activated protein kinase (IRAK) in several cell types [7]. On the other hand, after IL-6 binds to the IL-6 receptor gp80, these molecules build a complex with IL-6 signal transducer gp130, which in turn results in the intracellular dimerization of these glycoproteins [8]. This event triggers activation of Janus kinases which phosphorylates distinct intracellular tyrosine residues of the gp130 [8]. They serve as docking sites and activate the downstream pathways, at least two distinct signaling cascades: 1. signal transducer and activator of transcription (STAT) 3,2. MAPKs [9,10]. In addition, it is well known that soluble form of IL-6R (sIL-6R) has agonistic functions of IL-6, and is released by proteolytic cleavage from the cell surface in inflammatory cells such as lymphocytes and macrophages [11]. Recently, we have reported that sIL-6R is considered a useful inflammatory marker of periodontitis, since sIL-6R levels in gingival crevicular fluid (GCF) of periodontitis patients correlate with the severity of periodontitis [12].
Human Gingival Fibroblasts (HGFs) are the most abundant cells in gingival connective tissues and play an important role in the control of inflammation in inflamed gingiva [1]. Responses of HGFs to elevated inflammatory cytokines are thought to contribute to the development of periodontitis [13]. Interestingly, we demonstrated that IL-1β but not IL-6/sIL-6R induces gp130 expression in HGFs. On the other hand, IL-6/sIL-6R but not IL-1β induces gp130 mRNA expression in THP-1 macrophages [5]. These differences of gp130 expression regulated by inflammatory cytokines might depend on the role of each cell in inflammatory microenvironment. Furthermore, IL-1β increased significantly IL-6 production in HGFs [5]. IL-1β might up-regulate functionally IL-6 responsiveness of HGF by autocrine loops. However, IL-6 cannot act to HGFs without sIL-6R, because HGFs do not express sufficient cell surface IL-6R to bind appreciable levels of IL-6 [14]. Therefore, IL-6 signals in the presence of the sIL-6R are initiated in the phosphorylation of gp130 in HGFs [15]. Based on the characteristic of HGFs, we examined whether sIL-6R production is induced by other cell types stimulated by inflammatory cytokines. Importantly, PMA-differentiated THP-1 macrophages treated with IL-6 induced significantly the sIL-6R production, whereas HGFs did not produce sIL-6R as expected [5]. Macrophages exiting in periodontitis lesions might be a candidate of sIL-6R-producing cells. A series of results would explain the IL-1β-mediated promotion of IL-6 function by the crosstalk of HGFs-macrophages in periodontitis lesions.
Calprotectin, heterodimers of S100A8 and S100A9, is an abundant cytosolic protein of leukocytes (especially neutrophils) that is released during inflammation [16]. Previously, it has been reported that calprotectin plays an important role in the host defense against microorganisms by infiltration of neutrophils [17] or its direct antimicrobial effects [18]. Although elevated calprotectin levels in GCFs of periodontitis patients are useful clinically as a reliable inflammatory marker for diagnosis of the periodontitis [19], the function of calprotectin in periodontitis lesions was unclear. Recently, we have shown that THP-1 macrophages treated with calprotectin, but not P.g LPS, induced significantly sIL-6R production [12]. In addition, P.g LPS, but not calprotectin, induced significantly IL-6 production in macrophages. Although it is difficult to understand the whole picture of cytokine network in periodontitis lesions, at least in part, calprotectin-mediated macrophages might be a candidate of sIL-6R-producing cells, and have agonistic effects of IL-6 to the surrounding cells such as HGFs.
Both Toll-like receptor (TLR) 4 and receptor for AGE (RAGE) are thought to be important receptors for calprotectin [20-22]. It has been reported that calprotectin induces cell migration and invasion through p38 MAPK dependent NF-κB activation in gastric cancer [23]. In addition, Narumi et al. [24] reported that natural killer (NK) cells are activated via the calprotectin-RAGE signaling, and the calprotectin-induced NK cell activation may be useful for cancer immunotherapy. Importantly, we found that human oral epithelial cells constitutively express both TLR4 mRNA and RAGE mRNA, whereas HGFs express TLR4 mRNA constitutively, but not RAGE mRNA [25]. These results indicate that TLR4 is possible to be a main target receptor for calprotectin in HGFs. Calprotectin-mediated TLR4 signaling in HGFs might play an important role in the activation of transcription factor NF- B, which controls the expression of several inflammatory cytokine genes such as IL-6 and MCP-1. In fact, we have demonstrated that calprotectin induced significantly IL-6 production in HGFs via TLR4/NF- B pathway by using siRNA techniques [25]. Although HGFs do not express surface IL-6R to respond to the IL-6 [14], IL-6 induced by both calprotectin and IL-1 in HGFs would respond to themselves by autocrine mechanism in the presence of sIL-6R released from macrophages (Figure 1). On the other hand, LPS is a well-known factor to activate TLR2/4 signaling in various cells [26]. We investigated whether LPS can be substituted for calprotectin in IL-6 and MCP-1 production from HGFs. LPS derived from periodontal pathogen Porphyromonas gingivalis (Pg LPS) was used, and we found that the levels of cytokine production by Pg LPS were very weak compared with calprotectin [25]. From the results, we considered Pg LPS might not be substituted for calprotectin in IL-6 and MCP-1 production from HGFs. These results indicate that calprotectin should be an attractive target for periodontal diseases.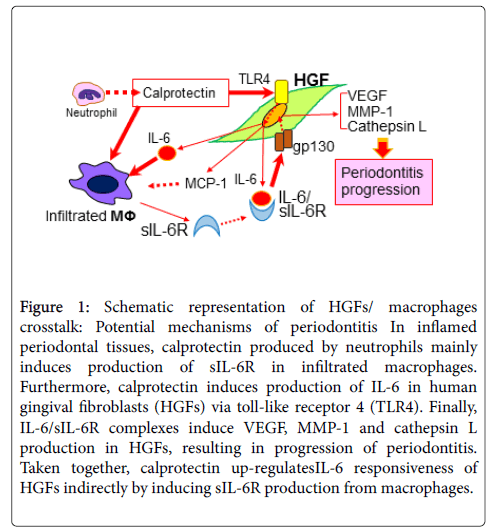 Figure 1: Schematic representation of HGFs/ macrophages crosstalk: Potential mechanisms of periodontitis In inflamed periodontal tissues, calprotectin produced by neutrophils mainly induces production of sIL-6R in infiltrated macrophages. Furthermore, calprotectin induces production of IL-6 in human gingival fibroblasts (HGFs) via toll-like receptor 4 (TLR4). Finally, IL-6/sIL-6R complexes induce VEGF, MMP-1 and cathepsin L production in HGFs, resulting in progression of periodontitis. Taken together, calprotectin up-regulatesIL-6 responsiveness of HGFs indirectly by inducing sIL-6R production from macrophages.
Cytokine biology regulating inflammatory diseases has been discussed for the last several decades [27,28]. Increased levels of IL-1β have been reported in cases of osteoporosis, rheumatoid arthritis and periodontitis [29]. Effects of IL-1β on osteoclasts have been examined in vitro, and IL-1β has been found to increase the mature formation as well as the resorptive capacity of osteoclasts [30]. In general, IL-6 is known as a multifactorial cytokine that plays major roles in the pathogenesis of periodontitis [27]. Our previous findings show that IL-6 induces vascular endothelial growth factor (VEGF), MMP-1 and cathepsin L production in HGFs in the presence of sIL-6R seen in periodontitis lesions [5,31,32]. Therefore, calprotectin-induced IL-6 production in HGFs may lead in periodontitis progression through the crosstalk of fibroblasts-macrophages.
There are a lot of reports focused on understanding how cytokines are released from HGFs and how they cause beneficial or harmful effects in inflamed periodontal lesions. A series of our findings might indicate that gingival fibroblast-mediated inflammation is regulated by the two-steps: 1. calprotectin-induced TLR4 signaling, 2. IL-6/sIL-6R complexes-induced gp130 signaling, resulting in the progression of periodontitis. In recent years, immune-based therapies for cancer by targeting TLRs are generating substantial interest because of the success of immune regulators [33]. TLRs inhibition might be first targets in the treatment strategy of various inflammatory diseases such as rheumatoid arthritis and periodontitis. In the future, strict clarification of cell biology based on the cytokine signaling, might contribute to create a new drug for regulation of gingival inflammation.
References