Dicephalus Twins
Amin El-Gohary M*
Department of PediatricSurgery, Burjeel hospital, Abu Dhabi, UAE
Corresponding Author :
Amin El-Gohary M
FRCS, Professor of Pediatric Surgery
Burjeel Hospital, Abu Dhabi , UAE
Tel: 971506225532
E-mail: [email protected]
Received February 18, 2015; Accepted February 20, 2015; Published February 25, 2015
Citation: El-Gohary AM (2015) Dicephalus Twins. Gen Med (Los Angel) 3:i105. doi: 10.4172/2327-5146.1000i105
Copyright: © 2015 El-Gohary AM. This is an open-access article distributed under the terms of the Creative Commons Attribution License, which permits unrestricted use, distribution, and reproduction in any medium, provided the original author and source are credited.
Related article at
Pubmed Scholar Google
Visit for more related articles at General Medicine: Open Access
Abstract
El-Gohary AM (2015) Thoraco-Omphalopagus Twins. Gen Med (Los Angel) 3:i105.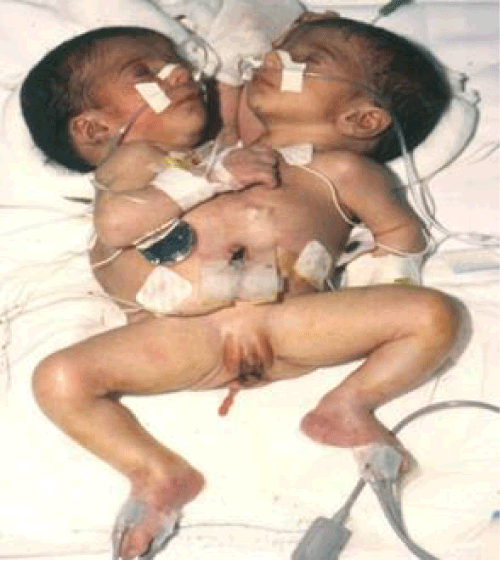 Figure 1: Dicephalus twins.
Female Dicephalus, born preterm at 33 weeks gestation to 29 years old prim gravida mother. They had one trunk with one vagina and one anus (Figure 1). They shared one uterus and one vagina and one anus. The twins had sudden unexplained cot death at age of 1 month before they were fully investigated. Parents refused post mortem examination.