Effect of Subtotal Renal Nephrectomy on CYP450-Mediated Metabolism of Arachidonic Acid: A Potential Player in Pathogenesis of Renocardiac Syndrome?
John G Kingma1*#, Jacques R Rouleau1#, Dany Patoine2#, Sylvie Pilote2#, Benoit Drolet2# and Chantale Simard2#
1Department of Medicine, Faculty of Medicine, Pavillon Ferdinand-Vandry, 1050, Avenue de la Médecine, Université Laval, Québec, Canada
2Faculty of Pharmacy, Pavillon Ferdinand-Vandry, 1050, Avenue de la Médecine, Université Laval Québec, Canada
#Institut Universitaire de Cardiologie et de Pneumologie de Québec, Canada
*Corresponding Author:

Kingma JG
Institut Universitaire de Cardiologie et de Pneumologie de Québec
2725, Chemin Sainte-Foy, Québec City, Qc G1V 4G5, Canada
Tel: 418656-8711
Fax: 418 656-4509
E-mail: [email protected]
Received Date: September 02, 2016; Accepted Date: September 27, 2016; Published Date: October 03, 2016
Citation: Kingma JG, Rouleau JR, Patoine D, Pilote S, Drolet B, et al. (2016) Effect of Subtotal Renal Nephrectomy on CYP450-Mediated Metabolism of Arachidonic Acid: A Potential Player in Pathogenesis of Renocardiac Syndrome? Cardiovasc Pharm Open Access 5:197. doi: 10.4172/2329-6607.1000197
Copyright: © 2016 Kingma JG, et al. This is an open-access article distributed under the terms of the Creative Commons Attribution License, which permits unrestricted use, distribution, and reproduction in any medium, provided the original author and source are credited.
Visit for more related articles at Cardiovascular Pharmacology: Open Access
Abstract
Background/Aims: Cardiovascular events are common in patients with renocardiac syndrome. A direct link between endothelial dysfunction and increased cardiovascular events has not been established for this syndrome; however, a causal role could be attributed to modulations of Cytochrome P450-mediated (CYP450) eicosanoid metabolites including Epoxyeicosatrienoic (EETs), Dihydroxyeicosatrienoic (DHET) and 20-Hydroxyeicosatetraenoic acids (20-HETE). In this study we investigated inter-organ variations in CYP450-mediated eicosanoids in key organs from dogs with renal insufficiency.
Methods: Renal insufficiency was induced by two-stage subtotal nephrectomy (SNx). Biochemical markers (serum creatinine, blood urea nitrogen) and cardiac hemodynamics were measured weekly. After 5 weeks, arachidonic acid CYP450-metabolites in heart, remnant kidney and liver biopsies were analyzed.
Results: Serum creatinine and blood urea nitrogen were significantly higher in the SNx group (versus timematched sham controls); hematocrit, body weight and creatinine clearance were significantly reduced. The lymphocyte:monocyte ratio, a biomarker of vascular risk, was lower (p=NS) in SNx dogs. Cardiac hemodynamics were similar for both groups. Cardiac levels of 20-HETE were markedly lower (p=0.014) in SNx dogs; however, 14, 15-DHET, a biomarker of soluble epoxide hydrolase levels were unchanged. The 20-HETE/14, 15-DHET ratio was lower in these dogs (p=0.003) and could help to explain a loss of autoregulation in this experimental model. In kidney and liver biopsies from SNx dogs 20-HETE tended to be higher and 14, 15-DHET lower (p=NS) versus time-matched controls; no change was observed for 20-HETE/14, 15-DHET.
Conclusion: A marked reduction of cardiac 20-HETE and 20-HETE/14, 15-DHET levels occurred in dogs with kidney injury but no change in these CYP450-metabolites was observed in kidney or liver biopsies. As such, kidney injury appears to trigger significant alterations in CYP450-metabolites that may initiate endothelial dysfunction and vascular inflammation even in distant organs. Manipulating these pathways may eventually constitute a potential pharmacologic target to limit vessel dysfunction in the setting of renocardiac syndrome.
Keywords
Arachidonic acid; Cytochrome P450-mediated metabolites; Inflammation; Renocardiac syndrome; Renal insufficiency
Introduction
The physiopathological consequence of chronic kidney dysfunction on heart disease is an ongoing conversation. Increased risk of mortality in patients with chronic renal insufficiency and cardiac dysfunction is well documented [1,2]. Possible explanations include: i) cardiac remodeling/dysfunction caused by chronic kidney disease; ii) cardiac remodeling/dysfunction leading to worsening renal function; or iii) common interacting pathways that cause both cardiac and renal failure [3]. There is increasing evidence that bidirectional detrimental interactions of a host of renocardiac connectors on vascular endothelium (renin angiotensin aldosterone system, sympathetic nervous system, activated inflammatory mediators, reactive oxygen species and uremic toxins) contribute to disease progression [3,4].
Free arachidonic acid, a polyunsaturated omega-6 fatty acid, is metabolized to different classes of eicosanoid biomediators via three major pathways: 1-the cyclooxygenase pathway that generates prostanoids, 2-the lipoxygenase pathway that generates leukotrienes and hydroxyeicosatetraenoic acids and 3-the cytochrome P450 (CYP450) pathway that produces numerous metabolites driven by epoxygenases and ω-hydroxylases [5]. Of these, CYP epoxygenases convert arachidonic acid into Epoxyeicosatrienoic acids (EETs) and CYP ω-hydroxylase into Hydroxyeicosatetraenoic acids (HETEs) [6,7].
CYP eicosanoids are increasingly being linked to the pathogenesis of diverse disorders such as hypertension, myocardial infarction, maladaptive cardiac hypertrophy, acute kidney injury and stroke [8- 11]. CYP2J and CYP2C epoxygenases metabolize arachidonic acid to EETs regioisomers that have potent vasodilator and anti-inflammatory properties [12]. These EETs are rapidly metabolized via soluble epoxide hydrolases to less active dihydroxyeicosatrienoic acids (DHETs). EETs mediate vascular responses to various endogenous endothelium active compounds (acetylcholine, bradykinin, nitric oxide, etc.); however, exact functional mechanisms for these actions remain to be established. In parallel (via CYP4F and CYP4A ω-hydroxylases) arachidonic acid is metabolized to 20-hydroxyeicosatetraenoic acid (20-HETE) considered to be an important autocrine factor for regulation of renal blood flow and afferent arteriolar function and to development of hypertension [13-15]. Inhibition of 20-HETE attenuates the myogenic response of renal vessels as well as autoregulation of renal blood flow [16]. Genetic epidemiology studies in humans have documented involvement of functional polymorphisms of CYP epoxygenases and ω-hydroxylases in the cardiovascular disease phenotype [17-19]. Efforts are presently underway to develop pharmacologic inhibitors of epoxide hydrolases and ω-hydroxylases to counter dysregulated eicosanoid metabolism and its potential effects in cardiovascular disease progression [20- 24]. Cytochrome P450-metabolites of arachidonic acid are involved in regulation of extracellular fluid volume along with renal and peripheral vascular tone [9,25,26]. The functional relationship between CYP-mediated eicosanoid metabolism and vascular dysfunction that potentially contributes to organ failure has not been established.
We recently documented a marked alteration of coronary vasoregulation and coronary vascular reserve in canines with the renocardiac syndrome phenotype [27]; in these dogs the coronary autoregulatory threshold was more readily exhausted with incremental increases in cardiac work. An overall loss of coronary autoregulation puts the subendocardium at risk of injury and can induce cardiac contractile dysfunction. Under conditions of increased serum uremia (caused by renal insufficiency) vasoregulation has been reported to be markedly impaired; inflammatory eicosanoids are potential contributors due to their potent vasoconstrictor actions at the microvascular level [25]. These findings support the hypothesis that adverse conditions in one organ (i.e., kidneys) markedly influence function of a distant organ (i.e., heart) due to a multiplicity of bidirectional inter-organ interactions. In the current study, we measured specific CYP450-metabolites in heart, kidney and liver biopsies from dogs with renal insufficiency with the aim of evaluating their potential contribution to pathogenesis of renocardiac syndrome.
Materials and Methods
Adult male Beagles weighing 10-12 kg were used for these studies; animals were acclimatized for 7 days and received human care in compliance with the Guide to the Care and Use of Experimental Animals (Vol 1 and 2) of the Canadian Council on Animal Care. Laval University is compliant with these guidelines (A5012-01); the Laval University Animal Ethics Committee approved these studies.
Surgical procedure
After pre-medication with acepromazine maleate (Atravet, 0.5 mg/Kg IM) dogs were sedated with sodium pentobarbital (30 mg/Kg IV); anesthesia was maintained with isoflurane (2-3%). Dogs were intubated and ventilated with a volume-regulated respirator. CKD dogs underwent a two-stage subtotal nephrectomy (SNx) [27,28]; for the first step (Surg1), the left kidney was isolated via a flank incision and several dorsal and ventral branches of the left renal artery were ligated. A target of 50-60 percent infarction of the left kidney (established by visual verification of topical cyanosis) was applied. The incision was closed in layers; analgesia was provided with butorphenol (0.2 mg/kg IM, b.i.d.) for 3 days. The second step (Surg2) was done after seven days; dogs were sedated, anesthetized (as described above) and underwent a contralateral nephrectomy of the right kidney. Shamoperated dogs (CTR) underwent the same anesthesia and surgical protocols as SNx dogs but after each surgery the kidneys were only gently manipulated prior to closing of the incisions. For 5-weeks after Surg2 blood biochemistry (urea nitrogen, serum creatinine) and hematological parameters (WBC, platelets, lymphocytes, monocytes, etc.) were evaluated weekly; blood pressure measurements were also done by tail-cuff plethysmography. These measurements were done in dogs lying quietly on their sides in a relaxed position [29]; five pressure readings taken over a 5 min period were averaged.
At the end of the experiments, tissues were obtained under deep pentobarbital anesthesia after induction of cardiac arrest; heart, remnant left kidney and liver samples were harvested, rapidly washed in cold PBS and then snap frozen. Tissue EETs were not directly measured in these studies; since they are rapidly metabolized to DHET by soluble epoxide hydrolases in blood and tissues, we evaluated 14, 15-DHET levels (i.e., more stable and quantifiable). Free 20-hydroxyeicosatetraenoic acid (20-HETE) and free EETs/ DHETs were measured in tissue biopsies using BioTarget 20-HETE and BioTarget 14, 15-EET/DHET ELISA Kits, respectively; analyses were done in accordance with manufacturers' instructions (Detroit R&D, Detroit, MI).
Statistical analysis
Intergroup comparisons of blood biochemistry and hematological data and cardiac hemodynamic were made using ANOVA for repeated measures. The Student's-Newman-Keuls multiple range test, with α ≤ 0.05, was performed on all main-effect means to identify significant differences. Tissue levels of 20-HETE and 14, 15-DHET for sham control and SNx dogs were analyzed by Student's t-test with the Bonferroni correction; a α level of 0.017 (0.05/3) was used for these analyses. All statistical analyses were carried out using SAS software (SAS Institute Inc., Cary, NC, USA).
Results
Blood biochemistry, hematological blood parameters and cardiac hemodynamics
Data are summarized in Table 1. Serum creatinine and BUN levels were significantly higher in SNx dogs. Overall body weight and creatinine clearance were also markedly lower in these dogs along with hematocrit levels. Loss of body weight in SNx dogs could be related to eicosanoid levels but this was not addressed here; however, CYP-450 derived epoxides are known to play a role in regulation of metabolic homeostasis [30] and adipose tissue remodeling [31-33]. Changes in different inflammatory cell populations during development of the renocardiac syndrome phenotype are reported in Table 2. The lymphocyte:monocyte ratio tended to be lower in SNx dogs (i.e., lower lymphocyte numbers) which may suggest a greater risk for vascular, or other endpoints. This index reflects the degree of systemic inflammation and has been suggested to be a useful prognostic marker for predicting survival in patients [34-36]. The relation between hematocrit and arterial oxygen content is shown in Figure 1; as expected, lower hematocrit levels (i.e., anemia) associated with SNx result in much lower arterial oxygen content levels.
| | CTR (n=5) | SNx (n=8) | P value |
| --- | --- | --- | --- |
| Body weight (Kg) | 11.5 ± 0.5 | 10.0 ± 0.5 | 0.001 |
| Serum Creatinine (µM/L) | 54 ± 13 | 114 ± 47 | 0.006 |
| CrCl (mL/min) | 30.4 ± 7.7 | 15.2 ± 6.9 | 0.006 |
| Blood Urea Nitrogen (mM/L) | 3.9 ± 0.6 | 8.1 ± 3.9 | 0.001 |
| Hematocrit (vol %) | 32.3 ± 2.1 | 25.2 ± 4.2 | 0.001 |
| AoPsys (mmHg) | 137 ± 16 | 155 ± 20 | NS |
| AoPdias (mmHg) | 77 ± 15 | 84 ± 9 | NS |
Data are means ± 1SD; CrCl: Creatinine Clearance; AoPsys, AoPdias: Systolic, Diastolic Aortic Pressure
Table 1: Changes in hemodynamic and blood biochemistry parameters.
Sham-operated
SNx
Surg2
3 weeks
5 weeks
Surg2
3 weeks
5 weeks
WBC count
7.0 ± 1.3
7.7 ± 2.1
6.7 ± 1.2
8.1 ± 1.3
9.2 ± 4.3
6.6 ± 1.9
Platelet count
288 ± 60
316 ± 29
268 ± 34
297 ± 117
260 ± 59
248 ± 50
Neutrophils
61 ± 5
60 ± 10
54 ± 11
61 ± 8
66 ± 9
58 ± 23
Lymphocytes
32 ± 10
34 ± 9
39 ± 9
30 ± 8
24 ± 6
34 ± 24
Monocytes
7 ± 5
9 ± 3
7 ± 4
7 ± 3
7 ± 4
6 ± 2
LMR
7 ± 5
4 ± 3
8 ± 4
5 ± 2
5 ± 4
7 ± 5
Data are means ± 1SD; WBC: White Blood Cell Count (× 109/L); platelet count (× 109/L); lymphocytes and monocytes are expressed as percent of WBC count; LMR: Lymphocyte/Monocyte Ratio
Table 2: Changes in blood hematological parameters.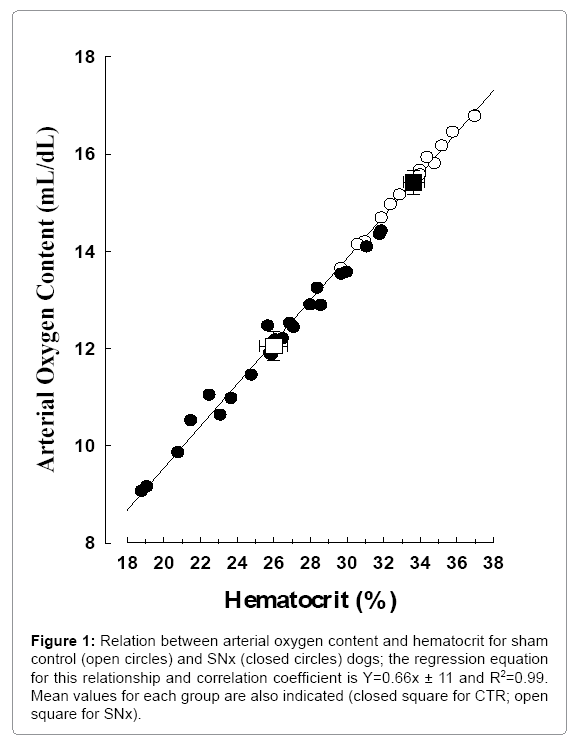 Figure 1: Relation between arterial oxygen content and hematocrit for sham control (open circles) and SNx (closed circles) dogs; the regression equation for this relationship and correlation coefficient is Y=0.66x ± 11 and R2=0.99. Mean values for each group are also indicated (closed square for CTR; open square for SNx).
Under resting conditions, aortic pressures (systolic and diastolic) were slightly higher in SNx dogs but did not achieve a level of statistical significance. No change was observed with regard to heart rate.
Tissue levels of arachidonic acid cytochrome P450-mediated metabolites and pathology
Using ELISA kits, 20-HETE and 14, 15-DHET were measured in tissue biopsies from the heart, remnant kidney and liver. In the heart, 20- HETE levels were significantly lower in SNx dogs (Figure 2); no change in 14, 15-DHET levels was detected. In addition, the 20-HETE/14, 15- DHET ratio was markedly reduced in SNx dogs. 20-HETE and 14, 15- DHET levels in remnant kidney (Figure 3) and liver (Figure 4) biopsies were unchanged for both experimental groups.
Histologic evaluation of remnant kidney biopsies showed marked renal injury characterized by partial hyalinization of glomeruli as well as tubular atrophy (not shown here). No further pathologic examination was performed for cardiac or liver biopsies.
Discussion
In the present study dogs developed a kidney disease phenotype corresponding to Stage 2 criteria according to the International Renal Interest Society (IRIS) staging system. In SNx dogs, under normoxemic conditions arterial oxygen content decreased in relation to hematocrit levels; in an earlier study from our laboratory with the same experimental model oxygen extraction levels and distribution of myocardial blood flow were not changed under resting conditions [27]. Those findings supported the concept of a tissue autoregulatory mechanism for oxygen [37,38]. Arachidonic acid metabolism in the heart occurs in myocardial, endothelial and vascular smooth muscle cell types; increased expression of inflammatory biomarkers appears to be contributory to deterioration of heart function [39,40]. Arachidonic acid is metabolized by CYP450 enzymes (4A, 2C, 4F and 2J families) to produce 20-HETE, EETs and DHETs [16]. 20-HETE, which is produced in vascular smooth muscle, is a potent vasoconstrictor that acts by inhibiting Ca2+-sensitive K+ (KCa) channels, membrane depolarization, activating L-type calcium channels, increasing intracellular calcium and generating reactive oxygen intermediates [9,41,42].
Myogenic mechanisms participate in blood flow regulation of diverse organ vascular beds. Higher circulating levels of vasoconstrictor compounds reduces distribution of blood flow in the inner layers of the ventricular wall and thereby promotes local cellular changes consequent to inadequate oxygen delivery. Higher serum uremia also affects vascular endothelium and limits vessel relaxation [43]. In the current study, cardiac tissue 20-HETE levels were significantly lower in SNx animals compared to sham controls; the reduced bioavailability of these compounds and the consequences needs to be better understood. Interestingly, there is evidence that 20-HETE plays a role in renoprotection; this is based on inhibitory actions of 20-HETE on ion transport in renal epithelia, its natriuretic properties and role in preventing glomerular permeability to albumin. Inhibition of 20- HETE biosynthesis might also worsen kidney injury (due to increased vascular expression of CYP4A2) [44-46]. During CKD, activity of numerous CYP isoforms are modulated by circulating uremic toxins [47] while under ischemic conditions high concentrations of 20-HETE in venous effluent appear to worsen cellular injury. Antagonists that target 20-HETE markedly reduce kidney injury in different animal models [24,48]. However, those experiments were not necessarily designed within the context that increased levels of circulating CYP450 metabolites influence distant organs simultaneously and could therefore be somewhat limited for purposes of comparison with the present study. The fact that 20-HETE appears to have opposing effects on vascular and tubular function also emphasizes the need for further studies.
All cause kidney injury results in morphological and functional changes to vascular endothelium and tubular epithelium; endothelial and epithelial cell types produce cytokines and chemokines that lead to infiltration of inflammatory cells to the affected kidneys [49]. As such, it is possible that pro-inflammatory cytokines or mediators contribute to either local, or distant, organ pathology. CYP-derived arachidonic acid metabolites have been measured in various animal models of cardiac pathology [50,51] but this has not been done in the context of renocardiac syndrome. The present study documents a significant reduction in cardiac 20-HETE levels in dogs with the chronic kidney disease phenotype with no comparable change for other EETs catabolites such as 14, 15 DHET. No change was observed in liver and kidney biopsies from the same animals. This study was limited to specific CYP-derived metabolites and expression and activity levels of cyclooxygenases and lipoxygenases were not evaluated. In the kidney, 20-HETE is known to constrict afferent arterioles and thereby is central to renal blood flow autoregulation [52,53]. Interestingly, 20-HETE, which is described as being cardiotoxic has been reported to increase in cardiac hypertrophy models [50,54]; corresponding decreases in other HETEs have also been documented but their biological actions need to be clarified. Regulatory factors for production of 20-HETE in renal microcirculation include nitric oxide which has been shown to inhibit heme-containing proteins including CYP450s [55]. Inhibition of nitric oxide synthesis increase 20-HETE synthesis [56]; nitric oxide binds reversibly with the heme moiety and irreversibly with cysteine residues of CYP proteins [57].
Some limitations of the current study need to be acknowledged. First, progressive kidney failure was produced over a period of 5 weeks; this timeframe is standard in kidney ablation-infarction (SNx) models. Longer durations would almost certainly impact development of the renocardiac syndrome phenotype. Elevated serum creatinine and blood urea nitrogen levels combined with reduced creatinine clearance (i.e., indirect biomarkers) provide clear evidence for kidney injury. Specific biochemical markers of cardiac injury (C-reactive protein, troponin, etc.) or inflammation (interleukins, tumor necrosis factor, etc.) were not measured in these studies; however, we [27,58] and others [59], have reported significant endothelial dysfunction and impaired myocardial vasoregulation (at the microvascular level) in this model without corresponding cardiac contractile dysfunction, hemodynamic changes or hypertension [59-61]. Impaired autoregulatory reserve has also been described in patients with chronic kidney disease and is further exacerbated by endothelial dysfunction [62,63]; this may constitute a first step towards structural damage of distant organs. Finally, the principal goal of this investigation was to examine whether CYP450-mediated arachidonic acid metabolites were modulated in our animal model of kidney insufficiency that could eventually result in a renocardiac syndrome phenotype. EETs are recognized modulators of vascular function and are known to be catalyzed to biologically less active DHETs by soluble epoxide hydrolases (sEH) [64]; inhibition of sEH to increase bioavailability of EETs is currently being investigated by a host of research groups. sEH is also a target for treatment of ischemic stroke, cardiac hypertrophy, lipopolysaccharide-induced systemic inflammation and pain [65-68]. In the present studies, CYPmetabolites were only measured in tissues (not in serum); to our knowledge anesthetics and opiates used for relief of post-operative pain did not affect CYP450s levels. Determination of serum and urine levels of these metabolites in addition to tissue levels could be extremely useful in future studies with this phenotype to elucidate biological significance. Indeed, the potential relation between CYP450-mediated eicosanoid metabolism and vascular dysfunction that advances to organ failure remains to be established. For the study reported here a clear decrease in tissue levels of 20-HETE was detected in cardiac biopsies from SNx dogs (potentially with the renocardiac syndrome phenotype). However, no change was observed for 14, 15-DHET, an EETs catabolite with contrary vascular actions; other EETs regioisomers were not measured. Our findings suggest that arachidonic acid metabolites contribute to the pathogenesis of renocardiac syndrome and also support the concept that inflammation-driven processes are involved. On the other hand, no change to either of these CYP450- metabolites was observed in the remnant kidney or liver biopsies. Future studies are needed to further address the question of whether uremia could affect local metabolism of arachidonic acid in different organs and thereby promote organ dysfunction.
Acknowledgements
The authors acknowledge the assistance of the animal care staff at the Institut Universitaire de Cardiologie et de Pneumologie de Québec research center. These studies were supported by the Laboratoire expérimental de physiologie coronarienne–Paul Jalbert Research Fund.
References