Gamekeeper's Thumb: Thumb: MR Imaging Findings
Mustafa Koplay1*, Mesut Sivri1, Harun Kutahya2, Hasan Erdogan1 and Recep GaniGoncu2
1Department of Radiology, Medical Faculty of Selcuk University, Konya, Turkey
2Department of Orthopaedics and Traumatology, Beyhekim Government Hospital, Konya,Turkey
Corresponding Author :
Mustafa Koplay
Medical Faculty, Department of Radiology
Selcuk University The Central Campus
42100, Konya, Turkey
Tel: +90-332-2243800- 44930
E-mail: [email protected]com
Received December 11, 2013; Accepted December 26, 2013; Published January 01, 2014
Citation: Koplay M, Sivri M, Kutahya H, Erdogan H, Goncu RG (2014) Gamekeeper's Thumb: MR Imaging Findings. J Med Diagn Meth 2: 147. doi:10.4172/2168-9784.1000147
Copyright: © 2014 Koplay M, et al. This is an open-access article distributed under the terms of the Creative Commons Attribution License, which permits unrestricted use, distribution, and reproduction in any medium, provided the original author and source are credited.
Visit for more related articles at Journal of Medical Diagnostic Methods
Abstract
Gamekeeper's thumb is used to describe an acut or chronic injury to Ulnar Collateral Ligament (UCL) of thumb. We present the Magnetic Rezonance Imaging (MRI) findings of a rare case with gamekeeper's thumb. MRI allows optimal detection and evaluation of most soft-tissue and bone lesions in the traumatic finger, including injuries the collateral ligaments.
Keywords
Ulnar collateral ligament; Gamekeeper's thumb; MRI
18-year-old male left-handed soccer goalkeeper presented with pain, swelling and tenderness at the base of the thumb after the tip of the thumb had been struck buy a soccer ball, while playing. In clinical examination, there were inability to grip items and ulnar collateral stress test was positif of the left thumb. At the conventional X-ray of the left thumb, there was a small avulsion fracture at the base of the proximal phalanx on ulnar corner. In order to demonstrate the detailed ligament injury, Magnetic Resonance İmaging (MRI) was performed (1.5 Tesla, Magnetom, Aera, Siemens, Germany). In T1 and T2 weighted image, there was edema in the region of the metacarpophalangeal joint and in T2-weighted fat-suppressed images, there was a tear of the Ulnar Collateral Ligament (UCL) at its proximal phalangeal attachment (Figure 1). In treatment, the patient is placed in a modified wrist splint called thumb spica for 6 weeks and in the fourth week suggested to do active and passive range of motion exercises for two weeks.
Discussion
Gamekeeper's thumb is used to describe an acute or chronic injury to UCL of thumb. It was first described by Campbell in 1955 in Scottish gamekeepers who used to kill hunted rabbits by a special method grasping the head of the animals between their thumb to extension abduction force and index finger to break its neck [1]. Also it can be occur as a result of skiing accidents, sport injuries such as hand ball or volley ball, motor vehicle accidents and the hand on top of the fall [2].
The mechanism of injury; it consists of as a result valgus force was placed onto the abducted and hyperextented Metacarpophalangeal (MCP) joint. This condition leads to rupture of UCL and chronic attritional injury that resulted in instability [3].
Ruptured UCL may displace and retract superficial and proximal to the abductor pollicis aponeurosis and it may become interposed between the ruptured UCL and its site of insertion at the base of the proximal phalanx. This complication is called Stener lesion [4].
Clinical symptoms are pain, tenderness, swelling, ecchymosis, instability of the thumb MCP joint and decreased range of motion at the first MCP point.
In diagnosis, AP and lateral films of the thumb should be done for evaluating bone fractures and to rule out comminuted fracture of the thumb metacarpal or proximal phalanx before the physical examination may contraindicate valgus stress testing [3]. MRI is the most preffered and recommended method to evaluate the integrity of the UCL. Also MRI can show anatomy of the first MCP joint and complications of the rupture such as Stener lesion. It is important to say Stener lesion because it is an indication for surgical treatment. Ultrasound, computed tomography and artrography can be used as additional imaging methods but these methods are insufficient for diagnosis of a stener lesion [4]. In conclusion, MRI allows optimal detection and evaluation of most soft-tissue and bone lesions in the traumatic finger, including injuries the collateral ligaments.
References
Figures at a glance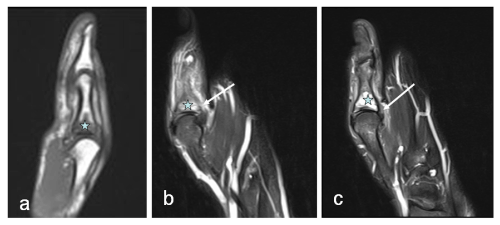 Figure 1