Heart Failure with Preserved Ejection Fraction: Myth or Reality?
Roever L* and Resende ES
Federal University of Uberlândia, Department of Clinical Research, Brazil
Corresponding Author :
Leonardo Roever
Department of Clinical Research, Av. Pará
1720, Bairro Umuarama, Uberlândia
MG, CEP 38400-902, Brazil
Tel: 553488039878
E-mail: [email protected]
Received: September 12, 2015 Accepted: September 27, 2015 Published: October 5, 2015
Citation: Roever L and Resende ES (2015) Heart Failure with Preserved Ejection Fraction: Myth or Reality? . internMed 5:e101. doi: 10.4172/2165-8048.1000e101
Copyright: ©2015 Roever L, et al. This is an open-access article distributed under the terms of the Creative Commons Attribution License, which permits unrestricted use, distribution, and reproduction in any medium, provided the original author and source are credited
Related article at Pubmed, Scholar Google
Visit for more related articles at Internal Medicine: Open Access
Editorial
Heart failure (HF) is a complex syndrome characterized by intolerance to exercise, fluid retention and congestive phenomena, and in its later stages has high morbidity and mortality rates. These patients those with preserved systolic function, are referred to as heart failure with preserved ejection fraction (HFpEF). The prevalence of HFpEF varies between 30% and 50% in epidemiological studies [1-3].
It affects mostly individuals with older age, hypertension, metabolic syndrome, coronary disease, visceral obesity, atrial fibrillation, and female sex. The pathophysiological mechanisms are complex and multifactorial, involving the abnormalities in diastolic function (relaxation and/or stiffness), ventricular geometry, changes in extracellular matrix fibrillar collagen synthesis and degradation, myocardial passive stiffness, the pericardial restraint force and the interaction between the ventricles [4]. Possible mechanisms etiopathogeny of HFpEF are presented in Figure 1.
The treatment guidelines are to improve cardiac function, reduce pulmonary venous congestion, and control the comorbidities and of hypertension, treat myocardial ischemia, maintain sinus rhythm and prevent tachycardia, block neuro-humoral activation, and also reduce the re-hospitalizations, and improve the quality of life of the patient [5].
References






Figures at a glance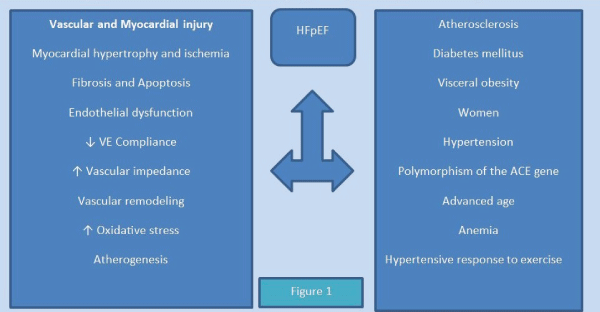 Figure 1