Hypothalamic-Pituitary-Adrenal (HPA) Axis Functioning among Patients with Schizophrenia: A Cross Sectional Comparative Study
Mamta Singh1,2*, Solanki RK3, Bhawna Bagaria4 and Mukesh Swami K5
1Mamta Singh, Associate Professor, Department of Biochemistry, M.G. Medical College & Hospital, Jaipur, India
2S.M.S. Medical College, JLN Marg, Jaipur, India
3Department of Psychiatry, S.N. Medical College & Hospital, Jodhpur, India
4Department of Biochemistry, S.M.S. Medical College & Hospital, Jaipur, India
5Department of Psychiatry, BPS Government Medical College for women, Sonepat, India
*Corresponding Author:

Mamta Singh
Associate Professor
Department of Biochemistry
Mahatma Gandhi Medical College and Hospital
RIICO Institutional Area
Sitapura, Jaipur, India-302022
Tel: 91-9950068598
E-mail: [email protected]
Received Date: May 24, 2014; Accepted Date: November 25, 2014; Published Date: December 3, 2014
Citation: Singh M, Solanki RK, Bagaria B, Swami MK (2015) Hypothalamic-Pituitary-Adrenal (HPA) Axis Functioning among Patients with Schizophrenia: A Cross Sectional Comparative Study. J Psychiatry 18:211. doi: 10.4172/Psychiatry.1000211
Copyright: © 2015, Mamta Singh et al., This is an open-access article distributed under the terms of the Creative Commons Attribution License, which permits unrestricted use, distribution, and reproduction in any medium, provided the original author and source are credited.
Visit for more related articles at Journal of Psychiatry
Abstract
Objectives: Higher perceived stress and maladaptive coping strategies seems to play an important role in the course and outcome of schizophrenia. The biological effects of stress are mediated by the hypothalamic-pituitary-adrenal (HPA) axis functioning (reflected by cortisol and DHEAS ratio). The aim of this study were, first to compare serum cortisol, DHEA-S concentration and their molar ratio in schizophrenic patients with healthy subjects, and secondly to determine their correlation with psychopathology of schizophrenia. Methods: One hundred clinically established male patients with schizophrenia and fifty ages matched healthy controls participated in this study. Fasting serum cortisol and DHEAS levels were measured by Chemiluminescence Immunoassay (CLIA). Psychopathology was assessed by using the Positive and Negative Syndrome Scale (PANSS). Sociodemographic characteristics, data regarding onset of illness, disease duration and medication history were recorded in self designed semi-structured proforma. The data collected on above tools, were analyzed by z test and Pearson Correlation Coefficient. Results: Serum cortisol levels and cortisol to DHEAS molar ratio were significantly higher in schizophrenic patients [(z=-4.457; p<0.001) (z=-3.787; p<0.001)] than in healthy comparison subjects, while no significant differences were seen in the DHEAS levels. These hormonal indices were not significantly associated with severity of psychopathology, onset of illness and disease duration in schizophrenia patients. Conclusions: Our findings suggest that besides the elevated cortisol level, cortisol to DHEAS ratio might reflect abnormal HPA axis functions in schizophrenic patients. Persistent stress vulnerability in these patients may lead to increased sensitivity to brain insults and in turn dysregulated neurotransmission, resulting in progressive deterioration in cognitive, emotional and psychosocial functions.
Keywords
Schizophrenia; HPA axis; Cortisol; Dehydroepiandrosterone sulphate
Introduction
Schizophrenia is a chronic, frequently devastating neuropsychiatric disorder, with an onset usually in early adulthood which causes prolonged disability in the affected individual. Although it, affects about 1% of the global population but consequences for society in terms of hospitalization, treatment and rehabilitation and lost productivity are very large [1]. Several factors like genetics, early environment, neurobiology, psychology and social processes are known to influence the risk of developing schizophrenia and the course of illness. Though the exact cause is not known but stressful life events appears to be an important external factors in contributing the disorder. The onset of illness is often associated with a stressful period in life, indicating that stress can trigger the onset in individual with a genetic predisposition of disease. Stress, which can be both physical and psychological, has significant effects on brain structure and function [2-4]. As well as on whole body systems [5]. Animals have developed a range of physiological and biologically responses in order to maintain homeostasis in situations of stress [6].
The hypothalamic-pituitary-adrenal (HPA) axis is a crucial system in maintaining homeostasis and adapting to stress. When stress is acute, adaptive biochemical responses include increased adrenocortical secretion of stress hormones; prominently cortisol and dehydroepiandrosterone (DHEA) take place. The cortisol (glucocorticoid) is a major mediator of the physiological stress response and impacts on many physiological systems to allow the body to react to a stressor. While DHEA mainly have anabolic effects (i.e. promoting growth and repair) thus repairing catabolic damage so long as their levels remain sufficiently high in the circulation. In humans, 99% of circulating DHEA is presents in its sulfated form DHEAS (together abbreviated DHEA(S)).Serum DHEAS levels are 100 or more times higher than DHEA and has a much longer life and shows no diurnal variations [7]. Therefore from a practical point of view, estimation of DHEAS is preferable to DHEA as levels are more stable.
DHEA(S) have multiple effects in the central nervous system mediated through its non-genomic actions on several neurotransmitter systems, such as γ-amino butyric acid type A (GABAA), N-methyl-D-aspartate (NMDA), and sigma receptors [8]. Animal experiments show that DHEAS has profound psychotropic effects like memory enhancement, antidepressant, anxiolytic and antiaggression [9]. Moreover, DHEA(S) has potent antiglucocorticoid and neuroprotective actions on the brain and can protect hippocampal neurons from glucocorticoid induced neurotoxicity [10]. In healthy subjects acute administration of DHEA rapidly reduces cortisol level. The concomitant release of DHEA(S) in the acute stress response is thought to protect the brain against potentially damaging effects of excessive cortisol activity [11]. Since these acute adaptive responses to stress is designed to increase survival, but dysfunctional stress responses i.e. over or under activity of HPA axis may be damaging to an individual. Failure to deactivate these stress responses within a dysfunctional stress system may result in imbalance of these steroid hormones. This may lead to over exposure to the effects of glucocorticoids and increased sensitivity to brain insults.
In this context, the present study was designed to determine whether serum cortisol and DHEAS concentration and their molar ratio is altered in schizophrenia patients as compared to healthy controls and to test assumption that these alterations may be related to symptomatology in schizophrenia. The aim of this study was to contribute to a better understanding of the stress system in schizophrenia patients in relation to severity of the disease.
Material and Methods
Setting
The Department of Biochemistry and Department of Psychiatry, SMS Medical College, Jaipur (India), carried out this cross- sectional comparative study from Jan 2009 to March 2011.
Participants
A total of 100 medicated male schizophrenic patients (Mean ± SD: 31.76 ± 8.19) and fifty normal male subjects (Mean ± SD: 34.50 ± 9.24) participated in the study. Patients were enrolled from several psychiatric wards in Psychiatric Hospital. All patients had chronic schizophrenia, defined as having symptoms of schizophrenia for at least 2 years before recruitment[12]. Their doses of antipsychotic medications and other concomitant psychotropic medications such as benzodiazepines, anti-parkinsonian agents, and mood stabilizers were fixed for at least 4 weeks before participation in the study. Patients were considered symptomatically stable if there had been no appreciable change in their psychotic symptoms during the 4 weeks before participation in this study, irrespective of the severity of their symptoms.
Fifty ages matched apparently healthy men participated as controls. All participants underwent routine laboratory tests as well as physical and neurological examination to rule out any physical or neurological illnesses. Subjects in both the groups were screened with a specially designed screening proforma, which encompasses all inclusion and exclusion criteria's.
Inclusion Criteria's
Group 1: included patients with diagnosis of schizophrenia, as per ICD-10 criteria, age between 18 to 60 years and those who are willing and able to participate in the study
Group 2: normal healthy subjects without personal or family history of psychiatric illness
Exclusion Criteria's
Subjects with history of substance abuse /drug dependence, or withdrawal, endocrine disorders and receiving any hormone therapy were excluded. All participants had no abnormal medical findings as evidenced by assessment of medical histories, physical examination and neurological examinations. Socio-demographic characteristics, data regarding onset of illness, disease duration and medication treatment were then collected in demographic data sheet. An informed and written consent was obtained from all participants, after complete description of the study .The study was approved by the Institutional Research Committee of SMS Medical College.
Assessments
Clinical assessment: semi structured interview
The diagnosis was based on the International Statistical Classification of Diseases (ICD -10) criteria for schizophrenia using a specially designed semi-structured interview and review of the prior records by two consultant psychiatrists. The detailed interview included a full psychiatric sheet, which allowed each patient to receive a confirmed psychiatric diagnosis according to ICD-10 at the end of the interview.
Positive and Negative Syndrome Scale (PANSS)
To evaluate the positive and negative symptoms, as well as general psychopathology associated with schizophrenia we used the PANSS [13]. Three factor model for analysis. This scale consist of a total 30 items including 7 positive syndrome items, 7 negative syndrome items and 16 comprehensive pathological items. Each item is rated on a scale from 1(symptom not present) to 7 (symptom extremely severe). The sum on the 30 items is defined as the PANSS total score and ranges from 30 to 210. PANSS is thus an informative rating instrument for capturing overall psychopathology of patients with schizophrenia. PANSS was rated by two trained psychiatrists and reached an acceptable level of reliability; inter-rater reliability for primary diagnosis.
Blood Collection
In a calm and comforting environment the subjects were explained about the various aspects of the study helping them to understand the purpose of the study and the nature of the forthcoming procedures. All participants were controlled for time of awakening, morning activity and caffeine consumption that can affect morning cortisol levels. Fasting blood samples for hormone assays were drawn between 8.30 to 9.30 a.m. from antecubital vein of each subject by using aseptic technique, after 15 min of rest. Serum was separated by centrifugation at 3000 rpm for 10 minutes and stored at -70.c until the time of analysis.
Hormone Assays
All the assays were performed in the central Lab of SMS Medical College using validated protocols. Serum cortisol and DHEAS were assessed with a Chemiluminescence Immunoassay (CLIA) technique using the Immulite 1000 system (Siemens Health Care Diagnostic Product, USA). Cortisol/DHEAS ratio was calculated as cortisol/DHEAS (*100). The analytical sensitivity for cortisol and DHEA-s levels were 0.2ug/dl and3.0ug/dl respectively. The investigations were performed strictly according to manufacturer's instructions stated in the manuals. Reference ranges for serum cortisol and DHEAs in male subjects were 5-25 ug/dl (8.00a.m) and 80-560 ug/dl respectively.
Statistical analysis
Data were statistically described in frequencies (number of cases), percentage and mean ± standard deviation (SD) when appropriate. Pearson`s chi-square (x2) test was used to compare sociodemographic variables between the groups. A comparison of the quantitative variables between the study groups was performed using the z- test. Correlation between hormonal measures and clinical variables were calculated using the Pearson's Correlation Coefficient (r). Statistical significance was set at two-tailed p<0.05. Analyses were performed using the Statistical Package for the Social Sciences (SPSS) version 10.0.
Results
Sociodemographic characteristics of the schizophrenic patients and control groups are presented in Table 1. In both the groups, most subjects were married, unemployed, educated up to 8th standard, having monthly income upto Rs. 6000/- , from a rural nuclear extended family and belonging to religion Hindu. There was no statistically significant difference between the age of both groups. Because of the selection procedures, the schizophrenic patients and controls were comparable in terms of age, marital status, education and family background. Both groups were comparable on socio-demographic variables (p>0.05). Table-1 also indicate that mean age at onset of the disease was 23.53 ± 5.49 years (range between 19 and 28 years) and duration of illness was 8.23 ± 5.90 years (range between 2 and 35 years); the mean values of the PANSS score were as follow: total 99.43 ± 11.06; positive subscale score 25.12 ± 6.07, negative subscale score 26.32 ± 5.87 and general psychopathology score 47.97 ± 7.90 in schizophrenic patients.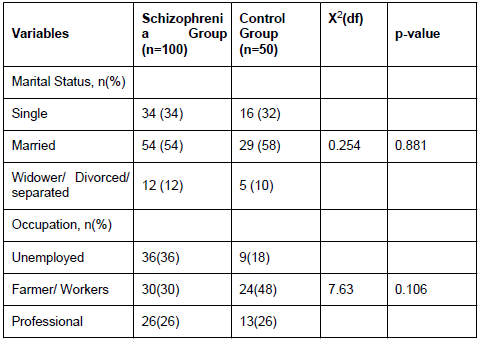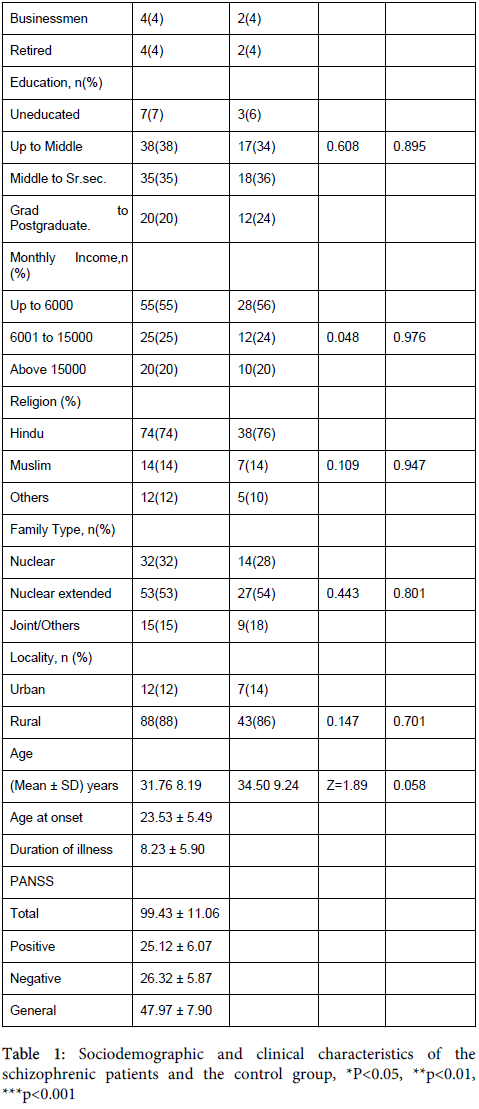 The mean values of serum cortisol, DHEAS and cortisol to DHEA-S molar ratio in the case and control groups are presented in fig 1. Statistically serum values of cortisol in schizophrenic patients (13.01 ± 3.96 µg/dl) were significantly higher (z=-4.457; p<0.001), as compared to matched healthy control subjects (10.35 ± 3.73 µg/dl). But there were no statistically significant differences in the DHEAS levels (Z=1.959; p = 0.054) despite comparative elevation of serum DHEAS in schizophrenic patients. The mean serum cortisol/DHEA-S molar ratio (0.099 ± 0.06) in schizophrenia group, were also significantly higher (Z=-3.787; p<0.001) then matched healthy control subjects (0.075 ± 0.03).
Correlation of hormonal indices (cortisol, DHEAS and Cortisol/DHEAS ratio) with symptom severity, age at onset and disease duration in schizophrenia patients are given in Table-2. Symptom dimensions as assessed with the PANSS, i.e., positive symptoms, negative symptoms, general psychopathology and total score of PANSS, and clinical variables including age at onset of schizophrenia, total duration of illness were not significantly correlated with any of the three hormonal measures, i.e., cortisol level, DHEAS level, and cortisol/DHEAS molar ratio (p>0.05). However a linear correlation was observed between cortisol/DHEAS ratio and age at onset of illness but did not reach to a significant level(r=0.165;p=0.099).

Discussion
The present study was designed to investigate HPA axis functioning in male patients with schizophrenia. Besides we also measured the relationship between cortisol/DHEAS levels and clinical symptom severity in schizophrenic patients.
Only male patients were included in the study to make sample somewhat homogenous, because pooling data for males and females in the analysis may underestimate or overestimate the association due to an influence of gender difference. At the same time this gender bias may affect generalization of findings. There is substantial evidence that males with schizophrenia suffer a more severe form of the illness and a more malignant course than females [14]. Males are more likely to have an earlier onset, a variable correlated with more severe illness [15-17]. Further differential hormone levels in male and female patients were likely to be difficult to compare. We found that serum cortisol levels and cortisol/DHEAS ratio, were significantly higher in schizophrenic patients as compared to matched healthy controls, while DHEAS levels were not significantly different between the two groups. These hormonal indices were not significantly correlated with psychopathology, total duration of disease and age at onset of illness. Our results support that schizophrenic patients have impaired biological response to stress and alteration in HPA axis functioning is present independent of clinical state, which is in line with previous research findings [18,19]. Studies investigated both cortisol and DHEAS basal levels in schizophrenia patients have yielded mixed findings, not only for cortisol and DHEA(S) levels but also for cortisol/DHEA (S) ratio. These variations might be attributable, at least in part; to a number of differential demographic and clinical characteristics across studies, such as age, symptom severity, medication status, and comorbid psychiatric disorders as well as exposure to other environmental factors known to influence HPA axis functions or cortisol and DHEA(S) levels. Our findings are similar to Ritsner et al. [19].They investigated cortisol/DHEA(S) ratio in schizophrenia and found significantly elevated ratio in the patient group and no significant association with severity of psychopathology and type and doses of antipsychotic agents. Interestingly in their subsequent study elevated cortisol and cortisol/DHEAS ratio have been shown to be predictive of a positive short term response to antipsychotic treatment [20]. In contrast, Yildirim et al. and Gallagher et al. did not find such a significant difference in the cortisol/DHEA ratio between schizophrenia patients and healthy controls [21-22]. The significantly elevated cortisol levels in our patients than in controls, together with similar levels of DHEAS between the two groups, resulted in the significantly higher cortisol/DHEAS ratio in patients. The elevated cortisol/ DHEA(S) ratio is reported to be associated with impaired stress response [10,23-25], increased sensitivity to brain insults [26] and dysregulated neurotransmission [27]. Such changes may lead to progressive deterioration in cognitive, emotional and psychosocial functions [8,28]. Elevated cortisol level is shown in several studies [18,21,29-31], while others reported contrary findings [32-35]. Increase in the baseline cortisol level may be because of HPA axis abnormalities in schizophrenic patients [36,37]. Impaired HPA axis in schizophrenic patients has been suggested to be associated with abnormalities in neurotransmitter (dopaminergic and glutamatergic) systems involved in HPA axis regulation and structural abnormalities in limbic system [38]. Symptoms such as stress, anger, introversion has been associated with abnormalities in cortisol level of schizophrenic patients [39]. Shirayama et al. [32] suggested that enhanced HPA axis in schizophrenic patients reflect the fact that they bear continuous stress because of their negative symptoms. Reports of serum DHEAS levels in schizophrenia patients are very contradictory, as increased DHEAS level was reported by some [19,40], while decreased and unchanged by other studies [18,20,35]. It is also suggested that slight increase in DHEAS level in schizophrenia patients is result of a compensatory response to elevated cortisol level [21]. Cortisol is a pleiotropic modulator of cellular activity mediated through glucocorticoids receptors (GC) found in most tissues. Cortisol exerts prominently catabolic effects in the body and these can be adaptive acutely but can destroy essential tissue and function if extended for long period of time. Thus the negative feedback loop of cortisol on its secretion is designed to limit long term exposure of tissues to these short term catabolic actions. But chronic or repeated stress can lead to one or more forms of HPA axis dysregulation, altering cortisol secretion and affecting end organ functions [41].
Glucocorticoids impact the brain and behaviour by three different mechanisms i.e. genomic, non-genomic and neurotrophic/or neurotoxic. Glucocorticoid receptors are densely located in the hippocampus, septum and amygdala, area involved in behaviour, mood, learning and memory [42,43]. The prefrontal cortex is also a likely target of glucocorticoids [44]. In these brain regions, steroids regulate transcription of genes, coding for neuropeptide, G-protein, neurotransmitter and neurotransmitter receptor synthesis and metabolism. It is postulated that hippocampal glucocorticoid (GC) receptors are integral to the negative feedback of the HPA-axis. Chronic or repeated stress and persistent elevation of glucocorticoids lead to neural changes and sensitization to stress. This may result from changes in the negative feedback system that dampens HPA axis activation, such as neurotoxicity to the hippocampus and a subsequent reduction in GC receptors [45-49]. Repeated stress has been shown to have a number of effects on the GC receptor-rich hippocampus, including cell death in certain vulnerable hippocampal CA1 and CA3 neurons [50] and potentially reversible processes, such as atrophy of dendrites on excitatory pyramidal neurons, decrease neurogenesis [51-52]. Moreover, stress and excessive glucocorticoids exposure decrease brain expression of brain derived neurotrophic factors (BDNF), and suppression of long-term potentiation, the biological underpinning of memory. Such deficits may have role in pathophysiology of schizophrenia [53-55]. Important evidence in favor of cortisol mediated neurotoxicity in humans arrives from studies in individuals who have high cortisol levels (Cushing's disease, pharmacological corticosteroids). In Cushing's disease, hippocampal volumes are shown to be inversely correlated with plasma cortisol levels (r=-0.73, p<0.05) [56].
Role of cortisol can also be understood by its action on GABA receptors [57]. Cortisol metabolites have directly antagonistic effect on the GABAA receptor at physiological concentration as shown in animal model [58]. GABAergic interneurons are core component to corticolimbic circuitry. They provide both inhibitory and disinhibitory modulation of cortical and hippocampal circuits and contribute to the generation of oscillatory rhythms, discriminative information processing and gating of sensory information within the corticolimbic system. Disturbance in these functions is shown in schizophrenia [59].
Findings of present study should be viewed in light of some limitations. First, single blood hormonal measurement was taken which does not detect possible diurnal variation in hormone levels. Second, since all patients were receiving antipsychotics, such medication may have influenced HPA axis function as has been demonstrated [60,61]. Although a recent study by Hori H et al. [62] did not find any significant correlations between antipsychotic dosage and hormonal measures. Finally, HPA axis abnormalities have been reported in a variety of psychiatric disorders, therefore, it is not known whether the altered cortisol level and cortisol/DHEAS ratio observed here represent schizophrenia-specific HPA axis dysfunction or rather a common HPA axis alteration in relation to stressful conditions in general.
Conclusion
The present study found that HPA axis function in schizophrenia is altered. Future longitudinal studies are needed to disentangle the baseline and feedback components of the HPA axis alteration in schizophrenia.
Acknowledgment
We express our sincere thanks to the Psychiatric Department, S.M.S. Medical College and Hospital, Jaipur, India for providing their help in above study.
Conflict of Interest
The authors declare that there is no conflict of interest that could be perceived as prejudicing the impartiality of the research reported.
Funding Source
This research did not receive any specific grant from any funding agency.
References