An 8 year old girl presented with a slow onset of decreased vision in right eye severe intraocular
inflammation
and barely visible retinal structures (Figure a). Visual acuity in the right eye was 1/200. There was a motile intravitreal globular structure seen (inferiorly-cysticercus cyst-Figure 1a). Although her serology for cysticercus was negative, a
computed tomography
(CT) scan brain was negative for
neurocysticercosis
. The patient was treated by
vitrectomy
, removal of the cysticercus and silicone oil injection (as she had superior retinal detachment). She was treated with an oral antihelminthic drug (Albendazole-15mg/kg/day ie 400 mg twice daily and tapering dose of oral steroids along with topical steroids). Figure 1b shows clear view to the retina with quiet eye in the postoperative period. The child's
vision
improved to 20/40 after cyst removal and is maintained at 1 year of follow-up.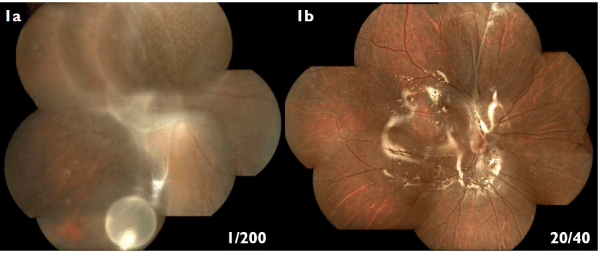 F igure 1:
a) Right eye fundus having intense inflammation in the vitreous cavity obscuring all details with visible cysticercus cyst in the inferior part of the vitreous cavity. b) shows postoperative fundus picture with attached
retina
, superior retinal band and silicone oil reflex.