Ionic Liquids Synthesis – Methodologies
Ricardo Ferraz1,2*, Cristina Prudêncio1,3,4, Mónica Vieira1, Rúben Fernandes1,3, Joao Paulo Noronha2

and

Zeljko Petrovski2

1Centro Research on Health and Environment, Health School of Technology Porto Polytechnic Institute of Porto, Rua Perfect Valente, # 322 , 4400-330 , Vila Nova de Gaia, Portugal
2Department of Chemistry, REQUIMTE , Faculty of Science and Technology, New University of Lisbon, 2829-516 Caparica, Portugal
3Pharmacology Center and Biopathology Chemistry ( U38 - FCT ) Faculty of Medicine, University of Porto, Alameda Prof. Hernani Monteiro 4200 - 319 Porto, Portugal
4USF Abel Salazar, ARS Northern, Portugal
*
Corresponding Author:
Ricardo Ferraz, Centro Research on Health and Environment, Health School of Technology Porto Polytechnic Institute of Porto, Rua Perfect Valente , # 322 , 4400-330 , Vila Nova De Gaia, Portugal, Tel: +351966544471, Email:
[email protected]
Received Date: Dec 15, 2014 / Accepted Date: Dec 22, 2014 / Published Date: Jan 01, 2015
Ionic Liquids (IL) are salts with at least one organic cation. The term "Ionic Liquid" has been restricted to salts with melting point below 100°C [1]. In the recent years, (ILs) have gained popularity in science and technology. The large number of possible cation/ anion combinations allows a great variety of tunable interactions; also their unique properties and characteristics make it a promising and an attractive to work with in several fields. However, how ILs are produced? This editorial pretends to make a brief commentary of some of the main methodologies of ILs synthesis.
ILs are frequently produced from ammonium, phosphonium or sulphonates ions [2]. There are two main methods of preparing ILs: metathesis and acid base neutralization (Scheme 1). We could also consider another method, for imidazolium cations that was developed by Earl and Seddon: the reaction of imidazole carbenes as strong bases [3].
There are several alkylammonium halides commercially available and they can be used directly in metathesis reactions [4]. When alkylammonium halides are not availabe, a quaternization reaction is required, when an organic halide salt is formed through the alkylation of a base by a haloalkane [4]. This method can also be used to prepare pyridinium and imidazolium halides (Scheme 2). Currently, the use of non-conventional methods like microwave [5,6] and ultrasound techniques [5,7] is being applied in the quaternization reaction with better results [5,8].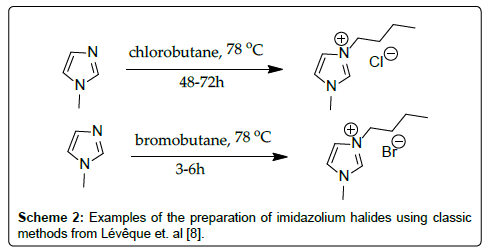 Scheme 2: Examples of the preparation of imidazolium halides using classic methods from Lévêque et. al [8].
The metathesis reaction is used to prepare ILs halide free like [EMIM][BF4] from the halide salt ([EMIM]I) and from silver or a group 1 metal (Ag[BF4]) [4]. Other ILs have been prepared using metathesis reaction like thiocyanate, nonafluorobutanesulfonate, bis((trifluoromethyl)sulfonyl)imide, tris(trifluoromethyl)sulfonyl, methide, trifluoro-acetate, and heptafluorobutanoate. This reaction is quite simple and easy to prepare. Nevertheless, this reaction has some inconvenients, like the contamination with a small amount of halide ions, which may react with solute materials and the presence of water or silver [4,5]. Recently Srour et al. [5] have shown a silver and water free metathesis reaction. Another problem considering metathesis reactions is the limited variety of commercially available metal salts and also the coordination transition metal with bioactive compounds like aminoacids [9,10].
The acid base neutralization method avoids the contamination problem [11]. This procedure is also quite simple and through the use of equimolar mixing, it is possible to obtain the salts without the formation of by-products [11]. This method results very well with tertiary amines with halide acids or some organic acids. The only problem is when we have weaker acids than hydrohalic acids [12]. In this case the neutralization has to use hydroxide quaternary cations [12]. Recently ion exchange resin methods have been developed by Ohno and co-workers [9,13].
The use of imidazole carbenes as a strong base [3] (Scheme 3) also has the advantage of non-contaminated ILs with halide ions or metal ions, but the main advantage is the possibility of preparing ILs or salts from alcohols like methanol and propanol, from carbonic acid, acetic acid and alkyl sulphonic acid. The disadvantage is that it only works to prepare imidazolium ILs.
References
Citation: Ferraz R, Prudêncio C, Vieira M, Fernandes R, Noronha JP, et al. (2015) Ionic Liquids Synthesis – Methodologies. Organic Chem Curr Res 4: e139. Doi: 10.4172/2161-0401.1000e139
Copyright: © 2015 Ferraz R, et al. This is an open-access article distributed under the terms of the Creative Commons Attribution License, which permits unrestricted use, distribution, and reproduction in any medium, provided the original author and source are credited.
Select your language of interest to view the total content in your interested language
Post Your Comment
Citation
Recommended Conferences
International Conference on Organic and Inorganic Chemistry

July 12-13, 2018 Paris, France

5th International Conference on Organic and Inorganic Chemistry

July 12-13, 2018 Paris, France

International Conference on Organic & Inorganic Chemistry

July 18-19 , 2018 Atlanta, USA

International conference on Organic Farming & Biological Treatment

September 19-20, 2018 Dallas, USA

10th Europian Organic Chemistry Congress

March 21-22, 2019 Rome, Italy
Viewmore
Article Usage
Total views:

12068

[From(publication date): 3-2015 - Jun 19, 2018]
Breakdown by view type
HTML page views:

8185

PDF downloads:

3883