Lacrimal Gland Emphysema
Konstantin Astafurov* and Roman Shinder
Ophthalmology, SUNY Downstate Medical Center, Brooklyn, NY, USA
*Corresponding Author:

Konstantin Astafurov
Department of Cell Biology
SUNY Downstate Medical Center, USA
Tel: 6467122521
Fax: 6467122521
E-mail: [email protected]
Received date: April 27, 2017; Accepted date: April 27, 2017; Published date: April 29, 2017
Citation: Astafurov K, Shinder R (2017) Lacrimal Gland Emphysema. J Clin Exp Ophthalmol 8:i105. doi: 10.4172/2155-9570.1000i105
Copyright: © 2017 Astafurov K, et al. This is an open-access article distributed under the terms of the Creative Commons Attribution License, which permits unrestricted use, distribution, and reproduction in any medium, provided the original author and source are credited.
Visit for more related articles at Journal of Clinical & Experimental Ophthalmology
Clinical Image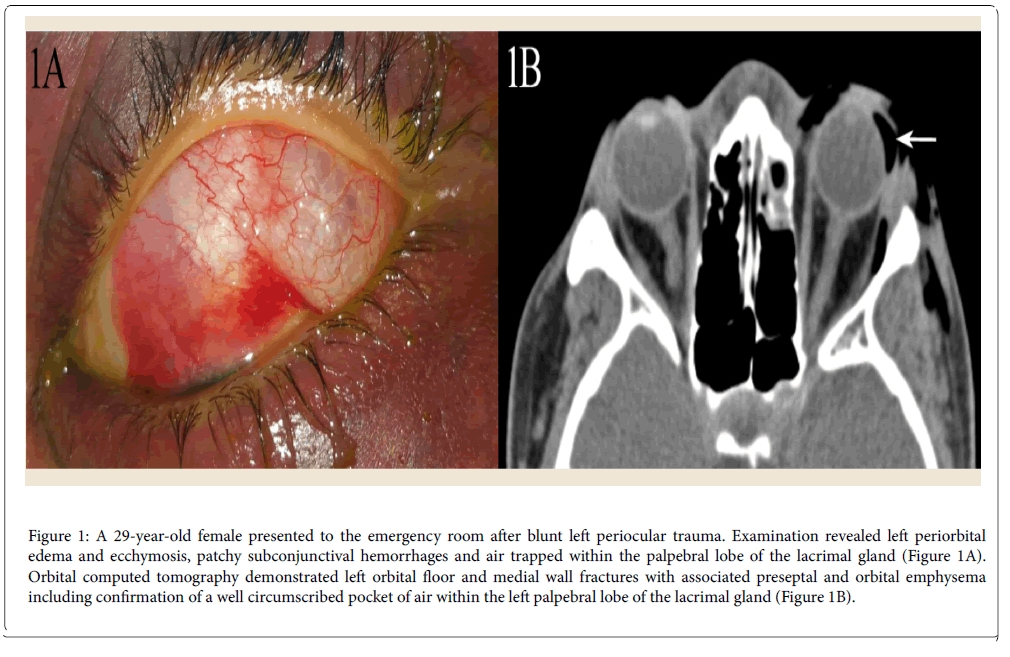 Figure 1: A 29-year-old female presented to the emergency room after blunt left periocular trauma. Examination revealed left periorbital edema and ecchymosis, patchy subconjunctival hemorrhages and air trapped within the palpebral lobe of the lacrimal gland (Figure 1A). Orbital computed tomography demonstrated left orbital floor and medial wall fractures with associated preseptal and orbital emphysema including confirmation of a well circumscribed pocket of air within the left palpebral lobe of the lacrimal gland (Figure 1B).