Leveraging Naked Mole Rat (Heterocephalus glaber) Comparative Genomics to Identify Canine Genes Modulating Susceptibility to Tumorigenesis and Cancer Phenotypes
Kristopher JL Irizarry1,2*, Natalie Punt1, Randall Bryden1, Joseph Bertone1 and Yvonne Drechsler1
1College of Veterinary Medicine, Western University of Health Sciences, 309 East Second Street Pomona, California 91766-1854, USA
2The Applied Genomics Center Graduate College of Biomedical Sciences, Western University of Health Sciences, 309 East Second Street Pomona, California 91766-1854, USA
*Corresponding Author:

Kristopher JL Irizarry
College of Veterinary Medicine
Western University of Health Sciences
309 East Second Street Pomona
California 91766-1854, USA
Tel: 909-584-2570
E-mail: [email protected]
Rec date: Dec 09, 2015; Acc date: Mar 29, 2016; Pub date: Mar 31, 2016
Citation: Irizarry KJL, Punt N, Bryden R, Bertone J, Drechsler Y (2016) Leveraging Naked Mole Rat (Heterocephalus glaber) Comparative Genomics to Identify Canine Genes Modulating Susceptibility to Tumorigenesis and Cancer Phenotypes. J Veterinar Sci Techno 7:322. doi:10.4172/2157-7579.1000322
Copyright: © 2016 Irizarry KJL, et al. This is an open-access article distributed under the terms of the Creative Commons Attribution License, which permits unrestricted use, distribution, and reproduction in any medium, provided the original author and source are credited.
Visit for more related articles at Journal of Veterinary Science & Technology
Abstract
We utilized a comparative genomics approach to analyze a core set of tumorigenesis orthologs among human, mouse, dog and naked mole rat. The analysis identified cancer orthologs that are both conserved and divergent between dog and the cancer resistant species naked mole rat. These tumorigenesis orthologous are associated with phenotypes that modulate cancer susceptibility, cardiac development, craniofacial development, brain development, skeletal development, and immune function, to name a few. This bioinformatics approach employed a variety of literature mining tools to further uncover relationships between the tumorigenesis orthologs. Together, these results shed light on the relationship between breed formations, breed associated morphological traits and breed associated susceptibility to tumorigenesis. These findings support the use of a comparative genomic analysis between species with dramatically different disease phenotypes as a gene discovery tool. A total of 146 proteins coding SNPs were identified in these tumorigenesis orthologs representing missense variations, frame shift variations and nonsense variations. The genes identified in this study can serve as a list of candidates for subsequent laboratory and clinical study. Furthermore, the identification of SNPs impacting the primary structure of the tumorigenesis orthologs may provide clues about the basis of cancer susceptibility between dog breeds.
Keywords
Heterocephalus glaber; Tumorigenesis; Urothelial carcinoma; Canine cancer; Mammalian; Dog
Cancer is a complex disease that occurs in humans and animals. It is estimated that approximately 1.5 million humans and 4 million dogs are diagnosed with cancer each year [1]. Many cancer types occur in both humans and dogs including bladder, head, lung, mammary, neck, and prostate carcinomas; leukemia; non-Hodgkin lymphoma; melanoma; soft tissue sarcomas; and osteosarcoma [2]. Records from the Swiss Canine Cancer Registry dating from 1955 to 2008, in which tumors were classified using the International Classification of Oncology for Humans (ICD-O-3) by anatomical location, tumor type and malignancy, were recently analyzed to assess the distribution of cancer in dogs [3]. The most common tumors identified in these records (n=67,943) included adenoma (32.6%), neoplasia of stroma (9.6%), fibrosarcoma (8.5%), mast cell sarcoma (6%), blood vessel neoplasia (5.5%), lipoma (5.5%), soft tissue sarcoma (4.4%), epithelial tumor (4.4%), lymphoma (4.4%), unclassified neoplasm (4%), gonadal tumor (1.6%), skeletal tumor (1.5%), and histiocytic neoplasm (1.1%). The anatomical location of these tumors included skin (32.3%), mammary gland (20.5%), unclassified location (12.8%), soft tissues (11.9%), gastrointestinal tract (7.5%), male sexual organs (3.9%), respiratory tract and intrathoracic organs (2.1%), blood and hematopoietic system (2.1%), bones/joints/articular cartilage (1.6%), endocrine glands (1.3%), oral cavity and pharynx (1.2%), other female sexual organs (0.9%), urinary organs (0.5%), central nervous system (0.4%), lymph nodes (0.4%), retroperitoneum and peritoneum (0.2%), eyes and perception organs (0.2%), as well as the peripheral nervous system (0.1%).
Comparative oncology studies focusing on specific cancers have identified shared aspects of histology and pathophysiology between dogs and humans. For example, canine lymphoma and human non- Hodgkin's lymphoma are both heterogeneous lymphoid diseases comprised of a variety of different cells exhibiting diverse biological behavior. Moreover, breed specific prevalence for B-cell versus T-cell lymphoma has been observed, with Siberian Husky exhibiting 100% Tcell lymphoma, Boxer exhibiting 65% T-cell lymphoma, and Golden Retriever having almost equal prevalence of B-cell and T-cell lymphoma while Cocker Spaniel and Doberman Pinscher have greater than 90% prevalence of B-cell lymphoma [4].
Another study investigated the similarity in gene expression patterns between human urothelial carcinoma samples and canine urothelial carcinoma samples. The results indicated that 436 genes exhibited altered expression in urothelial carcinoma compared to normal urothelial tissue in both dogs and humans [5]. Similarly, characterization of DNA copy number variations associated with osteosarcoma identified similar chromosomal abnormalities within the same genes in both human and canine cancer samples [6]. Moreover, genetic variation, within particular locations of certain genes has been associated with susceptibility to similar tumors in both humans and dogs. For example, single nucleotide polymorphisms in BRCA1 and BRCA2 have been associated with a four-fold relative risk of mammary tumors in dogs [7] paralleling the identification of the genetic variation within the same genes in human breast cancer [8].
As cancer arises through the dysregulation of the cell cycle, many genes implicated in cancer are functionally conserved across mammals. One example is the tumor suppressor p53, for which inactivating mutations are the most frequently observed molecular defects in human cancer [9]. The p53 tumor-suppressor pathway regulates cell cycle progression, DNA repair, and apoptosis in vertebrate cells and subsequently plays a pivotal role in tumorigenesis in the face of DNA damage. A single nucleotide polymorphism within codon 72 of human p53 encodes either a proline or an arginine at position 72 within the protein, resulting in allele-associated variation in the ability of the protein to promote apoptosis [10]. An earlier study in dogs identified numerous mutations in p53 within malignant lymphoma, monocytic leukemia, rhabdomyosarcoma, colon cancer, and osteosarcoma [11]. Therefore, it is not surprising that studies of mouse models of cancer have exploited various mutations of p53 to further elucidate the role of this gene in tumorigenesis [12].
Much as comparative anatomy and comparative physiology provide a context for understanding the mechanisms underlying inter-species variation in form and function, comparative genomics offers a similar approach for understanding conserved and divergent genetic mechanisms underlying phenotypes of interest. An example of a comparative genomics approach to identify cancer genes is the comparison of the Tasmanian Devil genome with the human genome in an attempt to identify cancer- related genes that might underlie the unique devil facial tumor disease of transmissible cancer [13]. The results of this study identified a number of orthologs of human cancer genes that exhibited genetic sequence variation within the Devils associated with devil facial tumor disease compared to those without disease.
A more recent example of a comparative genomics approach to identify anti-cancer mechanisms leveraged the genome of the African elephant to investigate the genomic basis of reduced tumorigenesis within this species [14]. The results of this comparative study identified approximately 20 duplications of the p53 tumor-suppressor gene in the African elephant genome, which likely contribute to a decreased rate of tumorigenesis in the elephant.
The use of model organisms to elucidate genetic mechanisms has included the fruit fly, the worm, and the mouse, to name a few. The mouse is the most widely studied mammalian laboratory model. Gene knockout technology has resulted in the production of mouse strains with inactivating mutations in over one third of the genes encoded in the mouse genome [15]. The International Mouse Phenotyping Consortium (IMPC), (a collaborative functional genomics effort between laboratories in America, Germany, United Kingdom, France, Canada, China and Japan) has characterized phenotype data for 2000 mouse genes and plans to have 5000 genes characterized by Ring et al. [16]. The Mouse Genome Database (MGD) provides a central repository for mouse functional genomics data and resources including phenotype annotations for mouse genes using the Gene Ontology and Mammalian Phenotype Ontology [17]. The MGD contains 24,613 mouse genes mapped to 17,055 human genes, of these, 12,619 genes have one or more phenotypic alleles and, in total, 52,570 alleles (multiple alleles in the same gene) are associated with phenotypic annotation. Within this set of genomic data, 9225 mouse genes are associated with targeted alleles, such as gene knock outs. Additionally, a total of 24,605 protein coding mouse genes have at least one functional gene ontology (GO) annotation resulting in a total of 291,605 gene-GO annotations across all mouse genes.
Unlike the mouse, and most mammals, the naked mole rat has not been observed with spontaneous cancer, additionally, naked mole rat cells exhibit resistance to tumors when transduced with oncogenic genes that promote cancer in other mammalian species [18]. In contrast to mice and rats, which have relatively short-life spans, the naked mole rat has a documented lifespan over 30 years, and represents a mammal with a unique anti-cancer phenotype [19].
Here we report a comparative genomics approach to identify genes in the dog that are likely to be associated with susceptibility and resistance to tumorigenesis. Our hypothesis is that genes associated with mouse tumorigenesis phenotypes that are least similar between dog and naked mole rat are possibly enriched for genes that underlie variation in the tumorigenesis phenotypes between these two species. Specifically, genes exhibiting the most divergence between dog and naked mole rat may represent genes that are modifier genes (i.e., enhancers or suppressors of tumorigenesis) which may decrease the incidence, age-of onset, and/or progression of tumorigenesis within and/or between dog breeds.
In order to identify genes in the dog that may be associated with susceptibility to tumorigenesis, we identified a set of orthologous genes across human, mouse, dog and naked mole rat for which mouse alleles are associated with tumorigenesis. We then identify the most and least identical protein sequences between the dog and the naked mole rat and characterize the functional genomic annotation associated with these subsets of tumorigenesis genes.
Materials and Methods
Protein sequences
Canis familiaris (dog), Homo sapiens (human), and Mus musculus (mouse) protein coding sequences were downloaded from the Ensembl (http://www.ensembl.org) vertebrate genomics repository [20]. Protein coding sequences for Heterocephalus glaber (naked mole rat) were obtained from the protein sequence data (http:// www.ncbi.nlm.nih.gov) available at NCBI [21].
Ortholog detection
Orthologs were detected (Figure 1A) using the BLAST reciprocal best hit method [22]. All six possible BLAST pairwise species sequence comparisons were completed in both directions (speciesX vs speciesY and speciesY vs. SpeciesX) and the resulting tab-delimited output files were loaded into the open source MySQL relational database (https:// www.mysql.com/). Highest scoring BLAST hit for each query sequence, in each directional pair-wise species comparison, was identified and loaded into database tables (e.g.,: bestHits_speciesX_vs_speciesY, bestHits_speciesY_vs_speciesX, bestHits_speciesY_vs_speciesZ, bestHits_specieZ_vs_speciesY). The resulting 12 database tables (speciesX_vs_speciesY and speciesY_vs_speciesX for each of six pair-wise comparisons) were used to identify reciprocal best hits. Specifically, proteinA in speciesX was considered an ortholog of proteinA' in speciesY if and only if the best BLAST hit for query proteinA in species X is proteinA' in speciesY AND the best BLAST hit for query proteinA' in species Y is proteinA in speciesX. Reciprocal best hits for each pair of species were identified and loaded into an ortholog_speciesX_and_speciesY database table using an SQL query of the form: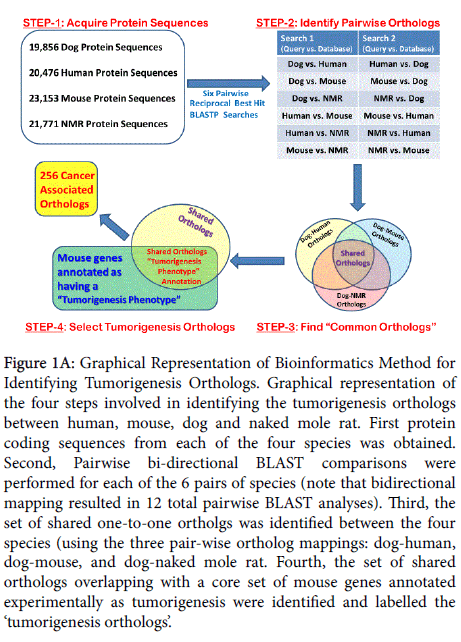 Figure 1A: Graphical Representation of Bioinformatics Method for Identifying Tumorigenesis Orthologs. Graphical representation of the four steps involved in identifying the tumorigenesis orthologs between human, mouse, dog and naked mole rat. First protein coding sequences from each of the four species was obtained. Second, Pairwise bi-directional BLAST comparisons were performed for each of the 6 pairs of species (note that bidirectional mapping resulted in 12 total pairwise BLAST analyses). Third, the set of shared one-to-one ortholgs was identified between the four species (using the three pair-wise ortholog mappings: dog-human, dog-mouse, and dog-naked mole rat. Fourth, the set of shared orthologs overlapping with a core set of mouse genes annotated experimentally as tumorigenesis were identified and labelled the 'tumorigenesis orthologs'.
CREATE TABLE orthologs_speciesX_and_speciesY (
forward_queryId VARCHAR(32) NOT NULL,
forward_subjectId VARCHAR(32) NOT NULL,
forward_eValue FLOAT NOT NULL,
forward_bitScore FLOAT NOT NULL,
reverse_queryId VARCHAR(32) NOT NULL,
reverse_subjectId VARCHAR(32) NOT NULL,3
reverse_eValue FLOAT NOT NULL,
reverse_bitScore FLOAT NOT NULL,
INDEX (forward_queryId),
INDEX (forward _subjectId),
INDEX (forward _eValue),
INDEX (forward _bitScore),
INDEX (reverse_queryId),
INDEX (reverse _subjectId),
INDEX (reverse _eValue),
INDEX (reverse _bitScore)
);
INSERT INTO orthologs_speciesX_and_speciesY select.
t1.queryId, t1.subjectId, t1.eValue, t1.bitScore, t2.queryId, t2.subjectId, t2.eValue, t2.bitScore from bestBlastHits_speciesX_vs_speciesY_forward t1, bestBlastHits_speciesY_vs_speciesX_reverse t2 where t1.queryId=t2.subjectId and t1.subjectId=t2.queryId;
Identification of shared orthologs
Orthologous protein sequences shared across the four species (Figure 1A) was identified with an SQL query that joined the six pairwise ortholog database tables. The resulting set of shared orthologs was loaded into a separate database table for subsequent ease of access. This data set served as the foundation for downstream analyses of the data.
Identification of orthologous tumorigenesis proteins
Mouse genomic annotation maintained in the Mammalian Phenotype Browser [17] (Eppig et al.) was obtained from Mouse Genome Informatics (http://www.informatics.jax.org/) repository. Mouse genes annotated with the 'tumorigenesis' phenotype were identified and used to select the corresponding orthologs from among the total set of shared orthologs across the four species (Figure 1A).
High-throughput literature mining
Literature mining (Figure 1B) was accomplished the PubMatrix (http://pubmatrix.grc.nia.nih.gov/) automated interface for querying PubMed [23,24]. PubAtlas (http://www.pubatlas.org/) was used to determine co-occurrence frequencies for pairs of query terms within pubmed abstracts [25]. The PubTator bioinformatics resource (http:// www.ncbi.nlm.nih.gov/CBBresearch/Lu/Demo/PubTator) was used to mine specific categories of biomedical knowledge from more than 2500 specific pubmed abstracts [26]. The tab-delimited output from PubTator was further mined to extract the specific terms identified in the pubmed abstracts corresponding to diseases, phenotypes, disorders, genes, proteins, and small molecules. The mined PubTator output was used to generate word cloud visualizations (https:// www.jasondavies.com/wordcloud/) associated with specific genes and particular biological search terms. The word cloud visualization tool was configured to scale on the order of log (number of words) and to consider each line a single word/term.
Figure 1B: Graphical Representation of the Bioinformatics Analysis of Cancer Associated Orthologs. The set of 256 tumorigenesis orthologs was used for three distinct lines of analysis. Literature Mining: the orthologs were used for literature mining to identify co- occurrence patterns of phenotypes and annotation contained in the pubmed database. Connections between genes and biological processes/phenotypes were visualized suing heat maps and word clouds. Functional Enrichment Analysis: the tumorigenesis orthologs were grouped according to the pairwise protein identity between dog and naked mole rat. The top 30% most conserved orthologs (labelled TOP 30%) were identified, along with the least conserved 30% (labelled BOTTOM 30%) and the remaining orthologs (labelled MIDDLE 40%). The most conserved and most divergent subsets were used to identify enriched mammalian phenotype annotations, enriched gene ontology annotations, and enriched biocarta pathways. SNP Analysis: The set of tumorigenesis orthologs was used to assess whether the pairwise protein percent identity was related to the number of SNPs and ortholog had. All dog coding region SNPs (missense, frameshift and nonsense) within these tumorigenesis ortholgs were identified using queries in the dbSNP database.
Functional enrichment
The set of tumorigenesis orthologs shared across the species was analyzed to identify statistically significant annotation enrichments within the most conserved (top 30%) and least conserved (bottom 30%) proteins (Figure 1B). Gene ontology enrichment analysis was carried out with the GOrilla (http://cbl-gorilla.cs.technion.ac.il/) analysis and visualization tool [27]. Phenotype enrichment was assessed using MamPhea [28]. MamPhEA: a web tool for mammalian phenotype enrichment analysis. Analysis resource (http:// evol.nhri.org.tw/phenome/index.jsp?platform=mmus) to identify mammalian phenotypes enriched within the top 30% conserved and bottom 30% conserved proteins compared to the rest of the genome. The phenotype analysis was performed using the Mus musculus phenotypes and fisher's exact test across all categories of mammalian phenotypes, not just the tumorigenesis phenotypes. Reported p-values were adjusted for multiple comparisons, using the Banjamini correction for multiple comparisons, to limit false positives. Subsequently adjusted p-values exhibit larger values than the nonadjusted p-values. The Database for Annotation, Visualization and Integrated Discovery [29]. (DAVID) (https://david.ncifcrf.gov/) was used to identify statistically enriched Biocarta Pathways in the tumorigenesis orthologs.
SNP analysis
SNPs in shared orthologous tumorigenesis proteins were obtained from the dbSNP (http://www.ncbi.nlm.nih.gov/SNP/) database [30] using boolean queries designed to specifically identify nonsynonymous SNPs within the protein coding regions (Figure 1B). Correlation analysis was performed to assess the relationship between protein sequence identity (averaged across all four species for each shared tumorigenesis ortholog) and the number of SNPs reported in dbSNP for Canis familiaris (dog), Homo sapiens (human), and Mus musculus (mouse). Graphs and correlation coefficients were generated with Microsoft Excel.
Results
Identification human, mouse, dog and naked mole rat tumorigenesis orthologs
Protein coding sequences from human (20,476), mouse (23,153), dog (19,856) and naked mole rat (21,771) were used to identify the set of shared orthologous protein sequences between all four species (Figure 1A). A total of 15,137 orthologous proteins were identified between human and naked mole rat. Similarly, 15,044 orthologs were identified between mouse and naked mole rat while just 14,405 orthologs were detected between dog and naked mole rat. The greatest number of orthologs were identified between human and mouse followed by human and dog (17,514) and then by mouse and dog (16,997). Mouse protein coding genes associated with phenotype annotation were filtered and those annotated as 'Tumorigenesis Phenotype' were identified. Subsequently, the set of 256 mouse tumorigenesis protein coding genes corresponding to one-to-one orthologs across human, mouse, dog and naked mole rat were ultimately selected as the tumorigenesis orthologs.
Characterization of protein sequence identity across the tumorigenesis orthologs
Amino acid sequence identity was calculated for each tumorigenesis ortholog between each specific pair of species (i.e., human vs. mouse, human vs. dog, human vs. naked mole rat, mouse vs. naked mole rat, dog vs. naked mole rat, mouse vs. dog). The resulting set of 1536 pairwise- protein identity scores are shown in Table 1. To better visualize the sequence identity relationships within these protein coding tumorigenesis genes, the data ordered by descending protein identity between dog and naked mole rat and used to generate a heat map (Figure 2). Each column in the heat map corresponds to a specific pair of species and each row of the heat map corresponds to a specific tumorigenesis ortholog. Pair-wise amino acid identity is represented by colors, with dark red corresponding to the highest sequence identity, white corresponding to moderate identity and blue representing the lowest amino acid identity between pairs of orthologs.
Dog Gene ID
Symbol
hum2nmr
mou2nmr
dog2nmr
hum2mou
mou2dog
hum2dog
ENSCAFG00000001094
SMAD5
99.78
98.92
100.00
98.71
98.92
99.78
78 genes TOP 30%
ENSCAFG00000014105
SMARCB1
100.00
100.00
100.00
100.00
100.00
100.00
78 genes TOP 30%
ENSCAFG00000030297
GRB2
100.00
99.00
100.00
99.30
99.00
100.00
78 genes TOP 30%
ENSCAFG00000005204
CTNNB1
99.61
99.49
99.49
99.87
99.74
99.87
78 genes TOP 30%
ENSCAFG00000013493
PCYT1B
98.64
99.19
99.46
98.10
99.19
98.37
78 genes TOP 30%
ENSCAFG00000013499
RNF2
99.40
99.70
99.41
99.70
99.11
98.82
78 genes TOP 30%
ENSCAFG00000000164
SMAD4
99.09
98.73
99.31
98.37
98.63
98.63
78 genes TOP 30%
ENSCAFG00000013332
ATF2
99.00
98.88
99.16
99.18
99.59
99.38
78 genes TOP 30%
ENSCAFG00000028848
JUNB
99.16
90.91
99.16
92.80
91.64
94.52
78 genes TOP 30%
ENSCAFG00000007659
SMAD1
99.35
98.92
99.14
99.14
98.49
99.35
78 genes TOP 30%
ENSCAFG00000000068
BCL2
92.00
90.79
99.02
86.61
98.04
99.05
78 genes TOP 30%
ENSCAFG00000001378
MAPK14
98.89
98.33
98.61
99.44
99.17
99.72
78 genes TOP 30%
ENSCAFG00000003996
FGF2
98.51
99.25
98.51
94.84
94.84
95.06
78 genes TOP 30%
ENSCAFG00000013269
ID3
97.48
96.00
98.32
97.00
96.00
99.16
78 genes TOP 30%
ENSCAFG00000007869
ATP5A1
98.00
97.93
98.31
97.74
98.12
97.74
78 genes TOP 30%
ENSCAFG00000003783
FOXO3
97.43
95.29
98.29
93.77
96.20
98.67
78 genes TOP 30%
ENSCAFG00000002744
SPTBN1
98.56
98.05
98.28
97.00
99.00
98.77
78 genes TOP 30%
ENSCAFG00000000216
PGGT1B
98.18
96.97
97.88
96.82
96.02
97.88
78 genes TOP 30%
ENSCAFG00000012307
NF2
97.76
96.21
97.59
98.32
97.99
99.49
78 genes TOP 30%
ENSCAFG00000017388
SMAD3
97.59
97.59
97.34
100.00
99.76
99.76
78 genes TOP 30%
ENSCAFG00000004487
ERCC2
97.23
97.10
97.23
97.50
97.23
97.76
78 genes TOP 30%
ENSCAFG00000016077
BMPR1A
97.18
96.24
97.18
97.93
97.74
98.87
78 genes TOP 30%
ENSCAFG00000017040
FOS
96.05
93.16
97.11
93.68
93.95
97.11
78 genes TOP 30%
ENSCAFG00000005008
MGAT5
97.44
94.20
97.03
97.17
96.36
98.79
78 genes TOP 30%
ENSCAFG00000029853
CDKN1A
78.18
95.38
97.03
77.00
74.00
78.44
78 genes TOP 30%
ENSCAFG00000015695
PRKCH
97.62
97.17
97.02
97.80
97.21
97.66
78 genes TOP 30%
ENSCAFG00000000157
DCC
97.55
96.64
97.01
96.48
96.26
97.46
78 genes TOP 30%
ENSCAFG00000004567
PRDX1
96.98
93.00
97.00
95.00
95.00
98.99
78 genes TOP 30%
ENSCAFG00000001310
PPARD
66.00
68.10
96.98
93.22
90.80
95.00
78 genes TOP 30%
ENSCAFG00000013371
ETV6
96.48
84.00
96.92
88.79
88.18
97.36
78 genes TOP 30%
ENSCAFG00000001125
EP300
95.58
95.50
96.83
93.93
93.94
94.35
78 genes TOP 30%
ENSCAFG00000015545
SUV39H1
96.80
94.09
96.80
95.39
95.39
99.27
78 genes TOP 30%
ENSCAFG00000010651
TUSC2
90.91
87.00
96.72
93.00
100.00
98.36
78 genes TOP 30%
ENSCAFG00000010807
PDCD4
96.48
96.48
96.72
96.80
97.66
98.00
78 genes TOP 30%
ENSCAFG00000010740
GNAI2
97.18
96.90
96.62
98.31
97.46
98.59
78 genes TOP 30%
ENSCAFG00000010034
RYR2
97.07
96.09
96.47
96.88
96.21
98.11
78 genes TOP 30%
ENSCAFG00000014185
MEN1
87.00
95.78
96.42
96.22
96.58
98.36
78 genes TOP 30%
ENSCAFG00000007614
CCNE1
83.00
81.70
96.21
80.46
83.20
87.15
78 genes TOP 30%
ENSCAFG00000009596
RUNX1
96.00
94.53
96.17
95.81
95.16
98.24
78 genes TOP 30%
ENSCAFG00000012290
SFN
97.01
96.58
96.15
97.86
97.86
98.29
78 genes TOP 30%
ENSCAFG00000006055
ATP2C1
96.73
94.78
96.00
96.39
95.28
98.00
78 genes TOP 30%
ENSCAFG00000012332
H2AFX
96.00
95.00
96.00
96.69
97.52
99.00
78 genes TOP 30%
ENSCAFG00000012639
IQGAP1
96.58
95.67
95.98
96.00
95.00
96.98
78 genes TOP 30%
ENSCAFG00000018424
TOM1L2
97.24
94.87
95.87
94.87
92.72
96.85
78 genes TOP 30%
ENSCAFG00000001922
MAD2L1
97.09
93.00
95.63
94.00
94.00
97.56
78 genes TOP 30%
ENSCAFG00000017192
HMMR
80.95
94.30
95.27
95.42
95.15
96.73
78 genes TOP 30%
ENSCAFG00000019257
HIC1
80.95
94.30
95.27
95.42
95.15
96.73
78 genes TOP 30%
ENSCAFG00000001672
LEP
70.83
91.78
95.23
93.10
91.87
96.11
78 genes TOP 30%
ENSCAFG00000017855
SPARC
95.38
89.77
95.05
90.43
90.76
97.36
78 genes TOP 30%
ENSCAFG00000009654
RBL2
95.72
90.05
95.01
91.70
91.10
97.01
78 genes TOP 30%
ENSCAFG00000003821
ITGB1
92.98
93.98
94.99
92.48
94.49
95.36
78 genes TOP 30%
ENSCAFG00000019251
CREBBP
95.71
88.81
94.83
96.54
94.81
94.15
78 genes TOP 30%
ENSCAFG00000005260
SPRY2
96.51
93.99
94.60
96.20
94.30
97.14
78 genes TOP 30%
ENSCAFG00000010551
CHEK1
96.01
94.12
94.53
93.07
91.16
93.68
78 genes TOP 30%
ENSCAFG00000005166
HINT1
96.63
80.00
94.38
80.00
94.00
96.83
78 genes TOP 30%
ENSCAFG00000015670
PTEN
99.26
99.01
94.28
99.75
94.78
95.02
78 genes TOP 30%
ENSCAFG00000009156
IRF4
95.34
91.35
94.05
92.24
91.22
93.89
78 genes TOP 30%
ENSCAFG00000005965
FOXO1
94.02
95.45
94.02
90.58
88.89
93.82
78 genes TOP 30%
ENSCAFG00000023416
APEX1
94.34
56.00
94.00
73.60
64.40
78.00
78 genes TOP 30%
ENSCAFG00000006948
ALOX15
94.34
56.00
94.00
73.60
64.40
78.00
78 genes TOP 30%
ENSCAFG00000006742
CDX2
97.99
89.74
93.95
91.53
87.58
96.18
78 genes TOP 30%
ENSCAFG00000016007
KRT10
92.90
91.94
93.87
91.94
93.87
94.19
78 genes TOP 30%
ENSCAFG00000005449
TGFBR2
88.78
87.76
93.78
91.39
90.16
93.51
78 genes TOP 30%
ENSCAFG00000002454
XPA
94.23
88.00
93.75
86.00
85.00
95.19
78 genes TOP 30%
ENSCAFG00000018207
CABLES1
94.46
92.15
93.72
81.01
79.46
91.60
78 genes TOP 30%
ENSCAFG00000006598
MCM4
97.74
95.86
93.61
95.13
91.83
93.96
78 genes TOP 30%
ENSCAFG00000003247
MTF1
95.49
91.93
93.16
92.44
89.94
94.42
78 genes TOP 30%
ENSCAFG00000008853
TIAM1
95.29
93.78
93.15
95.47
94.41
95.73
78 genes TOP 30%
ENSCAFG00000004216
PTF1A
55.00
55.00
93.14
86.02
77.36
79.00
78 genes TOP 30%
ENSCAFG00000009421
MMP2
94.11
95.47
93.05
95.62
92.73
94.29
78 genes TOP 30%
ENSCAFG00000014345
FN1
92.38
92.40
92.82
91.44
92.21
94.50
78 genes TOP 30%
ENSCAFG00000015718
HIF1A
90.83
88.78
92.81
89.02
90.87
95.32
78 genes TOP 30%
ENSCAFG00000007150
ERCC8
92.93
87.91
92.68
89.67
90.18
94.44
78 genes TOP 30%
ENSCAFG00000007863
ATR
100.00
89.90
92.44
90.37
90.89
94.79
78 genes TOP 30%
ENSCAFG00000019869
RALGDS
87.99
83.80
92.44
89.70
92.42
93.17
78 genes TOP 30%
ENSCAFG00000008696
RBL1
92.04
89.13
92.42
90.45
91.01
95.04
78 genes TOP 30%
ENSCAFG00000016656
AR
90.60
89.11
92.26
83.51
86.69
86.99
78 genes TOP 30%
ENSCAFG00000012298
FES
92.94
91.12
92.21
90.63
90.02
94.04
78 genes TOP 30%
ENSCAFG00000015763
BECN1
90.97
92.19
92.19
98.00
97.99
97.56
100 GENES MIDDLE 40%
ENSCAFG00000016011
EPHA2
92.13
90.76
92.04
93.19
93.04
95.21
100 GENES MIDDLE 40%
ENSCAFG00000003373
DGKI
62.00
94.14
92.00
95.99
96.97
95.00
100 GENES MIDDLE 40%
ENSCAFG00000020031
WWOX
95.80
95.10
92.00
94.90
93.18
95.00
100 GENES MIDDLE 40%
ENSCAFG00000006088
ING1
58.87
91.00
91.88
88.00
93.00
65.81
100 GENES MIDDLE 40%
ENSCAFG00000014749
ANXA7
89.47
90.45
91.85
92.45
92.42
92.42
100 GENES MIDDLE 40%
ENSCAFG00000023631
ZBTB33
91.70
86.83
91.85
86.35
86.80
93.30
100 GENES MIDDLE 40%
ENSCAFG00000004436
RB1
94.56
93.32
91.83
91.66
90.83
94.34
100 GENES MIDDLE 40%
ENSCAFG00000001618
CCND3
96.00
93.84
91.78
94.52
93.81
97.35
100 GENES MIDDLE 40%
ENSCAFG00000006162
SMAD9
92.29
89.29
91.68
96.74
96.30
95.74
100 GENES MIDDLE 40%
ENSCAFG00000001844
BAG1
88.66
87.00
91.24
71.00
71.00
86.19
100 GENES MIDDLE 40%
ENSCAFG00000017550
S100A4
95.56
93.00
91.11
93.00
89.00
95.05
100 GENES MIDDLE 40%
ENSCAFG00000009583
EEF1E1
92.26
87.36
90.75
89.03
87.28
95.95
100 GENES MIDDLE 40%
ENSCAFG00000000671
SOD2
91.44
92.00
90.54
90.00
90.00
91.44
100 GENES MIDDLE 40%
ENSCAFG00000010627
RASSF1
88.00
88.53
90.12
90.99
92.00
94.77
100 GENES MIDDLE 40%
ENSCAFG00000017757
PPM1D
90.91
85.41
90.08
88.26
86.94
94.38
100 GENES MIDDLE 40%
ENSCAFG00000007338
NR4A1
89.82
83.03
89.46
88.19
88.69
95.82
100 GENES MIDDLE 40%
ENSCAFG00000007985
PLCE1
91.00
87.18
89.15
84.32
88.23
93.05
100 GENES MIDDLE 40%
ENSCAFG00000007173
NPM1
96.45
93.00
89.05
93.00
87.00
90.88
100 GENES MIDDLE 40%
ENSCAFG00000006142
DCN
87.33
78.89
88.89
80.50
80.83
92.80
100 GENES MIDDLE 40%
ENSCAFG00000004024
RINT1
88.19
85.30
88.85
87.63
86.11
93.06
100 GENES MIDDLE 40%
ENSCAFG00000000867
RAD50
88.19
85.30
88.85
87.63
86.11
93.06
100 GENES MIDDLE 40%
ENSCAFG00000004931
PLCD1
89.99
87.65
88.70
90.87
89.81
93.82
100 GENES MIDDLE 40%
ENSCAFG00000019438
TSC2
89.33
88.99
88.60
91.23
89.22
90.44
100 GENES MIDDLE 40%
ENSCAFG00000013762
PTGS2
87.39
87.25
88.40
87.12
90.78
90.78
100 GENES MIDDLE 40%
ENSCAFG00000019538
STK11
89.41
88.99
88.37
89.50
89.12
91.38
100 GENES MIDDLE 40%
ENSCAFG00000011966
PSME2
87.69
85.00
87.89
94.00
88.00
91.57
100 GENES MIDDLE 40%
ENSCAFG00000004989
ACOX1
88.07
88.07
87.61
88.05
88.35
93.19
100 GENES MIDDLE 40%
ENSCAFG00000016705
TBX21
86.65
86.18
87.56
86.19
87.48
93.27
100 GENES MIDDLE 40%
ENSCAFG00000011816
DGKD
88.72
87.88
87.44
93.25
91.97
93.06
100 GENES MIDDLE 40%
ENSCAFG00000014117
MMP11
91.67
85.40
87.17
88.48
83.58
86.75
100 GENES MIDDLE 40%
ENSCAFG00000018916
SOCS1
96.21
87.74
87.10
87.74
78.30
88.71
100 GENES MIDDLE 40%
ENSCAFG00000017207
CCNG1
87.46
84.07
86.90
92.52
91.86
97.64
100 GENES MIDDLE 40%
ENSCAFG00000019919
IRF8
88.97
86.38
86.85
89.67
88.50
91.78
100 GENES MIDDLE 40%
ENSCAFG00000020252
NQO1
87.91
84.00
86.72
86.00
85.00
88.19
100 GENES MIDDLE 40%
ENSCAFG00000013350
SIPA1
89.84
89.06
86.65
90.11
83.35
88.56
100 GENES MIDDLE 40%
ENSCAFG00000019882
TSC1
88.69
86.00
86.63
86.98
83.75
88.52
100 GENES MIDDLE 40%
ENSCAFG00000000280
CDK4
97.69
95.38
86.49
94.72
94.06
97.03
100 GENES MIDDLE 40%
ENSCAFG00000002065
KIT
89.16
85.60
86.48
82.53
81.87
87.29
100 GENES MIDDLE 40%
ENSCAFG00000003374
IKZF1
88.76
87.18
86.39
92.68
89.21
91.33
100 GENES MIDDLE 40%
ENSCAFG00000007435
E2F1
84.45
82.00
86.29
84.11
85.54
91.20
100 GENES MIDDLE 40%
ENSCAFG00000009802
CYLD
96.36
95.93
86.23
94.77
94.87
97.17
100 GENES MIDDLE 40%
ENSCAFG00000004694
PTCH2
90.38
88.75
86.00
91.02
85.74
88.94
100 GENES MIDDLE 40%
ENSCAFG00000006091
KITLG
83.96
86.00
86.00
83.00
81.00
75.00
100 GENES MIDDLE 40%
ENSCAFG00000001043
XRCC6
84.02
83.88
85.86
83.00
84.00
84.05
100 GENES MIDDLE 40%
ENSCAFG00000009107
NKX3-1
85.71
82.01
85.71
63.08
80.85
84.29
100 GENES MIDDLE 40%
ENSCAFG00000001246
PTCH1
94.00
94.28
85.57
95.73
94.66
95.80
100 GENES MIDDLE 40%
ENSCAFG00000010032
HPGDS
84.42
84.38
85.43
80.00
80.00
87.44
100 GENES MIDDLE 40%
ENSCAFG00000016160
EPHX1
83.74
82.86
85.43
83.52
82.86
84.99
100 GENES MIDDLE 40%
ENSCAFG00000018638
KSR1
85.42
83.48
85.05
83.93
87.44
91.74
100 GENES MIDDLE 40%
ENSCAFG00000031443
EREG
86.96
84.00
84.78
81.00
80.00
89.19
100 GENES MIDDLE 40%
ENSCAFG00000018619
PTGER4
87.76
88.93
84.55
86.15
85.98
87.47
100 GENES MIDDLE 40%
ENSCAFG00000011443
IL10
82.29
74.00
84.52
73.00
73.00
82.69
100 GENES MIDDLE 40%
ENSCAFG00000019249
RPA1
79.53
80.64
84.40
83.12
84.41
88.47
100 GENES MIDDLE 40%
ENSCAFG00000023647
KRT19
82.08
80.13
84.36
84.04
87.42
90.80
100 GENES MIDDLE 40%
ENSCAFG00000016925
FOXO4
87.15
87.75
84.02
88.34
85.40
90.73
100 GENES MIDDLE 40%
ENSCAFG00000009418
TP53INP1
89.00
82.16
83.82
87.50
83.75
87.92
100 GENES MIDDLE 40%
ENSCAFG00000017567
SMAD2
82.00
89.70
83.58
99.57
99.15
99.57
100 GENES MIDDLE 40%
ENSCAFG00000019605
IKBKG
83.00
79.27
83.47
86.52
85.38
89.83
100 GENES MIDDLE 40%
ENSCAFG00000007122
HCK
84.42
84.00
83.27
89.90
88.57
91.63
100 GENES MIDDLE 40%
ENSCAFG00000020375
E2F4
89.70
86.18
83.25
91.79
83.83
85.82
100 GENES MIDDLE 40%
ENSCAFG00000007046
MOS
76.45
78.43
83.14
73.00
70.00
83.00
100 GENES MIDDLE 40%
ENSCAFG00000011924
PSME1
83.13
82.00
83.13
95.00
96.00
98.80
100 GENES MIDDLE 40%
ENSCAFG00000028752
OVCA2
85.02
85.90
82.89
83.26
80.70
82.89
100 GENES MIDDLE 40%
ENSCAFG00000008349
DOK1
83.23
81.34
82.81
83.44
83.23
87.99
100 GENES MIDDLE 40%
ENSCAFG00000000074
MMP19
87.29
78.20
82.23
81.21
77.84
84.83
100 GENES MIDDLE 40%
ENSCAFG00000004964
XRCC2
82.14
76.00
82.14
78.00
76.00
82.86
100 GENES MIDDLE 40%
ENSCAFG00000016310
IKZF3
77.00
74.51
82.09
86.64
88.26
94.81
100 GENES MIDDLE 40%
ENSCAFG00000001910
POLH
85.69
77.50
82.07
78.61
76.22
78.50
100 GENES MIDDLE 40%
ENSCAFG00000011349
GSTP1
80.48
82.00
81.73
85.00
87.00
86.67
100 GENES MIDDLE 40%
ENSCAFG00000018642
NOS2
82.53
79.83
81.66
80.78
79.91
87.15
100 GENES MIDDLE 40%
ENSCAFG00000005808
MYF5
92.55
88.24
81.51
89.41
77.74
84.53
100 GENES MIDDLE 40%
ENSCAFG00000016016
ACADVL
82.00
100.00
81.30
86.14
83.74
90.88
100 GENES MIDDLE 40%
ENSCAFG00000009822
HTATIP2
88.71
91.00
81.10
85.00
63.00
86.83
100 GENES MIDDLE 40%
ENSCAFG00000011231
LYST
86.00
81.00
81.02
85.32
83.95
90.82
100 GENES MIDDLE 40%
ENSCAFG00000004162
MRE11A
84.00
77.49
81.00
87.15
86.38
92.00
100 GENES MIDDLE 40%
ENSCAFG00000015653
INHA
82.20
81.00
80.98
80.00
80.00
79.44
100 GENES MIDDLE 40%
ENSCAFG00000009258
CYTIP
83.57
79.00
80.89
81.00
79.00
84.49
100 GENES MIDDLE 40%
ENSCAFG00000029284
SAT1
97.08
98.00
80.79
97.00
81.00
80.13
100 GENES MIDDLE 40%
ENSCAFG00000007076
RET
82.29
78.64
80.47
83.24
83.24
87.42
100 GENES

Select your language of interest to view the total content in your interested language

Post your comment

Article Usage

Total views: 9724
[From(publication date):
May-2016 - Oct 22, 2019]
Breakdown by view type
HTML page views : 9586
PDF downloads : 138

Review summary

Haroun al Rachid


Posted on Sep 26 2016 at 3:40 pm
Authors report a comparative genomics approach to identify genes in the dog that are likely to be associated with susceptibility and resistance to tumorigenesis. This work is a good and comprehensive research work. Presented studies using larger sets of tumorigenesis genes may uncover additional relationships between dog breed, breed morphology and tumorigenesis.

Post your comment

Peer Reviewed Journals

Make the best use of Scientific Research and information from our 700 + peer reviewed, Open Access Journals

International Conferences 2019-20

Meet Inspiring Speakers and Experts at our 3000+ Global Annual Meetings

Top