Natural Antioxidants and their Role against Human Cancer
Hosam O Elansary1,2*
1Biodiversity Institute of Ontario, University of Guelph, ON N1G 2W1, Canada
2Molecular Biology Laboratory, Floriculture, Ornamental Horticulture and Garden Design Department, Faculty of Agriculture (El-Shatby), Alexandria University, Alexandria, Egypt
Corresponding Author :
Hosam O Elansary
Biodiversity Institute of Ontario
University of Guelph, ON N1G 2W1, Canada
Tel: +201099514043
E-mail: [email protected]
Received June 23, 2014; Accepted June 24, 2014; Published June 27, 2014
Citation: Elansary HO (2014) Natural Antioxidants and their Role against Human Cancer. J Plant Biochem Physiol 2:e125. doi: 10.4172/2329-9029.1000e125
Copyright: © 2014 Elansary HO. This is an open-access article distributed under the terms of the Creative Commons Attribution License, which permits unrestricted use, distribution, and reproduction in any medium, provided the original author and source are credited.
Related article at
Pubmed Scholar Google
Visit for more related articles at Journal of Plant Biochemistry & Physiology
Plant natural products are gaining more attention during the last decade as nature cure for human cancer, which is the main reason for human death in all over the world, especially with a growing number of aging populations in developed and developing countries. 41% of the developed antitumor agents in 2012 were either natural products or modified natural products [1]. Plant natural products have been correlated with antibacterial and antioxidant activities [2,3]. Antioxidants are the major plant products that play a role as anticancer agents [4], by acting as reducing agents, hydrogen donators, and singlet oxygen quenchers that suppress the naturally produced free radicals and delaying oxidative reactions such as lipid oxidation [5,6]. Further, antioxidant studies have suggested associations between the consumption of phenolic-rich food and beverage and reduced oxidative stress-related diseases [7].
The major plant antioxidants are phenolic compounds with their large known number exceeding 8000 compounds [8]. Phenolics contain important groups such as flavonoids, which belong to polyphenols and include subclasses such as flavonols, flavones, catechins and anthocyanins [9]. Flavonoids had been isolated from dozens of plants [10-12] especially daily consumed vegetables and fruits in addition to medicinal trees and shrub. Flavonoids have proven anticancer activity via proteasome inhibition [10]. Tannins are another major group belonging to phenolics and have been associated with human health through improving the immune system [13].
Specific flavonoids showed cytotoxic activities against human cancer cells, such as the delphinidin (Figure 1) which is a flavonoid pigment found in the peel of Solanum melongena and inhibited matrix metalloproteinase (MMPs) which degrade the extracellular matrix during the invasion of tumor cells [14]. Furthermore, other flavonoids such as the luteolin (Figure 1) was isolated from several plants and showed inhibition of various human cancer cells [14]. Specific phenolic compounds such as rosmarinic acid (Figure 1), β–sitosterol, apigenin, carnosic acid and myretenal inhibited the growth and proliferation of diverse cancer cells, including skin and lung cancers and had been reported in different Lamiaceae family members including basil [15] and mint [16].
The search for natural products that exhibit anticancer activities continues in most known medicinal plants using either survey studies of the current flora hot spots of the world or based on ethnomedicinal studies which reveal sacred prescriptions and traditional knowledge believes inherited through generations. Natural products are applied as a treatment for diverse human diseases in the majority of the world population and occupy large portions of the pharmaceutical industry market.
References

















Figures at a glance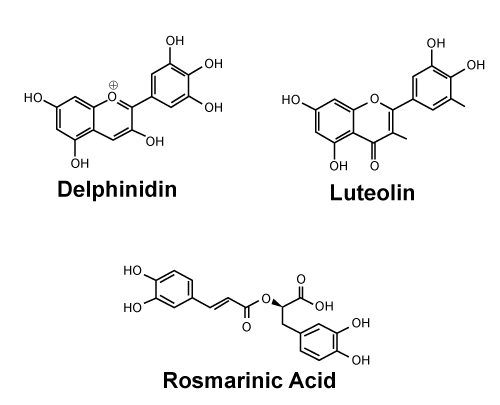 Figure 1