oral-ingestion-of-spondias-pinnata-bark-extract-trim-down-severity-of-small-intestinal-mucositis
Sudarshan Reddy C, Beena V Shetty and Gayathri M Rao*
Department of Biochemistry, Kasturba Medical College, Mangalore, Manipal University, India
*Corresponding Author:

Gayathri M Rao
Associate professor
Kasturba Medical College
Light House Hill Rd, Mangaluru
Karnataka 57500, India
Tel: 0824 242 2271
E-mail: [email protected]
Received date: October 29, 2014; Accepted date: February 03, 2015; Published date: February 06, 2015
Citation: Sudarshan Reddy C, Shetty BV, Rao GM (2015) Oral Ingestion of Spondias pinnata Bark Extract Trim Down Severity of Small Intestinal Mucositis in Etoposide Treated Rats. J Cancer Sci Ther 7:030-033. doi:10.4172/1948-5956.1000321
Copyright: © 2015 Sudarshan Reddy C, et al. This is an open-access article distributed under the terms of the Creative Commons Attribution License, which permits unrestricted use, distribution, and reproduction in any medium, provided the original author and source are credited.
Visit for more related articles at Journal of Cancer Science & Therapy
Abstract
Chemotherapy-induced diarrhea (CID) is a common side effect of cancer treatment and can cause significant morbidity and mortality. The experimental procedure included an oral treatment with S. pinnata bark extract prior (100 mg/Kg/day) or after (100 and 200 mg/ kg body wt.) the induction of a rat mucositis model by injecting a single dose of etoposide (i.p) and treated with S. pinnata bark extract (100 and 200 mg/ kg body wt.) for next 72 hrs. Treatment efficacy was determined by changes in the intestinal morphology and biochemical parameters such as intestinal TNF-α, Interleukin-6 (IL-6) and sodium potassium ATPase after 72 hr, with and without intervention. There was a significant increase in the IL-6 and TNF-α levels and a significant decrease in sodium potassium ATPase activities in intestinal tissue after etoposide injection. However, in the post treatment groups (in both 100 and 200 mg), IL-6 and TNF-α levels reverted back to that of normal. In study group, the animals exposed to Pre and post treatment with S. pinnata extract (100 mg/kg body wt), histological studies showed that S. pinnata bark extract intervention was able to restore the normal morphology and intestinal sodium potassium ATPase activity. The results suggest that S. pinnata bark extract has potentials to prevent the toxic effects of etoposide which expedites to mucositis.
Keywords
Etoposide; Mucositis; S.pinnata; TNF-α and IL-6Na+; k+- ATPase
Introduction
Inflammation and tissue injury may initiate a cascade of intestinal events such as over production of intestinal cytokines [1- 3], increased intestinal permeability [4-6], translocation of intestinal bacteria and endotoxins [7]. These events influence the intestinal mucosa as well as the function and integrity of remote organs and tissues [8] leading to systemic inflammatory response syndrome and multiple organ dysfunction syndrome (MODS) [9]. A variety of mechanisms including Na+, k+-ATPase are involved in the regulation of the transport of electrolytes and water in the enterocyte thus their deregulation are important factors causing diarrhoea associated with intestinal inflammation. This process has been proposed to be mediated by pro-inflammatory cytokines [10-13]. However, the underlying mechanism(s) for the acute gut mucosal injury induced by etoposide remains obscure. However, the underlying mechanism(s) for the acute gut mucosal injury induced by etoposide remains obscure. Cytokines are one of the most important modulators of inflammatory gene expression [14,15], which can be activated by various stimuli like chemotherapy induced oxidative stress or bacterial endotoxins which may in turn transcriptionally activate the genes encoding cytokines [16-19]. Several studies have shown that pro-inflammatory cytokines, especially tumor necrosis factor (TNF-alpha) and interleukin-6 (IL-6) play an important role in the intestinal mucosal damage induced by etoposide [1,20,21] and in the pathogenesis of chronic inflammatory bowel disease [16,17,22,23].
Results of earlier studies also suggest that the production of proinflammatory cytokines is increased in the local gut mucosa of mice with endotoxemia or sepsis [3,24] and that the intestine might be a significant source of tissue TNF-alpha during stress [10]. Therefore, this study was designed to assess the effect of Spondias pinnata on etoposide induced intestinal mucositis in rat model.
Spondias pinnata (Anacardiaceae) is a deciduous tree distributed in India, Sri Lanka and South-East Asian countries. In India it is commonly seen in the deciduous to semi-evergreen forests of the Western Ghats. The genus Spondias pinnata includes 17 described species, 7 of which are native to the neotropics and about 10 are native to tropical Asia. Phytochemical screening of methanol extract of S. pinnata bark powder (Natural remedies, Bangalore) indicated the presence of reducing sugar, flavonoids, peptides, phenolic compounds and tannins with high antioxidant and free radical scavenging activities [25].
Materials and Methods
Experimental design
Adult albino rats (10 ± 1 week old) of Wistar strain, were used for the study. Animals weighing between 220-250 g were obtained from central animal house, Kasturba Medical College, Mangalore, India, was used. The animal studies were carried out with institutional animal ethical committee approval. Animals were acclimatized for a period of two-weeks and were then treated. They received standard pellet and water ad libitum.S.pinnata bark extract or water was administered daily via orogastric gavage. At 0 h, all rats were intraperitoneally injected with a single dose of either saline (control group) or etoposide (60 mg of per kg).
Rats were coded in groups of two per cage and were randomly allocated to one of the following groups (n=6):
Group 1: Normal control. gavaged with water.
Group 2: Etoposide control (i.p, 60 mg per kg body weight).
Group 3: Etoposide (i.p) followed by S. pinnata bark extract 100 mg per kg body weight/day, at 0 hr, 24 and 48 hrs.
Group 4: Etoposide (i.p) followed by S. pinnata bark extract, 200 mg per kg body weight/day, once in a day at 0 hr, 24 and 48 hrs.
Group 5: Etoposide (i.p) at zero hour, S. pinnata bark extract in a dose of 100 mg per kg body weight/day once in a day at from -120 hrs to 48 hrs.
Rats were sacrificed by cervic dislocation 72 hrs after etoposide administration. The small intestine was dissected out, first part of the duodenum (1 cm) washed in ice-cold PBS, was placed in formalin (10%) for histological assessment. The next 4 cm section was immediately removed for the assessment of the biochemical parameters. These Samples were immediately homogenized with the respective buffers (sucrose buffer for Na-K-ATPase and PBS) and stored at -800ºC until use.
Determination of tissue tumor necrosis factor-alpha and interleukin-6 levels
The levels of intestinal tissue tumor necrosis factor-alpha (TNF-α) and interleukin-6 (IL-6) were determined using specific enzyme-linked immunosorbent assay kits (Raybio, inc Rat TNF-α ELISA and Raybio, inc Rat IL-6 ELISA). The results were expressed as pg/ml.
Estimation of Na+, k+-ATPase
The procedure adopted is that of Adam et al. [26]. Na+, k+-ATPase activity was measured by incubating 50 μl of homogenate with 1M NaCl, 1M KCl, 0.1M MgCl2, 0.2M EDTA, 0.5M Tris-HCl, pH-7.4 for 5 min. 10 mM ouabain was added.
Reaction was initiated by the addition of 50 μl of ATP solution and the reaction was terminated by the addition of 10% TCA after 10 min. Enzyme blank was run in a similar way but, sample was added after the addition of TCA. After 10 min. the tubes were centrifuged for 5 min, to remove precipitate. The supernatant was used for phosphate estimation by Fiske-Subba Row method [27].
Histopathology
Animals were evaluated for histological effects of etoposide andS.pinnata administration. Samples of small intestine were transferred from 10% formalin into 70% ethanol 24 h after collection. Specimens were then routinely processed and embedded in paraffin wax, and 3 mm sections were prepared and stained with haemotoxylin and eosin. Segments were observed under light microscope for extent of destruction of villi.
Statistical analysis
All data are expressed as mean ±SEM and analyzed using GraphPad Prism (GraphPad Software, Inc. version 5.00). Statistical analysis for multiple comparisons was performed by one-way analysis of variance (ANOVA) with Bonferroni's corrections. P value<0.05 was considered as significant.
Results
Intestinal interleukin-6 (IL-6) in rats
The intestinal tissue IL-6 levels were higher in the etoposide group than in the control (P<0.01). There were no significant differences between the etoposide and group 3 (P=0.27), or between the etoposide and group 5 (P=1.00), whereas the decreased levels of IL-6 in the ET+SP (200) compared to etoposide groups were statistically significant (P=0.01) (Figure 1).
Intestinal activity of Sodium potassium ATPase
The tissue Na+, k+ -ATPase activity was decreased significantly (p=0.001) in all study groups compared to normal control group (group-1). However, pre-treatment (group-5) with s pinnata bark extract showed a preventive effect on the loss of Sodium potassium ATPase activity. Although a significant reduction was observed the activity of this enzyme remained significantly higher when compared with etoposide control (Figure 2).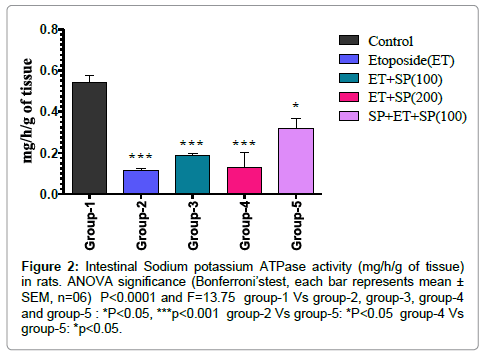 Figure 2: Intestinal Sodium potassium ATPase activity (mg/h/g of tissue) in rats. ANOVA significance (Bonferroni'stest, each bar represents mean ± SEM, n=06) P< 0.0001 and F=13.75 group-1 Vs group-2, group-3, group-4 and group-5 : *P< 0.05, ***p< 0.001 group-2 Vs group-5: *P< 0.05 group-4 Vs group-5: *p< 0.05.
There was significant increase in TNF-α concentration of the intestinal tissue among the rats that received chemotherapy compared to normal control rats (Figure 3). TNF-α concentrations decreased significantly in the all the different groups treated with Spondias pinnata. (group-2 Vs group-3, group-4: p<0.001, group-2 vs group-5: p<0.01).
Histology
The damage to small intestine was more severe after etoposide treatment. In general, there was more destruction of the villi. The small intestine of the control rats showed normal morphology.
S.pinnata intervention following etoposide restored the normal small intestinal morphology. This shows the protective effect ofS.pinnata against mucositis in the present study (Figure 4).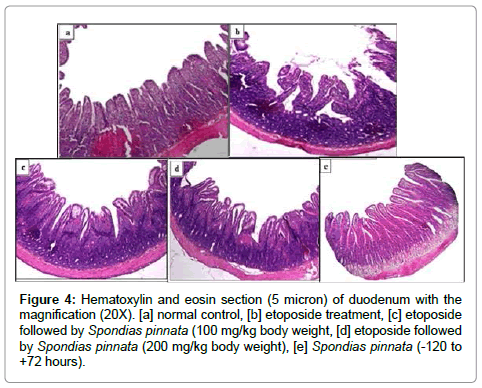 Figure 4: Hematoxylin and eosin section (5 micron) of duodenum with the magnification (20X). [a] normal control, [b] etoposide treatment, [c] etoposide followed by Spondias pinnata (100 mg/kg body weight, [d] etoposide followed by Spondias pinnata (200 mg/kg body weight), [e] Spondias pinnata (-120 to +72 hours).
Discussion
The inflammatory cascade that develops during etoposide use is an important pathway in the development of intestinal mucositis and can be pharmacologically manipulated.
It has been shown in mucositis models that inflammatory mediators increase along the length of the gastrointestinal tract corresponding to the intensity of the histological damage [28,29]. An increase has been reported in the levels of pro-inflammatory cytokines, interleukin 1 and 6, following methotrexate treatment and associated with a loss of gut barrier function [30]. Chemotherapy induces DNA strand break resulting in damage or death of the basal epithelial cells. These cytotoxic agents can cause mucosal cell damage through ROS generation directly or by eliciting secondary signals. Disturbance of these signalling pathways worsens intestinal mucositis. Treatment with NFkB inhibitors has shown partial prevention of mucosal injury in an animal model of anticancer treatment [4,30,31]. In particular, TNF α has been considered the pivotal cytokine in the pathogenesis of inflammation due to the activation of neutrophils, macrophages and cytotoxic T cells [32]. Cytokines are thought to contribute to the development of diarrhoea by down regulating transport proteins. Various authors [23,33] have suggested an up regulation of chloride channels in the apical membrane of crypt epithelial cells during inflammatory conditions and TNF has been shown to inhibit chloride absorption and stimulate chloride secretion in the colon. One of the previous study has been reported a decrease in the activity of Na/KATPase in inflammatory bowel conditions [33] and indicate the importance of this enzyme activity in the pathogenesis of diarrhoea associated with intestinal inflammation. Other studies have reported that a T cell induced TNF reduces the activity of Na/K-ATPase in epithelial cells without effecting protein levels during IBD. A similar mechanism may be responsible for the observed decrease in the Na/ K-ATPase along with the enhanced activity of TNF-α and IL-6 of the present study, in etoposide treated rats. Furthermore, the level of TNF α indicates the extent of inflammation [24]. Recent studies have suggested that the biological effects of TNF α are caused by direct actions on multiple target tissues and the induction of other cytokines, such as IL 1, IL 6 and IL 8 [34]. IL 6, a proinflammatory cytokine with multiple functions, is believed to play a fundamental role in the pathogenesis of chemotherapy induced mucositis [8,35]. However, it has been pointed out that TNF α and IL 6 has overlapping and synergistic actions, even though some of the effects of these two cytokines are regulated by distinct mechanisms [36].
In the present study, etoposide exposure induced a significant increase in the cellular destruction compared with normal rats. Spondias pinnata bark extract was able to revert mucositis, as is evident by the histological studies.
Our earlier study depicted that S. pinnata bark extract can alter specific parameters associated with etoposide induced damage in the peak stage of mucositis [5]. The study shows that S. pinnata bark extract contains large amounts of flavonoids and phenolic compounds, exhibits high antioxidant and free radical scavenging activities. It also chelates iron and has reducing power. These antioxidant properties may have had an impact on levels of damaging reactive oxygen species which are generated in the first stage of mucositis [37]. The S. pinnata induced effects appear to be dose dependent. This proof-of-concept study represents the first report of decreased intestinal inflammation following oral administration of S. pinnata extract.
Recent experimental studies [37] on mucositis have reported an elevation in IL-1B in rats exposed to chemo and radio therapy from epithelial cells inducing mucosal barrier rupture and resolution of mucositis could result by endogenous mechanism that antagonizes IL-1B activity. Pre-treatment with antiIL-1B may help to prevent the mucosal barrier loss and thus can preserve tight junctions. This could be a mechanism underlying the healing /preventive action of theS.pinnata bark extract against mucositis observed in the present study. In conclusion, S. pinnata extract was able to decrease histological severity scores, inflammation in the small intestine and alter the mucosal architecture following chemotherapy. The promising results from the present study of S. pinnata bark extract as a pharmacological agent to promote healing of the damaged intestine following chemotherapy, indicates a need for further investigation to show that it does not interfere with the efficacy of chemotherapy.
References