Rapid Onset of Acute Miliary Pulmonary Tuberculosis in a Child with Acute Lymphoblastic Leukemia
Chenguang Jia, Ruidong Zhang, Shunying Zhao, Yuanyuan Zhang, Ying Wu, Jia Fan and Huyong Zheng*
Hematology Oncology Center, Beijing Children's Hospital, Capital Medical University, Beijing, 100045, PR China
*Corresponding Author:

Huyong Zheng
Hematology Oncology Center
Beijing Children's Hospital, Capital Medical University
56 Nanlishi Road, Beijing, 100045, PR
China
Tel: (8610) 59617621
E-mail: [email protected]
Received date: December 06, 2016; Accepted date: January 16, 2017; Published date: January 20, 2017
Citation: Jia C, Zhang R, Zhao S, Zhang Y, Wu Y, et al. (2017) Rapid Onset of Acute Miliary Pulmonary Tuberculosis in a Child with Acute Lymphoblastic Leukemia. J Leuk 5: 224. doi:10.4172/2329-6917.1000224
Copyright: © 2017 Jia C, et al. This is an open-access article distributed under the terms of the Creative Commons Attribution License, which permits unrestricted use,distribution, and reproduction in any medium, provided the original author and source are credited.
Visit for more related articles at Journal of Leukemia
Abstract
Mycobacterium tuberculosis (TB) is not uncommon in immunocompromised patients. TB is often neglected because of its atypical manifestation, especially in the early stages of disease. Although some leukemic patients are complicated with co-presentation of TB during their immunosuppressed stage, the advent of miliary pulmonary TB is seldom reported. Herein, we describe a case of active TB in a 6-year-old male with acute lymphoblastic leukemia during the late maintenance phase of therapy. He developed acute miliary pulmonary TB within two weeks after initial signs of lung presentation. The patient recovered in two months by anti-TB treatment of four co-administered therapies
Keywords
Miliary tuberculosis; Acute lymphoblastic leukemia; Children
Abbreviations
TB: Mycobacterium Tuberculosis; ALL: Acute Lymphoblastic Leukemia; CCLG: Chinese Children Leukemia Group; CR: Complete Remission; MRD: Minimal Residual Disease; TSPOT. TB: The ELISpot-based-interferon-gamma Release Assays; CT: Computed Tomographic; AFB: Acid-fast Bacilli; CMI: Cell-mediated Immunity; DTH: Delayed Type Hypersensitivity; TST: Tuberculin Skin Test; BCG: Bacillus Calmette-Guérin.
Introduction
Infection is a common complication of acute lymphoblastic leukemia (ALL), especially during or after intensive chemotherapy. Bacterial, fungal, and viral organisms are the main pathogens of concern. When patients presenting with cancer have fever and are poorly responsive to antibiotic therapies, they should be considered as presenting with TB or other rare pathogens. Under such circumstances, there is minimal specific clinical manifestation, especially in children. Herein, we report on a typical case with atypical presentations, in which infectious complications developed rapidly into acute miliary pulmonary TB in a very short time frame.
Case Descriptions
A 6-year-old male was admitted to our hospital with a two week history of fever. He was diagnosed with common-B-ALL 2.5 years ago, and was treated with mid-risk regimen as recommended by the Chinese Children Leukemia Group (CCLG)-ALL-2008 protocol. He achieved complete remission (CR) that was sustained for more than two years, and this patient was in the late maintenance phase of the chemotherapy regimen with daily doses of mercaptopurine, and methotrexate once a week. Two weeks before he was admitted, the patient displayed an ardent fever of approximately 39, without chills, shivering, nausea, vomiting and diarrhea. He received antibiotic treatment in a local hospital, but could only achieve a temporal improvement in presenting symptoms. There was no history of TB in the family, and the male had been vaccinated with Bacillus Calmette- Guérin (BCG) immediately after birth. The BCG vaccine scar was visible.
After admission, the patient's vital signs including respiration rate, heart rate, and blood pressure were normal except temperature of 38.5°C. There were scattered cervical lymph nodes that were present and distributed bilaterally, lungs were clear to auscultation, liver was 2 cm under the costal margin, the spleen was not palpable, and there were no other positive or remarkable signs. Bone marrow examinations showed hypocellularity and no signs of blast crisis or emergent blast cells. The detection of minimal residual disease (MRD) was negative. The ELISpot-based-interferon-gamma release assays (TSPOT. TB) was weakly positive, and computed tomographic (CT) scans showed a high-density area occupying the left lower lobe with consolidation (Figure 1A). Abnormal laboratory findings are listed in Table 1.
The patient's chemotherapy was stopped, supportive intervention and antibiotics were given, and were combined with imipenem, vancomycin and voriconazole. He was suspected as presenting with TB, and as such commenced empirical treatment including isoniazid and rifampin. After one-week of treatment, his cytopenia had recovered but he still had a fever of approximately 40 with mild cough. The patient had a poor response to treatment, but he did not appear to be any weaker. One week after admission, the repeated CT scan showed an enlarging pulmonary consolidation, thickness and turbulence of texture in the bilateral lungs (Figure 1B). About 10 days after admission, a new pattern of symptoms appeared with diarrhea of a bloody stool. Ultrasound showed ileocecal edema, involving the muscle layer. Two weeks after admission, the repeat T-SPOT.TB was markedly positive, and acid-fast bacilli (AFB) were present in the gastric juices that displayed positive. Another CT scan was taken for assessment, which showed a diffuse small heightened density tubercle shadow in the bilateral lung field of view (Figure 1C), and the same features were seen by chest X-ray (Figure 1D). He was finally diagnosed as acute miliary pulmonary tuberculosis and intestinal tuberculosis.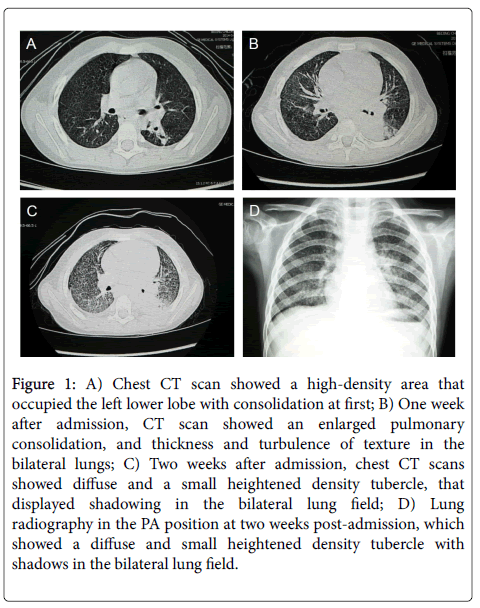 Figure 1: A) Chest CT scan showed a high-density area that occupied the left lower lobe with consolidation at first; B) One week after admission, CT scan showed an enlarged pulmonary consolidation, and thickness and turbulence of texture in the bilateral lungs; C) Two weeks after admission, chest CT scans showed diffuse and a small heightened density tubercle, that displayed shadowing in the bilateral lung field; D) Lung radiography in the PA position at two weeks post-admission, which showed a diffuse and small heightened density tubercle with shadows in the bilateral lung field.
The patient was treated with anti-TB therapy including fourcoupled therapies of isoniazid, rifampin, pyrazinamide and ethambutol that were administered immediately. Treatment with empiric antibiotics (imipenem, vancomycin) was discontinued. At the fifth week after admission, culture of blood obtained at the day of admittance reported positive of M. tuberculosis, which further confirmed infection with TB. The male then progressed with a significant improvement with complete regression of his fever two months after TB treatment. His repeated chest X-ray turned to an almost normal appearance (Figure 2A), his brain MRI and tests of cerebrospinal fluid showed no central nerve system involvement (Figure 2B).
The maintenance therapy in leukemia was resumed two months after infection with TB was controlled. Thus far, with six months of follow-up, there was no residual evidence of TB nor was there a relapse of his leukemia.
Discussion
TB is a rare infectious complication in patients receiving immunosuppressive therapy, but may be more significant in areas where the disease is endemic. There are major health disparities between the rates of disease of Eastern countries and those of Western countries [1]. The prevalence of active pulmonary tuberculosis in China was 367/100,000 [2]. An increased risk for TB has been associated with hematological malignancies, whose incidence of TB is 9 to 22 times higher than the overall TB incidence reported in children. Stefan et al. reported that acute lymphoblastic leukemia was the most common malignancy in children with tuberculosis [3-5].
Cell-mediated immunity (CMI) and delayed type hypersensitivity (DTH) are the major immune reactions against TB infection, and relate to the quantity and function of T cell subsets. The quantity of Tcell (CD3+, CD4+) is less than normal, and the CD4+ /CD8+ ratio is decreased [6]. Research on human neutrophil peptides has highlighted their bactericidal action against TB and suggested that neutrophils may play a more heightened defensive role in tuberculosis than previously thought [7]. In an adult research study, risk of TB was inversely and independently associated with peripheral blood neutrophil counts in patients diagnosed with pulmonary tuberculosis [8].
Childhood TB usually presents with fever, cough, lymphadenopathy, and loss of appetite and weight [9,10]. But these symptoms are less specific to differentiate from the other pathogens, especially in immunocompromised children. The golden standard for establishing the diagnosis of TB in adults is sputum smear microscopy for AFB is confirmed by microbacterial culture. However there is a lower positive rate in children, since younger children cannot produce sputum easily. It is important to obtain gastric juice or bronchoalveolar lavage fluid at an early stage [11]. Our patient had a negative tuberculin skin test (TST) because of the immunosuppressive treatment or severe infection, but previous work demonstrated a higher positive rate in patients with extra-pulmonary TB. The chest CT and T-SPOT.TB are also helpful for diagnosis [12].
The efficacy of first-line anti-TB therapy was more than 80%, and anti-TB therapy would not affect the efficacy of chemotherapy treatment of the patient [12,13]. However, classic anti-TB therapy with two-jointly administered medicines of isoniazid and rifampin was not effective for this male until four-joint medicines combined. The severe condition of TB-resistant strains should be considered more seriously.
Conclusion
We should pay attention to potential risks of infection, Even if the patient is in the maintenance phase. Although TB is not a common pathogenic presentation in acute leukemia, a high index of suspicion is important in areas endemic for TB, especially in immunosuppressed patients with fever and lower reaction to antibiotic treatment.
Authors' Contributions
CJ treated the patient, collected clinical data and wrote the paper. RZ, YZ, YW and JF treated the patient with ALL. SZ treated the patient complicated with TB. HZ revised the paper and supervised the project.
Acknowledgments
This work was granted by Beijing Municipal Administration of Hospitals Clinical Medicine Development of Special Funding Support (No. ZY201404). We thank the patient's legal parent for consenting to publish the individual patient data.
Conflict of Interest
The authors declare that they have no conflict of interest.
References