Rare Case of Bilateral Superior Vena Cava, Persistent Left Superior Vena Cava Draining to Coronary Sinus, Absent Bridging Vein, Interrupted Inferior Vena Cava with Azygos Vein Continuation to Right Superior Vena Cava, Situs Inversus and Pulmonary Hypertension in a Neonate, A Case Report
Hesham Al-Saloos* and Saad Saeed
Department of Pediatrics, Hamad Medical Corporation, Qatar
*Corresponding Author:

Hesham Al-Saloos
Pediatric Cardiologist
Department of Pediatrics
Hamad Medical Corporation
Assistant Professor of Clinical Pediatrics
Weill Cornell Medical College, Qatar
Tel: 0097444392244
E-mail: [email protected]
Received Date: November 19, 2015; Accepted Date: November 23, 2015; Published Date: November 26, 2015
Citation: Al-Saloos H, Saeed S (2015) Rare Case of Bilateral Superior Vena Cava, Persistent Left Superior Vena Cava Draining to Coronary Sinus, Absent Bridging Vein, Interrupted Inferior Vena Cava with Azygos Vein Continuation to Right Superior Vena Cava, Situs Inversus and Pulmonary Hypertension in a Neonate: A Case Report. Pediat Therapeut 5:i110. doi:10.4172/2161-0665.1000i110
Copyright: © 2015 Al-Saloos H, et al. This is an open-access article distributed under the terms of the Creative Commons Attribution License, which permits unrestricted use, distribution, and reproduction in any medium, provided the original author and source are credited.
Visit for more related articles at Pediatrics & Therapeutics
Clinical Image
We report a rare case of multiple congenital anomalies as described above. The baby girl was born at term after uneventful pregnancy. The cardiology service was consulted at birth because of abnormal fetal echocardiography. Her clinical examination was unremarkable apart from mild cyanosis (oxygen saturation was 87%). Chest and abdominal x-ray showed levocardia, normal bronchi and abdominal situs inversus.
The echocardiography revealed abdominal situs inversus, interrupted inferior vena cava (IVC), bilateral superior vena cava (SVC) with no bridging vein, left SVC draining to coronary sinus, right ventricular (RV) dilatation, and patent ductus arteriosus (PDA). Serial echocardiography's showed progressive RV dilatation and spontaneous closure of PDA (Figures 1-3).
She underwent diagnostic cardiac catheterization which revealed high pulmonary pressure, left SVC draining to coronary sinus, absent bridging vein and interrupted IVC with azygos vein continuation to the right SVC (Figures 4 and 5).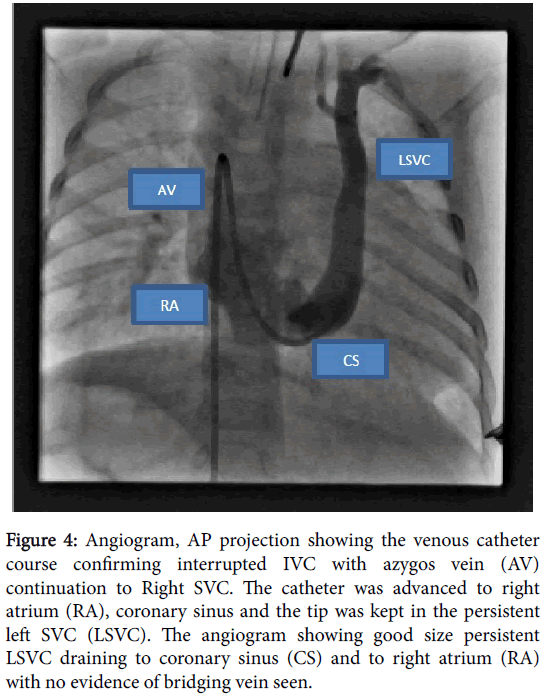 Figure 4: Angiogram, AP projection showing the venous catheter course confirming interrupted IVC with azygos vein (AV) continuation to Right SVC. The catheter was advanced to right atrium (RA), coronary sinus and the tip was kept in the persistent left SVC (LSVC). The angiogram showing good size persistent LSVC draining to coronary sinus (CS) and to right atrium (RA) with no evidence of bridging vein seen.