Service Quality Expectations and Perceptions of Telecom Sector in India
Silky Vigg Kushwah1 and Ahuti Bhargav2*
1Associate Professor, IILM Institute for Higher Education, New Delhi
2Research Scholar, Mewar University
*Corresponding Author:

Ahuti Bhargav
Research Scholar, Mewar University
E-mail: [email protected]
Visit for more related articles at International Journal of Advancements in Technology
Abstract
A ferocious battle is poised to take place between the already established biggies like Bharti Airtel, Vodafone, Reliance and Idea and the new ones like Uninor, and Sistema Shyam Teleservices (MTS). The companies that will stand stiff on their feet will be the ones that will be able to differentiate themselves distinctly on the basis of service quality. The telecom players need to understand well, the perceptions of service quality of customers and their expectations. The study "Service quality expectations and perceptions of Telecom Sector in India" attempts to analyse the gap in service quality of Telecom sector in terms of customers' expectations and perceptions regarding mobile phone services. It is important to explore and map the differences which indicate that there is scope for improvement on behalf of the mobile phone service providers. The primary data was collected with the help of a standardized questionnaire of service quality of Parsuraman et al. (1998) which was administered to a quota sample of 500 respondents accessing mobile phone service of telecom services in New Delhi, the capital of India. The data collected was analyzed with the statistical tool of 'Z' test. The study revealed that, there was a statistically significant gap between customers' expectations and perceptions of mobile phone services, with the arithmetic mean of expectations being 6.4413 and that of perceptions 5.8393. The study concludes that, in view of the stiff competition in the global business arena where businesses have to survive and grow on the basis of volume instead of margin, service quality will constitute an essential plank of service marketing. This implies that telecom companies will have to focus on the reduction of the gap in customer expectations and perceptions about their service quality if they are to compete globally. To this end, telecom companies should continually assess and reassess how customers perceive their services and to implement appropriate corrective action for retaining the existing customers and getting new customers.
Keywords
Service Quality in Telecom, Z Test
Introduction
Services are deeds, processes and performances (Zeithaml and Bitner, 2003). Broadly speaking, services include all economic activities whose output is not a physical product or whose construction is generally consumed at the time it is produced and which provides added value in forms (convenience, amusement, timeliness, comfort or health) that are essentially intangible for its first purchaser (Quinn, Baruch and Paquette, 1987). For service providers, the pursuit of service quality is essential for competitiveness and gaining momentum (Seth et al, 2007). Over the last few years, considerable research has been carried out on different aspects of service quality, leading to a sound conceptual base for both practitioners and researchers. Some authors (Parasuraman, Zeithaml and Berry, 1985, 1988; Carman, 1990) agree that service quality is an abstract concept, difficult to define and measure. However, it may be regarded as the degree and the direction of discrepancy between consumers' perception and the expectations in terms of the different but relatively important dimension of service quality which can affect their future behavior (Parsasuraman, Zeithamal and Berry, 1985). Some of the contemporary views of service quality are listed in the literature overview.
In this study, we are specially focusing on the 'mobile phone service providers' as it has been the most buoyant in terms of its growth and reach in post 1997 New Telecom Policy period. In fact, mobile telecommunication has become one of the most effervescent service sectors in the country with its growing network coverage. The services have penetrated not only the urban but also the rural areas. As per statistics available, in April 2011 , a total of 1.1 crore GSM mobile phone users had been added to the total of 58.06 crores total GSM users in India as reported by Cellular Operators Association of India (COAI).
India's leading Mobile Service operator, Vodafone has added a total of 3.68 million GSM subscribers which is the highest number of new mobile subscribers additions in the month of March 2011. Vodafone's GSM subscriber base has now reached 134.5 million, as per the COAI data. After the launch of Mobile Number Portability in India, a few users had switched to new operators but the leading players have been attracting new customers as in the pre- MNP era. In total 14.5 million new GSM subscribers were added in March at a monthly growth rate of 2.61% taking the all-India GSM cellular subscriber base to 559.55 million.
Among the GSM Mobile Service Operators, Bharti Airtel notched up 3.20 million new subscribers during the month, taking its total base to 162 million. India's national telecom backbone and Pan India 3G Mobile service operator Bharat Sanchar Nigam Ltd (BSNL) added up 1.3 million new users in March-2011, taking its total subscriber base to 86.4 million.
Idea Cellular Company added 2.7 million new customers, boosting its subscriber base to 89.5 million, while Aircel increased its base by over 1.3 million customers to take its subscriber base to 54.8 million. Mahanagar Telephone Nigam Ltd (MTNL) added 20,720 new users during the month, boosting its total subscriber base to 5.19 million at the end of March, 2011. Uninor, one of the youngest GSM operators in India has added 1.2mn GSM subscriber while Videocon added 5,41,877 subscribers
The entry of many players, including the Foreign Service providers in the mobile phone service in the country has extended the markets beyond the traditional urban middle class consumers to all economic hierarchies in both urban and rural areas. This has also sparked off a turf-war between them which has resulted in the lowering of prices and ARPUs (Staples et al., 2001). The falling ARPUs and the scramble for subscribers have compelled the service providers to improve access to their services, in a cost-effective manner, and retain satisfied customers (Bird, 1998). Therefore, the task faced by the mobile service providers is to focus on those activities that result in meeting or exceeding customer expectations. They are being increasingly confronted with the challenges to attract their subscribers by providing high quality of services. With the increase in the cost of acquisition of new customers, cellular mobile companies continually seek new ways to acquire, retain and increase their subscriber base. Thus, the ability to retain existing customers is increasingly crucial in this industry. This is possible only by providing quality of services to the customers.
Purpose of the study
Unlike in the case of manufacturing companies, where the goods are manufactured and then sold to customers, in the services sector, the customer is a part and parcel of the process that provides the service. This is especially true of telecom services. So, it becomes all the more important for a mobile phone service provider to concentrate on the various dimensions of service quality from the customers' perspective. With the rapidly changing technologies, customer needs and increased customer awareness, it becomes imperative to review the Quality of Service parameters for mobile communication1. Moreover, the forces of liberalization and globalization of telecommunication market have pressurized the companies to maintain their market share by focusing on retaining their current customer base. In the context of the comparative efforts towards positioning of telecom companies in the market, this study attempts to assess the level of functional service quality perceptions of telecom sub-sector customers, and to map out the differences between the service quality perceptions and expectations of customers of mobile phone service providers. In order to understand the service quality attributes in depth, the inputs have also been derived from cellular service providers. The study should help the service providers set standards for service quality which would lead to enhanced performance and efficiency. This paper would help mobile service providers to discover which particular dimensions require attention in order of their relative importance.
2. Literature Review
Service quality has been studied for years now because as the markets have become more competitive, marketing management has transferred its focus from internal performance such as production to an external interest such as satisfaction and customer satisfaction and customer's perception of service quality (Gronroos 1990).
Quality has been defined in various ways by quality gurus like Juran, Deming, and Crosby. Crosby (1979) says that quality means conformance to requirement. In Japanese philosophy, quality means zero defect (or defect-free) product and service. It emphasizes doing the things right for the first time. Garvin (1983) defines quality by counting the incidence of internal (before product leaves the factory) and external failure (after the product is installed). Research has proved many times that quality helps the firm in gaining market share and return on equity, lowering production cost and improving productivity. In the case of tangible goods, the measurement of quality is an easy task because uniform quality standards can be met consistently. But the characteristics of service make measurement of quality complicated. Service quality is an elusive and abstract construct that is difficult to measure (Cronin et al. 1992). The three basic characteristics of service that pose a challenge for service providers are intangibility, heterogeneity and inseparability.
Firstly, as service is a performance that cannot be counted, measured and inventoried, it is intangible. The intangible nature of service makes it difficult for the service provider to analyze how the customer would perceive and evaluate quality. Secondly, heterogeneity of service makes it different from customer to customer and from provider to provider. It cannot be assured that performance of service personnel would be consistent for all customers. Thirdly, the characteristics of inseparability emphasize that production and consumption of service takes place simultaneously. Quality in service cannot be engineered in the factory, but it occurs during interaction between the service provider and the client. Service delivery process and customer's participation in the process are key determinants to quality of service. Churchill and Suprenant (1982) consider that service quality is involved in subjective cognition. In other words, consumers decide it subconsciously instead of by an objective judgment.
All these three characteristics make evaluation of service quality a technical task involving comparison between expectation and actual performance. If service provider knows how the service would be evaluated by the consumer, he would have influenced this evaluation in a desired way. Parasuraman et al. (1985) emphasize three things: evaluating service quality is a difficult task; comparison of consumer expectation with performance built up service quality perception and evaluation of service quality is dependent on the outcome and process of service delivery. In a nutshell, Service quality measures how well the service is delivered. Unlike the other service sectors, in the case of the telecom sector, the quality of service also depends on the technical fault-free facilitation of calls. As per Gronroos (1983) service quality perceived by customers has two dimensions. One is technical quality which emphasizes 'what' customer actually receives from service and functional quality emphasizes 'how' service is delivered. Behaviour of employees and speed of service delivery are examples of functional quality. If it is difficult for the consumer to evaluate the technical competence of a service provider (technical quality), then he focuses on attributes associated with the process (functional quality).
Lehtinen & Lehtinen (1991) suggest that quality cultivates during two-way interaction between service providers and customers. According to them, there are three dimensions: physical quality includes tangible aspect of the service; corporate quality which involves the company's image and interactive quality which originates from interaction between customer and service provider. (Lehtinen & Lehtinen 1991) has observed that service quality has two dimensions – process and output. Process quality emphasizes on the way service is catered to a consumer and output quality is judged once service is provided. Evaluation of service process plays a vital role in building the perception of consumers. Process quality is evaluated while the service is being provided and the outcome is evaluated once the service is provided.
The construct quality used in our research focuses on perceived quality. Perceived quality is a kind of attitude that results from comparison of expected service with perceived service. It is a consumer's verdict developed about the superior performance of the service (Gi-Du Kang, 2006). Expected service originates from the word of mouth communication, personal needs and past experiences. Expected services are the desires, wants of a consumer i.e. what they feel that service should offer rather than would offer. A perceived service is the outcome of external communication to consumer and service delivery process. According to Parasuraman et al. (1985), service quality depends on incongruity between expected services and perceived services.
In other words, it can be concluded that perceived quality is the degree and direction of discrepancy between consumers' expectation and perceptions (Parasuraman et al. 1988). When expected service is greater than perceived service (ES >PS), it means inferior service quality. When ES = PS, quality of service is satisfactory. If ES < PS, then service has been delivered properly to ensure quality.
PZB service model (Parasuraman, Zeithaml and Berry, 1985, 1988) emphasizes that if companies want to improve the aspects of service quality; the first step should be to diminish the gap between "expected service" and "perceived service". Because the products of a service industry are characterized as intangible and highly involvement of customers, the attributes determine whether a service company can survive in the competition (Barcia & Striuli, 1996). Carman (1990) proposed the gap model of service quality that operationalized service quality as the gap between expectations and performance perceptions of the customer. Murfin, Sclegelmilch and Diamanto-poulos (1995) developed the service quality model for medical services. Soteriou and Stavrindes (2000) developed the service quality model for telecom service provider branch in order to optimally utilize its resources. Zhu, Wymer and Chen (2002) proposed the service quality model highlighting the Information Technology (IT) based service options to investigate the relationship between IT based services and customer's perceptions of service quality. Further, researchers Mangold and Babakus (1991) and Richard and Allaway (1993) agree that both SERVQUAL and SERVPERF scales may not be comprehensive in capturing the service quality construct, as both of them focus only on the functional quality and not on the technical quality aspects. Bitner, Booms and Tetreauly (1990) studied the customer's overall impression of the relative inferiority/superiority of the organization and its service. Asubonteng, McCleary and Swan (1996) studied the difference between customer's expectations and service performance prior to the service encounter and their perceptions of the service received.
Turning our attention to Service quality studies related to Telecom sector, Rosen and Karwan (1994) studied the technical aspects of service quality & concluded built to be an important service measure. Johnson, Tsiros and Lancioni (1995) undertook a research on the telecom service provider customers of UK about their expectations and perceptions of service quality and prioritized the service expectations. Siu and Cheung (2001) studied service quality delivery of a departmental store chain. Alzola and Robaina (2005) studied the expectations and perceptions of customers towards service quality of electronic commerce B2C. Leisen and Vance (2001) studied upon the fixed line of cellular telephony and their impact on service quality & concluded network to be most important factor. Johnson and Sirikit (2002) studied upon both the fixed line of cellular telephony and telephones and their impact on service quality & concluded network to be most important factor. Van Der Wal, Pampallis and Bond (2002) studied cellular mobile services on service quality. The findings indicated that two of the dimensions, namely, tangibles and reliability are loading into separate factors. The remaining three dimensions, responsiveness, assurance and empathy all load into one factor, indicating that there is no real differentiation amongst the three dimensions in the customer's mind.
Wang and Lo (2002) studied cellular mobile services on service quality & concluded after sales services and network to be most important factors. Ranaweera and Neely (2003) studied and researched on the fixed line telephone services and their impact on service quality. This paper present ED a holistic model of customer retention incorporating service quality perceptions, price perceptions, customer indifference and inertia. Data from a large-scale postal survey of telephone users in England showed that perceptions of service quality have a direct linear relationship with customer retention even in mass services with low customer contact. Price perceptions and customer indifference too were found to have a direct linear effect on retention. Furthermore, it was also seen how both price perceptions and customer indifference moderated the relationship between service quality perceptions and customer retention. A linear relationship between inertia and customer retention was not found. Furthermore, there was evidence to indicate that inertia was a relatively unstable condition and that reliance by service providers on inertia to retain customers could indeed be a risky strategy. Kim, Park and Jeong (2004) studied cellular mobile services and expectations and perception of customers towards service quality & concluded innovation and network to be of prime importance.
In the light of the preceding review of the studies carried out in this area, we find that there are very few studies focusing on a comparative analysis of services quality expectations and perceptions of customers of mobile service providers in the Indian context. So this study tried to compare the expectations and perceptions of customers of mobile service providers.
Research Design and Methods
The standardized questionnaire SERVQUAL (Parasuraman, Zeithaml and Berry, 1988) consisting of twenty-two items was used for measuring the functional service quality dimensions in telecom sector with reference to the mobile service and consisted of two sections: an expectation section and a perception section. The expectation section required the respondents to indicate on a seven-point scale (strongly disagree to strongly agree) the extent to which the ideal service providing organisation (in this case a mobile service provider) possesses the characteristic desired in each statement. In the perception section, the statements required the respondent to indicate the extent to which the particular mobile service provider possesses the characteristic described, again on a seven-point (strongly disagree to strongly agree) scale. The original SERVQUAL instrument had 7 categories, that is, it employed a 7-point scale (Parasuraman et al., 1988). Hence the instrument used in this study for measuring customer-perceived service quality also employed a 7- point scale, anchored by strongly disagree and strongly agree at the end points 1 and 7, respectively.
a. Pre testing
Both qualitative and quantitative assessments were conducted for purification of scale items. For quantitative assessment, item to total correlation test was applied to check the consistency of the scale. Under item to total correlation, correlation of every item with total is measured and the computed value is compared with standard value i.e.(0 .1374). If the computed value is found less than the standard value then the whole item or statement is dropped and is termed as inconsistent (Nunnally, 1978). No item was dropped in the scale. Results of item to total correlation are shown in Table 1. For qualitative assessment, a pilot study was conducted with a small sample size of 40 to check the overall structure of questionnaire. The respondents confirmed face validity of items in the questionnaire.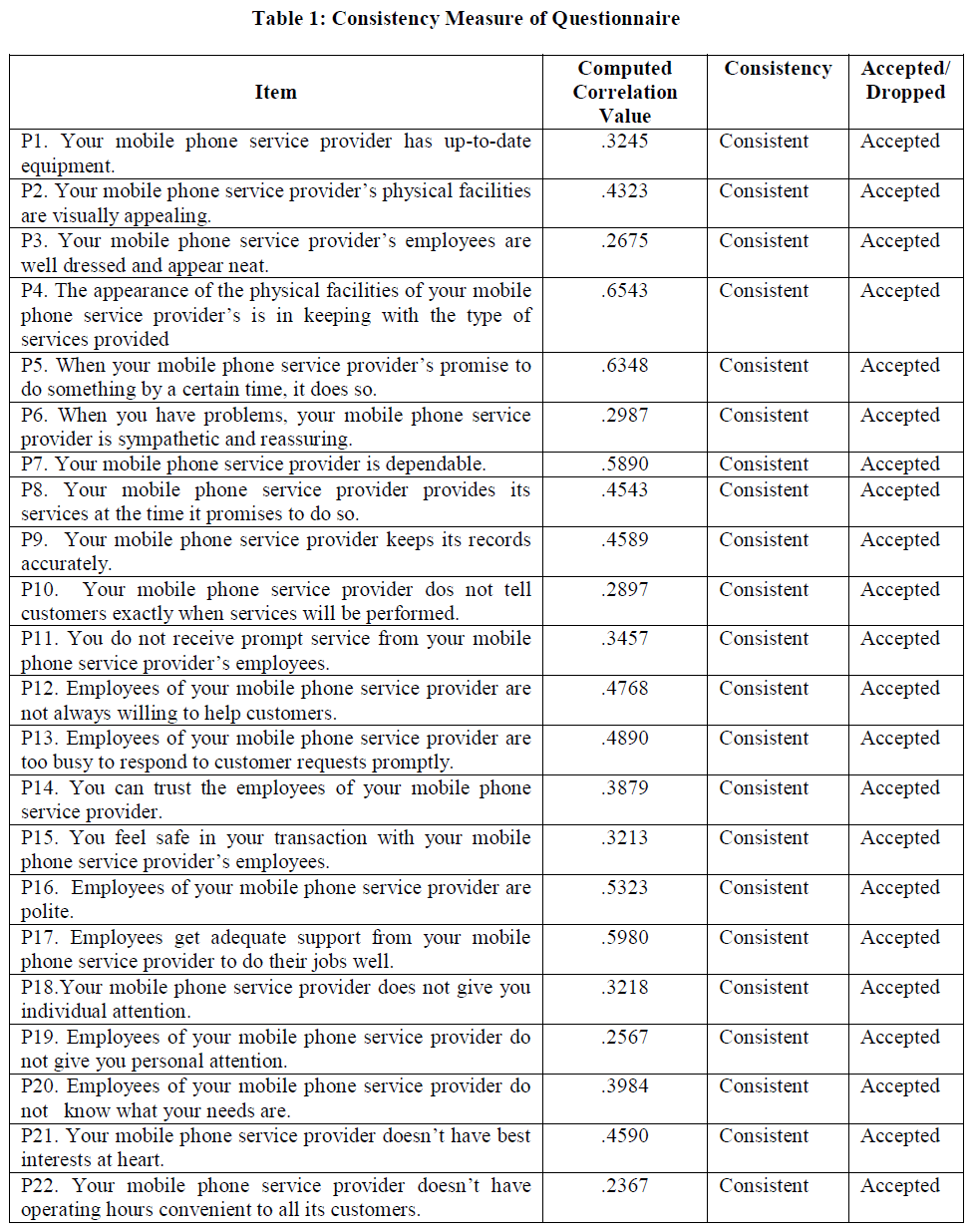 b. Data collection
The questionnaires were distributed among mobile users who had current prepaid or postpaid accounts with four major mobile phone service providers (including GSM and CDMA) in New Delhi, India during September-December 2011. All four mobile phone service providers from private sector-Vodafone Essar Ltd., Reliance Communications Ltd., Bharti Airtel Ltd. and Idea Cellular Ltd. were selected. All these mobile phone service providers have a strong retail presence in the telecom industry and are the largest and the most profitable mobile phone service providers in India. The sample size was fixed at 500 customers. Quota sampling technique (non-probability technique) was used to get the questionnaire filled by the mobile phone users. Every alternate customer entering the mobile phone service franchise was asked to complete the questionnaire. Out of 500 respondents, 430 respondents agreed to fill up the questionnaire. On further filtering, 412 responses were found to be properly and completely filled.
c. Hypothesis of the study
Keeping these objectives in mind, this study intends to test the following hypothesis:
(Ho1): There is no significant difference between the expectations and perceptions of customers of mobile phone service providers.
d. Tools used for data analysis
To check the reliability of data items of the questionnaire Cronbach's alpha and Gutman reliability tests were run by using SPSS software. In order to map the difference between the expectations and perceptions of customers of mobile phone service providers, Z test was applied.
Results and Discussion
The results of the survey have been discussed in 2 sections namely, analyses the reliability measure of the questionnaire and a comparison between customer's expectations and perceptions towards mobile phone service providers.
Reliability Measure of the Questionnaire
The reliability of items was assessed by calculating the coefficient alpha (Cronbach, 1951), split half and Gutman, which measures the internal consistency of the items. Reliability measure was carried out using SPSS Software and the SPSS output is shown in Table 2. For a measure not to be rejected, coefficient value in all the cases should be above .7(Nunnally. 1978). It can be seen that in almost all the reliability methods applied here, reliability value is more than .7, so it can be said that all the items in the questionnaire are highly reliable (see Table 2).

Comparison between Expectation and Perception of Customers towards mobile phone service providers
The null hypothesis that there is no significant difference between the expectations and perceptions of customers of mobile phone service providers needs to be statistically tested. The statistical significance has been examined by using Z-statistic. If the estimated value of Z-statistic is greater than 1.96 and less than 2.58, it is significant at 5% level. If its value exceeds 2.58, it is significant at 1% level. In the event of the zstatistic being significant, it implies that there is a significant difference between the expectations and perceptions of customers towards mobile phone service providers. The value of Z-statistic in the case of service quality is 7.32, which is more than the standard value, 1.96 at 5% level of significance, so the null hypothesis is not accepted (Refer Table 3 above). Therefore, the null hypothesis (Ho1) is not accepted and it can be said that there is a significant difference in the expectations and perceptions of costomers of mobile phone service providers.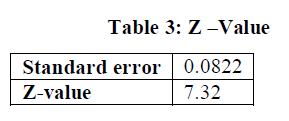 Moreover, the mean of expectations of customers towards mobile phone service providers is more than the mean of perceptions of the customers towards mobile phone service provider as shown in Table 4. It shows that the mobile phone users are getting inferior service quality i.e. (ES>PS) (Parsuraman et al., 1988). Their expectations are not getting matched with the perceptions & as a result the perceived quality of mobile phone users has also got affected (Gi-Du Kang, 2006).

The results are similar to the results of Johnson, Tsiros & Lancioni (1995). They carried out a research on the mobile phone service provider customers of UK about their expectations and perceptions of service quality and got a difference in the expectations and perceptions of customers, the study prioritized the service expectations. Research by Negi (2009) also revealed that the overall service quality of mobile communication in India was below average. There was a gap between the expectation and the perceptions of the customers resulting in good scope for improving the customer perceived quality.
On the other hand, Johnson & Sirikit (2002) carried out a study using the same SERVQUAL Model on fixed line & Celluler service model & received excellent rating on Thai Telecom Sector. Wal et al. (2002) also carried out a study in cellular mobile service using SERVQUAL Model to match perception and expectation of customers' service and found positive results. Arora et al. (2007) conducted a similar research on GSM mobile users & identified problem solving, information & records, bells & whistles, network, appearance, and Employee Attention were identified as parameters of service quality. Selvarasu et al. (2006) used the same model the quality of service for CDMA (Code Division Multiple Access) mobile in cellular mobile service in India. They found Airtel superior to other telecom companies like Aircel, BSNL etc. in providing good quality of service.
Conclusions
Pariseau & McDaniel (1997) argued that if there is an agreement that service quality exceeds, meets or falls below expectations, there would be a common ground for continuation or improvement of the service quality level. From the preceding analysis, it is obvious that the customers' expectations from the mobile phone service providers are higher than the perceived quality of the services provided by them. Using the Parasuraman service model, we may deduce that the service quality of mobile phone service providers in India is low and that they need to take urgent steps to shore up the quality of their services to meet and if possible, transcend the customers' expectations.
References
[1] Alzola, L.M., & Robaina, V.P. (2005). Servqual: Its applicability in electronic commerce B2C. The Quality Management Journal, 12 (4), 46.
[2] Arora, P., Garg, A., & Singh, A. (2007). Service Quality in Punjab Telecom Circle. The ICFAI Journal of Service Marketing, 5(2), 19-40.
[3] Asubonten, P., McCleary, K. J., & Swan, J. E. (1996). SERVQUAL revisited: A Critical Review of Service Quality. The Journal of Services Marketing, 10(6), 62.
[4] Barcia, E. and Striuli, A. (1996 May).Quality as a measurement of customer perception and satisfaction inmobile TLC. The proceedings of 1996 International Conference on Communication Technology Proceedings, (ICCT'96), 1,400-403.
[5] Bird, J. (1998, October 29). 'Dial O for Opportunity' Marketing, 31-35, ISSN 00253650.
[6] Bitner, M.J., Booms, B.H., & Tetreault, M.S. (1990, January). The service encounter: diagnosing favorable and unfavorable incidents. Journal of Marketing, 54, 71-84.
[7] Carman, J. (1990). Consumer Perceptions of Service Quality: An Assessment of the SERVQUAL Dimensions. Journal of Retailing, 66(1), 33-55.
[8] Churchill, G.A., J., & Surprenant. (1982, November). An investigation into the determinants of customer satisfaction. Journal of Marketing Research, 19, 491-504.
[9] Cronbach, L. (1951). Coefficient alpha and the internal structure of tests. Psychometrica, Vol. 16 No. 3, 297-334.
[10] Cronin, Joseph J., & Taylor, Steven A. (1992, July). Measuring service quality: A re-examination and extension. Journal of Marketing, 56, 55-67.
[11] Crosby, P. B. (1979). Quality Is Free: the Art of Making Quality certain. New York: New American Library.
[12] Garvin, David A. (1983). Quality on the line. Harvard Business review, 61(5), 65-73.
[13] Gronroos, Christian. (1978). A Service-Oriented Approach to Marketing of Services. European Journal of Marketing, 12(8), 588-601.
[14] Johnson, R. L, Tsiros, M. & Lancioni, R. A. (1995). Measuring service quality: A systems approach. The Journal of Services Marketing, 9 (5), 6-21.
[15] Johnson, William C. & Sirikit, A. (2002). Service Quality in the Thai Telecommunication Industry: A Tool for Achieving a Sustainable Competitive Advantage. Management Decision, 40(7), 693-701.
[16] Kang, Gi-Du. (2006). The Hierarchical Structure of Service Quality: Integration of Technical and Functional Quality. Managing Service Quality, 16(1), 37-50.
[17] Kim, M Park, & Jeong, D. (2004). The effect of customer satisfaction and switching barrier on customer loyalty in Korean mobile Telecommunication Services. Telecommunication Policy, 28(2), 145-159.
[18] Lehtinen, J.R., & Lehtinen, U. (1991). Two approaches to service quality dimensions. The Service Industries Journal, 11(3), 287-303.
[19] Leisen, Brigit & Vance, Charles. (2001). Cross- National Assessment of Service Quality in the Telecommunication Industry: Evidence from US and Germany. Managing Service Quality, 11(5), 307- 317.
[20] Mangold, G.W., & Babakus, E. (1991). Service quality: the front-stage perspective vs the back-stage perspective., Journal of Services Marketing, Vol. 5 No. 4, 59-70.
[21] Murfin, D.E., Sclegelmilch, B.B., & Diamantopoulos, A. (1995). Perceived Service Quality and Medical Outcome: An Interdisciplinary Review and Suggestions for future. Research Journal of Marketing Management, 11(1-3), 97-117.
[22] Negi, R. (2009). User's Perceived Service Quality of Mobile Communications: Experience from Ethiopia. International Journal of Quality and Reliability Management, 26(7), 699-711.
[23] Parasuraman, A., Zeithaml, Valarie .A., & Berry, Leonard. L. (1985). A Conceptual Model of Service Quality and its Implication for Future Research. Journal of Marketing, 49, 41-50.
[24] Parasuraman, A., Zeithaml, Valarie .A., & Berry, Leonard. L. (1988). SERVQUAL: A Multiple item Scale for Measuring Consumer Perception of Service Quality. Journal of Retailing, 64(1), 12-40.
[25] Pariseau, S. & McDaniel, J. R. (1997). Assessing service quality in schools of business. International Journal of Quality and Reliability Management, 14(3): 204–218.
[26] Quinn, J.B., Baruch, J.J., & Paquette P.C. (1987, December). Technology in Services. Scientific American, 257(6), 50-58.
[27] Ranaweera, Chatura, & Neely, Andy. (2003), Some Moderating Effects on the service qualitycustomer Retention link. International Journal of Operation & Production Management, 23(2), 230- 248.
[28] Richard, M.D., & Allaway, A.W. (1993). Service Quality Attributes and Choice Behavior. The Journal of Services Marketing. 7(1), 59–68.
[29] Rosen, L.D., & Karwan, K.R. (1994). Prioritizing the dimensions of service quality. International Journal of Service Industry Management, 5(4), 39-52.
[30] Selvarasu, A., Gomathishankar, K. & Loganathan, M.G. (2006). GSM Mobile Service in Telecom Sector: An Ontology of Quality of Service. The ICFAI Journal of Service Marketing, 4(4).
[31] Seth, Anita, Gupta, Hari Mohan, & Momaya, Kiran Kumar. (2007). Quality of Service Parameters in Cellular Mobile Communication. International Journal of Mobile Communications, 5(1), 68-93.
[32] Siu, N.Y.M., & Cheung, J.T. (2001). A measure of retail service quality. Marketing Intelligence and Planning, 19(2), 88-96.
[33] Soteriou, A.C., & Stavrinides, Y. (2000). An internal customer service quality data envelope analysis model for bank branches, International Journal of Bank Marketing, 18 (5), 246-52.
[34] Staples, W.J.S, Dalrymple, J.F, & Phipps K (2001). Excellence in Call Centres: access is a corporate responsibility. Proceedings of the 6th International Conference on ISO 9000 and TQM, School of Business – HKBU, Paisley Business School. (ISBN 962-86107-2-4).
[35] Van der Wal, R.W.E., Pampallis, A., & Bond, C. (2002). Service quality in a cellular telecommunications company: a South African experience. Managing Service Quality, 12(5), 323-335.
[36] Wang, Yonggui, & Lo, Hing Po. (2002). Service Quality, Customer Satisfaction and Behavior Intentions: Evidence from China's Telecommunication Industry. Info, 4(6), 50-60.
[37] Zeithaml, Valerie A. and Bitner, Mary Jo. (2003). Services Marketing. (3rd edition).New York: McGraw-Hill.
[38] Zhu, F.X., Wymer, W.J., & Chen, I. (2002). IT-based services and service quality in consumer banking. International Journal of Service Industry Management, 13(1), 69-90.