Strategies for the Synthesis of Thiazolidinone Heterocycles
Ashraf Mashrai1,2, Ayaz Mahmood Dar1,3*, Shafia Mir3 and Shamsuzzaman1
1Department of Chemistry, Aligarh Muslim University, Aligarh-202 002, Uttar Pradesh, India
2Department of Pharmacy, University of Science and Technology, Sana'a, Yemen
3Department of Chemistry, Government Degree College Kulgam, University of Kashmir, Jammu and Kashmir, India
*Corresponding Author:

Ayaz Mahmood Dar
Department of Chemistry, Aligarh Muslim University
Aligarh-202 002, Uttar Pradesh, India
Tel: +91928699027
E-mail: [email protected]
Received date: April 14, 2016; Accepted date: April 26, 2016; Published date: April 30, 2016
Citation: Mashrai A, Dar AM, Mir S, Shamsuzzaman (2016) Strategies for the Synthesis of Thiazolidinone Heterocycles. Med chem (Los Angeles) 6:280-291. doi:10.4172/2161-0444.1000358
Copyright: © 2016 Mashrai A, et al. This is an open-access article distributed under the terms of the Creative Commons Attribution License, which permits unrestricted use, distribution, and reproduction in any medium, provided the original author and source are credited.
Visit for more related articles at Medicinal Chemistry
Abstract
Thiazolidinones is the special class of heterocyclic compounds with a broad spectrum of biological activities such as anti-inflammatory, antiproliferative, antihistaminic, anti-HIV, hypnotic, anaesthetic, antifungal, anthelmintic and antiviral agents as well as CNS stimulants. Therefore researchers have synthesized these condensed heterocycles through different complex pathways as target structures for biological studies. This review focuses on the various strategies followed for the convenient synthesis of thiazolidinone based heterocyclic derivatives. The steps included condensation followed by cyclization of Schiff's bases, either in a step-wise manner or in one pot under different conditions. Mercaptoacetic acid, thiolactic acid, chloroacetyl chloride, potassium thiocyanate, ethylchloro acetate and ammonium thiocyanate are the most common reagents used for the synthesis thiazolidinone appended on different heterocyclic skeletons.
Keywords
Schiff 's bases; Mercaptoacetic acid; Condensation; Heterocycles
Thiazolidinones
Thiazolidinones and their derivatives display a large variety of activities such as antibiotic, diuretic, organoleptic, tuberculostatic, antileukaemic and antiparasitical [1,2]. As far as literature is concerned, little is known about thiazolidinones and their bioactivities. Thiazolidinones (1) are classified as doubly unsaturated five membered heterocyclic compounds contain one nitrogen, one sulphur and three carbon atoms including a carbonyl group.

Moawad et al. reported that reaction of Schiff base (3) with mercaptoacetic acid in dry benzene afforded thiazolidinone (4). Schiff base (3) was obtained by the condensation of, 3,4-xylene sulphonate ester of p-hydroxy benzaldehyde (2) with p-aminobenzoic acid [3].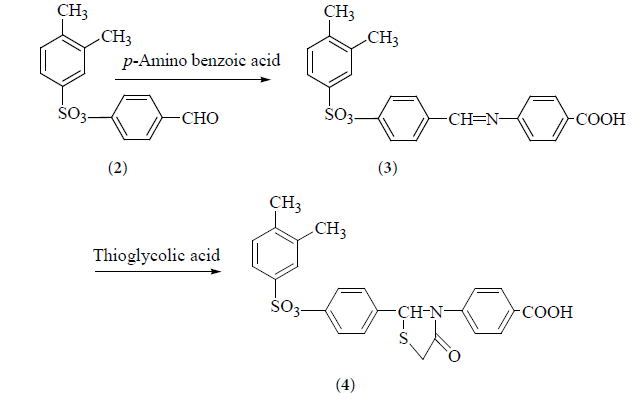 Gursoy et al. prepared new compounds (5) and (6) incorporating the quinazoline moiety [4].

Ansari et al. synthesized 4-thiazolidinones (8, 9) starting form chalcone (7), by two different route as shown in the following scheme [5].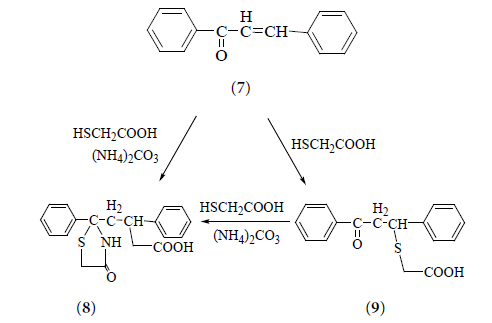 El-masry et al. reported that condensation of compound (10) with aromatic and heterocyclic aldehydes in absolute ethanol afforded the corresponding Schiff 's bases (11). The cyclocondensation of some substituted Schiff 's bases with thioglycolic acid and thiolactic acid afforded the corresponding thiazolidinone (12) and (13) [6].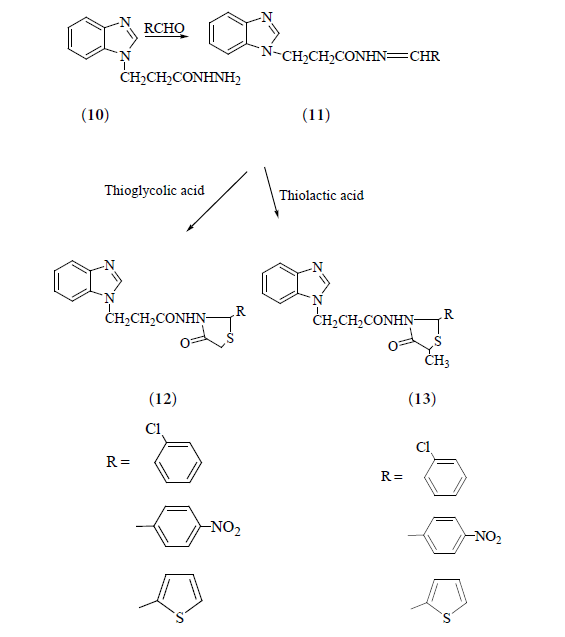 Anthonsen et al. synthesized 2-imino-3-(4-arylthizol-2-yl)-thiazolidin-4-ones (16) via the key intermediates, 2-amino-4-arylthiazoles (14) which were reacted with chloroacetyl chloride to produce the corresponding 2-chloro-acetamido-4-arylthiazoles (15). The latter was treated with potassium thiocyanate in refluxing acetone to afford the product (16) [7].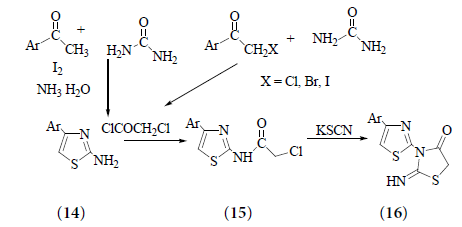 Ocal et al. synthesized substituted 4-thiazolidinones (18) by the reaction of mercaptoacids aldimines (19) which were obtained by the condensation of pyrrole-2-carbaldehyde with different aromatic amines [8].

R= H, CH3
Abbady et al. obtained 4-acetylthiosemicarbazone-4-acetyl diphenyl sulphone (19) and 4-acetylthiosemicarbazone-4-acetyldiphenyl sulphide (20) which on further reaction with ethylchloroacetate in the presence of fused AcONa gave 4-(4"-thizolidinone-2"-acetylazino)-4'-acetyldiphenyl sulphone (21) and 4-(4"-thizolidinone-2"-acetylazino)-4'-acetyldiphenyl sulphide (22), respectively [9].
Parekh et al. prepared that substituted Schiff 's bases (24) by the treatment of 2-amino-4-(α-methoxyiminocarbomethoxymethyl)-thiazole (23) with different aromatic mercaptopropionic acid in dry benzene furnished desired thiazolidinones of type (25) and (26) respectively. The products were evaluated for their in vitro growth inhibiting activity against several microbes. Some of them showed significant anti-tubercular and antifungalactivity [10].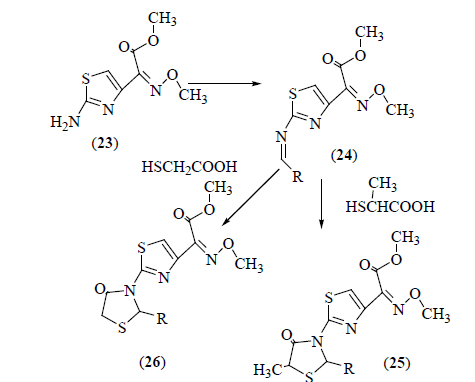 R=Ar
Monforte et al. reported the synthesis of 2,3-diaryl-1,3-thiazoldin-4-ones (29) by reacting an aromatic aldehyde (28) with an equimolar amount of (hetero) aromatic amine (27) in the presence of an excess of mercaptoacetic acid. The microwave-irradiation dramatically shortened the reaction times, affording the desired products in high yields [11].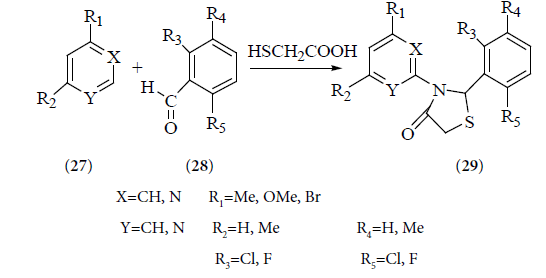 Terzioglu et al. synthesized the target compound, 2-(3-ethyl-4(3H)-quainazolinone-2-ylmercaptoacetylhydrazono)-3-alkyl/aryl-5-methyl- 4-thiazolidinones (31) and 2-arylimino-3-(3-ethyl-4(3H)-quinazolinone-2-ylmercaptoacetylamino)-5-methyl-4-thiazolidinones (32) by the cyclization of 3-ethyl-4(3H)-quinazolinone-2-ylmercaptoacetyl)-4-alkyl/arythiosemicrabazides (30) with ethyl 2-bromopropionate in presence of anhydrous sodium acetate in absolute ethanol [12].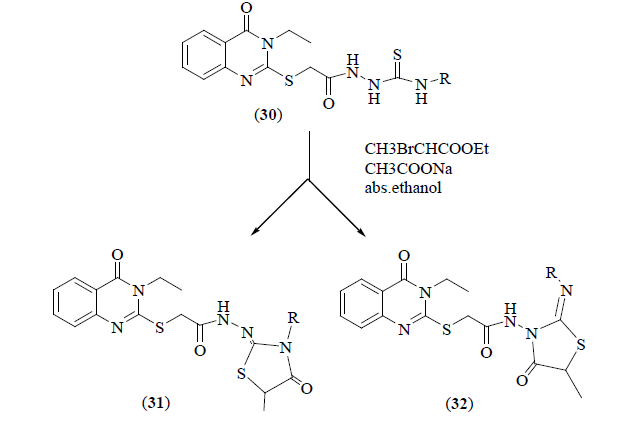 R=CH3, C6H11
Altintas et al. synthesized by refluxing of 4-carbethoxymethyl-2-[(α-chloropropoinyl/ α-bromobutyryl/ α-chloro-(phenyl)acetyl)amino] thiazoles (34) with ammonium thiocyanate to obtain 4-thiazolidinone (34). 5-(N,N-disubstitutedaminomethyl-2-[(4-carbethoxymethylthiaxol-2- yl)imino] 4-thiazolidinones (34) was evaluated as antibacterial and antifungal activities [13].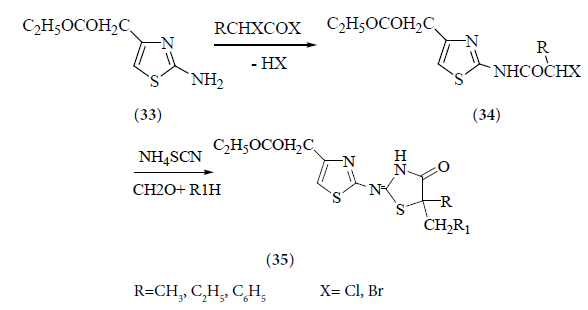 Sriram et al. reproted that the synthesis of the 2,3-diaryl-1, 3-thiazolidin-4-ones (38) was acomplished by reacting substituted benzaldehyde (37) with equimolar amount of an appropriate substituted aromatic amine (36) in the presence of an excess of mercaptoacetic acid in toluene under microwave irradiation. Unlike the conventional methods (reaction time 48 h and yeilds of 30-70%), microwave-assisted reactions were very facile (6-8 min.) and provided very good yields (64-82%) [14].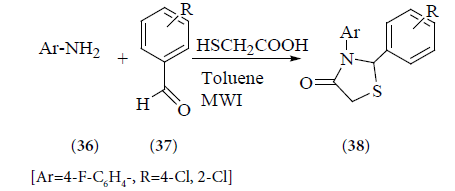 Arya et al. prepared spiro[indole-thiazolidines] (41) by the multicomponent condensation between indole-2,3-done (39), amines (40) and marcaptoacetic acid using montmorllonite KSF as solid support in 85-90% yield in 4-5 min under MW reaction conditions [15].

Desai et al. synthesized 4-thiazolidinones (43) in a good yields from the heterocyclization reaction of 2-(benzothiazol-2-ylthio)-N'- benzylideneacetohydrazide (42) with mercaptoacetic acid in DMF in the presence of catalytic amount of anhydrous ZnCl2 under microwave irradiation and compared with conventional methods [16].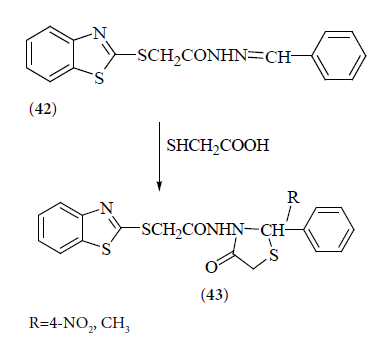 Nagarajan et al. synthesized E-thiazolidinone (46) by the cyclization of acetylene dicarboxylic ester (44) with thiocarbamoyl derivatives (45) [17].

Sahu et al. reported that condensation of substituted benzaldehydes (47) with primary aryl amines (48) gave a series of Schiff bases (49) which, on reaction with mercaptoacetic acid, resulted in the formation of the corresponding 4-thiazoldinones (50) [18].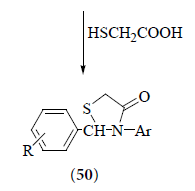 Ar=4-NO2, Phenyl, 4-Cl and Naphthyl R=2-OH, 4-N(CH3)2, 4-NO2, 4-Cl and 4-OCH3
Desai and Shah synthesized of 2-(substituted phenyl)-3-[4-(2,4-dichloro-5-fluorophenyl)-6-(2-thienyl)pyrimidine-2-yl-ureido] 5H/ methyl/ carboxymethyl-4-thiazolidinones (54). It starts with compound (51) and employing the following reaction scheme [19].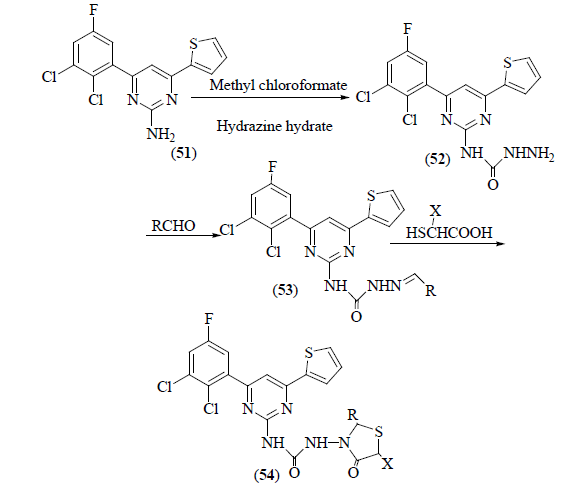 R=aryl; X=H, CH3, CH2COOH
Terioglu et al. synthesized series of 5-nitro-3-[(5-nonsubstituted/methyl-4-thiazolidinone-2-ylidene) hydrazono]-lH-2-indolinones (56) by cyclization of 5-nitro-lH-indole-2,3-dione-3-thiosemicarbazone (55) with ethyl bromoacetate or ethyl 2-bromopropoinate [20].

Cacic et al. reported the cyclizaiton of thiosemicarbazide (57) with chloroacetylchloride in chloroform which afforded thiazolidinone derivative (58) [21].

Mir et al. reported a rapid and easy solvent free one-pot synthesis of 5-arylidne-2-imino-4-thiazolidinones (61) by condensation of the thioureas (59) with chloroacetic acid and an aldehyde (60) under microwave-irradiation [22].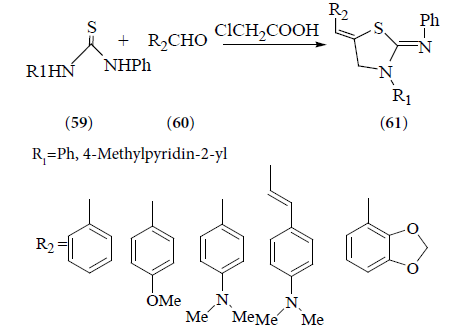 Cao et al. reported the reaction of 1,4,5,6-tetrahydro-6-pyridazinone-3-carboxylic acid hydrazides (62) with aromatic aldehydes which afforded 1,4,5,6-tetrahydro-6-pyridazinone-3-cabonyle aromatic aldehyde hydrazones (63). Hydrazones (63) cyclized with mercaptoacetic acid in DMF in the presence of anhydrous ZnCl2 to afford 1,3-thiazolidinone derivative (64) [23].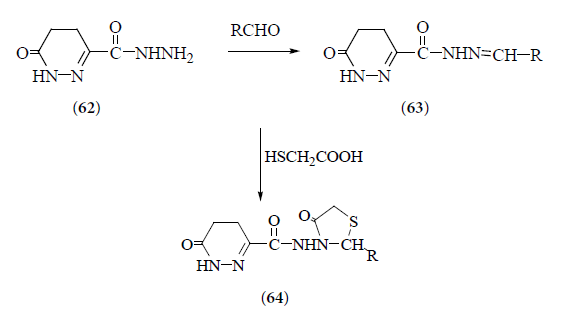 R=C6H5, p-MeOC6H5, p-NMe2C6H5, o-NO2C6H4, m-NO2C6H4, m-Ome-p-OHC6H3
Rollas and Kucukguzel synthesized 4-thiazolidinones (66) by reacting hydrazones (65) reacted with mercaptoacetic acid/thiolactic acid [24].

Turgut et al. prepared 4-thiazolidinones (69) by the Katti cabodiimide (DCC) mediated one-pot three component condensation reaction of an aromatic amine (68), an aldehyde (67) and mercaptoacetic acid [25].

Shiradkar reported that various aryl-thioureas (70) on treatment with ethyl chloraoacetate (71) and fused sodium acetate in a ethanol gave 2-arylimino-4-thiazolidinones (72) [26].

Ameta et al. reported a fast and facile procedure for the synthesis of pyridothiazolidinone (76) starting from dihydropyridine (73). Oxidation of (73) with nitrating mixture (HNO3/H2SO4) produced the anticipated 2,6-dimethylpyridine derivatives (74), which were subsequently condensed thiosemicarbazide in ethanol to produce the key intermediate 2,2-[4-(4-substitutedphynely)-2,6dimethylpyridine-3,5diyl] dicarbonyldihydrazine carbothiomides (75). Compound (75) finally provided (76) on reacting with ClCH2COOH and CH3COONa. All the reaction were carried by conventional as well as microwave method. The potent antimicrobial effects of the synthesized compounds were also investigated [27].
Ar=4-F-C6H4, 4-Cl-C6H4, 4-OCH3C6H4, 4-NO2-C6H4, C6H5
Yan et al. reported the construction of 4-thiazolidnone ring (79) by a three component reaction of fluorous benzaldehydes (78), an amine and mercaptoacetic acid. Compound (78) was readily prepared form (77) [28].

Talesara et al. also synthesized 2-amino-5-(4'-pyridyl)-1,3,4-thiadiazole (81) by cyclization of iso nicotinoyl thiosemicarbazide (80) with conc. sulphuric acid. When (81) was refluxed with various aldehydes. It gave the corresponding arylidene derivatives (82) which on further treatment with mercaptosuccinic acid furnished thiazolidinone derivative (83). Another thiazolidinone derivative 2-isonicotinoylhydrazido-1,3-thiazolidinone (84) was obtained by the successive treatment of isonicotinoylthiosemicarbazide (80) with chloroacetic acid in the presence of sodium acetate [29].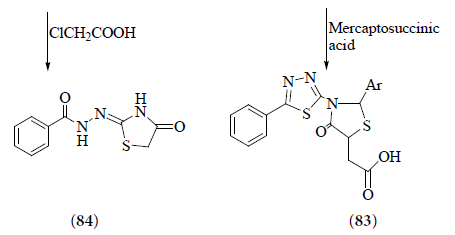 Literature has revealed that very few steroidal thiazolidinones have been prepared and studied so far. Shafiullah and Ali reported the synthesis and mass spectral studies of the spiro thiazolidinones (85) and (86). Steroidal thiazolidinones of cholestane series (87) and (88) were also prepared by cyclizing the respective thiosemicarbazones with ClCH2COOH [30].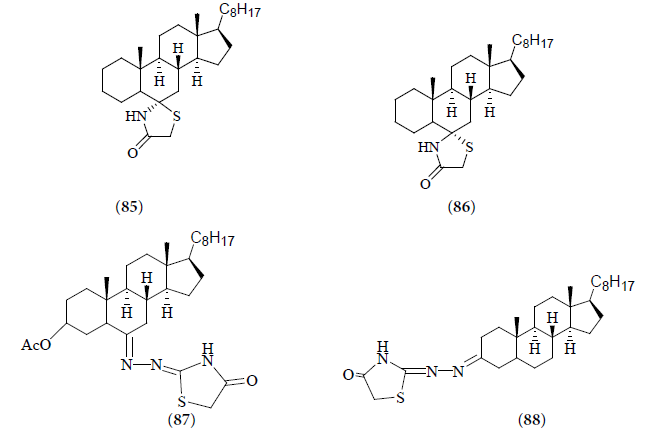 Siddiqui et al. prepared C-24 thiazolidinone derivatives (90) [R=H, OH, R1=H] of bile acids from esters (89) [R2=OMe] in three steps involving hydrazinolysis with NH2NH2 to give (89) [R2=NHNH2], reaction with potassium or ammonium thiocynate to give (89) [R2=NHNHC(S)NH2] and finally cyclocondensation with chloroacetic acid in presence of anhydrous sodium acetate and AcOH [31].

Shamsuzzaman and Siddiqui reported the synthesis of 3-Diazo(4ʹ-thiazolidinone) cholest-4-ene (93) from cholest-4-en-3-one thiosemicarbazone (92) and chloroacetic acid in presence of sodium acetate. The compound (92) was obtained by reacting cholest-4-en-3-one (91) with thiosemicarbazide in presence of conc. HCl [32].

Shih et al. reported the synthesis of 5-(3-Arylsydnon-4-ylmethylene)thiazolidine-2,4-diones (95 a-d) and 5-(3-Arylsydnon-4-ylmethylene)-2- thioxothiazolidin-4-ones (96 a-d) from 3-aryl-4-formylsydnones (94 a-d) in high yields by the modified Knoevenagel condensation [33].
Ar=C6H5; b: Ar=p-CH3C6H4; c: Ar=p-CH3OC6H4; d: Ar=p-C2H5OC
All the synthesized thiazolidine derivatives (95a-d, 96a-d) were screened by paper-disc method to identify their antimicrobial activities against three bacteria viz. Staphylococcus aureus, Proteus vulgaris and Escherichia coli, and two fungal cultures viz. Aspergillus niger and Penicillium citrinum. The reference drugs were Norfloxacin and Griseofulvin, respectively. The screening data indicated that the tested sydnonyl-substituted thiazolidine derivatives exhibited no obvious antibacterial activity compared with the standard drug Norfloxacin. However, thiazolidine derivatives displayed significant antifungal activities against Penicillium citrinum and Aspergillus niger.
Zhou et al. reported the synthesis of library of 2-Arylimino-5-arylidene-thiazolidin-4-ones (101) by reacting 2-Arylimino-thiazolidin-4-ones (100) with different benzaldehydes. The compound (100) was obtained after reacting chloroethyl acetate with primary thiourea (99) in presence of sodium acetate. The compound (99) was obtained by the reaction of primary anilines (97) and NH4SCN in 10 mL of 6 N HCl or from the rection of corresponding thiourea (98) with NH3 H2O. These compounds selectively killed both non-small cell lung cancer cell line H460 and its paclitaxel-resistant variant H460taxR at an IC50 between 0.21 and 2.93 μM while showing much less toxicity to normal human fibroblasts at concentrations up to 195 μM [34].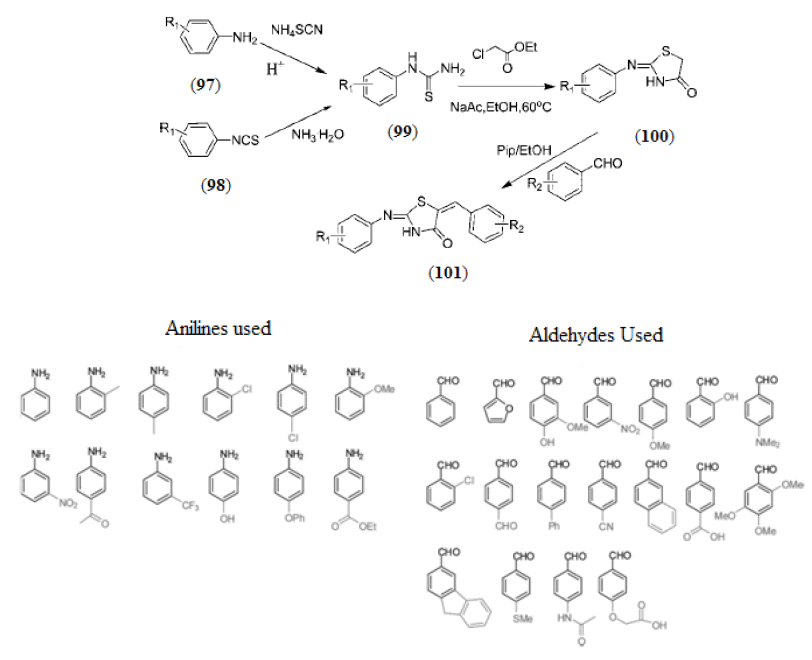 Conclusion
In this article we have mentioned the different routes for the synthesis of thiazolidinone derivatives. The steps included condensation followed by cyclization or multi component reaction (MCR), either in a step-wise manner or in one pot has been achieved successfully to obtain the aforementioned class of heterocycles under different conditions. Most of the preparative methods included mercaptoacetic acid, thiolactic acid, chloroacetyl chloride, potassium thiocyanate, ethylchloro acetate and ammonium thiocyanate are the most common reagents for the synthesis of thiazolidinone appended on different heterocyclic skeletons. Also many series of substituted thiazolidinone -fused five membered heterocycles possessing N-, S- and O- have been constructed in potential yields and with conventional methods. Hence these protocols provide convenient strategies to annelate different heterocyclic nuclei with widespread bioactive thiazolidinone thereby extending the categories of heterocyclic systems. These strategies may also provide valuable information for the further design and development of more active biological agents through various modifications and derivatizations.
Acknowledgements
Authors (AMD and AM) thank Dr. Shamsuzzaman, Professor of Chemistry, AMU Aligarh, for useful discussions during the literature survey and University Grants Commission for providing research fellowship for successful completion of this work. Author (AM) is thankful to the Chairperson, Department of Pharmacy, UST, Sana'a, Yemen.
References
Brown FC (1961) 4-Thiazolidinones. Chem Rev 61:463-521.
Raasch MS (1974) 2, 2-Bis(polyfluoromethyl)-4-thiazolidinones, 4-oxadiazolidinones and tetrahydro-4H-1,3-thiazin-4-ones. J Heterocyclic Chem 11: 587-593.
Maowad EB (1989) Synthesis of some new heterocyclic compounds with expected potential biological activity. J Islamic Acad Sci 24: 237-240.
Gürsoy A, Karali N (1995) Synthesis and anticonvulsant activity of new acylthiosemicarbazides and thiazolidones. Farmaco 50: 857-866.
Mukhtar S, Rahman VPM, Ansari WH, Lemiere G, Groot AD, et al. (1999) Bifunctionsl derivative of p,p'-Dichlorochalcone. Part II. Synthesis of novel compound 2-[2-Carboxymethylthio-2-(4-chlorophenyl) ethyl]-2-(4-chlorophenyl)-4-thiazolidinone. Molecules 4: 232-237.
El-masry AH, Fahmy HH, Ali Abdeiwahed SH (2000) Synthesis and antimicrobial activity of some new benzimidazole derivatives. Molecules 5: 1429-1438.
Liu HL, Lieberzeit Z, Anthonsen T (2000) Synthesis and fungicidal activity of 2-Imino-3-(4-arylthiazol-2-yl)-thiazolidin-4-ones and their 5-arylidene derivatives. Molecules 5: 1055-1061.
Aydogan F, Ocal N, Turgut Z, Yolacan C (2001) Transformations of aldimines derived from pyrrole-2-carbaldehyde. Synthesis of thiazolidino-fused compounds. Bull Korean ChemSoc 22: 476-480.
Abbady MA, Abdet-Hafez SH, Kandeel MM, Abdel-Monem MI (2003) Syntheses of new unsymmetrical and symmetrical diarylsulphides and diarylsulphones containing thiazolinyl and thiazolidinonyl moieties using 4,4'-diazetyl diphenylsulphide. Molecules 5: 622-641.
Parekh HH, Parikh KA, Parikh AR (2004) Synthesis of some 4-thiazolidinone derivatives as potential antitubercular agents. J Sci I Rep Iran 15: 143-148.
Rao A, Chimirri A, Ferro S, Monforte AM, Monforte P, Zappala M (2004) Microwave-induced synthesis of benzimidazoleandthiazolidinone derivatives as HIV-1 RT inhibators. ARKIVOC,pp: 147-155.
Gursoy A, Glu NT (2005) Synthesis and isolation of new regioisomeric 4-thiazolidinones and their anticonvulsant activity. Turk J Chem 29: 247-254.
Altintas H, Ates O, Birteksoz S, Gulten O, Uzun M, et al. (2005) Synthesis of mannich bases of some 2,5-disubstituted 4-thiazolidinones and evaluation of their antimicrobial activities. Turk J Chem 29: 425-435.
Sriram D, Yogeeswari P, Kumar TG (2005) Microwave-assisted synthesis and anti-YFV activity of 2,3-diaryl-1,3-thiazolidin-4-ones. J Pharm PharmSci 8: 426-429.
Arya K, Sarawgi P, Anshu D (2005) 9th international Electronic Confrences on Synthetic Organic Chemistry. ECSOC-9.
Desai KG, Raval JP, Desai KR (2006) Neat reaction technology for the synthesis of 4-oxo-thiazolidines derived from 2-SH-benzothiazole and antimicrobial screening of some synthesized 4-thiazolidinones. J Iranian ChemSoc 3: 233-241.
Nagarajan K (2006) Creative research in chemical industry- Four decades in retrospect. J ChemSci 118: 291-309.
Sahu SK, Mishra SK, Mohanta RK, Pattanayak SP, Panda CS (2006) Synthesis and antibacterial activity of 2-(2, 4-dinitrophenyl)-3, 5-diphenyl (substituted)-6-aryl-3,a,5,6-tetrahydro-2H-pyrazolo [3, 4-d] thiazoles. Indian J Pharm Sci 68: 377-380.
Shah TI, Desai VK (2007) Synthesis of some novel fluorinated 4-thiazolidinones containing amide linkage and their antimicrobial screening. ARKIVOC,pp: 218-228.
Terzioolu N, Karaly N, Gursoy A, Pannecouque C, Leysen P, et al. (2006) Synthesis and primary antiviral activity evaluation of –hydrazono-5-nitro-2-indolinone derivatives. ARKIVOC,pp: 109-118.
Cacic M, Trkovnik M, Cacic F, Has-Schon E (2006) Synthesis and antimicrobial activity of some derivatives of (7-hydroxy-2-oxo-2H-chromen-4-yl)-acetic acid hydrazide. Molecules 11: 134-147.
Kasmi-Mir S, Djafri A, Paquin L, Hamelin J, Rahmouni M (2006) One-pot synthesis of 5-arylidene-2-imino-4-thiazolidinones under microwave irradiation. Molecules 11: 597-602.
Tao J, Cao LH, Wanga CF, Wanga DZ (2006) Synthesis of 1,3,4-oxadiazoles and 1,3-thiazolidinones containing 1,4,5,6-tetrahydro-6-pyridazinone. J Chin ChemSoc 53: 1193-1197.
Rollas S, Küçükgüzel SG (2007) Biological activities of hydrazone derivatives. Molecules 12: 1910-1939.
Turgut Z, Yolacan C, Aydogan F, Bagdatli E, Ocal N (2007) Synthesis of new pyrazolothiazole derivatives from 4-thiazolidinones. Molecules 12: 2151-2159.
Shiradkar MR, Ghodake M, Bothara KG, Bhandari SV, Nikalje A, et al. (2007) Synthesis and anticonvulsant activity of clubbed thiazolidinone-barbituric acid and thiazolidinone-triazole derivatives. ARKIVOC,pp: 58-74.
Mehta S, Swarnkar N, Vyas R, Vardia J, Punjabi BP, et al. (2008) Microwave assisted synthesis of some pyridine derivatives containing mercaptotriazole and thiazolidinone as new class of antimicrobial agents. Phosphorus, Sulfur, and Silicon 183: 105-114.
Zhou H, Liu A, Li X, Ma X, Feng W, et al. (2008) Microwave-assisted fluorous synthesis of 2-aryl-substituted 4-thiazolidinone and 4-thiazinanone libraries. J Comb Chem 10: 303-312.
Sharma R, Nagda DP, Talesara GL (2006) Synthesis of various isoniazidothiazolidinones and theirimidoxy derivatives of potential biological intrest. ARKIVOC 1: 1-12.
Shafiullah M, Ali AH (1981) Mass spectral studies on the steroidal Steroidalthiazolidinone derivatives. Org Mass Spectrum 16: 556-559.
Siddiqui AH, Rao VK, Rao RK (1988) Synthesis and characterization of C-24 appended thiazolidinone derivatives. J Indian Chem Soc 65: 879-882.
Shamsuzzaman S, Siddiqui N (2004) Synthesis of steroidal thiazolidinone: 3-Diazo (4'-thiazolidinone)cholest-4-one. Indian J Chem 43B: 2007-2009.
Shih MH, Xu YY, Yang YS, Lin GL (2015) A facile synthesis and antimicrobial activity evaluation of sydnonyl-substituted thiazolidine derivatives. Molecules 20: 6520-6532.
Zhou H, Wu S, Zhai S, Liu A, Sun Y, et al. (2008) Design, Synthesis, Cytoselective Toxicity, Structure–Activity Relationships, and Pharmacophore of Thiazolidinone Derivatives Targeting Drug-Resistant Lung Cancer Cells. J Med Chem 51: 1242-1251.