Team-Based Learning in Health Care Education: Maintaining Key Design Elements
Annette Burgess1* and Craig Mellis2
1Education Office, Sydney Medical School, The University of Sydney, New South Wales, Australia
2Central Clinical School, Sydney Medical School, The University of Sydney, New South Wales, Australia
Corresponding Author :
Annette Burgess
Senior Lecturer, Education Office
Sydney Medical School, Room 205
Edward Ford Building, The University of Sydney
NSW, 2006, Australia.
Tel: 61290367692
E-mail: [email protected] sydney.edu.au
Received: October 07, 2015; Accepted: November 22, 2015; Published: November 30, 2015
Citation:Burgess A, Mellis C (2015) Team-Based Learning in Health Care Education: Maintaining Key Design Elements. J Nurs Care S1:008.doi:10.4172/2167-1168.S1-008
Copyright: © 2015 Burgess A, et al. This is an open-access article distributed under the terms of the Creative Commons Attribution License, which permits unrestricted use, distribution, and reproduction in any medium, provided the original author and source are credited.
Related article at Pubmed, Scholar Google
Visit for more related articles at Journal of Nursing & Care
Abstract
Introduction: Problem Based Learning (PBL) and Team-based learning (TBL) both provide excellent examples of learner-centred approaches, allowing students to work together to solve professionally relevant problems. Although PBL provides a more traditional example of collaborative learning, TBL has recently gained popularity within health care education. The design of TBL addresses many resource challenges within clinical education including increasing student numbers, and limited availability of teachers who have competing clinical, research and teaching demands. There are also many educational benefits for students that arise from the key design elements of TBL.
Purpose: It seems likely that as health care schools attempt to reduce costs, they will move towards TBL implementation. However, published literature, as well as our own experience indicates that variation from a standardised TBL framework, may result in poorer outcomes for students, and limit the ability of others to understand the learning and teaching process. This paper considers the pedagogic advantages of TBL that are reliant upon its unique, key design elements.
Conclusion: Relatively new to health care education, TBL provides an innovative approach to student-centred learning that helps to prepare students for effective collaboration, using content that is relevant to future practice. As TBL becomes part of many health care curricula, it is important to ensure the integrity of TBL is maintained. That is, poor design or lack of resources should not allow the essential steps of TBL to be discarded. Key factors for effective TBL include appropriate allocation of students to small groups, out of class preparation, pre-class assessments, well designed team activities, the presence of a well-trained facilitator during class, and immediate feedback. These elements motivate students to prepare, promote collaboration amongst students, and focus team discussion. While it appears inevitable that TBL activities within healthcare will find it difficult to incorporate all design elements of the TBL method, reporting accurately and consistently on TBL activities will assist the health care education community in understanding the relative merits of TBL compared to other teaching techniques.
Figures at a glance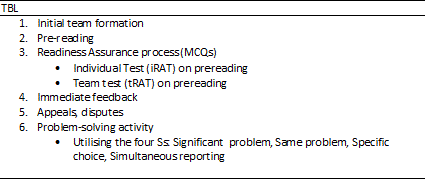 Figure 1