The Final Diagnosis of this Patient is Tropical Eosinophilia
Mohanty D*
Institute of Immunohaematology, India
Corresponding Author:

Mohanty D
Institute of Immunohaematology, India
E-mail: [email protected]
Received date: January 23, 2016; Accepted date: January 25, 2016; Published date: January 30, 2016
Citation: Mohanty D (2016). J Thrombo Cir 2:i001. doi: 10.4172/JTCOA.1000i001
Copyright: © 2016 Mohanty D. This is an open-access article distributed under the terms of the Creative Commons Attribution License, which permits unrestricted use, distribution, and reproduction in any medium, provided the original author and source are credited.
Visit for more related articles at Journal of Thrombosis and Circulation: Open Access
Clinical Image
S.K.G., 28 yrs male complained of choking sensation in throat and chest.
Lab Investigation
CBC done shows normocytic and normochromic RBC with raised ESR, Hb 13.5g/dL, TLC: 11.9 × 103/μ1, Plt 196 × 103/c.mm, N: 55%, Lymph: 31%, Eosino: 75%, Mono: 2%. Leucocyte alkaline phosphatise (LAP) Score: 106 (Normal 24-180).
Chest X Ray Pa View
Bilateral Diffuse Pulmonary Reticulonodular Inflitrates with Relative Sparing of Upper Zones.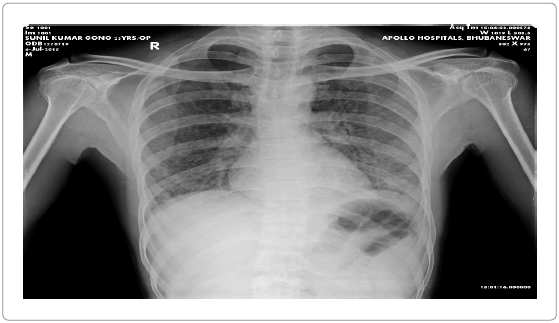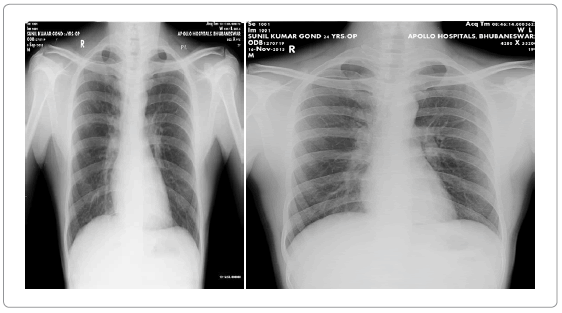 Two month later Four month later
Rapid complete clearing of lung infiltrate on follow up X ray done at two and four months later.