The Pro-Inflammatory TNFA -308G>A (rs1800629) Polymorphism Is Associated with an Earlier Age at Onset in Patients with Major Depressive Disorder
Lückhoff HK1, Van Rensburg SJ2, Botha K3, Kidd M4 and Kotze MJ1*
1Division of Anatomical Pathology, Department of Pathology, Faculty of Medicine and Health Sciences, Stellenbosch University, Tygerberg, South Africa
2Division of Chemical Pathology, Department of Pathology, Faculty of Medicine and Health Sciences, Stellenbosch University and National Health Laboratory Service, Tygerberg Hospital, Tygerberg, South Africa
3Paarl Medical Centre, Paarl, South Africa
4Centre for Statistical Consultation, Department of Statistics and Actuarial Sciences, University of Stellenbosch, Tygerberg, South Africa
*Corresponding Author:

Kotze MJ
Division of Anatomical Pathology
Department of Pathology, Faculty of Medicine and Health Sciences
University of Stellenbosch, Tygerberg, South Africa
Tel: 27 21 9389324
E-mail: [email protected]
Received Date: April 02, 2014; Accepted Date: April 24, 2014; Published Date: May 02, 2014
Citation: Lückhoff HK, Van Rensburg SJ, Botha K, Kidd M, Kotze MJ (2014) The Pro-Inflammatory TNFA -308G>A (rs1800629) Polymorphism Is Associated with an Earlier Age at Onset in Patients with Major Depressive Disorder. J Psychiatry 17:124 doi: 10.4172/Psychiatry.1000124
Copyright: ©2014 Lückhoff HK, et al. This is an open-access article distributed under the terms of the Creative Commons Attribution License, which permits unrestricted use, distribution, and reproduction in any medium, provided the original author and source are credited.
Visit for more related articles at Journal of Psychiatry
Keywords
Major depressive disorder; Inflammation; Personalized medicine; Tumor necrosis factor alpha
Introduction
Major depressive disorder (MDD) is a severely debilitating psychiatric illness showing a tendency towards chronicity and recurrence [1]. The lifetime prevalence of MDD in South Africa is 9.8% and affects individuals across socio-economic boundaries [2]. MDD is a major contributor to all-cause mortality, and is projected to be the primary cause of global morbidity by the year 2020 [3,4]. A positive association has also been reported between greater affective symptom severity and an increased risk of all-cause mortality, including cardiovascular death and stroke.
MDD tends to be familial with a moderate heritability component estimated at ~37% [5]. Earlier disease onset was once attributed to a variety of psycho-social factors, including perinatal insults, familial psychopathology and trauma during childhood. However, early-onset MDD is now recognized as a high-risk genetic subtype, associated with progressive neuropathology and greater disease burden across multiple functional domains. These include longer disease duration, an increased number of major depressive episodes, greater symptom severity, higher suicide risk, substance abuse and poor academic functioning [6-10]. An earlier onset of psychiatric illness is also associated with a greater risk of developing comorbid medical conditions such as cardiovascular disease (CVD) later in life, partly attributed to aberrant regulation of the hypothalamic-pituitary-adrenal (HPA) axis [11].
The recognition that chronic inflammation is as a key pathogenic mechanism implicated in the development of obesity, type II diabetes mellitus and cancer, has broadened to include its contribution to the emergence of neuroprogressive pathology in MDD [12-16]. Even mild stimulation of the immune response may elicit a variety of "sickness behaviors", including insomnia, fatigue and cognitive dysfunction, which show striking overlap with specific clinical manifestations of MDD [17,18]. These relate to a modest elevation in circulating levels of pro-inflammatory cytokines and acute phase reactants (APR) frequently observed in patients with MDD [19,20]. Chronic lowgrade inflammation is associated with deranged neurotransmitter metabolism, neuroendocrine dysfunction, promotion of oxidative stress and glutamate-induced excitotoxicity [13,21]. Together, these abnormalities contribute to the development of neuroprogressive pathology, including decreased synaptic and neuronal plasticity, altered neurogenesis and glial cell death [15,22]. Increased pro-inflammatory cytokine activity has been correlated with greater symptom severity, predicts disease recurrence, and is associated with a decreased therapeutic response to antidepressants. Conversely, even shortcourse antidepressant treatment may attenuate inflammatory stress by inhibiting the production and release of pro-inflammatory mediators [23,24]. This has significant clinical implications, given promising new evidence suggesting the benefits of therapeutic augmentation with antiinflammatory agents in MDD [25].
There is growing interest in the genetic mechanisms underlying the development of chronic inflammation in MDD. A recent genome-wide association study (GWAS) found the tumor necrosis factor alpha (TNFA) gene to be the only strong contender for MDD susceptibility among the candidate genes evaluated [26]. Meta-analyses show that a proinflammatory promoter polymorphism in the TNFA gene (-308G>A; rs1800629) predisposes towards the development of multiple chronic non-communicable diseases, including the metabolic syndrome, asthma, rheumatoid arthritis and breast cancer [27-29]. The minor A-allele of TNFA rs1800629 polymorphism also confers susceptibility for MDD, and is associated with greater symptom severity, a poor response to antidepressant treatment, and decreased hippocampal volumes in early-onset MDD, in keeping with a neuroprogressive model of depression [30,31]. However, conflicting evidence suggests that the common TNFA rs1800629 G-allele predisposes towards greater symptom severity and an increased suicide risk in MDD [32,33]. This discrepancy in findings may be accounted for by the highly contextdependent nature of this functional SNP and its effect on inflammation, which is also dependent on factors such as psycho-social stress, dietary insufficiency, sedentary lifestyle, infections, obesity, smoking and vitamin D deficiency, the majority of which are amendable [34].
Despite these advances in our understanding of inflammation as a unifying risk factor in many chronic diseases, the potential modifying influence of the TNFA rs1800629 polymorphism on specific clinical outcomes in MDD, as well as its potential role as genetic determinant of early-onset MDD, remain unclear. Therefore, the aims of this study were two-fold, namely to: 1) compare the genotype distribution and allele frequencies of TNFA rs1800629 between South African patients with MDD and controls, and 2) assess the influence of this functional single nucleotide polymorphism (SNP) on age of symptom onset, in relation to family history of overlapping affective or anxiety disorders, in MDD.
Method
Ethical approval for the study performed was granted by the Health and Research Ethics Committee (HREC) of Stellenbosch University under project number N09/08/224. The study was performed in accordance with the ethical standards laid down in the 1964 Declaration of Helsinki. Written informed consent for participation in the research component of a chronic diseases screening program was obtained from all study participants.
Study Population
The study population consisted of 204 Caucasian individuals selected based on the presence (n=94) or absence (n=111) of a clinical diagnosis of MDD based on DSM-V criteria and/or current use of antidepressants as documented in 43 (46%) of patients. For those currently using antidepressants, 36 received mono-therapy and 7 combination therapies with two antidepressants. Of the 43 patients who specified antidepressant treatment, 20 (47%) reported side-effects related to medication use. Age of onset of MDD could reliably be documented in 83% (78/94) of MDD patients.
Controls were selected from a secure database (www.gknowmix.org) of participants in a chronic disease screening program, based on the absence of self-reported personal or family history of overlapping affective and anxiety disorders. Chronic inflammation is considered a pathogenic mechanism in a variety of general medical conditions, which may influence results in genotype-phenotype analysis. Therefore, the following medical conditions were excluded in both MDD patients and controls: 1) cancer, 2) hypertension, 3) dyslipidemia, 4) type II diabetes mellitus, 5) non-alcoholic fatty liver disease, 6) chronic periodontitis, and 7) multiple sclerosis. However, since a research objective was to investigate the relationship between obesity and age of onset, body mass index (BMI) was further considered and patients reporting overweight or obesity as a clinical condition not excluded.
Questionnaire-based clinical and lifestyle assessment
Prior to enrollment in the chronic disease screening program, all study participants were asked to complete the Gknowmix™ Medical History and Lifestyle Questionnaire (available at www.gknowmix.com), developed in collaboration with a registered dietician, and approved by the HREC at the University of Stellenbosch. This questionnaire was used to document patient data, including BMI, alcohol consumption, physical activity, current smoking status, antidepressant use and associated side-effects. Alcohol intake was differentiated into abstain (0 units/week), occasionally (1-2 units/week), 1-13 units/week, 14-21 units/week and ≥ 22 units/week. Physical activity was categorized into none/occasionally, low (1 time/week), moderate (2-3 times/week) or high (≥ 4 times per week).
Biochemical analysis
A peripheral venous blood sample was drawn after an overnight fasting period for determination of serum high-sensitivity C-reactive protein (hs-CRP) levels using the ADVIA® Chemistry CardioPhase High Sensitivity C-Reactive Protein Assay performed on the ADVIA® Centaur XP Immunoassay System. These values were available for a subset of 56 MDD patients and 38 controls.
TNFA rs1800629 genotyping
Genomic DNA was extracted from whole blood using commercially available kits supplied by QIAGEN® (QIAamp® DNA Midi-kit) or from saliva samples using the Oragene® reagents. Conventional polymerase chain reaction (PCR) was performed followed by direct DNA sequencing for detection of TNFA rs1800629 rs 1800629 in 5 DNA samples (K1-5) used as internal controls. Direct sequencing of the PCR fragments resulted in the identification of the wild type, heterozygous and homozygous genotypes for TNFA rs1800629. These samples were subsequently used as positive and negative controls for high-throughput genotyping technology using the Applied Biosystems™ (ABI) TaqMan® SNP Genotyping Assays performed on the Corbett Rotor-Gene™ 6000 series Multiplexing System.
Statistical analysis
A case-control study design was used. Statistical analysis was performed using the Statistica software package (StatSoft, Inc). Genotype distribution and allele frequencies for TNFA rs1800629 were estimated from allele counts, and Hardy-Weinberg equilibrium was assessed using the exact test. Since only three MDD patients carried the AA genotype, these patients were grouped together with GA carriers when assessing the influence of TNFA rs1800629 on age of onset. Before including genetic information in the statistical models used for genotype-phenotype association studies, potential confounders were identified and adjusted for in comparative analyses. Analysis of variance (ANOVA) was used to determine differences between genotype groups as well as MDD patients and controls. For correlation studies using numerically continuous variables, non-parametric Spearman and Pearson rank-correlations were calculated. Qualitative characteristics were described using cross-tabulation and frequency tables, whereas the mean and 95% confidence intervals were used for qualitative phenotypes. Linear regression models were used to assess the influence of TNFA rs1800629 genotype, family history and clinical factors on age of disease onset in MDD patients. In cases where quantitative outcomes showed non-symmetric distributions, values were log-transformed prior to analysis. A significance level of 0.05 was used as a guideline for determining significant differences, with trend-associations noted where applicable.
Results
Baseline characteristics of MDD patients and controls
Table 1 summarizes the baseline characteristics of study participants. Data is presented separately according to gender, based on the knowledge that MDD is more prevalent in females than males, also evident in this study. The number of females compared to males included in the study was significantly lower (p=0.01) in the control group (67/111, 60%) than in the MDD patients (72/94, 77%). A family history of overlapping affective or anxiety disorders was reported by 45% (42/94) of patients, while those reporting such a history were excluded from the control group. A significantly higher proportion of MDD patients smoked compared to controls (p=0.02). Age, BMI, level of physical activity and alcohol consumption did not differ between MDD patients and controls (Table 1). BMI was on average 13% higher in male compared to female MDD patients (p=0.004), while male patients also consumed on average 44% more alcohol per week (p=0.02). A marginal increase in mean hs-CRP level was noted for 56 MDD patients compared to 38 controls (p=0.09). This trend became significant when only male study participants (15 MDD patients, 18 controls) were taken into account (p=0.01).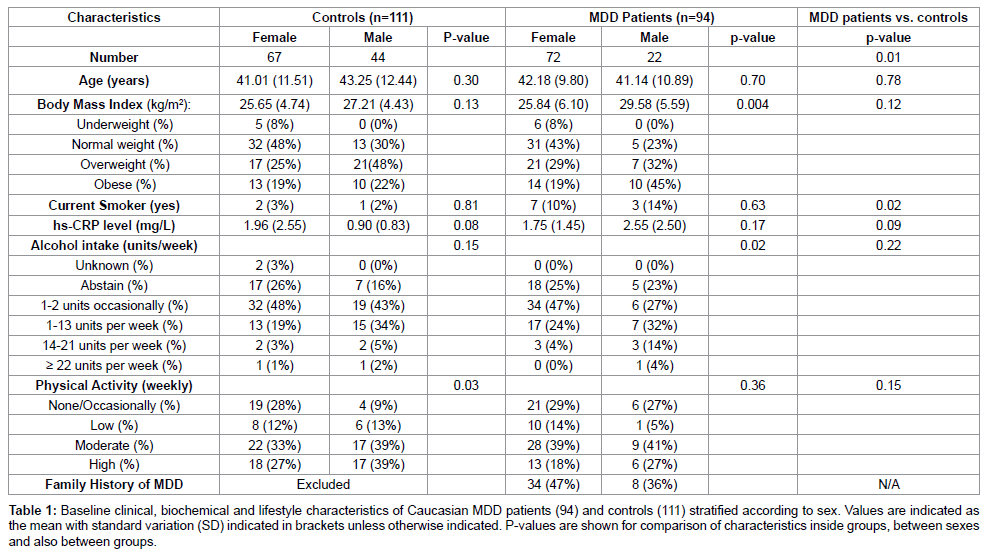 Relationship between BMI, lifestyle and dietary habits in MDD patients
A significant negative correlation was observed between BMI and the level of physical activity in MDD patients (p=0.03), while a significant positive correlation between BMI and hs-CRP was also noted (p<0.01). No significant associations were found between BMI and smoking or alcohol intake.
TNFA rs1800629 genotyping
Genotype distribution and allelic frequencies for TNFA rs1800629 were similar between 94 MDD patients and 111 controls (p=0.25) and the SNP was in Hardy-Weinberg equilibrium in both study groups. A non-significant trend was noted for overrepresentation of the riskassociated minor A-allele (GA/AA genotype) in MDD patients (36%) compared to controls (26%) (Table 2). No significant difference in age (p=0.90), sex (p=0.63), alcohol intake (p=0.90), level of physical activity (p=0.78), current smoking status (p=0.32), hs-CRP level (p=0.11) or family history of overlapping affective or anxiety disorders (p=0.23) was observed between TNFA rs1800629 genotype groups for MDD patients. However, a non-significant trend was noted towards a higher BMI in GG genotype carriers (p=0.08).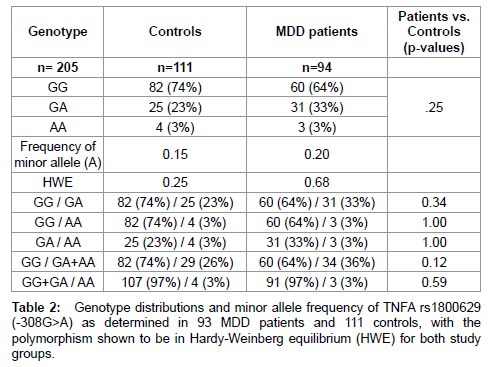 Effect on age of onset in MDD patients
Age at onset of MDD was documented in 83% (78/94) patients. The mean age of onset was 28.12 years, with no significant differences noted between male and female patients (p=0.78). The influence of TNFA rs1800629 genotype and family history of overlapping affective and anxiety disorders on age of MDD onset was assessed as presented in Figure 1. The mean age of onset in GG genotype carriers was 30.65 years (95%CI 27.69-33.61 years) and 23.86 years (95%CI 20.01-27.72 years) in MDD patients with the TNFA GA/AA genotype. Inheritance of the A-allele of TNFA rs1800629 was thus associated with a significant 6.79 year decrease in age of MDD onset (p=0.005), which remained significant following adjustment for sex (p=0.006), age (p=0.02), BMI (p=0.01), alcohol consumption (p=0.01), smoking status (p=0.007) and physical activity (p=0.01). This was further evidenced by the predominance of the risk-associated A-allele of TNFA rs1800629 among MDD patients with early-onset (below 20 years) disease (0.30 vs. 0.17, p=0.004).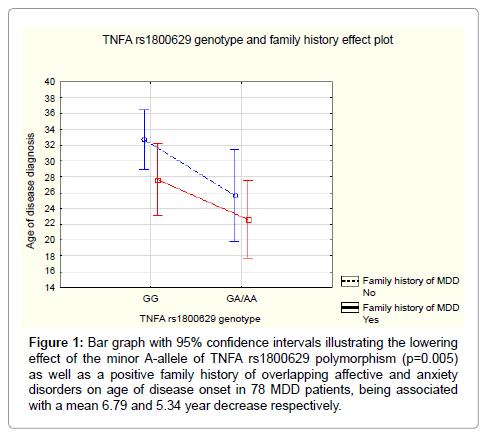 Figure 1: Bar graph with 95% confidence intervals illustrating the lowering effect of the minor A-allele of TNFA rs1800629 polymorphism (p=0.005) as well as a positive family history of overlapping affective and anxiety disorders on age of disease onset in 78 MDD patients, being associated with a mean 6.79 and 5.34 year decrease respectively.
The mean age of onset in MDD patients known with a family history of overlapping affective and anxiety disorders was 25.32 years (95%CI 21.91;28.74 years), compared to 30.66 years (95%CI 27.42- 33.90 years) in those without a family history of psychiatric illness. Age of disease onset was therefore significantly decreased by 5.34 years in MDD patients known with a family history of overlapping affective and anxiety disorders (p=0.03). In addition to its effect on age of onset, MDD patients who had a family history of effective disorders were referred for enrollment a mean 6.13 years earlier compared patients without no family history of psychiatric illness (p<0.01).
Conclusion
The TNFA rs1800629 A-allele was associated with a mean 6.79 years earlier onset of disease in the MDD patient cohort studied (p<0.01), as evidenced by overrepresentation in 22 MDD patients with early-onset disease (23%) compared with MDD patients above the age of 20 years (60%) (p=0.04). The TNFA A-allele of rs1800629 has previously been associated with an earlier age at onset of other neurological conditions such as Alzheimer's disease, but to our knowledge this is the first study demonstrating an age effect in South African MDD patients [35,36]. This finding is in keeping with a significant body of evidence linking the TNFA A-allele with increased pro-inflammatory activity, as well as the role of chronic inflammation in neuroprogressive pathology.
MDD patients with a family history of overlapping affective or anxiety showed a significant mean 5.34 year decrease in age of onset (p=0.03), in addition to being referred for enrollment in the chronic disease screening program 6.13 years earlier (p<0.01). These findings are consistent with previous observations stating that a family history of MDD is significantly more common in those with early-onset MDD due to a higher perceived genetic vulnerability towards disease [37,38].
Our results are also consistent with previous findings indicating a higher prevalence of MDD amongst females [39]. While males are predisposed towards MDD before to the onset of puberty, the prevalence of depression increases exponentially during adolescence in females, reaching and maintaining a level almost twice that for males, the risk being highest during mid-adolescence to early adulthood [40]. Although some authors have suggested that only the rate of first-episode depression is increased in females, others propose they are predisposed towards chronicity as well as recurrence [41]. No significant difference in age of enrollment was noted between either MDD patients or controls as well as between males and females in both groups. The relatively high proportion of patients with a family history of overlapping affective or anxiety disorders (45%) highlights the moderate heritability component of this illness, which has been approximated at 37% [5].
Significantly more MDD patients were current smokers than controls in the study population. While a strong association between MDD and smoking is evident from the literature, the question of causality remains unresolved. Smokers often ascribe anxiolytic and antidepressant effects to smoking; however, smoking may in fact decrease mood, and is associated with worsened health outcomes and greater disability [42]. Levels of inflammatory biomarkers such as hs- CRP are elevated in MDD patients who smoke, although this finding was not replicated in the current study [43]. Since chronic inflammation and depression is a risk factor for cardiovascular disease (CVD), and smoking is an independent predictor of MDD in patients with CVD, cessation is a high priority which may improve health outcomes across multiple clinical domains [44].
The limitations of this study include a relatively small sample size and retrospective assessment of age of onset of MDD, necessitating replication in a larger population to determine whether TNFA rs1800629 genotyping may be useful as a marker of a more severe subtype of MDD. Although hs-CRP as chronic inflammatory biomarker was only determined in 41 (44%) MDD patients with a known age of disease onset, with no substantial variation noted between TNFA rs1800629 genotype groups, the latter is in accordance with a general paucity of data indicating a significant elevation in hs-CRP in A-allele carriers [45,46]. This reinforces the notion that intermediate biochemical markers for MDD are of limited use in the clinical setting, hence the growing interest in genetic markers. The strength of this study lies in the fact that the role of genetics as reflected by the known association between earlier age of onset of MDD and family history may partly be explained by inheritance of the risk-associated A-allele of TNFA rs1800629, which support the clinical relevance of this functional SNP [47].
We conclude that a significant association between the riskassociated A-allele of TNFA rs1800629 and an unfavorable earlier age of onset is shown for the first time in South African patients with MDD. Detection of an increased frequency in early-onset cases is in accordance with the pathogenic role of this functional SNP across a broad spectrum of chronic non-communicable diseases. Genotyping for the pro-inflammatory TNFA rs1800629 polymorphism may assist clinicians in the identification of a high-risk genetic subgroup set to derive particular benefit from therapeutic augmentation with antiinflammatory therapy based on promising results previously obtained in relation to MDD [25].
Acknowledgements
We gratefully acknowledge the financial support from Winetech and the Technology for Human Resources and Industry Program (THRIP).
Conflict of Interest Statement
Prof Kotze is a director and shareholder of Gknowmix (Pty) Ltd. that has developed a database tool for research translation under the auspices of the Innovation Centre of the South African Medical Research Council. The other authors declared no conflict of interest and no writing assistance was obtained in the preparation of this manuscript.
References