The Role of Heparan Sulfate Proteoglycans in Bacterial Infections
Beatriz García1, Iván Fernández-Vega2, Olivia García-Suárez3, Sonia Castañón4 and Luis M Quirós,1*
1University Institute of Oncology of Asturias and Department of Functional Biology, University of Oviedo, Spain
2Department of Pathology, Hospital Universitario de Araba, Spain
3Department of Morphology and Cell Biology, University of Oviedo, Spain
4Department of Biotechnology, Neiker-Tecnalia Arkaute, Spain
*Corresponding Author:

Luis M Quirós
University Institute of Oncology of Asturias
and Department of Functional Biology, University of Oviedo, Spain
Tel: +34 985103560
E-mail: [email protected]
Received Date: July 22, 2014; Accepted Date: August 24, 2014; Published Date: August 26, 2014
Citation: García B, Fernández-Vega I, García-Suárez O, Castañón S, Quirós LM, et al. (2014) The Role of Heparan Sulfate Proteoglycans in Bacterial Infections. J Med Microb Diagn 3:157. doi: 10.4172/2161-0703.1000157
Copyright: ©2014 Garcia B, et al. This is an open-access article distributed under the terms of the Creative Commons Attribution License, which permits unrestricted use, distribution, and reproduction in any medium, provided the original author and source are credited.
Visit for more related articles at Journal of Medical Microbiology & Diagnosis
Abstract
The adhesion of bacteria to target tissues is frequently a necessary first step in pathogenesis. Blocking of such adhesion can provide an efficient way of interfering in bacterial infections. A wide spectrum of microbial pathogens bind to cell surface heparan sulfate proteoglycans in order to facilitate adherence, attachment and cellular entry, as well as to evade defense mechanisms. Knowledge of these mechanisms is important for the development of novel antimicrobial agents and new therapies.
Keywords
Proteoglycan; Glycosaminoglycans; Heparan sulphate; Microbial pathogenesis
Bacterial Adhesion to Cells
Bacterial infections constitute a major global health problem. Adhesion of bacteria to eukaryotic cells is often an important first step in the pathogenic process, and this early establishment of physical contact between pathogen and host can be used as a target for the development of novel ways of interfering with bacterial infections.
Over recent years, new insights have emerged regarding the mechanism and biological significance of such interactions. In its simplest form, microbial adhesion demands the participation of two factors: a receptor and a ligand. The typical bacterial ligands, called adhesins, are macromolecular components of the bacterial cell surface which interact with specific target receptors on the host cell. In reality, this process may be complex and for a single microbe can involve redundancy or the possession of multiple adhesins or mechanisms of attachment. These mechanisms can co-operate to create high affinity interactions and increase bacterial adhesion, and the first adhesive event may trigger the expression of receptors for additional adhesins in the target cell [1-7]. Moreover, some bacteria may use phase variation, displaying on-off expression of different surface structures for immune evasion. Hence the importance of the diversity of receptor targeting mechanisms to the success of adherence and subsequent pathogenesis is evident.
Different Gram-negative bacteria can display several components, such as the hair-like adhesive structures referred to as pili or fimbriae, which are constituted by proteins on the surface that can behave as adhesins for specific adherence (Figure 1). One example of this is type 1 fimbriae, which are widely expressed by Escherichia coli and are used by uropathogenic strains to attach to the urinary tract. These fimbriae belong to a class of fibrillar adhesion structures assembled through the chaperone/usher pathway [8-10]. Gram-positive bacteria also show a great variety of factors involved in adherence, like matrix-binding proteins called microbial surface components recognizing adhesive matrix molecules (MSCRAMMs) [11,12]. These proteins bind to extracellular matrix proteins such as fibronectin, collagen vitronectin and laminin among others.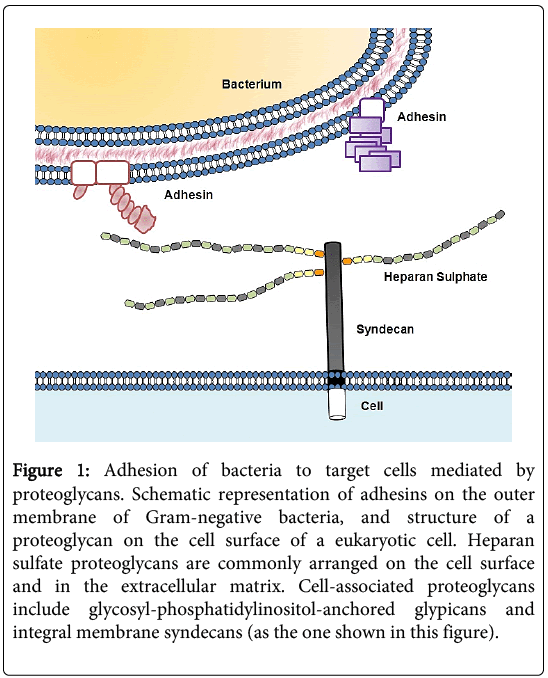 Figure 1: Adhesion of bacteria to target cells mediated by proteoglycans. Schematic representation of adhesins on the outer membrane of Gram-negative bacteria, and structure of a proteoglycan on the cell surface of a eukaryotic cell. Heparan sulfate proteoglycans are commonly arranged on the cell surface and in the extracellular matrix. Cell-associated proteoglycans include glycosyl-phosphatidylinositol-anchored glypicans and integral membrane syndecans (as the one shown in this figure).
As regards eukaryotic cellular receptors, they are ubiquitous on the surface of epithelial cells, and capable of displaying great variability, which accounts for the organotropism proven in some bacterial adhesions. This is the case of proteoglycans (PGs), glycoconjugates involved in the attachment of a wide spectrum of microbial pathogens, including viruses, bacteria and parasites. PGs can also be involved in other steps of pathogenicity, such as cellular invasion or evasion of defense mechanisms [13-17], and they are therefore proposed as potential targets for novel prophylactic and therapeutic approaches.
Structure and Function of Heparan Sulfate Proteoglycans
PGs are composed of different core proteins, post-translationally modified with anionic polysaccharides called glycosaminoglycans (GAGs). GAGs are mainly composed of repeating disaccharides containing acetylated aminosugar moieties and uronic acid [18]. Differences in the type of monosaccharides in the repeating unit, as well as in their sulfation patterns, result in various types of GAGs [19]. Heparan sulfate (HS) is a widespread form of sulfated GAG, being present in all cell types and tissues at the extracellular and cellular levels (Figure 1). HS consists of repeating disaccharide units of N-acetylglucosamine (GlcNAc) and hexuronic acid residues. HS chains are synthesized in the Golgi apparatus by enzymes that initially polymerize alternating GlcNAc and glucuronic acid (GlcA) residues [19]. The resulting disaccharide repeats are then variously modified by interdependent reactions that do not occur uniformly along the chain. First, N-deacetylase/sulfotransferases (NDSTs) catalyze the N-deacetylation, usually followed by the N-sulfation of the GlcNAc units. It is worth remarking that these reactions principally occurs in domains of, usually, 3–6 disaccharides in length (known as S-domains), in which the GlcA may subsequently be C5-epimerized into iduronic acid (IdoA), this is followed by various O-sulfations, frequently at the C6 and C2 position of the glucosamine and IdoA residues respectively, and more rarely at the C3 of glucosamine and C2 of GlcA [20]. HSPGs bind to a large number of ligands and, although some bind directly to core proteins, the vast majority interact with sulfated domains within HS chains. Differences in the degree of epimerization and sulfation patterning during HS biosynthesis generate very high variability and, as such, provide HS chains with various different docking sites for the various ligands of the polysaccharide [21].
A broad range of both normal and pathological functions have been ascribed to HSPGs, including cell adhesion and migration, organization of the extracellular matrix (ECM), regulation of proliferation, differentiation and morphogenesis, cytoskeleton organization, tissue repair, inflammation, vascularization and cancer metastasis, the function ultimately depending on the fine structure of the chains [21-26]. Specific sets of variably modified disaccharides, usually within the sulfated domains, define binding sites for a multitude of specific ligands such as cytokines, chemokines, growth factors, enzymes and enzyme inhibitors, and ECM proteins [23,27,28]. HSPGs fall into three groups according to their location: membrane HSPGs, mainly syndecans and glypicans; secreted extracellular matrix HSPGs including agrin, perlecan and type XVIII collagen; and serglycin which is usually located intracellularly in secretory vesicles. Membrane HSPGs cooperate with integrins and other cell adhesion receptors to facilitate cell-ECM attachment, cell–cell interactions, and cell motility [29,30].
Involvement of Heparan Sulfate Proteoglycans in Bacterial Pathogenesis
Many pathogens make use of HSPGs as essential factors in their virulence activity, including both Gram-negative and Gram-positive bacteria, although the molecular and cellular strategies involved vary significantly among microorganisms. HSPGs can provide specific sites for adhesion and, subsequently, they may be involved in internalisation of some microorganisms and in other mechanisms related to pathogenicity.
The sexually transmitted disease gonorrhea is caused by the Gram-negative bacterium Neisseria gonorrhoeae which binds to syndecans on the epithelium surface thanks to the adhesin OpaA. [31,32]. Both syndecan-1 and -4 can act as receptors in this case due to their overexpression in HeLa cells increasing the adhesion of bacteria [31,33]. Upon binding, intracellular signaling cascades are activated by the cytoplasmic domain of the syndecans, which have been shown to be essential for invasion using HeLa cell mutants in these domains [33]. In addition to the binding step, HSPGs play an important role in the internalization of N. gonorrheae, as in HEp-2 human laryngeal carcinoma cells, where the complex syndecan-OpaA uses fribronectin to bind to β1 integrin receptors, which mediate the internalization [32].
The Gram-negative bacterium Helicobacter pylori appears adhered to gastric mucosa, and it has been recognized as the main cause of gastritis and ulcers and it is classi?ed as a class I carcinogenic agent by the International Agency for Research on Cancer due to its association with gastric carcinogenesis [34-36]. HS chains on the surface of gastric cells are mainly responsible for the adhesion of H. pylori, mediated by the recognition of HS by the outer-membrane proteins of the bacteria [37-40]. The different strains of the bacterium have varying degrees of pathogenicity, depending, among other things, on the presence of the cag pathogenicity island, which encodes a type IV secretion system, and the cytotoxic protein CagA [41,42]. CagA is directly injected into the bacteria-attached host gastric epithelial cell via the bacterial type IV secretion system. The translocated protein CagA deregulates intracellular signaling pathways, leading to various effects, including the activation of the NF-kB signaling pathway. NF-κB transcription factor binds to a specific sequence within the promoter of the human syndecan-4 gene to enhance its expression [41,42-48]. This upregulation of the expression of syndecan-4 has been described in human gastric mucosa and in the gastric carcinoma epithelial cell lines MKN45 and AGS and it is dependent on the presence of cag in the genome infecting strain [49]. Besides the adhesion of the bacteria to the cell surface, H. pylori secrete many proteins that are important for both initial colonization and persistence in the gastric mucosa [50]. HS is also involved in the binding of secreted factors, as is the case in the attachment and entry of cytotoxin vacA, an important pathogenic factor that causes extensive vacuolation that eventually leads to cell death [51].
Within the group of Gram-negative bacteria there are various examples of intracellular pathogens, such as the members of the genus Chlamydia, whose adherence and entry into human cells depends on HSPGs. These microorganisms show a unique developmental cycle characterized by two functionally and morphologically distinct bacterial forms, the elementary body (EB) and the reticulate body (RB) [52]. Infection is initiated by the metabolically inactive EB which then differentiates into the larger, metabolically active RB after endocitosis. HSPGs mediate the initial attachment of several species of Chlamydia, to different degrees depending on the species, strain, and host cell [53]. C. trachomatis presents several serovars that produce diverse infections and show different HS dependencies both in vivo and in vitro; the interaction of serovar L2 with cells is highly reduced by HS and heparin, although serovar E binding is not affected [54,55]. Another route for C. trachomatis to interact with cells is mediated by fibroblast Growth Factor 2 (FGF2) which binds directly to EBs, facilitating the interaction between the bacterium and FGF receptor (FGFR). The receptor is locally activated and contributes to bacterial uptake into non-phagocytic cells [56]. FGF2 is also capable of interact with HS from the host cell itself and furthermore its binding to EB may involve synergistic interactions with OmcB, an EB outer membrane protein that also uses HS from the epithelium as receptor [56-58]. Infection stimulates an increase in production of FGF2, enhancing the subsequent cycles of infection by the bacteria. FGF2 may play additional roles in the pathogenesis of chlamydial infection by potentiating the inflammatory response, by inhibiting apoptosis, or by modulating gene expression [56]. Another species of this genus, C. pneumoniae, also uses HS chains as receptor to bind to the cell surface. The interaction of this microorganism with HEp-2 host cells, which present high levels of HS and strong expression of PG-core protein genes, can be inhibited by HS and heparin although not completely, which suggests that both attachment and entry may be mediated by other co-receptors [59,60]. Nevertheless, C. pneumoniaeis also able to infect lymphoid Jurkat cells and CD4+ lymphocytes, which poorly express PG-core proteins and present minimal expressions of GAGs, implying the presence of attachment irrespective of the presence of HS, even if the adhesion is inhibited by HS, indicating that other molecules are implicated [60].
Another example of a Gram-negative obligate intracellular pathogen is Borreliaburgdorferi, a spirochete bacterium that is well known as the causative agent of Lyme disease. B. burgdorferi infects multiple tissues, such as the heart, joint, skin, and nervous system, by means of different GAG species depending on the tissue. In HeLa cells, heparin, HS, and dermatan sulfate (DS) reduced the attachment of virulent B. burgdorferi strain 297, and these three GAGs are also implicated in binding to neuronal and primary telencephalon cell lines [61,62]. However, heparin and HS play the most critical role for spirochetal binding to primary endothelial cells and Vero cells, while DS mediates attachment to Human Embryonic Kidney 293 cells [61,62]. GAGs are recognized by multiple B. burgdorferisurface proteins depending on the cell type: Bgp (heparin-binding), DbpA and DbpB (GAG binding), and BBK32 (fibronectin and GAGs), each shows binding specificity to different cells and GAGs [63,64].
HSPGs have essential roles in microbial recognition, interaction, adherence and internalization through a wide range of mechanisms, and may be have other roles such as signaling cascades, gene expression regulation or co-receptors of many different factors, altering cells and allowing the invasion to spread [16,65]. Moreover, membrane-bound PGs can also function as soluble molecules since the intact extracellular domain can be released from the cell surface by an enzymatic cleavage mechanism known as ectodomain shedding. These soluble PGs can function as autocrine or paracrine effectors, and can also be used as a mechanism of pathogenesis by a broad range of infectious and noninfectious diseases [65,66].
Gram-negative opportunistic pathogen Pseudomonas aeruginosa, the major cause of burn infections and cystic fibrosis lung disease, uses a combination of virulence strategies, including shedding of HSPGs. It induces syndecan-1 shedding in vitro and in vivo via its virulence factor LasA by means of a mechanism involving metalloproteinases [67]. Syndecan-1 shedding is important for P. aeruginosa infection, since shedding antagonists attenuates its virulence as demonstrated by the fact that syndecan-1 null mice resist the infection [67]. Another virulence mechanism used by P. aeruginosa involves the degradation of decorin by extracelular proteinases, elastase and alkaline proteinase, which releases DS chains. The released DS binds to neutrophil-derived α-defensin, and this binding completely neutralizes its bactericidal activity [68]. In addition P. aeruginosa presents different virulence factors in its outer membrane to bind to non-polarised and untight epithelial respiratory cells. Among them, pilin ligands interact with GalNAcβ1-4Gal moiety of asialoGM1 glycolipids, infrequent in normal pulmonar epithelium but increased in cystic fibrosis one; while non pilus ligands adhere to cells through HSPGs, which can be inhibited by heparin [69,70]. In polarized epithelium P. aeruginosa recognizes distinct receptors on the apical and basolateral surfaces; the microorganism binds specifically to MDCK cells and colocalizes with HS-rich areas at the basolateral membrane, although it interacts with complex N-glycans on the apical surface [71].
HSPGs are also a critical factor in the pathogenicity of a wide range of Gram-positive bacterial pathogens, which present distinct mechanisms of adhesion to cell surfaces as well as shedding mechanisms. Staphylococcus aureus is a common cause of various infections such as corneal keratitis, although this bacterium can be found as part of the normal microbiota, where it is not pathogenic. In corneal infections, syndecan-1 has been proven not to play any role in adherence or attachment to corneal epithelium in mouse and rabbit models, the key host determinants that mediate the initial attachment being collagen and/or fibronectin in the latter [72]. Nevertheless, S. aureus is able to induce the shedding of syndecan-1 ectodomain through α- and β-toxin, both in vitro and in mice models, which inhibits neutrophil-mediated bacterial killing mechanisms in an HS-dependent manner, thereby increasing the pathogenesis process and bacterial survival. Shedding is also involved in increasing the damage and inflamation process by generating gradients of quimioatractors [72]. However, in intestinal epithelium HSPGs are involved in S. aureus internalization and colonization in mice models, where the bacterium can be internalized by non-professional phagocytes through interaction with HS moieties of cell-surface HSPGs independent of fibronectin binding [73].
Mycobacterium tuberculosis, the Gram-positive bacterium that causes tuberculosis, infects phagocytes and pulmonar epithelial cells, but adhesion only happens in the latter, being mediated predominantly by heparin-binding haemagglutinin adhesin (HBHA). Extrapulmonary dissemination is also mediated by this adhesin, whose binding to cell surface HSPGs triggers intracellular signaling mechanisms that are critical for the transcytosis of M. tuberculosis, leading to the dissemination of the infection [74].
Listeriosis is a serious infection caused by eating food contaminated with the Gram-positive intracellular pathogen Lysteriamonocytogenes which is able to invade a wide range of cells, such as macrophages and nonphagocytic cells, by inducing its own internalization [75,76]. In intestinal cell lines heparin and HS inhibit adherence and internalization of L. monocytogenesin cells with prominent syndecan-1 expression such as HT-29, but not in Caco2 which displays low syndecan-1 expression, thus demonstrating the important role of this HSPG in pathogenicity [77,78]. This bacterium has several membrane proteins involved in adherence, one of which is ActA which interacts via HSPG with the cell surface with low affinity and mediates migration into and between nonphagocytic cells by exploiting host cell cytoskeletal machinery [75,76]. On the other hand, in nonphagocytic cells L. monocytogenesexpresses two invasins, InlA and InlB, which induce bacterial internalization. During invasion of polarized epithelial cells, the protein InlA takes advantage of the adhesion molecule E-cadherin and the adherens junction machinery to bind and invade, while in non-polarized epithelial cells InlB interacts with the hepatocyte growth factor receptor Met, which interacts with GAGs to induce endocytosis of the receptor and also to facilitate internalization of the bacteria [79].
Gram positive bacteria from the genus Streptococcus are classified into several groups that cause different types of infections mediated by interaction with HSPGs. A representative member of the Group A Streptococcus is S. pyogenes, the etiologic agent of a variety of human diseases like pharyngitis and impetigo [80]. S. pyogenes expresses a wide variety of proteins on its surface to mediate interactions with host cells from different tissues, among them M proteins, which provide phagocytosis resistance and bind to DS and HS of cell surfaces [80]. Another member of group A Streptococcus, S. pneumoniae, is the most important pathogen in meningitis in older children and adults. This microorganism binds to heparin, HS and chondroitin 4-sulfate in the colonization of respiratory mucosal epithelial cells causing pneumonia [81]. S. agalactiae is included in group B of Streptococcus, and is the cause for the majority of cases of pediatric infectious diseases. This pathogen binds to HSPGs on the cellular surface through alpha-C protein (ACP), which mediates the internalization of bacteria into ME180 cervical epithelial cells, involving Rho GTPase-dependent actin rearrangements [82]. S. agalactiae is the causative agent responsible for neonatal bacterial meningitis, and some studies have shown that ACP uses GAGs as receptors to adhere to and cross the blood-brain barrier and invade the central nervous system [83]. Chain length and negative charge on the GAGs are both important to provide the binding forces between ACP and GAGs, as well as the GAG species involved in the adhesion, such that GAG expression patterns may determine the nature and efficiency of bacterial dissemination during infection [83].
The intestinal tract is a source of many pathogens, including the Gram-positive bacterium Enterococcus faecalis which is a major cause of nosocomial infections affecting different tissues [16]. In Caco2 cells, HSPGs act as receptors in the early stages of infections by enterococci, and HS and heparin are able to inhibit this binding [84]. HSPGs are not only implied in recognition and adherence, but also in the internalization of bacteria in professional and nonprofessional phagocytes, involving the reorganization of microtubules and activation of protein kinases. The microorganism can resist specific killing mechanisms inside these phagocytes and so invasion and dissemination progresses [85]. Urinary tract infections are usually caused by E. faecalis, and contrary to what happens in adherence to other epithelium, neither wild-type bacteria nor glycolipid mutant's use GAGs as receptors to bind to uroepitelial cells [86].
Besides pathogens, it is important to study the mechanisms that normal human microbiota use for adhering to and colonizing cells because of, among other reasons, the competition with pathogenic bacteria for the same attachment sites on these cells. Human microbiota is composed mainly of members of the genus Lactobacillus. Many studies have been conducted on the factors involved in the adherence of Lactobacillus to different epithelial cells including intestinal or vaginal epithelium [87-90], and GAGs have been described as receptors for adhesion. An adhesin that plays a fundamental role in attachment of L. salivarus Lv72 is OppA, a soluble binding protein of an ABC transporter system that bind to HS and CSC from the epithelial surface [17]. PGs and GAGs are widespread molecules but some of their functions are still unclear. Not only do pathogens of different origins take advantage of these molecules in a direct wary for infection and invasion, but they can also play different roles in certain alterations. In inflammatory Bowel disease or colitis severe intestinal inflammation occurs due to the immune responses to toxic compounds such as endotoxins and enzymes produced by instestinal microbiota. During this process, degradative GAGs enzymes are induced in the microbiota, and they act on the intestinal mucosa GAGs, releasing D-galatosamine and D-glucosamine which are cytotoxic against the cells. Treatment with antibiotics mitigates colitis by inhibiting these bacteria [91].
In addition, increased levels of circulating GAGs are found in septic shock patients and the levels are correlated with mortality. These released GAGs may be attributed to shedding of endothelial cells stimulated by proinflammatory substances, especially syndecan-1 which is related to inflammation and promotes leukocyte adherence. Shedding of GAGs plays a role in the dysregulation of the endothelial function, resulting in increased permeability in septic shock [92].
HSPG-pathogen interactions could reveal previously unknown functions for these molecules. Knowledge of the function and involvement of PGs is important for the development of novel antimicrobial agents and therapies for infections and other diseases.
Conclusions
HSPGs comprise a reduced and specific group of proteins that display an enormous structural diversity in their GAG chains which, along with their ubiquity in all cell types and in the ECM, allow them to play an essential role in the interaction between bacterial pathogens and the surface of host cells. Indeed, many pathogenic microorganisms use these molecules not only as specific receptors for adherence and attachment, but also in bacterial internalization and invasion during the infective process. Furthermore, they are involved in different alterations independent of the presence of pathogens.
References