The Role of PGE2 and its Corresponding Receptors (Ep1-4) in Oesophageal Carcinogenesis: Novel Therapeutics for Chemoprevention and/or Intervention
Michelle C. Lowry*, John V. Reynolds and Mary-Clare Cathcart
Department of Surgery, Institute of Molecular Medicine, Trinity Centre for Health Sciences, St. James's Hospital, Dublin, Ireland
*Corresponding Author:

Mary-Clare Cathcart
Department of Surgery, Institute of Molecular Medicine
Trinity Centre for Health Sciences
St. James's Hospital, Dublin 8, Ireland
Tel: +353 1896 3620
E-mail: [email protected]
Received date: July 05, 2014; Accepted date: July 20, 2014; Published date: July 30, 2014
Citation: Lowry MC, Reynolds JV, Cathcart MC (2014) The Role of PGE2 and its Corresponding Receptors (Ep1-4) in Oesophageal Carcinogenesis: Novel Therapeutics for Chemoprevention and/or Intervention. J Carcinog Mutagen 5:181. doi: 10.4172/2157-2518.1000181
Copyright: © 2014 Lowry MC, et al. This is an open-access article distributed under the terms of the Creative Commons Attribution License, which permits unrestricted use, distribution, and reproduction in any medium, provided the original author and source are credited.
Visit for more related articles at Journal of Carcinogenesis & Mutagenesis
Abstract
The incidence of oesophageal adenocarcinoma (OAC) is increasing. At present, OAC is the 7th leading cause of cancer deaths worldwide. The use of aspirin and other non-steroidal anti-inflammatory drugs (NSAIDs) reduce the progression from Barrett's oesophagus (BO) to OAC. These cyclooxygenase (COX) targeted agents have demonstrated considerable promise, although long-term use has been associated with both gastrointestinal (GI) damage and increased cardiovascular risk. COX-2 overexpression is seen in BO and OAC patients and is a promising target for chemopreventive and/or therapeutic approaches. However, the unfavourable safety profile associated with long-term COX-2 targeting emphasizes the need to both understand and target specific downstream effector mechanisms. The role of pro-inflammatory prostaglandin E2 (PGE2) and its corresponding EP receptors have gained considerable attention in recent years, where they have been associated with tumourogenesis in a number of inflammatory-driven cancers, including OAC. This review will discuss the role of COX-derived PGE2 signalling in OAC development and progression, with specific emphasis on EP receptor expression and function. We will compare and contrast the potential of traditional NSAIDs, selective COX-2 inhibitors and EP antagonists as chemopreventive and/or therapeutic agents. Finally, we will discuss the promise of novel small molecule selective EP antagonists, which have recently been developed and are currently under clinical investigation.
Keywords
Adenocarcinoma; Cyclooxygenase; Tumourigenesis; Chemopreventive
Introduction
Oesophageal adenocarcinoma (OAC) is the 7th most common cause of cancer deaths and the eighth most common cancer worldwide [1]. The World Health Organization (W.H.O.) estimates that 410 000 cases of OAC are presented annually, with an incidence that is increasing more than any other solid tumour [2]. Patients diagnosed with OAC have a very poor five year survival rate of 13%, and 34-45% for those who can undergo treatment with curative intent [3]. First line therapy increasingly involves multimodality approaches, with chemotherapy, radiation therapy and esophagectomy, while there is no effective therapy for relapsed or metastatic disease. In this context, there is an urgent need for new strategies for prevention and early diagnosis as well as improved treatments. Cyclooxygenase-2 (COX-2) over-expression is seen in many cancers, including colorectal cancer, lung cancer, and OAC, where it has frequently been shown to be a marker of poor prognosis [4-6]. COX-2 is a key factor in oesophageal carcinogenesis, with expression significantly increasing across the Barrett's to adenocarcinoma sequence [7,8]. NSAIDs act by inhibiting both COX-1 and COX-2. While reducing the risk of oesophageal cancer, these agents have also been associated with adverse gastrointestinal effects [9-11]. Selective COX-2 inhibition is therefore an important target in cancer prevention and/or treatment, with a scientific rationale. However, this approach is associated with adverse cardiovascular risk [12]. Therefore, selective targeting of downstream effectors of COX-2 may prove beneficial in cancer prevention. Targets currently being investigated include prostaglandin E2 (PGE2), prostaglandin synthases and EP receptors. The identification and development of alternative approaches to COX-2 inhibitors has the potential of avoiding the adverse effects associated with global COX-2/prostanoid inhibition, while maintaining promising anti-tumour reactivity.
Risk Factors and Epidemiology
Many risk factors for the development of OAC have been identified in recent years, although new chemopreventive approaches have yet to be uncovered. Although OAC is predominantly recorded in males, the incidence in white females is also increasing [13,14]. In the USA, studies have found that the risk of OAC is greater in males aged 65 or older [14]. A case study of Kenyan OAC patients revealed striking epidemiological data, where patients in Western Kenya presented with OAC at 30 years old [15]. This study reveals the changing patterns in cancer incidence worldwide and suggests that further epidemiological studies are required to identify the predominant risk factors. . The first genome-wide study for the susceptibility of BO was conducted in 2012. A variant was observed within the major histocompatibility complex (MHC) locus on chromosome 6p21 (rs9257809), which may predispose individuals to the development of BO [16]. A second variant was found on chromosome 16q24 (rs9936833). The coding gene associated with this SNP was FOXF1 (forkhead family transcription factor). FOXF1 plays a role in the development of the oesophagus [16,17]. Obesity has become an epidemic in the Western world in recent years, while the incidence of OAC has also increased annually. According to W.H.O., the rate of obesity has doubled in the last two decades and 50% of Europeans are now overweight or obese [18]. While the exact cause of the increased incidence of OAC is still unknown, obesity has been shown to be increasingly involved, and is now considered a risk factor for OAC. The Barrett's genome-wide study suggests an association between body weight measure (BMI (body mass index) and WHR (waist-hip ratio)) SNPs and BO development [16]. However, the exact mechanism by which obesity is associated with OAC has not fully been elucidated, but may be through reflux as well as promoting systemic and oesophageal inflammation.
Inflammatory diseases are risk factors for cancer development and progression. Hanahan and Weinburg considered tumour-promoting inflammation as the 7th hallmark of cancer [19]. Inflammatory conditions such as inflammatory bowel disease, Barrett's oesophagus (BO) and psoriasis have been linked to increased cancer risk [20-23]. The greatest risk factors for the development of OAC are gastro-oesophageal reflux disease (GORD) and BO. Previous findings have linked obesity to the increased incidence of GORD and thus both conditions together may function synergistically in the progression to OAC [24]. BO is described as the pre-malignant lesion that predisposes to OAC. The annual incidence of OAC from BO is 0.4% [25]. Smoking has recently been identified as a risk factor for the development of BO [26]. In contrast the association between tobacco intake and OAC risk has not been fully elucidated with contradicting population studies [27].
Barrett's Oesophagus and Oesophageal Adenocarcinoma Development
Barrett's oesophagus is a premalignant condition that is characterised by intestinal metaplasia. Intestinal metaplasia is the term used to describe the replacement of normal squamous epithelium with metaplastic columnar epithelium. The replacement of normal epithelium is induced by chronic gastro-oesophageal reflux, which is a critical factor in the development of the premalignant lesions [28]. BO is diagnosed by histological www.omicsonline.org/open-access/genomics-of-colorectal-cancer-in-african-americans-2469-9853-1000133.phpendoscopy and the identification of intestinal metaplasia is defined by the presence of goblet cells capable of secreting mucous. BO manifests clinically with recurrent GORD, which is associated with constant reflux of bile acids and salts present in the gastric and duodenal juices. Patients diagnosed with GORD are at high risk of developing BO with 13.2% of patients progressing to BO [29].
The presence of dysplasia in BO is an accurate measure for staging the progression to OAC. A method has thus evolved to identify patients with high risk for developing OAC [30]. Patients undergo routine endoscopies where biopsies are taken for dysplasia grading. When compared to non-dysplastic BO, there is an increased risk of OAC in patients with high grade dysplasia (HGD) and low grade dysplasia (LGD) [28]. The mechanism through which GORD affects the progression is largely unknown but epithelial damage from the altered acidic pH is strongly associated [31]. Pancreatic enzymes and bile salts are key elements in GORD and may contribute to Barrett's pathogenesis through their injurious effects on the endothelial membranes [32]. Bile salts and the altered acidic pH can promote inflammation through activation of the arachidonic acid (AA) pathway [33,34]. COX-2 overexpression is seen in BO and OAC patients [35], suggesting a role for this inflammatory pathway in OAC development and progression.
Cyclooxygenase Signalling Pathway
Eicosanoids are derived from the metabolism of AA by COX, lipoxygenase (LOX) and P-450 epoxygenase pathways. They include prostaglandins, leukotrienes and thromboxanes. AA is converted to the prostaglandin precursors, prostaglandin G2 (PGG2) and prostaglandin H2 (PGH2) by COX enzymes. There are three isoforms of the COX enzyme involved in the production of prostaglandins; the ubiquitously expressed COX-1, the inducible isoform COX-2 and the COX-1 splice variant COX-3 [36]. COX-1 plays a major role in tissue homeostasis through the production of prostaglandins, whereas COX-2 expression is induced in tumourigenic and inflammatory conditions [37]. The prostaglandin precursors PGG2 and PGH2 are further metabolized to prostaglandins by tissue-specific synthases and isomerases. Prostaglandin I2 (PGI2), Prostaglandin F2α (PGF2α), Prostaglandin D2 (PGD2), Thromboxane A2 (TXA2) and PGE2 are produced by PGI synthase, PGF synthase, PGD synthase, TXA synthase and PGE synthase respectively [38]. Prostaglandins activate downstream G-protein-coupled prostanoid receptors in an autocrine or paracrine manner.
PGE2 has many diverse functions and is primarily involved in inflammation, infection and cancer [39]. It functions through binding to EP receptors; EP1, EP2, EP3 and EP4. EP receptors are G-protein-coupled receptors expressed on the plasma membrane and nuclear membrane [40,41]. The downstream signalling pathways activated by the PGE2 receptors are discussed in detail in a review by Narumiya et al. [42]. Second messenger levels are altered upon ligand binding of PGE2 to its cognate EP receptors. Upon ligand binding, EP receptors induce the activation of the MAP kinase pathway through cAMP upregulation (EP2, EP3 and EP4) or through the activation of phospholipase C (EP1) (Figure 1) [43].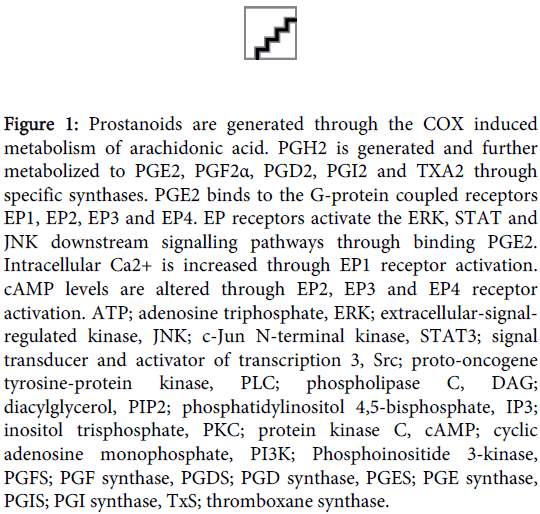 Figure 1: Prostanoids are generated through the COX induced metabolism of arachidonic acid. PGH2 is generated and further metabolized to PGE2, PGF2α, PGD2, PGI2 and TXA2 through specific synthases. PGE2 binds to the G-protein coupled receptors EP1, EP2, EP3 and EP4. EP receptors activate the ERK, STAT and JNK downstream signalling pathways through binding PGE2. Intracellular Ca2+ is increased through EP1 receptor activation. cAMP levels are altered through EP2, EP3 and EP4 receptor activation. ATP; adenosine triphosphate, ERK; extracellular-signalregulated kinase, JNK; c-Jun N-terminal kinase, STAT3; signal transducer and activator of transcription 3, Src; proto-oncogene tyrosine-protein kinase, PLC; phospholipase C, DAG; diacylglycerol, PIP2; phosphatidylinositol 4,5-bisphosphate, IP3; inositol trisphosphate, PKC; protein kinase C, cAMP; cyclic adenosine monophosphate, PI3K; Phosphoinositide 3-kinase, PGFS; PGF synthase, PGDS; PGD synthase, PGES; PGE synthase, PGIS; PGI synthase, TxS; thromboxane synthase.
Cyclooxygenase Signalling and OAC Development/Progression
COX and oesophageal adenocarcinoma
Many cancer studies have been directed at finding a suitable target for therapy and acquiring a greater understanding of the inflammatory pathways involved. Prostaglandins are derived from AA and play a key role in inflammatory processes and diseases. Both GORD and BO are the major risk factors for the development of OAC. The pathogenesis of both conditions includes chronic inflammation of the oesophageal epithelium.
The persistent inflammation and damage seen in patients with these symptoms has been linked to cancer development. The precise mechanisms underlying these effects are unclear, although the increased production of certain cytokines (IL-1, IL-6 and TNF-α), transcription factors (NFκB, STAT3), reactive oxygen species and enzymes (COX, nitric oxide synthase) during inflammatory processes have been linked to carcinogenesis [44].
The expression patterns for COX-1 and COX-2 have been determined for healthy oesophageal mucosa. COX-1 and COX-2 were expressed in normal tissue from oesophageal mucosa, with COX-1 expression the most abundant [45]. When compared to normal healthy controls, COX-1 expression significantly decreases in GORD, BO, dysplasia and OAC patient samples [7,45]. In both studies, COX-1 gene expression was down-regulated across the adenocarcinoma sequence, thus COX-1 may play a role in the development of oesophageal carcinogenesis.
As described previously, COX-2 over-expression is a marker of poor prognosis in a number of cancers, including colorectal cancer, lung cancer, and OAC [4-6]. COX-2 expression is increased in BO and OAC patients [7,35], although the increased expression observed in Barrett's patients was unaffected by dysplasia grade [46]. Morris et al investigated COX-2 expression in the Barrett's metaplasia-dysplasia-adenocarcinoma sequence of BO patients. COX-2 expression increased across the sequence towards adenocarcinoma [8]. A more recent study using immunohistochemistry (68 patients) and qPCR (17 patients) in Barrett's and OAC patient biopsies revealed a similar trend of an increased COX-2 expression pattern across the adenocarcinoma sequence. In contrast, qPCR analysis revealed a decrease in COX-1 expression levels in this sequence [45]. Similarly, COX-2 and PGE2 levels were increased in tissue from an oesophageal adenocarcinoma rat model, relative to normal controls. Selective COX-2 inhibition with celecoxib prevented OAC development in this rat model, demonstrating a role for COX-2 and the pro-inflammatory prostanoid, PGE2, in OAC development and progression. Celecoxib is currently the only Food and Drug Administration (FDA)-approved chemopreventive agent, although there are ongoing concerns relating to its safety following chronic use [47]. Selective COX-2 inhibitors (NS-398 and nimesulide) increased apoptosis and reduced cell proliferation in-vitro in a Barrett's-derived oesophageal adenocarcinoma OE-33 cell line. PGE2 production was also suppressed following selective COX-2 inhibition in this model [48]. COX-2 expression, apoptosis and cell proliferation was also altered in Barrett's-associated adenocarcinoma tumour cells (SEG-1 and FLO) using the selective COX-2 inhibitor, ns-398 [49]. These studies indicate that COX-2 targeting may be promising for the treatment of Barrett's-associated OAC.
The COX-2 signalling pathway has frequently been implicated in the promotion of tumour angiogenesis [50]. Bile acids are thought to influence this process in oesophageal cancer via effects on COX-2, EGFR/MAPK pathway and vascular endothelial growth factor (VEGF). A positive association between PGE2 and VEGF production following stimulation of oesophageal squamous cell carcinoma cell lines (KYSE-170 and KYSE-270 cells) with chenodeoxycholic acid [51]. In mouse mammary tumour cells, PGE2 mediated VEGF expression was increased through the activation of the EP2 receptor [52]. COX-2 overexpression has also been associated with tumour angiogenesis and PGE2 production in other G.I. malignancies, including colorectal cancer and gastric cancer [53,54]. It is evident from previous studies of COX-2 in oesophageal cancer that PGE2 is the major COX-2-derived prostanoid involved.
PGE2 is the major COX-derived prostanoid implicated in OAC
While COX-2 overexpression appears to play a role in OAC development and/or progression, less is known about the involvement of downstream prostanoids. Zimmermann et al. investigated COX-1 and COX-2 expression in OAC patients. Through immunohistochemical and western blot analysis, OAC tissue resections from 27 patients revealed the presence of both COX-2 and COX-1 expression in this cancer type. Via western blot analysis, COX-2 expression was shown to be increased in OAC patient tissue compared to healthy controls [55]. Treatment of the oesophageal squamous tumour cells (OSC-2) with COX-2 inhibitors (NS-398 and flosulide) resulted in enhanced apoptosis and reduced cell proliferation. The anti-tumour effects seen in-vitro correlated with decreased PGE2 production. Based on this evidence, the authors suggest that COX-2 inhibitors may be promising chemopreventive agents, which mediate their effects in part through PGE2 suppression [55]. Barrett's oesophageal epithelial cells were treated with the selective COX-2 inhibitor, NS-398. Upon treatment, COX-2 activity and cell proliferation were significantly inhibited. This effect was reversed with the addition of PGE2, suggesting the involvement of COX-2 in cell proliferation in this model [56]. Apoptotic cell death was induced in colorectal and colon cancer cell lines using selective COX-2 inhibitors (NS-398 and SC-58125) [57,58]. Similarly in oesophageal cell lines, aspirin inhibited cell growth through the induction of apoptosis and decreased PGE2 production [59]. Further research is required to understand the exact role of PGE2 in BO and the progression to OAC, as well as the signalling mechanisms involved. COX-2 induces PGE2 release and cell proliferation in Barrett's patients [34]. These COX-2 dependent pathways were shown to be induced through acid- and bile-salts. Targeting the COX-2/PGE2 pathway is of particular interest as a chemopreventive approach in GI malignancies. A recent phase II clinical trial recruited 114 Barrett's patients who underwent drug therapy with low or high doses of aspirin (81 mg/325 mg once daily) and esomeprazole (40 mg twice daily) for 28 days. 22% of patients presented with adverse events including hiatal hernia, gastro-oesophageal junction erosion and antral erosion. PGE2 levels were significantly reduced in patients treated with high dose aspirin and esomeprazole, suggesting that PGE2 suppression may play a role in preventing BO progression to OAC [60]. Further clinical trials are required to greater understand the mechanisms involved.
Downstream EP receptor signalling in BO and OAC
In the early 1960's, Bergstrom et al. isolated and determined the structural characteristics of prostaglandins [61,62]. EP receptors were not successfully cloned until the early 1990's [63-66]. Since then, the development of EP antagonists for all the EP receptors has been slow with the first selective EP2 antagonist only developed in 2011 [67]. EP1 antagonists however, were studied as potential anti-inflammatory drugs as far back as 1977 [68]. They would later be shown to reduce polyp size in a mouse of model of colon cancer [69]. This was one of the first studies to elicit the emerging and significant interest in the use of EP receptor antagonists in cancer prevention and/or treatment. EP receptor targeting is gaining considerable interest for the treatment of a number of malignancies including OAC, colorectal cancer, breast cancer and prostate cancer [45,70-72]. Based on previous positive results of EP antagonism in inflammation and many cancers, it may therefore be a suitable target for research in BO and OAC. In order to fully uncover the role of PGE2 in OAC progression, the downstream EP receptor signalling molecules must be investigated.
EP receptor expression levels were recently investigated in normal human oesophageal, BO and OAC tissue biopsies [45]. The authors demonstrated that all EP receptor subtypes were expressed in healthy oesophageal tissue. EP2 receptor expression was 56.88-fold higher in Barrett's oesophageal tissue mRNA (n=17) compared to healthy control tissue mRNA. EP protein expression profiles were determined using immunohistochemistry. EP2 protein expression levels increased significantly across each stage of the Barrett's to adenocarcinoma sequence when compared to controls. The greatest increase in EP2 expression was seen at the Barrett's metaplasia without intraepithelial neoplasia and low-grade intraepithelial neoplasia stages. EP4 expression was also significantly upregulated in BO tissue but not in OAC tissue. EP1 expression was not altered. EP3 expression levels were markedly reduced across the cancer sequence [45]. EP receptor expression profiles were also assessed in a rat reflux model of oesophageal squamous cell dysplasia and Barrett's metaplasia. The authors demonstrated that EP2, EP3 and EP4 levels were increased in the experimental model compared to controls, further supporting a role for these receptors in the progression to OAC [73]. In colorectal cancer, EP1, EP2 and EP4 have been shown to play a role in disease progression (reviewed by Hull et al., [70]). In non-small cell lung cancer (NSCLC), EP2 expression was down-regulated in NSCLC tumour samples. The authors demonstrated that EP receptor expression is epigenetically regulated [74]. This work suggests a role for EP receptor epigenetic therapies in NSCLC. Further studies are required to investigate EP epigenetic regulation in OAC. More recent studies have examined the individual contributions of the EP receptors to OAC using specific receptor antagonists. These studies will be discussed in subsequent sections.
Targeting the COX-pathway for chemoprevention and/or treatment
Targeting the steps involved in the progressive sequence from BO to OAC, is an encouraging area of research for the development of effective chemoprevention therapies. Chemopreventive strategies have yet to demonstrate success in preventing the progression to OAC. GORD is the major risk factor associated with BO progression to OAC, thus proton pump inhibitors (PPIs) were developed to prevent malignant transformation through acid suppression. However, complete acid suppression and thus reduced risk for the development of OAC has yet to be shown in patients [75]. Novel chemopreventative approaches are therefore warranted. The first indication of the anti-tumour effects of NSAIDs was seen in Gardner's syndrome patients with rectal and colon polyposis. The number of adenomas in patients was significantly reduced when treated with sulindac. This was the first study to suggest that targeting the COX pathway may be advantageous in the chemoprevention and/or intervention of cancer [76]. To date, chemopreventive agents targeting the COX pathway have demonstrated efficacy in many cancers including OAC, colon, non-small-cell lung and breast cancer [77-80].
Non-selective COX inhibition
Traditional NSAIDs have demonstrated chemopreventive properties in OAC development. As described in a meta-analysis review, NSAID use was shown to have a protective effect in a cohort of OAC patients. Data from nine studies, which included 1813 patients, were pooled together. From the pooled results, the use of aspirin was shown to have the greatest protective effects, with a 50% reduction in the odds ratio of OAC development. A 25% reduction was evident in patients treated with NSAIDs [81]. NSAIDs have the potential to be used in cancer prevention although concerns have been raised regarding the safety profile of this class of drugs [10]. Aspirin is a non-selective COX-inhibitor which can lead to gastric lesions [82]. However, the 20-year risk of death due to OAC is significantly reduced upon treatment with aspirin. In OAC trial patients, daily aspirin intake significantly reduced the hazard ratio (HR) from 0.78 (0-5 years' follow-up) to 0.42 (0-20 year's follow-up) [77]. In a meta-analysis, Rothwell et al revealed that subsequent aspirin intake after the initial diagnosis of adenocarcinomas, reduces metastasis and thus cancer death [83].
The Aspirin Esomeprazole Chemoprevention Trial (AspECT) is a phase III clinical trial to determine if the use of aspirin and esomeprazole can reduce cancer development and progression in these patients. This trial commenced enrolling patients in 2005 and will be run over a 10 year period [84]. 2500 Barrett's patients were recruited and will undergo routine endoscopy and biopsy procedures over the 10 years. A dose of 300 mg/day of Aspirin will be given to patients on low and high-dose PPI therapy (esomeprazole). This trial will address the safety and efficacy of COX inhibitors and high dose PPI therapies as suitable chemopreventive treatments for the prevention of the development of OAC and high grade dysplasia in Barrett's patients [85].
Selective COX-2 inhibition
Selective COX-2 inhibitors were designed in an effort to offset GI toxicity associated with chronic NSAID use. This class of drugs have shown considerable promise in cancer-based studies. However, a moderate increase in cardiovascular events was associated with the use of COX-2 selective inhibitors [74]. A combination of a MF-tricyclic (selective COX-2 inhibitor) and sulindac (NSAID) effectively reduced inflammation and cancer risk in a reflux-induced rat model of OAC. Following the induction of enteroesophageal re�ux, PGE2 and COX-2 levels were increased in this model. Rats were treated daily with 30 mg/kg of sulindac and 10 mg/kg of MF-tricyclic for 28 weeks. Following treatment, inflammation, tumour size, PGE2 levels and cancer risk were all reduced [86]. Oyama et al. studied the effects of celecoxib treatment in a rat model of oesophageal metaplasia-adenocarcinoma sequence. Their study led to the discovery that this selective COX-2 inhibitor increased apoptosis but reduced COX-2 expression, cell proliferation and MET expression [87]. Upon treatment with celecoxib, significantly decreased COX-2, MET and VEGF expression was seen in oesophageal cancer cell lines (OE-33 and OE-19). This trend was also seen in OAC patients when using Celecoxib as a neo-adjuvant therapy. Down-regulation of COX-2 and MET was seen in-vivo. VEGF expression was also significantly decreased in treated patients [88]. In light of these observations, a clinical trial was set up to determine the efficacy of Celecoxib in patients. In the Chemoprevention for Barrett's Esophagus Trial (CBET), low doses of celecoxib did not prevent the progression to OAC and side effects occurred in some patients. Adverse events recorded included OAC development, myocardial infarction and pulmonary embolism [89]. Due to the side effects associated with COX-2 inhibitors, targeting downstream effectors of COX-2 signalling may be advantageous. A more-selective approach has the potential to preserve anti-tumour reactivity while avoiding adverse toxicities.
EP receptor antagonism
Dysregulated EP expression is observed in a number of cancer types, including oesophageal cancer [45]. Selective EP antagonists are now being used to uncover the individual contributions of EP receptors to cancer development and progression. In the oesophageal cancer cell line (OE-33), cell proliferation was inhibited upon treatment with an EP1 antagonist (SC-51322), an EP4 antagonist (AH23848B), a dual EP1/EP2 antagonist (AH6809) and COX-2 inhibitors (NS-398 and SC-58125). In a butyrate-induced apoptotic OE-33 cell line, the EP2 agonist (butaprost) had greater apoptotic inhibitory effects than the addition of exogenous PGE2. It is therefore evident that EP2 plays a protective role in this Barrett's-derived oesophageal adenocarcinoma cell line. Following the addition of exogenous PGE2, EP1, EP2 and EP4 were shown to play a role in OE-33 cell migration. Deoxycholic acid activates COX-2 signalling and increases PGE2 production. EP1, EP2 and EP4 expression were induced in OE-33 cells upon treatment with deoxycholic acid. This study demonstrates that EP receptor expression is induced through the induction of COX-2 and PGE2 production [90]. Using the selective EP2 antagonist, TG4-155 in prostate cancer cell lines, Jianxiong Jiang et al. showed that EP2 is involved in increasing cell proliferation and invasion. EP2 also promotes the production of the inflammatory cytokines and angiogenic IL-6 and IL-1β in human prostate cancer cell lines (PC3). EP antagonists may therefore prove to be beneficial in inflammation-driven cancers [72]. Tumour angiogenesis was studied in EP2 knockout mice using an in-vivo corneal angiogenesis assay, an ex-vivo aortic ring assay and a 3D collagen gel assay to measure vascular sprouting. Using this EP2-/- mouse, EP2 signalling was shown to be involved in tumour angiogenesis through its influence on endothelial cell survival and motility [91]. A human OAC mouse model was recently created using human OAC xenografts into nude mice. This model was then used to determine the potential of an EP4 antagonist on tumour activity [92]. Although the results were insignificant, the slight reduction in tumour volume observed following EP4 antagonism highlight the need to investigate EP receptor antagonists further in OAC development and progression.
Following the discovery of the link between obesity and OAC, leptin levels were shown to increase with increasing BMI [93]. The role of PGE2 is involved in leptin associated proliferation and associated apoptosis inhibition, was demonstrated using an EP4 antagonist. In this study, AH 23848 was used to successfully inhibit cell proliferation and activation of apoptosis in leptin stimulated OE-33 cells [94]. This study reveals another possible pathway involved in the progression of BO to OAC, in which EP receptor targeting may prove to be a beneficial chemopreventative approach. A summary of studies carried out to target the cyclooxygenase signalling pathway in OAC development and progression is presented in Table 1. Of course, novel EP-targeted agents are continuously being generated and will be discussed in the following section.
| Target | Agent | Mechanism Affected | Model of study | Author |
| --- | --- | --- | --- | --- |
| COX-1 | SC-560 SC-560 SC-560 | VEGF-C/COX-1 VEGF-C/COX-1 VEGF-C/COX-2 | OSC-1 cell line OE-33 cell line OSC-2 cell line | [111] [111] [111] |
| COX-1/COX-2 | Indomethacin Aspirin NSAIDs | PGE2/tumour growth COX COX-2 | Xenograft model Patients Patients | [92,112] [113] |
| COX-2 | Parecoxib NS-398 SC-58125 SC-58125 JTE-522 Quercetin Nimesulide MF-tricyclic | PGE2 PGE2/cell proliferation PGE2/cell proliferation Cell proliferation PGE2 COX-2/PGE2/apoptosis/proliferation COX-2/PGE2apoptosis/proliferation COX-2/PGE2/inflammation/tumour growth PGE2/inflammation | Xenograft model Cell line Cell line Rat model Rat model Cell line Cell line Rat model | [92,90] [90] [114] [115] [48,86] |
| EP1 | SC-15322 ONO-8711 | Cell proliferation PGE2 | Cell line Human Endothelial cells | [90] [116] |
| EP1/EP2 | AH6809 AH6809 | Cell proliferation Cell proliferation | Cell line Rat model | [90] [114] |
| EP4 | AH-23848B AH-23848B AH23848 CJ-042794 | PGE2 Cell proliferation Leptin/PGE2 PGE2/PGE2-induced cAMP levels | Xenograft model Cell line Cell line Cell line and human whole blood | [92] [90] [94] [97] |
Table 1: The COX inhibitors and EP antagonists currently available and being used in OAC models. This table sets out the drug targets, the specific mechanisms affected and the specific models used. cAMP; cyclic adenosine monophosphate.
Development of novel selective EP antagonists
The complete study of EP receptors in cancer has previously been hampered by the lack of a potent and selective EP2 antagonist. While the EP1/EP2 dual antagonist (AH6809) has been commonly used, it only shows poor selectivity for EP2 [95]. In 2011, Forselles et al. developed a novel, potent and "truly selective EP2 receptor antagonist" [67]. This antagonist was shown to maintain its activity in-vivo and thus has the potential to elicit the role of EP2 in the Barrett's metaplasia-dysplasia-adenocarcinoma sequence. Further selective small molecule EP2 antagonists were also developed in 2012 and are also under investigation [96].
Many EP receptor antagonists are now commercially available. Studies to improve the selectivity and safety of these antagonists are ongoing. The characterization of a novel selective EP4 antagonist (CJ-042794) was recently carried out in human blood. When compared to the previously developed CJ-023423 antagonist, CJ-042794 has an altered chemical structure and a 200-fold greater binding affinity for the human EP4 receptor. This antagonist decreased PGE2 related cAMP production in the hEP4/HEK293 cell line [97]. RaQualia Pharma, Inc has also developed the selective EP4 antagonist, RQ-15986. Since its development, RQ-15986 has been shown to inhibit breast cancer metastasis through its protective role on natural killer cells [98]. This recent study broadens the area of EP receptor antagonism research and warrants investigation in other cancer types. Due to the markedly increased expression levels of EP4 in BO patients, these new agents may have efficacy for the prevention and/or treatment of OAC, where other EP4 antagonists have failed.
Preventing cancer progression is key, but maintaining homeostasis and preventing toxicity is also vital in cancer drug development. In developing new EP antagonists it is important to note the downstream effects and the particular pathways affected by receptor blockade. For example, EP4 receptors have been shown to be play protective roles following ischemic injury, EP1 regulates blood pressure and algesia, EP3 and EP2 are involved in controlling platelet aggregation [99-101]. These downstream effects should be taken into account when targeting these receptors.
While a number of novel, specific EP antagonists have been developed in recent years, clinical trials of these agents are very limited. GSK269984A is an EP1 antagonist developed by GlaxoSmithKline. This antagonist is highly selective for the EP1 receptor, but no correlation was seen between in-vitro and in-vivo studies with this drug [102]. The GSK269984A pharmacokinetics was later determined in a human microdose study. From this exploratory study, GSK269984A was deemed to have a favourable pharmacokinetic profile in humans [103]. This exploratory microdose study may prove beneficial for future drug development studies prior to both �rst-into-human (FIH) studies and clinical trials. A recent 3-way crossover trial was carried out to investigate the effects of an EP4 antagonist, BGC20-1531 in a PGE2-induced human model of headache [104]. While BGC20-1531 did not prevent PGE2-induced cranial artery dilation and headache, no difference in the occurrence of adverse events was reported between the treatment group and the control group. The authors suggested that the negative outcome observed may be partially due to low exposure of the novel antagonist in 3 of the 8 healthy volunteers recruited to the study. While the lack of difference in adverse events is encouraging, the small patient size and short duration of the study suggests that further investigation is warranted to assess the clinical efficacy and safety profile of this agent. The recent availability of an EP2 antagonist will allow further investigation into the roles of EP receptors in cancer development and their potential as therapeutics. More clinical trials are needed in this area to fully investigate the potential anti-tumour effects of EP antagonism. However, complete preclinical studies to uncover the potential of EP antagonism must first be carried out.
Conclusion
Cancer accounted for 8.2 million deaths worldwide in 2012 [105]. In 2014, it is estimated that 1,665,540 new cancer cases will be presented and 585,720 cancer deaths will occur in the United States [1]. OAC is the 7th most common cause of cancer deaths worldwide [1]. These staggering figures portray the need for new discoveries, new curative treatments, new chemopreventive therapies and a better understanding of the mechanisms involved in tumourigenesis.
Many steps and processes are involved in the development and progression of cancer. The COX pathway has become one of the major pathways implicated in cancer progression. An increase in COX-2 and PGE2 expression is seen in many tumour states. The COX-2/PGE2 pathway plays a significant role in tumourigenesis of OAC. Traditional NSAIDs and selective COX-2 inhibitors can inhibit oesophageal cancer development but have been associated with an increased risk of gastrointestinal and cardiovascular toxicity. It is therefore evident that the discovery of new molecular targets downstream of COX-2 and PGE2 is required. Selective inhibition of a particular receptor in the COX pathway is unlikely to be sufficient to fully prevent cancer, however. Recent studies suggest that PGE2 receptors (EP) work synergistically and/or sequentially in cancer progression [106,107]. Downstream signalling via EP receptors plays a role in the development of OAC. EP receptor expression varies across the Barrett's metaplasia-dysplasia-adenocarcinoma sequence, indicating their possible roles in carcinogenesis. The data presented in this review suggests that EP2 and EP4 are of particular interest in this disease sequence. EP2 is the most abundant receptor expressed in both BO and OAC [45]. Down-regulation of EP3 was evident across the Barrett's to adenocarcinoma sequence, an effect which may be attributed in part to epigenetic regulation [45,74]. This area of research has shown considerable promise in a number of cancer types. While studies carried out in OAC to date have also been very promising, they are relatively few and therefore some-what limited. Further research is needed to develop this field and to determine the functional contributions of each EP receptor to OAC development and progression.
Further research efforts into this exciting field will be greatly aided by the constant development of novel EP receptor antagonists. This process is ongoing to improve the potency and selectivity these agents while limiting toxic side effects. Alternative compounds which target EP receptors are also being assessed. Amino thiadiazole amides have selective antagonistic action on rat EP3 receptors and may be used as therapeutic drugs in other disease models [108]. Combined EP receptor antagonism may also be beneficial in the prevention/treatment of OAC, although this has yet to be investigated. Due to the multiple roles that EP receptors play in cancer progression, it is unsurprising that research is now moving forward to investigate the efficacy of targeting multiple prostanoid receptors. Recently, a patent application has commenced for a multiple prostaglandin receptor antagonist, AGN-211377 (Patent number: PCT/US2011/048361). The group are targeting anti-inflammatory responses with this antagonist but it may also have potential as a cancer therapeutic. Dual EP and dual EP/TP antagonists are commercially available and are undergoing further pre-clinical investigation before moving forward [109,110].
In conclusion, due to the adverse safety profile observed in patients routinely taking COX inhibitors, more effective alternative approaches are warranted for chemoprevention and/or treatment of OAC. The AspECT trial is ongoing and will give a greater insight into the potential of combining aspirin and PPI therapy in Barrett's patients. Greater knowledge of the efficacy and toxicity of both single and combination EP receptor antagonists are warranted in the pre-clinical setting for OAC development/progression. Selective EP antagonism has the potential of avoiding the adverse safety profile associated with global COX-2 inhibition, while retaining anti-tumour efficacy. This approach has demonstrated considerable promise in a number of cancer types, specifically breast cancer and skin cancer [106,107]. Given the very limited options for the prevention and/or treatment of OAC, the coming years will be very exciting for this field of research.
Acknowledgements
This work was supported by a project grant from the Health Research Board (grant number: HRA_POR/2013/286) and a fellowship grant from the Irish Cancer Society (registered charity CHY5863, grant number: CRF11CAT).
References